Haddon Heights Youth Athletics: Welcome
Baseball/Softball Registration Is Open
Haddon Heights Youth Athletics Leagues
Welcome to HHYA
Your opinion matters! If you have comments, suggestions or ideas you'd like to share with the HHYA board members concerning the baseball, softball and basketball programs, please email us at HHYAsports@gmail.com

Become a fan on FaceBook
Little League New Bat Rules - Updated for 2014
Make sure you purchase a legal bat this year. The latest rules can be found here.
HHYA Beef and Beer Fundraiser "A NIGHT OF ENTERTAINMENT III"
HHYA Families:
As we close in on the final days of baseball & softball registration and we prepare for Opening Day, I want to invite all of our family and friends to the HHYA Annual Beef and Beer dubbed "Night of Entertainment III" on the evening of March 29th. This year we have decided to change the theme so we have hired ALL SOULed OUT, www.allsouledoutband.com the Delaware Valley's most popular dance band to perform. We will once again have the event on the same date as the HHYA "Opening Day" as we celebrate for the kids during the day and the parents at night. We hope to see as many HHYA families as possible. We had a tremendous turn out last year and we hope for the same this year. As always, the proceeds of this fundraiser assist tremendously with our facility and program improvements.
The HHYA Board would like to thank all of those who assist and support our programs. We look forward to a great 2014 Opening Day.
Jim Bruno
HHYA President
When: 2014 HHYA OPENING DAY – MARCH 29TH (7:00PM to 12:00 AM)
Where: Knights of Columbus Hall, Haddon Twp., NJ (Across from the Tap Room)
Cost: $40.00 per ticket
Purpose: To support OPERATION HOME RUN, a continued HHYA fundraising initiative to continue the improvements to the fields and facilities used for HHYA programs
Enjoy: Famous Tony Luke's Roast Pork and Roast Beef, Cold Beer, Appetizers, Desserts and Great Entertainment
Evening Entertainment Includes:
7 to 830 Happy Hour and a ½ with Phil Caracciolo and Friends
9-12 "All SOULed Out Band" www.allsouledoutband.com
"All SOULed Out" is the Delaware Valley's premier party band performing Classic Soul Dance Hits from the 60's, 70's and 80's. Classic songs by Marvin Gaye, Stevie Wonder, The Four Tops, Archie Bell & The Drells and many more. "All SOULed Out" takes you down memory lane and keeps the dancing floor jumpin' all night long.
Tickets can be purchased and reserved by sending check payable to: HHYA, P.O. Box 1, Haddon Heights, NJ 08035 and write reservation name and number of tickets in the memo line of check.
HHYA board members that can be contacted for more information: Joe Monteleone (609) 405-6760; Jim Bruno (609) 820-5688; Danielle McGrath-Headley (856) 229-2389, Patrick Warren (609) 332-3874, Chris Connelly (201) 396-8065 and Chrissie DeCastro (609) 841-2454.
For more detail see the flyer and letter.
Important Rule Changes for the 2014 Little League® Season
Little League Baseball Inc. has amended the registration policy to include players that attend SCHOOL in Haddon Heights. (There is no need to prove Residency in Haddon Heights - only prove that your child attends school within Haddon Heights) - read more below... This applies for regular and post season play.
Important Rule Changes for the 2014 Little League® Season Residency and School Attendance Eligibility
In an effort to accommodate for Little Leaguers to play with their classmates, and ease the burden on parents and guardians, Little League has amended its residency requirements to allow children to play in the local league whose boundaries where they attend school is located. To verify enrollment, parents will need to bring an official school document, such as a report card or school enrollment form, confirming enrollment in the school for the current academic year, dated before October 1, 2013. Read the full text of the new rule here.
HHYA Baseball and Softball Registration is NOW OPEN!
Registration closes January 31, 2014.
Softball and Pre-Teen Baseball
February 1st - Baseball Player Try-ups
For 8 year old BASEBALL players wanting to try-up for the Minors Division
For 10 year old BASEBALL players wanting to try up for the Majors Division
February 3rd - Coaching Application Deadline
Mail Application To:
HHYA
PO BOX 1
Haddon Heights, NJ 08035
February 15th - Baseball Player SKILLS Evaluations
For all BASEBALL players (Minors and Majors Divisions), especially 1st year Minors, 1st year Majors division players
Please see the letter from our President, Jim Bruno (Letter to HHYA families)
BOYS and GIRLS (AGES 5 to 15) Must register online! No in-person registration. Credit card payment is required.
LATE REGISTRATIONS ARE NOT GUARANTEED!
If any are accepted (space permitting), there will be a $20 late fee.
BOYS (age as of May 1, 2014);
GIRLS (age as of January 1, 2014)
See the flyer for more information - FLYER
HHYA has been hard at work over the past month completing MAJOR updates to the Majors and Minors baseball fields. Take a look at the slideshow to see the IMPROVEMENTS!!!
Hardship Letter Hardship Application
Update On Field Improvements
Click here for an update on field improvements.
Girls Majors League Championship
Congratulations to the Haddon Heights Girls Majors team (ages 11-12) for winning the South Jersey Girls Softball Association (SJGSA) Division II Championship. This was the first year HHYA participated in SJGSA in the Majors Division II consisting of five teams including Haddon Heights, Haddon Township, Sewell, Voorhees and Blackwood/Erial. As the #1 seed in the playoffs, the Heights girls won two games against Sewell in a best-of-three series in the opening round of the playoffs. In the three game championship series against Voorhees, Heights rallied from behind in game 1 to score two runs in the bottom of the seventh for an 8-7 win. In the second game of the doubleheader, Heights won 17-5 to capture the first SJGSA Majors II Division Championship for HHYA ending the season with a 14-2 record.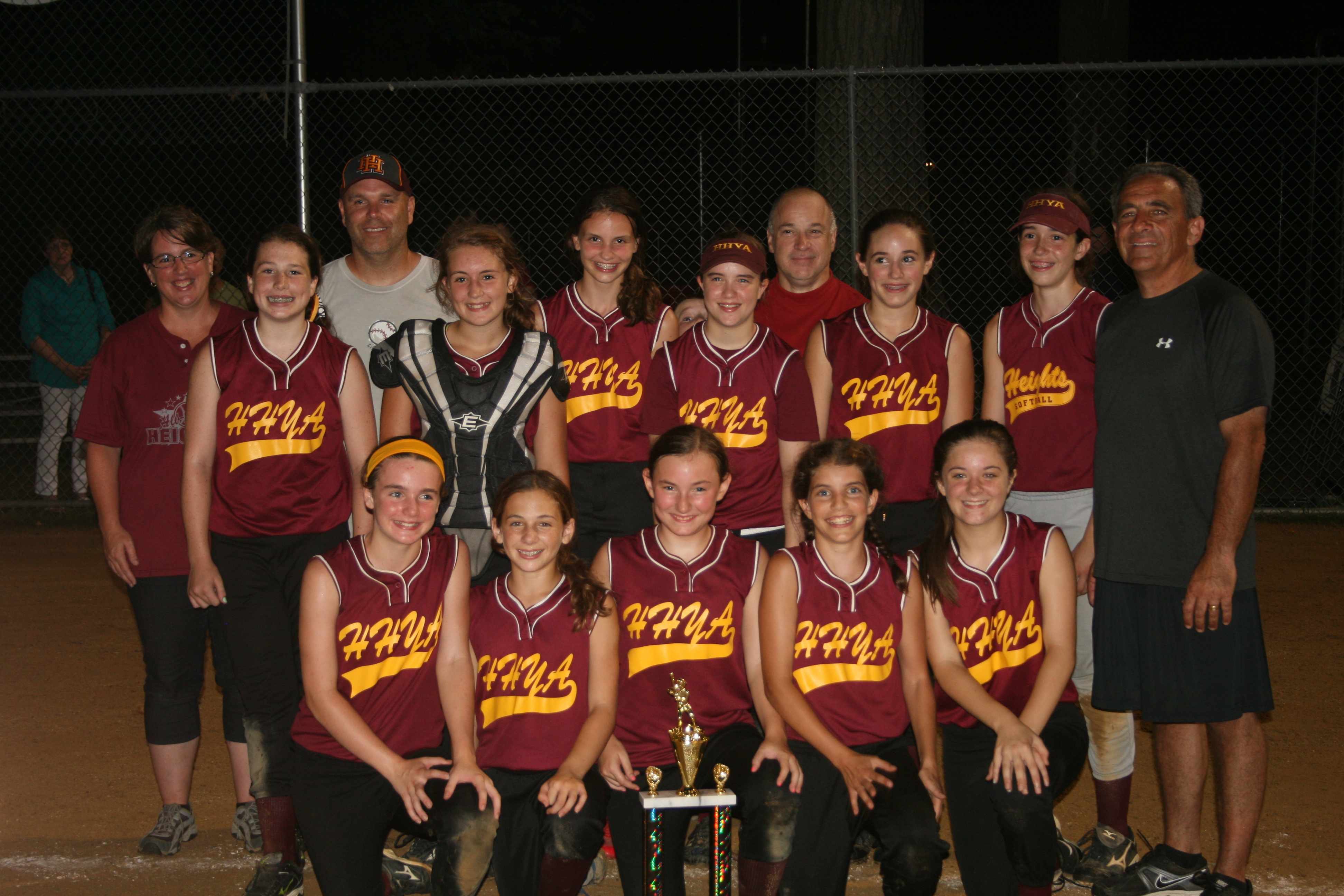 Congratulations to the following the HHYA girls (pictured): Front row (left to right): Mackenzie Spaeth, Nicoletta Calabrese, Madeleine Ricci, Lynn Hardy, Renee Koebert Back row (left to right): Miranda Dolente, Emmy White, Audrey van Schalkwyk, Emma Bobo, Olivia Rosolia, McKenna Mason Coaches: (left to right back row): Laura Spaeth, Kevin Spaeth, Kevin Mason, Santo Calabrese Not pictured: Caroline Francesconi
PURCHASE OF OWN HELMETS RECOMMENDED
Currently, HHYA provides batting helmets to each club team for shared general use. There is a nationwide trend to no longer provide shared team batting helmets. HHYA Board highly recommends parents supply their own batting helmet.
An outline of the reasons for this decision and explanation of your options going forward are as follows:
Information relevant to the helmet decision:
1. Sizing of helmets. With 5 batting helmets shared among 12-13 players, and with runners on base, there exists the situations where improperly fitting batting helmets are being worn by players whereas, individual helmets would be fitted to each player, increasing the safety of the players.
2. General Sanitation. The sharing of a helmet among players transfers sweat, body fluid and skin flakes in the helmets from player to player. These helmets are then placed in a dark equipment bag and placed, often, in a hot trunk or shed for a number of days. There exists the possibility that mold, staph or other sanitation issues could exist in these helmets.
3. Lice. The shared use of a single baseball helmet can be the carrier to transmit lice to huge number of children. In recent years there have been multiple cases of lice in area schools.
4. Batting helmets are not an expensive equipment item for parents relative to other items or other sports. An approved batting helmet typically costs between $15-$35 depending on brand and features.
The National Federation of State High School Associations warns that besides improper fit, that sharing helmets may spread fungus and mold and strongly recommends that each player have their own helmet.