Haddon Heights Youth Athletics: Welcome
Haddon Heights Youth Athletics Leagues
Welcome to HHYA
Your opinion matters! If you have comments, suggestions or ideas you'd like to share with the HHYA board members concerning the baseball, softball and basketball programs, please email us at HHYAsports@gmail.com

Become a fan on FaceBook
Monday, September 22
HHYA Winter Basketball Schedules
High School Schedule Sundays starting 1/4/2015
Clinic-1st\2nd boys 12pm-1:15pm
Clinic 1st \2nd Girls 1:15pm -2:30pm
3rd-4th grade girls 2:30pm -3:45pm
3rd-4th grade boys 3:45pm-5pm
Avon School Barrington Schedule Sundays Starting 1/4/2015
5th-6th grade boys 11:45am-1pm
5th-6th grade boys 1pm-2:15pm
5th-6th grade boys 2:15pm-3:30pm
5th-6th grade girls 3:30pm-4:45pm
Little League New Bat Rules - Updated for 2014
Make sure you purchase a legal bat this year. The latest rules can be found here.
PURCHASE OF OWN HELMETS RECOMMENDED
Currently, HHYA provides batting helmets to each club team for shared general use. There is a nationwide trend to no longer provide shared team batting helmets. HHYA Board highly recommends parents supply their own batting helmet.
An outline of the reasons for this decision and explanation of your options going forward are as follows:
Information relevant to the helmet decision:
1. Sizing of helmets. With 5 batting helmets shared among 12-13 players, and with runners on base, there exists the situations where improperly fitting batting helmets are being worn by players whereas, individual helmets would be fitted to each player, increasing the safety of the players.
2. General Sanitation. The sharing of a helmet among players transfers sweat, body fluid and skin flakes in the helmets from player to player. These helmets are then placed in a dark equipment bag and placed, often, in a hot trunk or shed for a number of days. There exists the possibility that mold, staph or other sanitation issues could exist in these helmets.
3. Lice. The shared use of a single baseball helmet can be the carrier to transmit lice to huge number of children. In recent years there have been multiple cases of lice in area schools.
4. Batting helmets are not an expensive equipment item for parents relative to other items or other sports. An approved batting helmet typically costs between $15-$35 depending on brand and features.
The National Federation of State High School Associations warns that besides improper fit, that sharing helmets may spread fungus and mold and strongly recommends that each player have their own helmet.
Girls Majors League Championship
Congratulations to the Haddon Heights Girls Majors team (ages 11-12) for winning the South Jersey Girls Softball Association (SJGSA) Division II Championship. This was the first year HHYA participated in SJGSA in the Majors Division II consisting of five teams including Haddon Heights, Haddon Township, Sewell, Voorhees and Blackwood/Erial. As the #1 seed in the playoffs, the Heights girls won two games against Sewell in a best-of-three series in the opening round of the playoffs. In the three game championship series against Voorhees, Heights rallied from behind in game 1 to score two runs in the bottom of the seventh for an 8-7 win. In the second game of the doubleheader, Heights won 17-5 to capture the first SJGSA Majors II Division Championship for HHYA ending the season with a 14-2 record.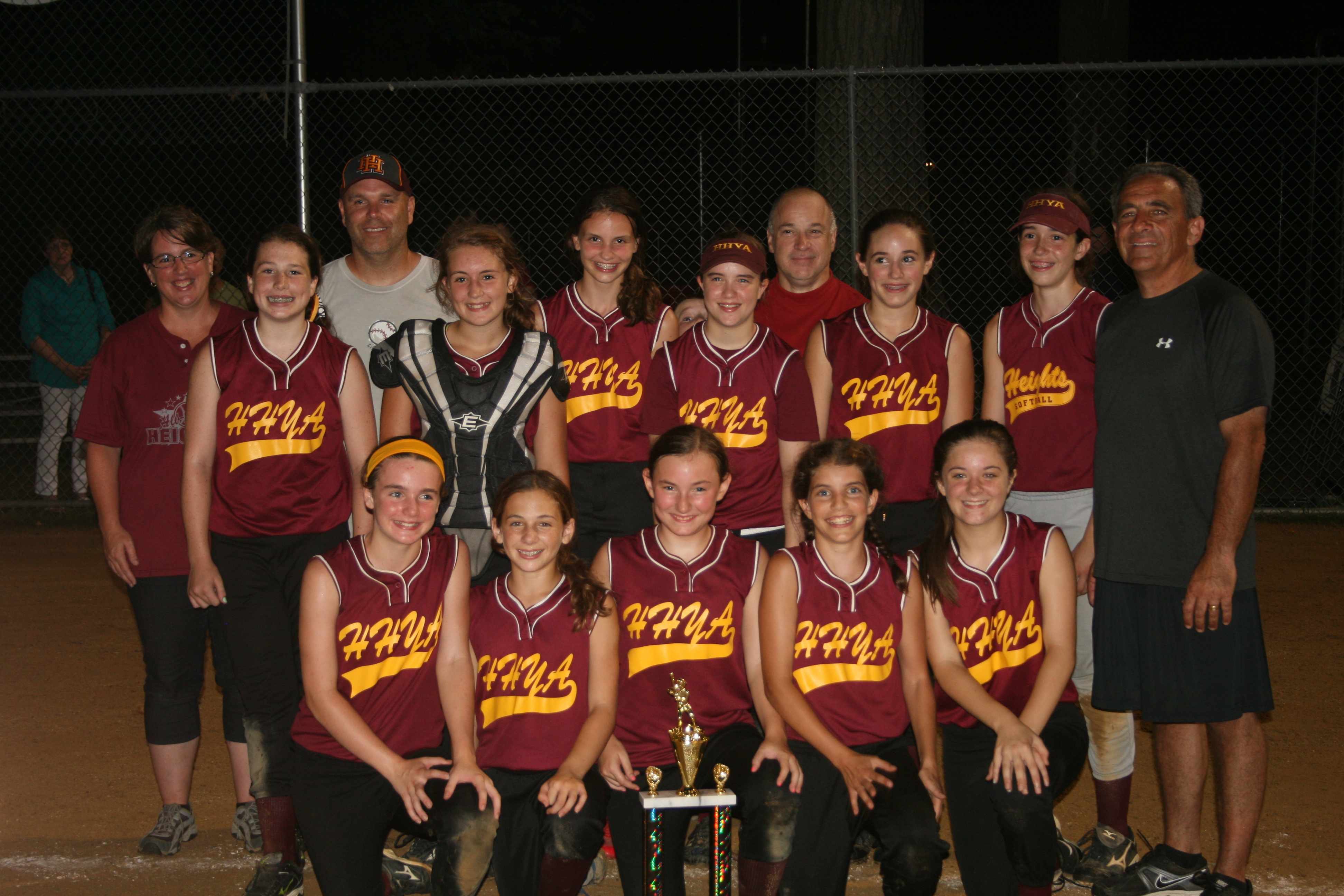 Congratulations to the following the HHYA girls (pictured): Front row (left to right): Mackenzie Spaeth, Nicoletta Calabrese, Madeleine Ricci, Lynn Hardy, Renee Koebert Back row (left to right): Miranda Dolente, Emmy White, Audrey van Schalkwyk, Emma Bobo, Olivia Rosolia, McKenna Mason Coaches: (left to right back row): Laura Spaeth, Kevin Spaeth, Kevin Mason, Santo Calabrese Not pictured: Caroline Francesconi
Important Rule Changes for the 2014 Little League® Season
Little League Baseball Inc. has amended the registration policy to include players that attend SCHOOL in Haddon Heights. (There is no need to prove Residency in Haddon Heights - only prove that your child attends school within Haddon Heights) - read more below... This applies for regular and post season play.
Important Rule Changes for the 2014 Little League® Season Residency and School Attendance Eligibility
In an effort to accommodate for Little Leaguers to play with their classmates, and ease the burden on parents and guardians, Little League has amended its residency requirements to allow children to play in the local league whose boundaries where they attend school is located. To verify enrollment, parents will need to bring an official school document, such as a report card or school enrollment form, confirming enrollment in the school for the current academic year, dated before October 1, 2013. Read the full text of the new rule here.
Mr. Tony Luke and his son Nicky, proud supporters of HHYA. Wishing us a successful 2014 season.