The Houston Storm Flag Football Team has been playing since 1994. We are dedicated to good sportsmanship and the highest level of play possible. Playing 8-man screen, co-ed and semi-contact flag football in the Houston area, we regularly participate in state-wide and national tournaments.
We are the 2000, 2002, 2005, 2007 and 2008 Texas Amateur Athletic Association B State Champions and we have top four finishes in 2010, 2012, 2013, 2015 and 2017 in the A division.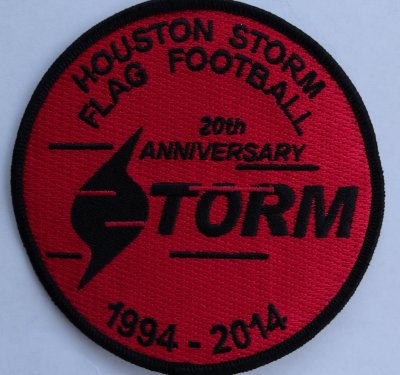 ---
December 2018- Storm takes 3rd place in the A Division at the 2017 TAAF State Championship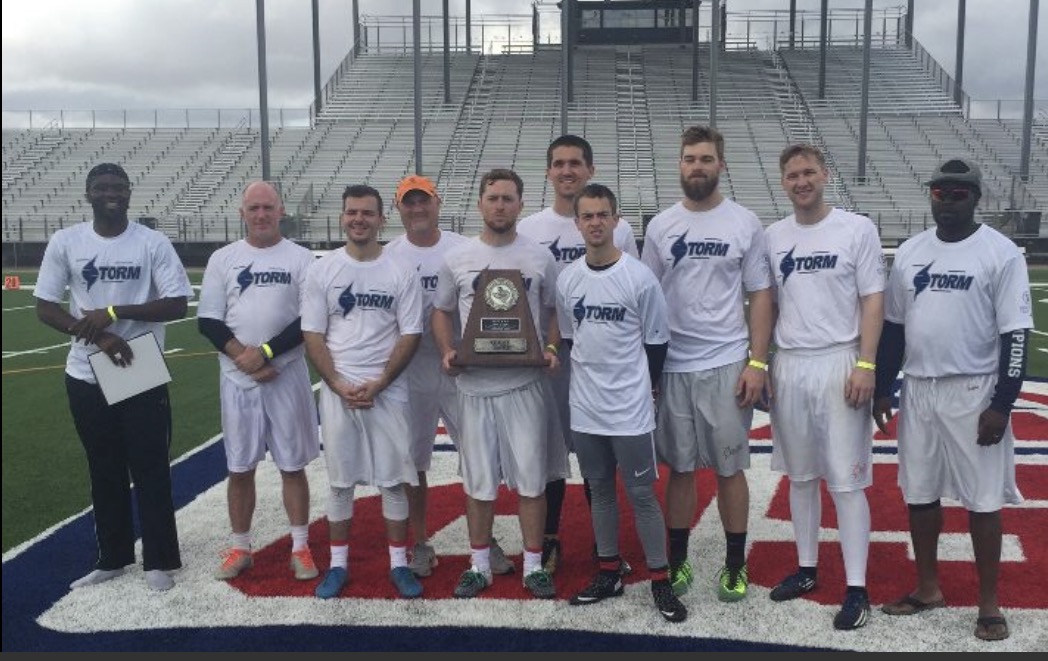 ---
July 2017- Storm wins the GUS Summer League!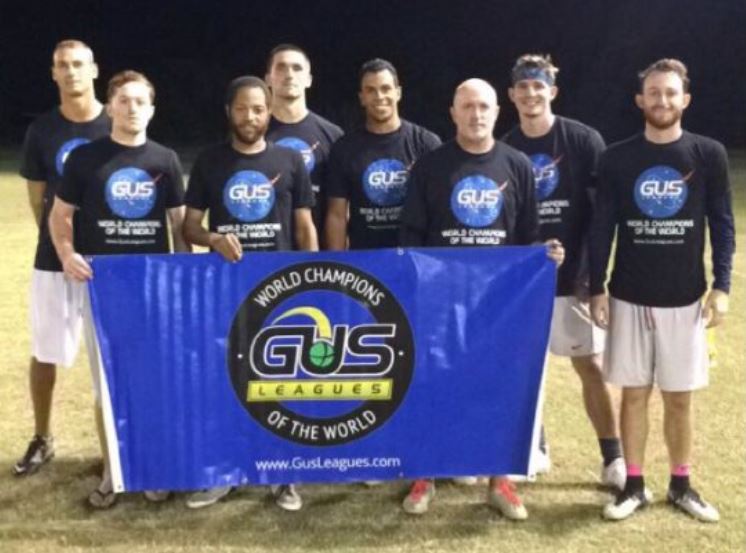 ---
May 2017- Storm wins the B Championship at the GUS Mayhem Tournament!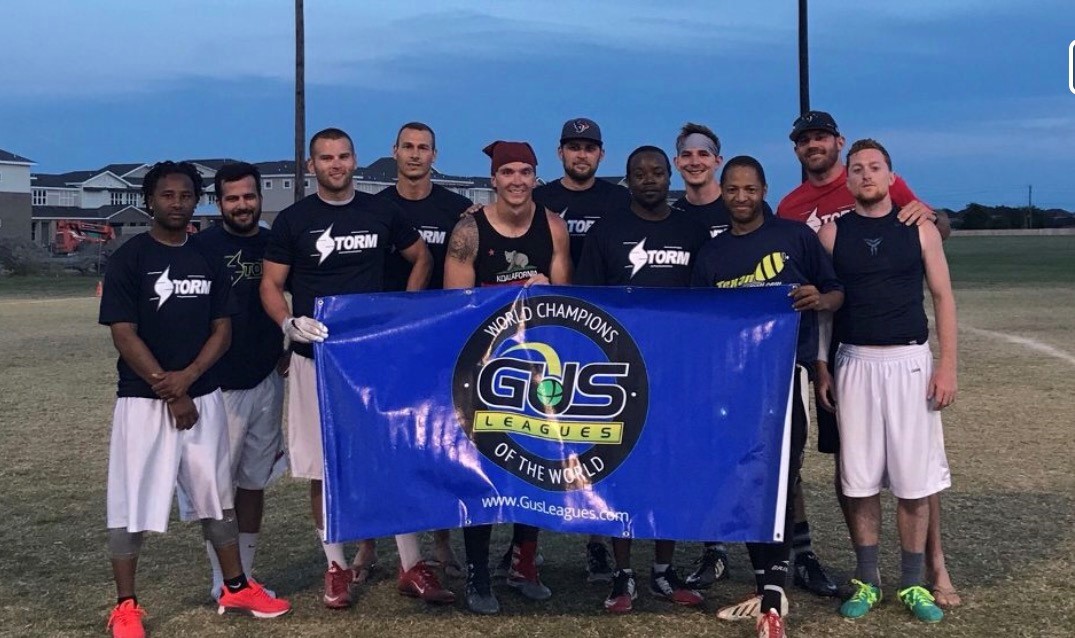 ---
| | |
| --- | --- |
| 2001 Record | 89-27 |
| 2002 Record | 98-29 |
| 2003 Record | 84-26 |
| 2004 Record | 83-28 |
| 2005 Record | 73-15 |
| 2006 Record | 97-23 |
| 2007 Record | 78-13 |
| 2008 Record | 61-10 |
| 2009 Record | 101-17 |
| 2010 Record | 92-25 |
| 2011 Record | 96-21 |
| 2012 Record | 100-26 |
| 2013 Record | 85-17 |
| 2014 Record | 54-12 |
| 2015 Record | 88-18 |
| 2016 Record | 53-18 |
| 2017 Record | 45-13 |
| 2018 Record | 32-10 |
Prior Month's League/Tournament Play

Date

League

Opponent

W/L

Score

5/1/2018

Sportsplex League

Bandits

W

27-19

5/1/2018

Sportsplex League

Thunder

W

27-6

4/24/2018

Sportsplex League

Bad Luck

L

26-33

4/24/2018

Sportsplex League

Young Guns

W

19-6

4/17/2018

Sportsplex League

Bad Luck

L

14-25

4/17/2018

Sportsplex League

Gorilla Warfare

W

337-0

4/10/2018

Sportsplex League

Thunder

W

26-20

4/10/2018

Sportsplex League

Gorilla Warfare

W

47-0

4/3/2018

Sportsplex League

Bandits

L

19-20

4/3/2018

Sportsplex League

Usual Suspects

W

26-13

3/27/2018

Sportsplex League
Championship


Young Guns

L

13-20

3/27/2018

Sportsplex League
Playoffs


Bandits

W

26-13

3/27/2018

Sportsplex League
Playoffs


Inner Beast

W

21-7

3/13/2018

Sportsplex League


Inner Beast

W

33-6

3/13/2018

Sportsplex League


Bad Luck

W

27-26

3/11/2018

TX Gridiron Showdown


Fort Worth Rams

L

20-40

3/11/2018

TX Gridiron Showdown


Houston Bad Luck

W

27-26

3/11/2018

TX Gridiron Showdown


San Antonio Trojans

L

33-40

3/11/2018

TX Gridiron Showdown


Dallas Clutch

W

29-20

3/10/2018

TX Gridiron Showdown


New Orleans Wolfpack

W

38-13

3/10/2018

TX Gridiron Showdown


San Antonio New Era

W

34-19

3/10/2018

TX Gridiron Showdown


Grand Prairie Outlaws

W

28-12

3/6/2018

Sportsplex League


Bad Luck

W

26-14

3/6/2018

Sportsplex League


Bad Luck

W

26-14

2/27/2018

Sportsplex League


Bandits

W

26-12

2/27/2018

Sportsplex League


All Madden

W

32-0

2/20/2018

Sportsplex League


Purpose

W

20-0

2/20/2018

Sportsplex League


Space City Flyerz

W

32-12

2/13/2018

Sportsplex League


Inner Beast

W

25-18

2/13/2018

Sportsplex League


Rage

W

20-0

2/6/2018

Sportsplex League


Young Guns

W

27-19

2/6/2018

Sportsplex League


Gorilla Warfare

W

37-0

1/14/2018

TAAF Winter Games
Pearland, Texas


Austin Too Much Sauce

L

12-15

1/14/2018

TAAF Winter Games
Pearland, Texas


Purpose

L

20-21

1/13/2018

TAAF Winter Games
Pearland, Texas


Hipsters

W

7-0

1/14/2018

TAAF Winter Games
Pearland, Texas


Purpose

L

12-14

1/14/2018

TAAF Winter Games
Pearland, Texas


Fast Kats

W

7-0

1/14/2018

TAAF Winter Games
Pearland, Texas


Dilly Dilly

W

39-0

1/14/2018

TAAF Winter Games
Pearland, Texas


Round Rock Gamecocks

W

28-2

1/14/2018

TAAF Winter Games
Pearland, Texas


San Marcos Dream Killerz

W

32-6

1/14/2018

TAAF Winter Games
Pearland, Texas


Purpose

W

28-22

1/14/2018

TAAF Winter Games
Pearland, Texas


Usual Suspects

L

14-20