The "Official" Wiseburn Little League: Welcome
Updated 5/22/2015
We are the ORIGINAL championship and award-winning Baseball AND Softball program, serving the Wiseburn community for 58+ years!
DO YOU KNOW THE LITTLE LEAGUE PLEDGE?
I trust in God,
I love my country
and will respect it's laws.
I will play fair and strive to win,
But win or lose, I will always do my best!
CLICK HERE FOR REMAINING SCHEDULE (APRIL/MAY)
CLOSING DAY GAMES UPDATED
FOR SAT MAY 30 BELOW
PB-N Field
9am Lil Cubs vs Lil Angeles (TBall)
11am Bulls vs Tomateros (Single A)
1pm Hot Rod vs Orioles (Single A)

PB-S Field
9am Lil Dodgers vs Lil Tigers (Tball)
11am Mud Hens vs Blue Jays (Single A)
1pm River Bandits vs Bees (Single A)

SB Field
9am Orioles vs Red Sox (Mini SB)
11am Nationals vs White Sox (Mini Championship Game)
1pm Dodger vs A's (AA Championship Game)
BB Field-CMMT GAMES ALL DAY!
9AM - WISEBURN Dodgers vs Westchester
11AM - Westchester vs Tri-Park
1PM - Westchester vs Del Rey
3PM - Lawndale vs Compton
5PM - Aviation vs WISEBURN Red Sox
All those interested in running for the board next season please stop by the snack stand beginning Mon May 4 to register.
Wiseburn Little League Fields BB = Baseball field (Isis Ave & 135th)
SB = Softball field (Isis Ave & 137th)
PB-N aka PB-W = Peter Burnett NORTH field PB-S aka PB-E = Peter Burnett SOUTH field

---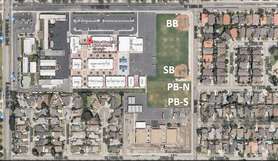 WISEBURN Little League Fields
Wiseburn Scorekeeping
Scorekeeping 101
Keeping score is so much more than just recording runs. The Scorekeeper is the Storyteller of the Game. This allows managers to see where the strengths and weaknesses are. This drives batting averages and pitching averages. In little league, this position can be easily overlooked, but is just as important as the umpires, managers, team representatives.
Should anyone be interested in learning, please come to any game on the field and sit with one of the scorekeepers for about 10 minutes. They can show you the basics in about that time. Check out the HANDOUT section below for more information. There are also alot of online resources available free if you search the internet.
Online Scorekeeping- GAMECHANGER App

Since 2011, several teams tried out an IPHONE/IPAD APP called Gamechanger to keep online live score. It is really easy to use! This provided not only scorekeeping, but also stats for the players throughout the season. Batting averages, ERA, Slugging%, OnBase%, to name a few. Those of us parents with more than 1 child playing were able to follow the other game via our smartphones. Came in really handy! One of our parents became an expert with this program and has agreed to have a quick 30 minute class on this APP.
Several other Little Leagues do ALL of their scorekeeping on and IPAD using this APP. Should we get enought interest, Wiseburn Little League would seriously consider purchasing 2-3 IPADs to keep score for ALL games throughout the season. Please email info@wiseburnlittleleague.org if you are interested in being one of our official scorekeepers during the season or for any other general questions regarding this new endeavor.
Thank you for your interest!
Handout:
Scorekeeping
Tuesday, May 5
2015 AAA Tournament
Facebook: Wiseburn Little League News Page
2015 Team Rep Pack
Team Reps,

Thank you for volunteering!
Below is the 2015 Team Rep Pack that will be given out in the meeting.
Handout:
TEAM REP PACK-----------------------------------------------
Tuesday, May 5
2015 "AA" Tournamet
Monday, May 11
2015 Mini-Minor Tournament