The "Official" Wiseburn Little League: Welcome
Click to register for Regular (Spring) Season 2016
Updated 5/4/2016
We are the ORIGINAL championship and award-winning Baseball AND Softball program, serving the Wiseburn community for 60+ years!
DO YOU KNOW THE LITTLE LEAGUE PLEDGE?
I trust in God,
I love my country
and will respect it's laws.
I will play fair and strive to win,
But win or lose, I will always do my best!
Movie Night!!! Friday May 20th!!! Right after the Yankees vs Mets AA Baseball game!
Deadline is almost here to sign up for next year's board. Email registration@wiseburnlittleleague.org OR stop by the Snack Stand and ask for Jessica to get on the ballot. Deadline to sign up or be put on the ballots is THURSDAY!!
Closing ceremonies is THIS Saturday! Bring your grills, food, family and friends and have your TEAM party out on the field!! For up to date information visit us and LIKE us on Facebook!
Keep an eye out for the tournament schedule. Come support the WISEBURN teams!

WISEBURN LITTLE LEAGUE BOARD
Baseball/Softball Teams finalized!
Still not too late to register for certain divisions... email info@wiseburnlittleleague.org for more details.
CONGRATS TO THE 50/70 BLUEJAYS
FOR WINNING THE CARL MCGEE MEMORIAL TOURNAMENT JUNE 2015!
Wiseburn Little League Fields BB = Baseball field (Isis Ave & 135th)
SB = Softball field (Isis Ave & 137th)
PB-N aka PB-W = Peter Burnett NORTH field PB-S aka PB-E = Peter Burnett SOUTH field

---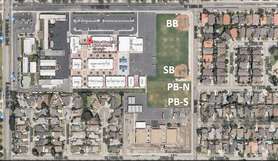 WISEBURN Little League Fields
Tuesday, February 16
Practice Schedule
Here is the practice schedule. It is subject to change.
Friday, November 13
Wiseburn Little League