The "Official" Wiseburn Little League: Welcome
Click to register for FALL BALL 2014 Season.
Updated 9/18/14
We are the ORIGINAL championship and award-winning Baseball AND Softball program, serving the Wiseburn community for 58+ years!
***UPCOMING GAMES AT THE VERY BOTTOM OF THIS PAGE***
DO YOU KNOW THE LITTLE LEAGUE PLEDGE?
I trust in God,
I love my country, and will respect it's laws.
I will play fair and strive to win,
But win or lose, I will always do my best!
FALL BALL REGISTRATION NOW OPEN!
Fall Ball Start Date is Sunday Sept. 21

Some teams will have opportunity to practice on Sept 20

Games have been scheduled for many teams

Please keep an eye on facebook and website for schedule on when to show up.

Fall Ball has no practices and only games every Sunday thru Thanksgiving.

Teams have been emailed 09/18/2014
Please contact info@wiseburnlittleleague.org if you
have not received an email or been contacted by a coach
TEAM SCHEDULES Sept 20th & 21st
Baseball - Single A Division
Team #1 /
Coach: Scott Fritz
Practice / Sept 21 / 2-4 PM Location: Wiseburn Softball Fields Team #2 /
Coach: Roger Sackroff
Practice / Sept 21 / 2-4 PM Location: Wiseburn Softball Fields
Baseball - Double AA Division
Team #1 /
Coach: Elmer Salazar
Practice / Sept 20 / 2 - 4PM / Wiseburn Softball Field Game / Sept 21 / 10:30AM / Bodger Park Field #2 Westchester vs Wiseburn #1 Bodger Park Address: 14900 South Yukon Ave. Hawthorne (Enter through 147th & Cerise) Team #2 / Coach: Toby Velasquez Practice / Sept 20 / 11AM - 1PM / Wiseburn Softball Field Game / Sept 21 / 12:30AM / Bodger Park Field #2 Hollypark vs Wiseburn #2 Bodger Park Address: 14900 South Yukon Ave. Hawthorne (Enter through 147th & Cerise)
BASEBALL - TRIPLE AAA DIVISION
Team #1 / Coach: Jose Villalpando
Practice / Sept 20 / 9AM - 11AM / Wiseburn Baseball Field
Game / Sept 21 / 10AM / Del Rey Park-Lagoon Field
Del Rey #1 vs Wiseburn #1 Del Rey Field: 100 Convoy St, Playa del Rey (Corner of Pacific Ave & Convoy)
Team #2 / Coach: Richard Murdock
Game Pending as of 09/18/14
BASEBALL - MAJOR DIVISION
Coach: Earl Smith
Game / Sept 21 / 2:00PM / Del Rey Park-Lagoon Field
Westchester vs Wiseburn Del Rey Field: 100 Convoy St, Playa del Rey (Corner of Pacific Ave & Convoy)
BASEBALL - 50/70 DIVISION
Coach: Josh Covarrubias
Game / Sept 21 / 1:00PM / Prairie Baseball Fields Prairie Fields: 14100 Prairie Ave, Hawthorne (Enter on 139th)
Wiseburn Little League Fields
BB
= Baseball field (Isis Ave & 135th)
SB = Softball field (Isis Ave & 137th)
PB-N aka PB-W = Peter Burnett NORTH field PB-S aka PB-E = Peter Burnett SOUTH field

---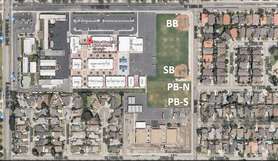 WISEBURN Little League Fields
Facebook: Wiseburn Little League News Page
Tuesday, June 10
SIGN UP NOW --- FALL BALL 2014