The "Official" Wiseburn Little League: Welcome
Click to register for Regular Season 2015
Updated 1/29/2015
We are the ORIGINAL championship and award-winning Baseball AND Softball program, serving the Wiseburn community for 58+ years!
***UPCOMING GAMES AT THE VERY BOTTOM OF THIS PAGE***
DO YOU KNOW THE LITTLE LEAGUE PLEDGE?
I trust in God,
I love my country
and will respect it's laws.
I will play fair and strive to win,
But win or lose, I will always do my best!
Registration for the upcoming 2015 continues, but almost full for boys 9 & up.
Player draft is Feb 7 (only managers)
Try-Outs have passed. Email info@wiseburnlittleleague.org if you missed them.
Sign up soon!
Wiseburn Little League Fields BB = Baseball field (Isis Ave & 135th)
SB = Softball field (Isis Ave & 137th)
PB-N aka PB-W = Peter Burnett NORTH field PB-S aka PB-E = Peter Burnett SOUTH field

---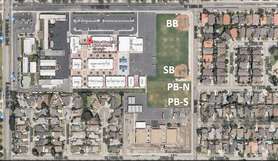 WISEBURN Little League Fields
Facebook: Wiseburn Little League News Page
Thursday, January 8
******* Tryouts Schedule *******
*REMEMBER YOU ONLY NEED TO ATTEND 1 OF THE 2 TRY-OUT DATES*
So who needs to Try-Out?
Boys/Girls playing Baseball
6 year olds wanting to be considered for AA.
All 7-10 year olds
11-12 year olds who HAVE NOT previously played in the Major Division. Those who played on the A's, Reds, or Red Sox last year DO NOT have to try out (unless you want to be considered for the draft).
Girls playing Softball
All Girls ages 7-12. Those 13 and older DO NOT have to try out.