The "Official" Wiseburn Little League: Welcome
Click to register for Regular Season 2015
Updated 10/31/14
We are the ORIGINAL championship and award-winning Baseball AND Softball program, serving the Wiseburn community for 58+ years!
***UPCOMING GAMES AT THE VERY BOTTOM OF THIS PAGE***
DO YOU KNOW THE LITTLE LEAGUE PLEDGE?
I trust in God,
I love my country
and will respect it's laws.
I will play fair and strive to win,
But win or lose, I will always do my best!
FALL BALL REG is NOW CLOSED Registration for the upcoming 2015 season begins Nov 7. Sign-up before Nov 30 and get $25 off if you pay by credit card.

Wiseburn Little League Fields BB = Baseball field (Isis Ave & 135th)
SB = Softball field (Isis Ave & 137th)
PB-N aka PB-W = Peter Burnett NORTH field PB-S aka PB-E = Peter Burnett SOUTH field

---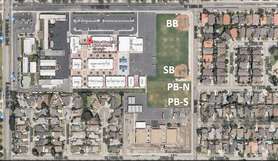 WISEBURN Little League Fields
Friday, November 21
Age Determination Date Clarification
Facebook: Wiseburn Little League News Page