The "Official" Wiseburn Little League: Welcome
Updated 4/2/14
We are the ORIGINAL championship and award-winning Baseball AND Softball program, serving the Wiseburn community for 58+ years!
***UPCOMING GAMES AT THE VERY BOTTOM OF THIS PAGE***
Check the "Handouts" section of website for game schedule as of March 7, 2014!
______________________________________
SPRING 2014 SEASON
Time is up...we are NOT taking any more registrations
Please email info@wiseburnlittleleague.org for more details for wait-list info.
_______________________________________________________________
______________________________

DO YOU KNOW THE LITTLE LEAGUE PLEDGE?
I trust in God,
I love my country, and will respect it's laws.
I will play fair and strive to win,
But win or lose, I will always do my best!
Fields: BB = Baseball field (Isis Ave & 135th)
SB = Softball field (Isis Ave & 137th)
PB-N aka PB-W = Peter Burnett NORTH field PB-S aka PB-E = Peter Burnett SOUTH field

---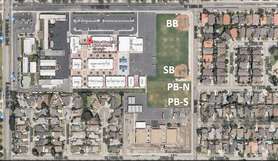 WISEBURN Little League Fields
Tuesday, March 18
GAME SCHEDULE & OTHER Updates
GAME SCHEDULE UPDATE
I added the game schedule to the "Handout" section of the website. This is in excel spreadsheet format as of March 7, 2014. Inter-league schedule is still missing. Teams affected by the inter-league additions include Baseball Major Level and above. Also all softball divisions except mini-minors.
If anyone is interested in helping to add the remaining games to the calender of our website let me know. Hope to have it updated in the next week or so but it is tedious so may take a bit extra. Tball, SingleA and Majors have been updated through end of season. Still need to do all softball and DoubleA & TripleA baseball.
Also our email blast tool is still down. Please check facebook and website regulary for updates for now.
Josh Info Officer Wiseburn Little League
Facebook: Wiseburn Little League News Page
Wednesday, March 5
Email Issues with our site right now :(
Seems like there is an issue with our email right now. Support is working on it so apologies.
Below is the 2 emails I sent this morning.
Email#1:===========================
Subject: Opening Day Sat Mar 8, 2014
Message:
Hello Parents,
I have several updates for you as of March 5, 2014 First, we will be having our official opening day Saturday March 8 beginning at 9am. Please have all children there 8:30am in full uniform. There should be several things for the kids to do after the ceremony which lasts about 1 hour. Hot dogs will be 75 cents to commemorate 75 years of Little League.
Second, there has been changes to March 8 & 9 schedule. Please see the website or facebook for the update. (I have also included it in this email).
Third, please sell at least 1 raffle ticket booklet which comes out to 10 raffle tickets. With the snackstand promised last year, but not given to us until this year, the league is running seriously in the red. This raffle should help us alliviate/payoff some of the debt we currently owe. Your participation is greatly appreciated. Also any team that sells at least 10 booklets will get $100 credit towards the "Wiseburn Snack Shack".
One final update, picture day should go much faster this year as the company will have 2 team sessions going at the same time! So please see the most recent picture day schedule attached to this email.
Email #2:=====================
Subject: Opening Day Sat Mar 8, 2014 Part 2
Message:
Parents,
Correction on the schedule previously sent. Mini-Minor Blue Jays will NOT be playing 2 games. Its only 1 game scheduled Sunday March 9 @ 10:15am. Apologies for the confusion. Website and facebook are now updated correctly. Also schedule as of March 5 (today) for March 8 & 9 are attached. Hoping to get remaining schedule today or tomorrow and will forward that along.
Thursday, April 3
Girls Softball Interleague Schedule