Griffith Pop Warner: Welcome
Click the handouts tab to find the information regarding the 2014 season!!!
2014 Forms have finally been uploaded! You can download them, fill them out and have them ready to go for the next registration on March 26th from 6-8 pm at the Griffith YMCA!
Griffith Pop Warner Leagues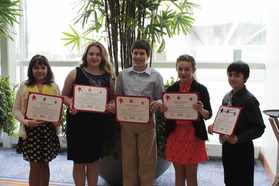 Kayla Serna, Stephanie Lester, AJ Lair, Kylee Taylor, Tommy Taylor
Monday, March 10
2014 Scholars
Congratulations to our 2014 Little Scholars! Several attended the Mid America Scholar Banquet on March 8th in Schaumburg, IL! They received a certificate for their accomplishments!
Tuesday, March 4
Griffith Jr. Peewee Cheer Takes 1st Place and bid to Open Nationals in Ohio!!!
Congratulations to the Jr. Peewee Cheer Squad on their 1st place victory at the Midwest Cheer and Dance Hoosier Open! They took home a 1st place trophy and the bid to the Open Nationals at the Kalahari Waterpark in Sandusky, Ohio! Good Luck Girls!!! Represent well and make us proud!
Saturday, February 1
2014 Little Scholars Announced!
Kayla Serna, Stephanie Lester, Brooke Rassel, Kylee Taylor, AJ Lair, Kyle Summers, and Tommy Taylor have been invited to attend the Regional Scholar Banquet May 8, 2014. Way to go Scholar Athletes! Keep up the great work!
Griffith Pop Warner
You can visit our Facebook Page for up to date information, pictures, and videos!
email griffithpopwarner@hotmail.com with any questions or comments.
The mission of Pop Warner Little Scholars is to enable young people to benefit from participation in team sports and activities in a safe and structured environment. Through this active participation, Pop Warner programs teach fundamental values, skills, and knowledge that young people will use throughout their lives.
To see the entire Mission Statement of Pop Warner please click the above link.