Monday, July 14
Welcome to the Great Lakes Sharks Website
SEE BELOW FOR TRYOUT INFO!!
Click below to visit the 2014 Shark Teams:
Keep working hard ladies. Remember, "
success isn't something that just happens - success is learned, success is practiced, and then it is shared."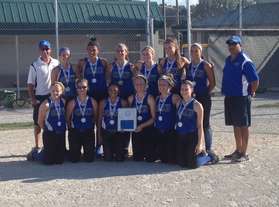 Sharks 18u - Gillespie
Monday, July 14
Congrats Sharks 18u!
Congrats to our Sharks 18u team for winning the SGS Shootout this past weekend! After beating a very good Magic team in the semi's, they ended up mercying their next opponent to win it all.
Well done, ladies!
Sunday, July 6
Sharks Tryouts - August 5th & 6th - CYO
Tryouts for the 2014/2015 season will be held on Tuesday (August 5th) and Wednesday (August 6th) at CYO.
REGISTRATION AT 5:00. TRYOUTS TO BEGIN AT 5:30.
| | |
| --- | --- |
| Age Level | Day/Time |
| 10u & 12u | Tuesday, 5:00 pm - 8:30 pm |
| 14u, 16u, & 18u | Wednesday, 5:00 pm - 8:30 pm |
(Method for determining proper age level is the player's age on 12/31/2014.)
Important notes of interest:
Handout:
2015 Sharks Tryouts
Wednesday, July 16
Hitting/Pitching Instruction - Duane Lanham
If anyone is looking for a hitting and/or pitching instructor, Duane Lanham has a few open times. For those that don't know Coach Lanham, he is one of the best. Numerous years of experience at travel, high school, and college. We can't recommend him highly enough.
If interested, please contact him directly at 419.350.2949 or by email at dlanham1954@gmail.com.