Greater Middlesex Coaches Summer Baseball League: GMCSBL News
Monday, July 29
2013 STATE TOURNAMENT SPECIAL THANKS
The 2013 NJABC State Tournament for both Mantle (16U) and Mattingly (17U) were a huge success. Many people have donated their time and effort to make these tournaments top class for all of the teams involved.
The GMCSBL would like to extend thanks to the following people:
Dave Rosenberg for his continued dedication to the advancement of baseball in our area and the North Brunswick Baseball family for hosting a tremendous 16U State Tournament at Community Park.
Coach Freel for his tireless efforts for running a flawless 17U State Tournament at an extraordinary facility at Old Bridge HS
Bob Eriksen, OBHS Athletics
The Old Bridge Twp Board of Education
OB Buildings and Grounds Dept.
Angelo Cifaldi, NJABC
Bob Frustaci, NJABC
Peter Fazzino, Officials
All of our coaches and players, whose commitment to their teams make our league the top league in New Jersey for the high school player
Congratulations to Eric Lindstrom and the North Jersey Cardinals, 2013 16U State Champs and to Coach Lou Urbano and the Woodbridge Barrons, 2013 Mattingly 17U State Champs
AND THANK YOU TO ALL OF THOSE WHO SUPPORT THE COACHES, PLAYERS AND OUR LEAGUE ALL SUMMER LONG!!
Monday, July 30
NJABC STATE CHAMPIONSHIP
Ocean Township Tops South Plainfield for NJABC State Title
In a hard fought, 2 game series that came down to the final play, Ocean Twp (winner's bracket champ) took the New Jersey State AABC Championship over South Plainfield in Game 2 by a score of 2-1. Earlier in the day, South Plainfield forced the deciding game on a 3-2 decision over Ocean from the loser's bracket.
South Plainfield, the North Division regular season champion, was making a bid for its' second NJABC Mattingly State title in the last 4 years. In 2009, the inagural season of the GMCSBL, South Plainfield made an identical run to the state final and upset South Brunswick twice for a spot in the AABC Mattingly World Series in Farmingdale New Mexico. This year, Head Coach Cip Apicelli and Ocean will travel to Port St. Lucie, Florida as NJ State Champs to face some of the country's top teams in the same tournament. This marks the 3rd time in the last 4 years that a GMCSBL team has captured the state championship. In 2009, South Plainfield won it. 2011 saw South Brunswick run the table to the title and now Ocean joins the elite as 2012 Champion. In 2010, an upstart Middletown South club came up short in the final vs eventual champion Bridgewater.
You can follow Ocean Twp and the Mattingly AABC World Series here:
www.donmattinglyworldseries.com
Monday, July 29
2013 LEAGUE CHAMPIONSHIP
2013 GMCSBL LEAGUE CHAMPIONSHIP
This summer's 2013 League Championship Tournament is set to kick off in Middlesex and Monmouth counties with preliminary matchups on Monday, July 15. This year's tournament will have a record 39 teams which will play down to their county championship on July 25. The League Championship will be decided between the Middlesex and Monmouth Champions on July 29/30 depending on the completion of play.
South Plainfield is the defending League Champ as well as Middlesex County Champion and Middletown North enters this year's tournament as the Monmouth County Champ. Ocean Twp is the defending NJABC state champ and will compete in the Monmouth bracket.
Mondays Pre-lim matchups:
MONMOUTH COUNTY- 6pm
Rumson at Monmouth Regional
Mater Dei at CBA
Long Branch at Freehold Boro
MIDDLESEX COUNTY- 5.45pm
JFK at Sayreville
Edison at North Brunswick
Metuchen at Monroe
South Brunswick Black at Perth Amboy
Monday, July 30
Special Thanks, 2012 State Tournament
SPECIAL THANKS FOR THEIR CONTRIBUTIONS TO THE 2012 NJABC STATE TOURNAMENT GO OUT TO:
COACH LOU URBANO, HIS GROUNDS CREW AND THE WOODBRIDGE HS BASEBALL FAMILY FOR USE OF THEIR FIRST CLASS FACILITY
COACH MIKE CONDON AND ST. ROSE ATHLETICS FOR USE OF THE BEAUTIFUL EDWIN I BROWN COMPLEX
COACH KEN THOMORE, TNT SPORTS, AND EAST BRUNSWICK ATHLETICS FOR HOSTING THE STATE FINAL ON THE EBHS TURF
COACH MIKE LEPORE AND SOUTH RIVER REC FOR USE OF GREKOSKI PARK DURING 2ND ROUND PLAY
BOB FRUSTACI, NJABC
ANGELO CIFALDI, NJABC
PETER FAZZINO, OFFICIALS
ALL OF THE COACHES AND PLAYERS WHO REMAINED FLEXIBLE AND DEDICATED THROUGHOUT THIS TOURNAMENT. WITHOUT YOUR COMMITMENT TO THE GAME AND YOUR TEAMS, THIS TOURNAMENT WOULD NOT HAVE BEEN THE TREMENDOUS SUCCESS THAT IT WAS.
CONGRATUALTIONS TO THE FINAL 8: OCEAN, SOUTH PLAINFIELD, SOUTH BRUNSWICK, FREEHOLD TWP, MIDDLETOWN NORTH, WOODBRIDGE, EDISON AND COLTS NECK ON AN INSPIRED, HARD-NOSED, EXCITING TOURNAMENT AND THANK YOU TO ALL WHO ATTENDED AND SUPPORTED THESE YOUNG MEN THROUGHOUT THIS GREAT EVENT
Monday, July 23
NJABC STATE TOURNAMENT 2012
2012 NJABC STATE TOURNAMENT TO START TONIGHT
Tonight the NJABC will kick off the 2012 Don Mattingly State Playoffs at two sites. For the second straight year, all 8 bids have gone to GMCSBL teams. These 8 teams will play a double elimination tournament at 3 sites to determine this year's champion. Opening day will see 4 games with 2 at East Brunswick HS and 2 at Woodbridge HS. Woodbridge stays on as host for the remainder of the tournament and St. Rose's beautiful Edwin Brown Complex in Howell Twp will host games starting Tuesday.
The matchups for the tournament are as follows (higher seed is home):
Monday, July 23
@East Brunswick HS
3-South Brunswick (9-3) vs 2-Freehold Twp (10-4) 5.30pm (SB 12-11, 9inn)
1-South Plainfield (11-3-1) vs 4-Ocean Twp (8-6) 7.45pm (PPD to 7/24 at St. Rose Ediwin Brown Complex)
@Woodbridge HS
4-Woodbridge (7-5-2) vs 1-Colts Neck (11-3) (varsity field) 5pm (CN 7-6)
3-Middletown North () vs 2-Edison (10-4) (jv field) 5pm (susp. for darkness top 8, tied 4-4. Will resume 7/24 at 4pm)
WED, JULY 25 (DAY 3)
Grekoski Park, South River: Ocean vs South Brunswick
After erasing a 9-run deficit and winning in 9 innings vs. Freehold Twp Monday night, South Brunswick waited a day to face off with Monmouth County finalist Ocean Township. After opening a 2-0 lead in the first, Ocean would hang on to win 3-2 and earn a winner's bracket final showdown with Colts Neck, a 6-1 winner over Middletown North on Tuesday. That game will be played at Woodbridge HS, first pitch is set for 5pm.
Woodbridge HS, Woodbridge Twp: South Plainfield vs Middletown North
In the loser's bracket quarterfinal, Middletown North sprinted out to a 4-0 lead. However, the always resilient Tigers from South Plainfield battled back to tie the game and eventually win it in 10 innings to advance via a 5-4 comeback win. South Plainfield will now await tomorrow's Game 1 winner at 3pm between South Brunswick and Edison at St. Rose's Edwin Brown Complex. Game 2 will begin at 5.15pm.
Through 3 nights, the double elimination tournament has seen 9 games played and 6 of those decided by one run. An exciting conclusion to the NJABC State Tournament surely awaits over the next 3 days! Hope to see you there.
Wednesday, July 27
2011 SEASON COMPLETE
2011 CHAMPIONS ARE CROWNED
The 2011 GMCSBL season came to a close on Tuesday, July 26 at St. Rose's gorgeous Edwin Brown Complex in Howell Twp. RBC, winners of 3 titles this summer, ended Colonia's Cinderella run to the championship game by a final of 10-4. With the victory, the Casey's are league champions of the 32 team GMCSBL tourament, going 4-0 in the process. Colonia claimed it's first Middlesex County title on it's way to the championship game.
The following is a list of championships earned by programs for 2011:
GMCSBL LEAGUE CHAMPS
RED BANK CATHOLIC
COUNTY CHAMPS
MONMOUTH COUNTY- RED BANK CATHOLIC
MIDDLESEX COUNTY- COLONIA
DIVISION CHAMPS
MIDDLESEX NORTH- WOODBRIDGE
MIDDLESEX SOUTH- SOUTH BRUNSWICK
MONMOUTH NORTH- FREEHOLD TOWNSHIP
MONMOUTH SOUTH- RED BANK CATHOLIC
2011 AABC NEW JERSEY STATE CHAMPION
SOUTH BRUNSWICK
MICKEY MANTLE 16U COUNTY CHAMPS
MIDDLESEX COUNTY- SOUTH BRUNSWICK
MONMOUTH COUNTY-
Wednesday, July 13
AABC/Don Mattingly NJ State Tournament
8 GMCSBL CLUBS EYE NJ STATE CROWN
Spotswood, NJ-
The 2011 AABC/Don Mattingly state tournament will kick off on Thursday, July 14th in Bridgewater with a few certainties. One is that a GMCSBL team will be crowned the 2011 NJ state champion. Secondly, that champion will head west to Tempe, Arizona for a shot at the AABC/Mattingly World Series title. The 32 team, Central Jersey based GMCSBL will accept all 8 bids to this year's tournament.
Bridgewater Township will play host to this year's tournament at Prince Rogers Field and Torpey Field. The opening round kicks off at Torpey on Thursday at 4:30pm. The field will consist of the 4 League Division Champs and 4 wild card entries. The Division champs are:
Middlesex North: Woodbridge (12-4)
Middlesex South: South Brunswick (11-3)
Monmouth North: Freehold Township (10-3-2)
Monmouth South: Ocean (7-7)
The Wild Cards entries were awarded to Edison (12-4), St. Joseph's Metuchen (9-6), Middletown South (9-4-1) and Colts Neck (10-5-1).
OPENING NIGHT, JULY 14
at Torpey Field:
Edison vs. Freehold Township 4.30pm
Woodbridge vs. Ocean 7pm
at Prince Rogers:
Colts Neck vs. St. Joes Metuchen 5.30pm
South Brunswick vs. Middletown South 8pm
CLICK HERE FOR THE COMPLETE TOURNAMENT BRACKET:
http://www.leaguelineup.com/pyramidbaseball/files/2011%20Don%20Mattingly%2017U%20Bracket.pdf
Thursday, June 2
GMCSBL CLUBS LOOK FOR NJSIAA SECTIONAL CROWNS
SUMMER CLUBS SEEK HS TITLES
Spotswood, NJ (AP)-
In what has quickly become a yearly tradition in the NJSIAA playoffs, several clubs with GMCSBL ties have a chance at a NJSIAA Sectional State Championships in several groups and sections. Since the Summer Coaches League inception in 2009, the league has had several Sectional championships including Spotswood and St. Joseph's Metuchen in 2010. South Plainfield, the 2009 Don Mattingly New Jersey State Champion, held the top spot in the Star Ledger poll for 2 weeks in 2010, and Manalapan, who plays for the CJIV title for the second straight year, is currently ranked #4 Statewide.
A look at which GMCSBL teams are seeking NJSIAA titles Friday:
In Central Jersey Group II, Middlesex will travel to Berkeley Heights to square off with Governor Livingston. Last year, Spotswood went to the hilltop to steal the crown from the Highlanders and this year, the Blue Jays will try to do the same.
Perth Amboy sends ace Emilio Calderon (11-1) to the mound to try and take a North II, Group IV title home for the GMCSBL. Amboy knocked off GMCSBL bretheren Edison and Woodbridge on their way to the title game. The Panthers will take on Westfield at Rudyk Park in Perth Amboy.
The Central Jersey Group IV matchup is a contrast of styles in more than one way. Oddly enough, the Middlesex County entry from Monroe Township, is not a member of the GMCSBL. They will take on the heavyweight Braves from Manalapan HS at Manlapan. This is in fact Manalapan's second straight trip to this game, and Monroe's first shot at a sectional title since 1980 when they won CJ I.
Another Monmouth club, Middletown South, will play Brick for the CJ III title. Middletown South was the 2010 Don Mattingly NJ State runner up falling to Bridgewater at the end of last season.
All GMC pick David Rondesko will take the mound for South River in its' quest for the CJI title. The Rams travel to Florence, who knocked off league member Metuchen in the previous round.
Red Bank Catholic, who has had a meteoric rise to state supremecy this season, will battle St. Augustine in Shrewsbury to try and get to Tuesday's Non-Public A South title game.
In County Tournament play it was a clean sweep by GMCSBL clubs. In last night's GMC Final, Old Bridge, behind Rutgers bound righty John Young, knocked off South Plainfield 3-2. Monmouth County will decide its' champion tonight in Lakewood at First Energy Park when Ryan Spillane's Middletown South club takes on Buddy Hausmann's Reb Bank Catholic at 8pm.
Best of luck to all teams tonight, this Friday, and beyond, you've all earned this opportunity to be on top of the mountain.
-Glenn Fredricks
Friday, June 3
MIDDLESEX COUNTY HS CHAMPIONSHIP
OBHS Celebrates a 3-2 Win Over South Plainfield
EAST BRUNSWICK — After escaping a first-and-third jam to preserve a one-run lead in the previous inning, Jon Young wasn't about to let the South Plainfield baseball team push across the tying run in the top of the seventh.
The senior right-hander struck out the league's most dangerous hitter before inducing his 13th groundball out to strand a runner at second in Old Bridge's 3-2 victory over the Tigers in Wednesday night's Greater Middlesex Conference Tournament final at East Brunswick High School.
The league championship was the school's first since Madison Central and Cedar Ridge merged to form Old Bridge in 1994. Madison Central won a GMCT title in 1989 and a Middlesex County crown in 1977.
"I knew I couldn't let up one more run,' said Young, who improved to 9-2 and will attend Rutgers University on a partial baseball scholarship in the fall. "I had to do whatever I could. The strikeout came in handy.'
Pinch-hitter Nick Ross led off the seventh for South Plainfield with a single to right. Ross was erased at second when pinch-hitter Rob Eggert bunted back to Young, who alertly gunned down the lead runner on the sacrifice attempt. That brought Mark Tomei, who entered the game with a conference-best 56 hits and a .506 batting average, to the plate.
After fouling off three consecutive 1-2 pitches, Tomei was caught looking as Young's fifth strikeout victim. Ryan Hutchinson grounded out to shortstop Taylor Amato, who recorded his eighth assist, to end the game.
"It was a tough two days,' said South Plainfield coach Anthony Guida, referring to his Tigers having a 12-game winning streak snapped with Tuesday's 10-6 loss to Mendham in the North 2 Group III final and falling to the Knights 24 hours later.
"It's tough to lose consecutive days in a semifinal and a final. We asked them to leave it all on the field, and I think they did. It gave us an opportunity to win a game. We had an opportunity with the tying run on base and the guys that we wanted up.'
South Plainfield starting pitcher Charlie Huber (6-2), who traded zeroes with Young, coasted into the fifth with a one-hit shutout. Huber threw just 35 pitches through the first four innings. He threw 34 pitches in the fifth alone and was succeeded by closer Nick DeMarco.
Anthony Jichetti led off the fifth for Old Bridge with a double down the left-field line. He advanced to third on a sacrifice bunt. Payam Agha Ghassem, who had the Knights' only other hit - a third-inning single - laid down a perfect safety squeeze to plate Jichetti. The bunt to the first-base side of the mound was a tough fielding chance for the left-handed Huber.
"He gave me the sign and I wasn't expecting it,' Ghassem said of Old Bridge coach Mike Anastasio. "We work on it in practice every day. I knew it was going to come in handy. I had to get it down. It was the perfect pitch. I tried to get it to the right side. The pitcher luckily bobbled it.'
No.'9 batter Tom Garvey followed with the best at-bat of the night. He fouled off three straight full-count offerings before lacing an RBI double to left field for a 2-0 lead. Young capped the rally with an RBI single to right on another full-count offering.
"Thank God it was three runs and not two,' said Young, who drove a fastball that was up and away to the opposite field. "I shouldn't have been swinging at that pitch, but somehow I got the bat on it and I had a nice rip, so I'll take it.'
South Plainfield rallied for two runs in the top of the sixth. Tomei drew a leadoff walk on a full count. Hutchison singled to right. Brandon Downes followed with an RBI single to left. Hutchison was erased after making a wide turn at second on a 7-5-4 relay. Downes took third on an errant pickoff attempt and scored on Stephen Petriello's single to center. After Dan Hansen singled to put runners on the corners, Young worked out of the jam with a strikeout and a groundout.
Anastasio never considered removing Young, whose nasty two-seam fastball, which he kept down in the strike zone, never lost its bite.
"Jon is our guy, plain and simple,' said Anastasio, a 1983 Madison Central graduate. "I've seen him all year. In the middle of games like this it looks like he's flattening out a bit. But he's got another gear, and he showed it tonight. That's why he's going Division I. When you push him, that's when he's at his best.'
Friday, June 3
MONMOUTH COUNTY HS CHAMPIONSHIP
LAKEWOOD — Rob Marcickiewicz played the role of giant killer on Thursday night for the surging Middletown High School South baseball team.
The senior catcher went 4-for-4 with three RBI as the No. 10 seed Eagles defeated No. 5 seed Red Bank Catholic, 8-5, in the Monmouth County Tournament championship game at FirstEnergy Park and snapped the Caseys' 24-game winning streak.
It was Middletown South's first MCT championship since 1999 and fourth overall. Red Bank Catholic was seeking its first MCT title and was in its first MCT final since 2006.
Middletown South (18-8), which has won five straight, broke a 5-5 tie with three runs in the bottom of the sixth.
Sean Kennedy led off with a single to right. Mike Gannon, after failing to bunt pinch-runner Brian Healy over to second, flared a single to right.
Howie Brey then laid down a sacrifice bunt between the mound and the third base line. Healy scored when the throw to first from pitcher Sam McGovern sailed into right.
Dan Sweeney's RBI single made it 7-5 and Marcickiewicz made it 8-5 with an RBI single to left.
Marcickiewicz had given Middletown South its first lead of the night at 5-4 in the fifth with a two-run, bases-loaded double off the left field fence.
A throwing error by the pitcher played a key part in that rally, too.
Brey began that inning with a single.
Sweeney reached when starting pitcher Ryan Slate threw the ball into center field on a potential double play ball.
Chris Mangarelli walked to load the bases.
McGovern came on in relief at this point with runners on second and third and proceeded to strike out the side to keep the game 5-4.
Red Bank Catholic (25-3) tied the game in the sixth on Dylan Chayes one-out RBI single to right. Nick Liggett led off the inning with a single and moved to second on a throwing error on the same play.
Winning pitcher Rob Barnek (2-0) escaped further trouble with consecutive strikeouts.
Barnek pitched 2 1/3 innings of relief. He allowed one run on two hits, struck out two and walked none.
C.J. Lucia's two-out RBI double off the top of the left field fence in the fifth had given Red Bank Catholic a 4-3 lead. The hit scored Andrew LaMura from first base. LaMura had singled with one out.
Middletown South had tied the game 3-3 with two runs in the bottom of the fourth.
Mangarelli walked to lead off the inning. Marcickiewicz followed with a single.
Nick Marinello's sacrifice bunt moved the runners to second and third. Mike Grossi's sacrifice fly scored Mangarelli. The tying run scored on Kennedy's single to right.
St. John's University-bound catcher Vinny Tranchina gave Red Bank Catholic a 2-0 lead in the top of the third with a two-out, two-run home run to left. That followed an infield single to short by LaMura.
The Eagles closed to within 2-1 in the third. Stefan Poggiloli led off with a single to left. Kennedy walked.
A sacrifice bunt by Mike Gannon moved the runners to second and third. A run scored on Brey infield single in the hole between third and short.
The Caseys extended the lead to 3-1 in the fourth. Mike Rescigno led off with a double to right and then scored on Trevor Brain's one-out single to center.
Both teams will be in action in the NJSIAA Tournament today.
Middletown South, which has won four games in its last at-bat during its winning streak, will be at Brick in the Central Group III final.
Red Bank Catholic will host St. Augustine in a Non-Public South A semifinal.
Thursday, June 10
NEW GMCSBL BENEFITS HS PLAY (SENTINAL)
Summer baseball league proves valuable to high school coaches
When Glenn Fredricks undertook the mission of forming the Greater Middlesex Conference Summer Baseball League last summer, the commissioner admits there was some uncertainty as to how successful the venture would be.
But facts are facts. League champion South Plainfield entered the league on the heels of a regular Greater Middlesex Conference season in which the Tigers finished under .500. The Tigers utilized the summer league to develop a team that fought its way to the American AmateurBaseballCongress/ Don Mattingly World Series in Albuquerque, N.M. This spring, South Plainfield finished 24-3, making the quarterfinals of the GMC tournament and semifinals of the North Jersey Group III tournament. South Plainfield sat atop the Star Ledger poll as the Number 1 Team in the state for 3 weeks this Spring.
Then there is Spotswood, managed by Fredricks, also the high school coach.
"There's no question that getting looks at players in the summer league enabled us to make decisions about who would play where once the regular high school season arrived," Fredricks said. "Our pitching staff included some very young hurlers [Anthony Berg and Christ Stout, sophomores, and Kevin Martin, freshman] and all gained valuable experience pitching against varsity competition."
Don't think other conferences weren't watching. This year's GMCSBL has added 16 teams from the neighboring Shore Conference in Monmouth County. Teams are divided into four divisions: Middlesex North, Middlesex South, Monmouth North and Monmouth South. The regular schedule includes crossover games between North and South teams from each county and concludes with an expanded tournament format.
"The structure of the league includes tournaments in which 32 teams will compete," said Fredricks. "This has really become a major success with room to improve."
Ultimately, the winning team will continue to compete in the AABC/Don Mattingly TournamentWorld Series.
Fredricks has to feel good about how the regular season concluded for his Spotswood team. The Chargers finished 14-13, earning the Central Jersey Group III title before being eliminated by South Jersey champion Audubon, 13-3, last week.
"We got on quite a run toward the end," Fredricks said, "but we all agreed we didn't play the kind of baseball that got us to the state semis against Audubon."
Leading the way for Spotswood was pitcher-shortstop Cody Pace, who will not be competing in the summer league because he graduates. The Montclair State Universitybound Pace finished with a .551 average at the plate and a 5-2 record on the mound.
The GMCSBL schedule opened with games Monday and continues throughout the month of June. The tournament will be played July 5-13 at sites to be determined.
Thursday, July 15
2010 AABC/Don Mattingly State Playoffs
5 GMCSBL TEAMS HEAD INTO AABC/MATTINGLY STATES TODAY
Bridgewater, NJ-
It didn't take very long for the Greater Middlesex Coaches Summer Baseball League to make noise on the AABC national scene. The newly affiliated league sent South Plainfield to the AABC World Series in its' first year of existence. The trip to New Mexico was one that S.P. would parlay into a seat atop the Start Ledger rankings for a good part of the high school season as New Jersey's number 1 team.
This year, the GMCSBL looks to return a team to the World Series in Farmington, NM, with 5 slugging squads looking to win the New Jersey State Championship and grab a bid out West.
South Plainfield is one of those teams looking to return to New Mexico. They will be joined by 3 other GMCSBL region winners in Middletown South, South Brunswick and St. Joe's. An at-large bid was recieved by Middlesex, the top point getter during the regular season.
Thursday will have 2 all GMCSBL matchups in the opening round with Middlesex and St. Joe's hooking up in a rematch of Saturday's region final (St. Joe's scored 12 unanswered runs for the 12-6 win) and South Plainfield facing off with South Brunswick.
The South Plainfield/South Brunswick game could be one of the best games of the tournament. South Brunswick has been the most complete and consistent team all summer. They are the Middlesex Co. South and Region Champion. South Brunswick can do it all. They can pitch behind undefeated Alex Carroll, and hit with slugger Nick Muha, Craig Cleffi and John Yurecko. South Plainfield possesses the best weapon in the tournament with lefty Dan Hansen. The southpaw has not lost all summer and has yielded one earned run. Hansen returns to the mound after striking out 20 vs. Woodbridge in the Regional Final on Saturday. If they have their full compliment of players, South Plainfield will be a tough out in this tournament.
With the group of teams from the GMCSBL headed out to Bridgewater, the prediction is that one of the 5 teams will advance. Choosing which team it will be is the most difficult part. The fun part is going to be watching it all go down at Nap Torpey Field and Prince Rodgers field in Bridgewater Twp starting Thursday.
Prediction: South Brunswick will return the favor from last year and win it out of the loser's bracket to advance to New Mexico!
Good luck to all of the teams in this year's tournament.
-Glenn Fredricks
**For Brackets and Game Times, Click the Link Below**
http://www.leaguelineup.com/pyramidbaseball/files/2010%20Don%20Mattingly%2017U%20Bracket.pdf
Friday, July 2
2010 GMCSBL PLAYOFFS
2010 GMCSBL PLAYOFFS SET
SPOTSWOOD, NJ-
The 2010 Greater MiddMonmouth Coaches Summer Baseball League Tournament is set to kick off Monday. The 32 team single elimination tournament will be broken up into 4, 8 team regions with each Region reflecting the half-season leader from each division.....
The Regions are as follows:
MIDDLESEX REGION
RED BANK CATHOLIC REGION
SOUTH BRUNSWICK REGION
HOWELL REGION
In the Middlesex Region:
(8) Mater Dei at (1) Middlesex - Middlesex 10-0
(7) Colonia at (2) Christian Brothers - CBA 3-2
(6) St. Rose, Belmar at (3) St. Joseph's , Metuchen - St. Joes 3-2
(5) Iselin Kennedy at (4) Monmouth Regional - Monmouth Reg. 8-7
In the Red Bank Catholic Region:
(8) Timothy Christian at (1) Red Bank Catholic - 10-0
(7) Rumson at (2) Woodbridge - Woodbridge 10-0
(6) Edison at (3) Red Bank Regional - Edison 7-4
(5) Ocean Twp at (4) South Plainfield - South Plainfield 2-0
In the South Brunswick Region:
(8) Holmdel at (1) South Brunswick - South Brunswick 7-3
(7) Spotswood at (2) Manalapan - Spotswood 3-1
(6) Freehold Boro at (3) North Brunswick - North Brunswick 11-1
(5) South River at (4) Colts Neck - Colts Neck 16-6
In the Howell Region:
(8) Princeton at (1) Howell - Howell 11-1
(7) Marlboro at (2) Perth Amboy - Marlboro 3-2
(6) East Brunswick at (3) Freehold Township - Freehold Twp 7-6
(5) Middletown South at (4) Old Bridge - Middletown South 10-0
Each Region will play to a winner (3 games, Monday-Tuesday-Saturday).
The Schedule for the Regional Semifinals are as Follows:
TUESDAY, JULY 6TH
Middlesex Region:
Monmouth Regional at Middlesex - Middlesex 14-4
St. Joseph's (Metuchen) at CBA (Lincroft) - St. Joes 5-1
Red Bank Catholic Region:
South Plainfield at Red Bank Catholic (Shrewsbury) - South Plainfield 13-3
Edison at Woodbridge - Woodbridge 8-6
South Brunswick Region:
Colts Neck at South Brunswick - South Brunswick 11-3
Spotswood at North Brunswick - North Brunswick 8-2
Howell Region:
Middletown South at Howell- Middletown South 4-3
Marlboro at Freehold Township - Marlboro 14-1
*All games are scheduled for 5.45pm unless otherwise noted*
REGION FINALS, SATURDAY JULY 10
ST. JOSEPH'S VS MIDDLESEX - ST. JOES 12-6
MARLBORO VS MIDDLETOWN SOUTH - MIDDLETOWN SOUTH 9-0
SOUTH PLAINFIELD VS WOODBRIDGE - SOUTH PLAINFIELD 6-0
NORTH BRUNSWICK VS SOUTH BRUNSWICK - SOUTH BRUNSWICK 8-2
**ALL GAMES TO BE PLAYED AT NORTH BRUNSWICK COMMUNITY PARK, RT. 130 IN NORTH BRUNSWICK TWP 1/4 MILE SOUTH OF ADAMS LANE**
Region Champions will get a bid to the AABC/Don Mattingly State Championships in Bridgewater on July 15. Higher seeds will host Monday/Tuesday matchups and the Regional Finals will be held at North Brunswick Community Park on Saturday July 10th.
Sunday, July 4
16U Tournament Set
The 2010 Middlesex County AABC/Mickey Mantle Tournament is set to kick off Monday. The higher seed will host each game with the 2 finalists going to the Mickey Mantle State Playoffs in 2 weeks.
The matchups are as follows:
MONDAY, JULY 5:
(9) Spotswood at (8) Highland Park - Spotswood wins
TUESDAY, JULY 6:
Spotswood at (1) St. Joeseph's- St. Joes 12-0
(7) JFK at (2) Edison - JFK 11-5
(6) Woodbridge at (3) Middlesex - Middlesex 12-9
(5) Colonia at (4) Perth Amboy- Perth Amboy 12-2
WEDNESDAY, JULY 7:
JFK AT MIDDLESEX - MIDDLESEX 10-7
PERTH AMBOY AT ST. JOES- ST. JOES WINS
CHAMPIONSHIP SATURDAY:
JULY 10TH
MIDDLESEX AT ST. JOES - St. Joseph's 12-0
St. Joseph's and Ocean Twp will represent the GMCSBL at the AABC/Mickey Mantle State Playoffs in Newark July 15-18
Thursday, June 3
OPENING DAY 2010
NEWLY EXPANDED GMCSBL SET TO KICK OFF JUNE 7
Building on the success of 2009, the newly expanded GMCSBL is set to kick off across 2 counties and features 32 AABC/Don Mattingly teams. This summer will also see the rise of the dual county AABC/Mickey Mantle division featuring 22 teams from Middlesex and Monmouth counties.
In year 1, the GMCSBL crowned 2 champions. The first was the winner of the inaugural GMCSBL Tournament, South Brunswick. SB first knocked off South Plainfield in a Final 4 game at Woodbridge HS, game 1 of a double header. The other semifinal saw Group III champion JFK defeat St. Joseph's to set up the 1st ever Final at Roland Park in South Brunswick. South Brunswick became champions, defeating JFK 7-2, and paved the way for a GMC Title run this past scholastic season.
South Plainfield would have the final say, however, defeating South Brunswick in the NJ State Finals in Bridgewater a week later. South Plainfield, who would earn the number 1 spot atop the Start Ledger poll this past Spring for 3 weeks, came out of the loser's bracket to top South Brunswick and gain a measure of revenge. The NJ State Champion Tigers went on to a 3-3 record at the Don Mattingly World Series in Farmington, New Mexico.
This season, the GMCSBL welcomes 16 teams from neighboring Monmouth County into the league. The tournament now will expand to 32 teams and keep the single elimination format. The regular season will see in-county opponents on Monday and Thursday with county crossover games played on Tuesdays. The Mantle League will run locally (county only) on Mondays, Wednesdays, and Fridays.
Last summer was a great success. With the addition of Monmouth County, which fields some of the best teams in the state of New Jersey, this season looks to be even better.
Hope to see you at the ballfield!
Thursday, July 30
1st Season Concludes
2009 MIDDLESEX COUNTY CHAMPS:
SOUTH BRUNSWICK
2009 AABC/DON MATTINGLY NEW JERSEY STATE CHAMPS:
SOUTH PLAINFIELD
FOR COMPLETED NEW JERSEY STATE TOURNAMENT BRACKET, CLICK BELOW
http://www.leaguelineup.com/pyramidbaseball/files/2009%20Don%20Mattingly%2017U%20%20Bracket.pdf
CONGRATULATIONS TO COACH MUHA AND HIS SOUTH BRUNSWICK SQUAD WINNING THE FIRST EVER GMCSBL TOURNAMENT CHAMPIONSHIP!
***LEAGUE SCHEDULE LOCATED BELOW***

Wednesday, August 5
CLOSING CEREMONIES
GMC Summer Baseball League comes to a close




The inaugural season of what looks to be another of Middlesex County baseball's recent success stories came to a close this week after Greater Middlesex Coaches Summer Baseball League and state champion South Plainfield exited the Don Mattingly World Series in New Mexico.
South Plainfield was bounced from the tournament in dramatic fashion as the Albuquerque Dukes defeated South Plainfield 10-9. South Plainfield went 3- 3 at the tournament. The team won its first game, an 8-6 victory over New Mexico ABA, and finished with an 8-7 win over New York Paveco Storm.
"To have one of the league's clubs advance to the Don Mattingly World Series in just our first summer was pretty special," GMC Summer Baseball League founder Glenn Fredricks said. "I think that just goes to show the level of competition in our league and the quality of baseball the teams played this summer."
The GMCSBL proved so strong this summer that five of the eight teams at this season's state tournament were from the league. Along with state champions South Plainfield, John F. Kennedy, St. Joseph, South Brunswick, and Woodbridge qualified for the tournament.
"The league was an overall success," Fredricks said. "Next year we'll be looking to add some teams from the Monmouth County area as well as creating a junior league to get even more area players involved."
Fredricks, who is also the coach of the Spotswood team in the league, did say the inaugural season was not without its hiccups.
"This summer was definitely a learning process," he said. "What I learned is that communication is incredibly important. I've been coaching for a while now, but having the responsibility of overseeing a league of 15 teams is a different story. Not only is communication among coaches important, but communication at every level is critical."
Noticing the toll this summer had on Fredricks did not go unnoticed by his coaching counterparts.
"Glenn is a great guy and he did a great job with the league, but I think he learned that he's going to need help," Woodbridge head coach Lou Urbano said. "You could see that he was worn out at the end of the season from taking on too much."
Fredricks concurs with Urbano's assessment and thinks the lumps he took as the league founder will only make the league stronger come next summer.
"Aside from a few hiccups, the benefits of the league were great," Fredericks said. "From my own personal standpoint as the coach at Spotswood High School, I got to see what my colleagues have coming back next spring. I got looks at the entire St. Joe's pitching staff, and I can tell you who looks to be strong in the White Division next year. I'm sure the other coaches feel the same way."
Fredricks added, "when you are surrounded by great people as we are in the GMC, it makes big moves like what we did this summer a lot easier. We had a lot of dedicated players, parents and coaches make it work. Next year will be a breeze because everyone worked so hard this year and you can't thank them enough."
Wednesday, August 12
1st Annual Middlesex Best Series
Middlesex Best Series Goes the Distance
Matrix College Prep squad wins in three games
Middlesex County's top graduating seniors and soon-to-be seniors squared off last week to officially mark the close of the Greater Middlesex Coaches Summer Baseball League.
Dubbed Middlesex Best, the three-game series pitted the Middlesex Matrix Prospects 17-and-under team against its older counterparts, the Matrix College Prep 19-and-under team.
"The turnout for the three-game series was great," GMCSBL founder Glenn Fredricks said. "College coaches and scouts were in attendance, and they got up-close looks at guys headed to their programs this season and guys they may want to play for them in the near future."
The Matrix Prospects took Game 1 of the series, 8-3, and looked poised to sweep the elder statesmen, but Edison's Steve Nappe had other ideas. With the game tied 4-4 in the seventh inning, Nappe belted a walk-off grand slam to force a Game 3 at Kean University.
John F. Kennedy's Joe Marciano took the ball for the Matrix Prospects in the deciding game and tossed a solid five innings before Kennedy teammate Zack Hopf came on to shut the door on the College Prep team as the Prospects won, 3-2.
"Hopf got into some trouble in the seventh
inning," Fredericks said. "The College Prep team led off the inning with a double and eventually put a runner on third with one out, but Hopf demonstrated why he's such a bulldog and recorded the save."
Hopf, the winning pitcher in Game 1, was named series Most Valuable Player.
Spotswood's Cody Pace scored the winning run for Matrix Prospects. Pace reached base with a seventh inning single and promptly stole second to put himself in scoring position. Kennedy's Jay Stolz plated Pace and the winning run with a single to left center.
"You couldn't have scripted a better ending to our first season," Fredricks said. "With South Plainfield winning the state tournament and advancing to the Don Mattingly World Series, and with the county all-stars putting on a show for three games, it was the perfect ending."
One thing the Middlesex Best series demonstrated is that Middlesex County is clearly staking its claim as one of the top baseball counties in the state.
"One of the objectives of the new league was to put Middlesex County on the map," Fredricks said. "The county hasn't gotten the recognition it deserves in years past, and we hope the league can change this. Considering the turnout from college scouts and coaches at Kean University, it appears that college coaches are taking notice of the talent in our area."
Friday, July 31
SOUTH PLAINFIELD WINS CONSOLATION GAME
ALBURQUERQUE, N.M. — Matt Cesare's sacrifice fly in the bottom of the seventh inning game the South Plainfield GMC Coaches league team an 8-7 victory Thursday over the New York Storm out of Long Island in a game featuring two eliminated teams in the Don Mattingly World Series.
Dylan Papa, who had walked leading off the seventh, scored the
game
winning run. Alex Liszewski's backhanded catch in the top of the seventh kept the game tied at 7-7.
Mark Tomei led South Plainfield (3-3 in the tournament) going 2-for-2 with a double, an RBI and a run while Cesare added two hits, including a double, and two RBIs.
Thursday, July 30
17U AABC/Don Mattingly World Series
ALBUQUERQUE, N.M. — The South Plainfield Greater Middlesex Conference Coaches League team's run at the Don Mattingly World Series in New Mexico ended in exciting fashion, with a play at the plate, giving the home club, the Albuquerque Dukes, a 10-9 win in extra innings.
The Dukes, who were up 6-0 early in the game, scored the winning run on a closely-contested throw at home off of a single. After South Plainfield took a two-run lead in the top of the ninth inning, but Albuquerque came back with three runs in the bottom of the inning.
South Plainfield was down 6-3 in the top of the fifth inning, but capitalized on mistakes to tie the game.
With one out, Carlos Ruiz walked, then advanced to third on Mark Tomei's single. After the Dukes changed pitchers, Ruiz scored on an error.
Dan Hansen then doubled, scoring Tomei to bring South Plainfield within one. The second out of the inning came when Rob Pasternak's grounder turned into a fielder's choice out at the plate. Pasternak stole second base, and when the throw went past the second baseman into center field, Hansen scored to tie the game.
Hansen also scored a run in the top of the seventh to give South Plainfield their first lead of the game, but the Dukes were able to tie the game again in the bottom of the inning.
South Plainfield was 2-3 in the tournament, including 1-2 in the double-elimination round.
"They battled their hearts out,' coach Anthony Guida said. "It was a well-played game by both sides.'
Wednesday, July 29
17U AABC/Don Mattingly World Series
ALBUQUERQUE, N.M. — The South Plainfield GMC Coaches League team split its first two games Tuesday in the Don Mattingly World Series in New Mexico.
The 10th-seeded Tigers won the first
game
of the tournament, beating seventh-seeded New Mexico ABA 16-U, 8-6, behind a seven-run sixth inning. Matt Cesare capped off the big inning with a two-RBI triple to give South Plainfield its first lead of the game.
Dan Hansen started the inning by reaching on an error and was replaced with pinch runner Mark McCullen. Steven Petriello walked, Kyle Hughes singled and Carlos Ruiz hit a bases-clearing triple.
Mark Tomei singled to score Ruiz and bring South Plainfield within a run of New Mexico ABA.
Mark Tasternak sacrificed Tomei to second base. Mark Benak followed with an RBI single to score Tomei and tie the game.
Brandon Downes followed with a fielder's choice and Cesare brought in Downes and Benak.
Ruiz picked up the win in relief, throwing two innings of hitless relief.
The Tigers dropped the second game to top-seeded Team Trombly California 8-7 in the second game. Trombly has scored 70 runs in their first three games.
Pasternak hit a one-out RBI triple in the seventh inning to pull South Plainfield within a run of Trombly. Pasternak was unable to advance.
Downes went 2-for-3 with two runs scored and an RBI for the Tigers. Petriello finished 2-for-4 with an RBI. Tomei went 3-for-4 with one RBI and two runs scored. Cesare and Benak both went 2-for-3.
South Plainfield is playing at 9 a.m. today against a team to be determined. Every game is a must-win in order to advance.
Friday, July 31
MATRIX 17 NEWS: CODY PACE
Cody Pace Led the Charger Offense with 4 HRs for the Summer
Pace brings athleticism, right attitude to game
Relief pitcher, top hitter looks forward to senior year
BY JIMMY ALLINDER Correspondent

It's a rare summer day when Cody Pace can interrupt his baseball season and head down the Shore.
Between juggling playing time for the Spotswood entry in the GMC Summer Baseball League and a team made up of 17- and-under all-stars for the New Jersey Matrix, the Milltown native competes nearly every day. And that leaves little time for R and R.
However, baseball 24-7 suits Cody Pace just fine. His love for the sport is only exceeded by his motivation to realize his extraordinary potential.
"I'm involved with the two leagues and some days I play doubleheaders. It's fastpaced and mentally challenging," Pace said, "but I might as well get used to it. That's what I'll face if I want to play baseball in college."
One person who is partly responsible for Pace's hectic summer is his baseball coach during the regular high school season, Glenn Fredricks. The highly successful mentor is also coach of the Spotswood Summer League GMC team and on the staff for the Matrix team. Fredricks has helped develop a number of players who have gone on to college, most recently another Milltown native, Willie Beard, who is a member of the Rutgers pitching staff. Fredricks understands that the way to prepare for college baseball is to expose him to as many situations — in his case, positions — as possible.
"The level of play in these summer leagues is extremely high," said Fredricks, "and a lot of college coaches and scouts come to watch the players. So you try to put them in as many different positions as possible so they can show what they can do. Cody might start at shortstop, move to second and then to third."
Fredricks says that being a member of the select Matrix team enables scouts to observe other intangibles.
"Let's face it," he says. "Each kid is the best on his school team and there's no time for individualism. The kids have to mesh together and play for each other. Cody has excelled in that aspect of the game and don't think scouts aren't taking notice. It's a sign that he'll succeed at the next level."
Pace has done quite well, no matter when and where he has played. While Spotswood's high school season was a disappointment (12-13, which represents the Chargers' first losing campaign in 15 years), Pace was the success his coach and others envisioned. As a junior, he led the team in hitting with 29 hits. As a relief pitcher, Cody did not allow an earned run in seven appearances and was credited with five saves.
Pace comes from an athletically inclined family. His father, Rickey, was a three-star athlete in football, basketball and baseball for St. Pius in Piscataway before the parochial high school closed its doors; he then moved over to Spotswood. His uncle, Ken, is the former Colonia High School basketball coach who led the Patriots to a number of GMC titles.
"As good as Cody is playing baseball," said Fredricks, "he's an even better person. He possesses the attitude, athleticism and other intangibles that separate him from the average player. And that is what is going to make him a successful college player."
The expectation is that Pace will land at a Division I or II college once he completes his senior year. Thus far, he has heard from St. Peter's (Jersey City), Bryant College in Massachusetts, and Montclair State. Rutgers is also sending him letters.
So where will Pace, who owns a 3.2 grade point average in high school, wind up?
"I'd like to go to school that's somewhat close to home," he says, "and I'd prefer it not to be too big. Does that mean my college choice will be based on whether or not I receive a scholarship? Actually, no."
"Cody has the right attitude as far as where he is going to take his ability," Fredricks said. "We've taught kids that choosing the right college isn't necessarily where they are going to get the opportunity to play baseball on scholarship. Honestly, a baseball career can end with one injury. Hopefully, the school you end up going is where you feel most comfortable."
While Pace decides where he will attend college, he is looking forward to his senior year, not only because it will be his last opportunity to play baseball for his high school. Cody was a member of the outstanding Charger basketball team that finished 21-5, a group looking to continue its winning ways this winter.
"We lost a few guys, but we have Mike (Liming) the Paretti twins (Jim and Tom), and Tyler (Osofosky) back," Pace said. "It should be an exciting season."
However, Pace's senior baseball season will be his showcase year and could ultimately determine where he ends up going to school. Equally important is the opportunity to lead Spotswood back to its position as one of the better teams in the GMC.
"Cody isn't a rah-rah type of leader," Fredricks observed. "But we usually have kids on the roster from all classes, including freshmen. He understands the younger players are looking at how he reacts to any situation. That's leadership by example."
All of which could lead to a college baseball career.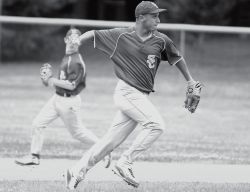 Pace Anchors a Solid Defense for 2010 at SS
Tuesday, July 14
GMCSBL TOURNAMENT FINAL
Mike Muha Celebrates With Teammates After Titanic 4th Inning HR
SOUTH BRUNSWICK — As the cornerstone of the South Brunswick High School varsity baseball program, first baseman Mike Muha and shortstop Juan Perdomo Jr. faced a difficult decision this summer.
Should the rising seniors play in the more competitive Middlesex County Senior American Legion Baseball League against college freshmen and recently graduated seniors or in the newly formed Greater Middlesex Conference Coaches Summer Baseball League for players who will enter grades 9 through 12 in the fall?
Muha and Perdomo Jr. opted to play in the latter where they could bond with and help groom future varsity players.
The duo took their leadership role on and off the field seriously.
On Monday night, Muha and Perdomo Jr. belted back-to-back homers in the fourth inning to lead South Brunswick to a 7-2 victory over J.F. Kennedy in the GMCCSBL championship at Rowland Park.
South Brunswick and four other GMCCSBL teams — J.F. Kennedy, St. Joseph, South Plainfield and Woodbridge — will represent the league in this weekend's American Amateur Baseball Congress Don Mattingly New Jersey Championships in Bridgewater.
The double-elimination tournament begins Friday. Games will be played at Bridgewater-Raritan High School and Prince Edward Field.
South Brunswick's Senior American Legion team swept Iselin in their best-of-three playoff series on Monday night to earn Middlesex County's second bid in the Senior American Legion District Tournament, which begins Saturday. South Brunswick and regular-season Piscataway will represent Middlesex County in the districts at Memorial Stadium in New Brunswick.
Muha has no regrets about playing with younger teammates who proved throughout this summer season that South Brunswick High School's varsity squad will be a force to be reckoned with next spring.
"Basically that is the reason we decided to stay," Muha said. ""The main goal since we came to high school was to win a championship as a team. We could play with this team, get this team ready for next year and get us prepared to win the county and state championships next year, which is our goal. So this is what best prepares us for that. At first, everybody was saying it's a sacrifice we made. I really don't think so because this team can play. Whether I played here or with legion, it was great. I had a blast."
South Brunswick (12-2) provided winning pitcher Zach Gildenberg with all the offense he needed in the home first. The victors parlayed four errors and two hits — Mike Heyer's leadoff single and Mike Kotarski's rally-capping two-run single — into a four-run rally.
The undefeated Gildenberg, a right-hander and the workhorse of South Brunswick's staff, was masterful in earning his sixth victory. He scattered two hits, fanned two, hit two batters and walked one.
Gildenberg did not allow a hit until the fourth inning. Nine of the 12 outs he recorded came off groundballs. J.F. Kennedy spoiled his shutout bid on Brandon He-Kalo's sacrifice fly in the fifth.
South Brunswick took a 7-0 lead in the fourth on Muha's two-run homer and Perdomo Jr.'s solo blast. Both home runs sailed over the left-center field fence off starting pitcher A.J. Pichalski.
"We needed someone to step up and score some more runs and make the lead more concrete," Muha said. "It kind of just raised the energy level and momentum on our side. I'm not going to say it sealed the game, but that was the changing point right there."
J.F. Kennedy produced the final margin on Dom Rella's run-scoring sacrifice fly in the seventh. Muha, who pitched the final two innings, worked out of a bases-loaded jam in the seventh to preserve the win.
J.F. Kennedy's lineup featured six members of the reigning NJSIAA Group III championship team. Three starters from that squad who are regulars on J.F. Kennedy's GMCCSBL team were unable to attend Monday night's game.
Shortstop Joe Marciano, center fielder Jorge Rivera and left fielder Kyle Grimes were instead participating in a N.J. State Police Junior Trooper Academy, which conflicted with the championship.
Sunday, July 12
SEMIFINAL 1: SOUTH BRUNSWICK 3, SOUTH PLAINFIELD 2
Mike Muha (24) Celebrates With Teammates After 4th Inning Blast
WOODBRIDGE — After uncorking a wild pitch with the tying run on third and two away in the top of the seventh, one thought raced through right-handed reliever Mike Muha's mind as he sprinted to cover home plate.
"I just knew that I had to get there," Muha said. "I was the one who threw it to the backstop so I was the one that had to make the play to bail my team out. It was my fault."
Muha scooped batterymate Gabe Frankel's one-hop throw out of the dirt and, in one sweeping motion, tagged sliding Brandon Downes out at home to preserve South Brunswick's 3-2 win over South Plainfield in Saturday's Greater Middlesex Conference Coaches Summer Baseball League tournament semifinal at Woodbridge High School.
The win lifted South Brunswick (11-2), which has won nine of its games by two runs or less, into Monday's 7 p.m. final against J.F. Kennedy at Rowland Park in South Brunswick.
"This is a special group," said South Brunswick coach Mike Muha, the father of the reliever. "When we started out eight weeks ago, we set a couple of goals. No. 1: We wanted to get to the (GMC) championship, not in the summer, but next year. And we also wanted to get to the state (Group IV) championship. Everything we've done — win lose or draw — is to win a championship next year.
"That's why these (rising seniors) stayed behind and didn't go play Senior American Legion. They are playing with the kids they are going to play with next year, and the chemistry with this group is just unbelievable. There is not one kid out here better than the other. They all approach the game the same way — that they are going out and work their rear ends off to do the best they possibly can."
The younger Muha's 1-1 offering to cleanup batter Matt Cesare sailed to the backstop, which is about 15 feet behind home plate. Frankel skillfully played the carom and came up throwing. Downes, arguably South Plainfield's fastest runner, said he believed he was out on the bang-bang play.
"I just started to go and then (Frankel) made the great throw," Downes, a catcher, explained. "I just slid and then (Muha) tagged me. It was pretty close."
South Plainfield coach Mike Battista, whose team stranded seven runners and committed two errors which led to two unearned runs, said the game's outcome was not decided on the final play.
"I thought (Downes) made a great decision," Battista said. "They made a great play to keep us away from the tie. But hey, it did not come down to that. We had our chances."
South Plainfield squandered a quality outing by left-hander Dylan Papa, who scattered three hits, fanned five, walked two (one intentionally) and hit a batter.
"Dylan just pitches to the strike zone," Battista said. "If you can do that and mix up your speeds like he does you're going to have great performances like he did today. He's got a good future ahead of him."
With the score tied 2-2 in the home sixth, Papa drilled leadoff batter Jeff Dunleavy in the back on his first pitch of the inning. Muha reached on an infield error. Both runners advanced on Chris Palumbo's sacrifice bunt. Papa intentionally walked the next batter to load the bases.
Instead of playing the corners tight and his middle infield at double-play depth, Battista opted to play his entire infield in to try not only for a force at the plate but perhaps a home-to-first twin killing.
"Brandon has a great arm," Battista explained. "I was thinking a bang-bang play at the plate and (throw to) first base double play."
Battista nearly got the type of ground ball he hoped for, but the hot smash off John Yurecko's bat was two steps to the right of second baseman Rob Pasternak, who made a spectacular play just to keep the ball in front of him. The ball caromed off Pasternak's glove to shortstop Mark Benak, whose only play was at first base. Yurecko's fielder's choice groundout scored Dunleavy with what proved to be the winning run. Ironically, Yurecko's grounder would have been a tailor-made 4-6-3 double-play ball.
South Brunswick forged a 2-2 tie in the home fourth on Muha's leadoff homer. He crushed Papa's first-pitch fastball over the left-centerfield fence.
South Plainfield took a 2-1 lead in the top of the fourth. Kyle Hughes stroked a one-out triple to right-center. He scored on a botched suicide squeeze. No. 9 batter Mark McCullen failed to get the bat on a high fastball. The pitch caromed off the catcher's glove for a passed ball as Hughes crossed easily.
South Plainfield knotted the contest at 1-1 in the third. With two outs, starting pitcher Mike Heyer issued consecutive walks to Downes and Cesare. Downes scored on Dan Hansen's bad-hop single to shortstop.
South Brunswick took a 1-0 lead in the second. Cleffi used his speed to turn a Texas League-hit into a double. He scored on a one-out infield throwing error.
Sunday, July 12
SEMIFINAL 2: KENNEDY 12, ST. JOE'S 8
MARCIANO LEADS KENNEDY PAST JOE'S 12-8
Winning pitcher Joe Marciano helped his own cause with three hits as J.F. Kennedy rolled to a 12-8 victory over St. Joseph in Saturday's Greater Middlesex Conference Coaches Summer Baseball League tournament semifinal at Woodbridge High School.
J.F. Kennedy (9-4) will play South Brunswick for the league title 7 p.m. Monday at Rowland Park in South Brunswick.
J.F. Kennedy had eight successive batters reach base safely — six on hits and two on walks — while building a 6-0 first-inning lead. Kyle Grimes capped the rally with a sacrifice fly.
St. Joseph, which trailed 12-2 after three innings, chipped away at the deficit. Anthony Parenti's two-run homer in the seventh produced the final margin as St. Joseph could get no closer.
Shane Alvarez collected three hits for St. Joseph.
Thursday, July 2
PLAYOFF SEEDS ANNOUNCED
The first GMCSBL tournament will be contested over the course of the next week beginning Monday July 6th. Round 2 will be July 7th. The Final 4 is to be at a neutral site on Saturday, July 11th, as is the Title Game on Monday, July 13th. The tournament has 13 teams vying for 5 bids into the AABC/Don Mattingly State Playoffs (July 16-19).
The seeds were as follows:
9-SOUTH RIVER @ 8-SPOTSWOOD, WINNER AT 1-ST JOES
12-RUTGERS PREP @ 5-COLONIA
13-NORTH BRUNSWICK @ 4-KENNEDY
11-EDISON @ 6-SOUTH PLAINFIELD, WINNER AT 3-WOODBRIDGE
10-OLD BRIDGE @ 7-PERTH AMBOY (GAME TIME 4PM AT RUDYK PARK), WINNER AT 2-SOUTH BRUNSWICK
ALL GAMES FOR ROUND 1 WILL BEGIN AT 5PM AT THE HIGHER SEED ON MONDAY UNLESS OTHERWISE NOTED.
ALL TOURNAMENT GAMES ARE TO BE PLAYED UNDER NJSIAA HS RULES WITH NO EXCEPTIONS.
GOOD LUCK TO ALL OF THE TEAMS IN SEARCH OF BECOMING THE FIRST GMCSBLT CHAMPION!
Thursday, July 2
4TH OF JULY TOURNAMENT
4TH OF JULY BEACH BLAST AT RED BANK REGIONAL
Directions to Red Bank Regional HS: Take Parkway to Exit 109. At the end of the ramp make a left onto Newman Springs Rd. (Rt. 520). From Southern Middlesex County you can take 520 all the way out. At the end of 520, take a left onto Broad St. (Rt. 35). Go to 3rd traffic light which is Harding Rd. and make a right. Red Bank Regional HS is approx. 3 miles down on the right side.
Game 1 is at 10.45am. Report no later than 9.30
Monday, June 29
GMCSBL/MATRIX NEWS
Matrix 17U is Led By Middlesex County's Top Underclassmen
It didn't take long for Glenn Fredericks to reap the benefits of managing some of the better young players Middlesex County has to offer.
Just three games into its inaugural season, the head coach of the Greater Middlesex Coaches Summer Baseball League's 17-and-under showcase team got to start a game with South Plainfield's Dylan Papa, who handed off to teammate Matt Cesare, who in turn was followed by South Brunswick's Mike Muha, who slammed the door in a 2-1 win.
"You can rotate in pitchers whose names you were reading in the paper every day and now they're on your staff," said head coach Glenn Fredericks, the league's founder and the head coach at Spotswood High School. "It's pretty humbling when you have that kind of talent."
Of course, that's life as the head coach of a showcase team, and the first-year GMCSBL has two of them.
Fredericks coaches the younger of the two, which features the top 17 underclassmen who are also members of the league's regular teams dispersed throughout the county. Those squads play during the week, freeing the showcase team to come together for weekend tournaments.
"With the format we were going to create for the coaches league, it was going to leave weekends open," he said, "which was perfect for the idea of these showcase-type teams being incorporated to run with league play."
This type of All-Star squad isn't as feasible for players in the American Legion league, Fredericks said, because their schedule is too hectic to allow them to also participate with other teams. Since Legion was losing players to showcase teams, he saw a way to kill two birds with one stone.
"Why don't we create a league," he said, "where we keep the players and have the showcase?"
For Muha, participation in both the league and the U17 team is helping build toward his ultimate goals of state and county championships. He said he enjoyed playing Legion last year, but jumped at the opportunity to join the GMCSBL.
"In the high school league during the week, we're getting our team ready for next year," he said. "Then you get the chance to play some great competition around the state, it's really good and exciting."
In that way, Fredericks sees a system that will benefit the GMC in the long run, as the best high school players get to hone their skills during the scholastic offseason.
"You're playing against teams where every single guy is now somebody's ace somewhere," Fredericks said. "This is really going to open up things. It's good for self-reflection for even some of the best in the GMC. They can gauge how far they need to go. It's only going to make our best players better."
Then there are the graduating seniors who aren't eligible for the GMCSBL, which is designed as a feeder system for high school teams. Those players instead are members of the 18-year-old team coached by Mark Blevins, a member of Kean's 2007 Division III national championship team who currently works as an instructor at the Baseball Warehouse in Highland Park.
"We wanted an 18-year-old team to play its own schedule," Fredericks said. "They're playing two, three nights a week. They have time to enjoy their last summer before going to college, but we're also prepping them for what they're going to see in the fall."
And that is perhaps the biggest benefit to this squad, he said. Legion offers outgoing seniors the chance to play against first-year college players, which is something the GMCSBL can't offer through its regular teams.
"These guys are going to get a good glimpse at what's out there, and what colleges are looking for," Fredericks said. "I think it's going to be really good to see where they stand."
Of course, this is still a relatively new venture, and to some extent, the GMCSBL teams are playing catch-up with teams such as DiamondJacks, which draws players from, among other teams, Group IV champion Hunterdon Central. Frederick's club got to face off against DiamondJacks in the preliminary round of the Super 17 tournament June 19 to see where they stand.
"I'm having a great time getting to know some of the better kids around the county," Muha said. "As a player, it's great to know you have them to back you up. It's a good challenge because you want to play with the best competition."
And whether they win or not in that game and others, the process is underway, thanks in large part to the players who are giving the GMCSBL a shot.
"A great deal of respect has to go out to kids who got on board," Fredericks said. "It's not easy to do new things, especially when you only have a year or two left of summer ball. I give a lot of credit to them to be the first to go through the process. We're four and five years behind everybody else, so these guys are really setting a foundation."
Tuesday, June 23
SUPER 17 TOURNAMENT RE-CAP
Perez Connects for the HR vs the Wladyka Nats in Game 2
Making its first tournament appearance of the summer, the Middlesex County Matrix 17 & Under team went 2-1 over the weekend at the Super 17 Invitational at Diamond Nation in Flemington. The Matrix drew NJ Diamond Jacks, the host team at Diamond Nation, in the first round and came up short in a 4-2 defeat. Diamond Nation is home to the renowned Jack Cust Baseball Academy.
"We had a 2-0 lead for the better part of the game, but the Diamond Jacks put together a rally off Nick Marics in the fifth," Matrix head coach Glenn Fredericks said. "Marics pitched a heck of a game and did a great job of mixing speeds all day. Getting into wood bat play allows Nick to pitch to both sides of the plate with more confidence. He didn't deserve to lose, but the Diamond Jacks strung together a couple of cheap hits and their pitching is top notch, and they held us off."
The Matrix rebounded in the second game of the tournament with an offensive attack that resulted in a 10-run first inning. Left fielder Eric Perez smacked a two-run homer and teammate Mike Muha belted a grand slam in the fourth inning to lead the way.
"The team gelled really quickly," Fredericks said. "I think that is a testament to their respective high school coaches. Their coaches did such a great job throughout the spring that the kids came together so well in the summer. The kids are talented enough to make the transition to playing with unfamiliar teammates and get the job done."
Muha's slam gave the Matrix a 14-0 mercy-rule victory over the Wladyka Nationals from Bergen County.
To have a shot at qualifying for the playoff round of the Super 17 Invitational, the Matrix needed to win its third game, a meeting with the ITZ Angels. After falling behind 1-0 early, the Matrix scored the game's next 11 runs and ultimately defeated the Angels, 11-5. Muha recorded the victory for the Matrix.
Unfortunately, the Matrix needed Wladyka to beat the Diamond Jacks in order to advance to the playoffs, but the Diamond Jacks defeated Wladyka, 9-0. The Matrix finished the tournament in ninth place among 32 teams.
"We had a great time," Fredericks said. "In just our first tournament, I thought we did really well. We got a chance to see what we got, and our kids got a chance to play in front of an impressive crowd. Representatives from Purdue, Kansas and Rutgers were on hand, and even from schools like Miami and Long Beach State. How many times do you get to see that in New Jersey? It was special. In my four years of coaching Legion ball, I never saw a turnout of scouts like that."
Wednesday, June 24
TONIGHTS GAME UPDATES
GAMES FOR TONIGHT, JUNE 24th:
Tonight's Kennedy vs. Edison game will be played at the Edison Boys Baseball Complex. First Pitch is 8:30pm.
All other games are on as scheduled. Metuchen will be playing at Myrtle Field in Metuchen through Saturday.
Good luck......
MANAGERS PLEASE CALL PETE FAZZINO (732) 771 6275 AND TEXT GLENN FREDRICKS AS WELL WITH UPDATE ON YOUR GAME. DO NOT FORGET TO CONTACT THE OPPOSING COACH BEFORE 4PM ON THE STATUS OF YOUR GAME.
IF YOU HAVE A DOMED STADIUM, YOU'RE IN GOOD SHAPE.
Wednesday, June 24
Woodbridge vs. Spotswood
The Woodbridge baseball team rode an 11-run first inning to a 14-2 victory over Spotswood in the GMC Coaches Summer League Tuesday night.
Spotswood used three pitchers in the first inning alone, giving up six straight walks to begin the game. Woodbridge went through the order plus four more batters, with the first nine batters all making it home.
On the mound, Woodbridge pitcher Zach Hopf put together a complete game, giving up two runs on seven hits and walking two. Hopf struck out four batters by getting ahead in the pitch count.
"Getting ahead of hitters is most important. If you have two strikes against you, the pitcher could throw anything," Hopf explained, adding that his fastball was his best pitch during the game.
Hopf added two runs to his cause in the first inning, getting on base with a walk and getting hit by a pitch.
Coach Lou Urbano was impressed with his top ace.
"Every time he throws, he gives us a chance to win," Urbano said. "We have the utmost confidence in him."
Nick Natole was 2-for-2 with two runs scored, and James Lyzkowski was 1-for-2 with a double and three runs scored from the leadoff spot.
After the disastrous bottom half of the first inning, Spotswood settled down behind pitcher Jeff Coy. Coy retired the side in the bottom of the second, and finished the game with five runs on five hits in three-plus innings pitched.
"We forgot about the first and went from there," coach Glenn Fredricks said. "It's hard to refocus but we did that. Certain kids showed a lot of heart."
Spotswood got on the board in the third inning when Pete Mehr singled, followed by a Corey Weeks' single to center field and Corey Brown's walk. Mehr came home on a Cody Pace fielder's choice.
Joe Cappa scored the other run for Spotswood in the fourth.
"The older kids are doing a good job showing the younger kids how to battle," Fredricks said. "That will make a difference next spring."
Monday, June 22
MATRIX PLAYERS HONORED
MATRIX ROSTER LOADED WITH ALL STARS
The Middlesex County Matrix was well represented on the 2009 All County, All Area, and All State Teams as selected by the Star Ledger and Home News Tribune. In addition to having 7 out of the top 10 HNT teams (including Team of the Year Iselin Kennedy) competing in the GMCSBL, the Matrix rosters for 17 and 18U is loaded with players honored by both media outlets.
Here is a look at the accolades recieved by Matrix players:
THE HOME NEWS TRIBUNE-
1ST TEAM ALL AREA:
P- ZACK HOPF (17)
1B- MIKE MUHA (17)
3B- STEVE NAPPE (18)
OF- ERIC PEREZ (17)
UT- CODY PACE (17)
2ND TEAM ALL AREA:
P- JOE MARCIANO (17)
P- NICK MARICS (17)
1B- MATT MIECZKOWSKI (18)
2B- JAKE CAMPBELL (18)
DH- BRYAN SMITH (18)
3RD TEAM ALL AREA:
C- JAY STOLZ (17)
2B- PETE SENYSZYN (18)
SS- JUAN PERDOMO (17)
OF- ANDREW RIVERA (18)
UT- JOSE PERALTA (18)
HONORABLE MENTION:
JORGE RIVERA (17), KYLE GRIMES (17), ALEX TAYLOR (17), DYLAN PAPA (17), MIKE MUGLIA (18),
NEWARK STAR LEDGER-
1ST TEAM ALL MIDDLESEX COUNTY:
MIKE MUHA (17)
STEVE NAPPE (18)
2ND TEAM ALL MIDDLESEX COUNTY:
ZACK HOPF (17)
JOE MARCIANO (17)
JAKE CAMPBELL (18)
CODY PACE (17)
PETE SENYSZYN (18)
ERIC PEREZ (17)
3RD TEAM ALL MIDDLESEX COUNTY:
NICK MARICS (17)
JOSE PERALTA (18)
JAY STOLZ (17)
MATT MIECZKOWSKI (18)
BRYAN SMITH (18)
ALL STATE TEAMS:
GROUP IV-
STEVE NAPPE, 2ND TEAM
GROUP III-
JOE MARCIANO, 2ND TEAM
PETE SENYSZYN, 3RD TEAM
GROUP II-
CODY PACE, 3RD TEAM
ISELIN KENNEDY OF THE GMCSBL WAS RANKED #1 IN MIDDLESEX COUNTY AND COACH JERRY SMITH WAS HONORED AS THE COACH OF THE YEAR BY THE STAR LEDGER.
Thursday, June 18
SUPER 17 TOURNAMENT
17 U MATRIX FOR SUPER 17 TOURNAMENT
HERE IS A GLANCE AT TOMORROW'S OPENER AT JACK CUST'S DIAMOND NATION FOR MATRIX 17 PLAYERS:
- ALL PLAYERS MUST BRING THEIR BIRTH CERTIFICATE FOR IDENTITY VERIFICATION. THEY WILL NOT BE HANDED IN, SIMPLY CHECKED IN WITH THE PLAYER, SO BRING ORIGINAL.
- FOOTWEAR. METAL SPIKES ARE ALLOWED, HOWEVER MOLDED OR TURFS ARE ENCOURAGED. THERE IS TO BE NO "DIGGING IN" ON THE FIELD TURF.
- THESE GAMES ARE PLAYED WITHIN A 2 HOUR TIME LIMIT. IF THE HOME TEAM IS LEADING AFTER THE 2 HOUR LIMIT DURING PRELIMINARY ROUND PLAY, THE GAME WILL END.
- BATTING PRACTICE. THE HOME TEAM WILL HIT 1 HOUR AND 10 MINUTES BEFORE SCHEDULED 1ST PITCH, AND THE VISITING TEAM WILL HIT 40 MINUTES PRIOR.
-CHECK IN. PLEASE HAVE YOUR BIRTH CERTIFICATE READY FOR CHECK IN BY 2PM FRIDAY IF AT ALL POSSIBLE. IF SCHOOL DOES NOT PERMIT YOU TO DO SO, BE THERE AS SOON AS YOU CAN THEREAFTER.
- ALL 3 PRE-LIM GAMES ARE SLATED FOR DIAMONDNATION.
GAME 1- FRIDAY, 4PM VS. DIAMONDJACKS
GAME 2- SATURDAY, 10.15AM VS WLADYKA NATIONAL
GAME 3- SUNDAY, 8AM VS. ITZ ANGELS
THE ELIMINATION ROUND WILL BEGIN AFTER SUNDAY MORNING GAME FOR TEAMS WHO QUALIFY.
Thursday, June 18
18U MATRIX NEWS
Local baseball talent gravitates to new summer league squad
BY SHAWN LAYTON Staff Writer

Without an Edison Post 435 American Legion team taking local diamonds this summer, some of the area's best talent will be sporting new uniforms and suiting up for the Middlesex County Matrix. The Matrix 18-and-under team provides another opportunity for graduating seniors to hone their skills before making an attempt to land on a college roster.
With the newly developed Greater Middlesex Coaches Summer Baseball League off and running for players set to return to their respective high school teams next spring, many graduating seniors gravitated to the Matrix. In seasons past, such players would have joined local American Legion teams and battled for spots among seasoned college players. The new team is being touted as a college prep team by founder Glenn Fredricks.
"This travel team will help players that plan to compete for a spot on a college roster," Spotswood head coach and Matrix founder Fredricks said. "Just about every guy on the team wants to walk-on next year. This will prepare them for the task ahead."
Overseeing this summer's team with Fredericks is Mark Blevins, Tim Banos, Fred Cole and Kevin Dalton.
"I think the travel team is a great idea for these players," Banos said. "All of the guys are in it for the same reason, and that makes a difference."
The team is loaded with local talent, including four players from this spring's state championship team from JFK. Local stars such Perth Amboy's Alex Vasquez and Bishop Ahr's Mike McConnell will team up this summer, and Edison's Steve Nappe, Andrew Rivera and Nick Marics will also suit up for the Matrix.
"These kids play a high brand of baseball, and the big focus is to get these guys to play in front of scouts and college coaches," Banos said. "Scouts don't come near Middlesex County, and our goal behind the GMCSBL and the Middlesex County Matrix is to build from the ground up."
Middlesex County Matrix also fields a 17-and-under team with local stars such as John F. Kennedy Memorial High School's Kyle Grimes and Joe Marciano, and Edison High School's Nick Marics.
"If you take a look at the two teams in this year's county championship, you can see that their emphasis has been on building from the ground up," Banos said.
The inaugural season has already produced positive results for the Middlesex County Matrix. The 18-and-under team is off to a 1-0 start with a victory over the Roselle American Legion team.
"Ultimately, this will benefit Middlesex County baseball," Banos said. "The travel team will bring recognition to someone like Perth Amboy's Alex Vasquez. The numbers he put up this spring were pretty ridiculous, and more people need to see his talent on display."
At last week's GMC Senior All-Star Game, Vasquez fanned six batters in two innings of work. His feat was an accurate sample of what he did during the regular season.
"He finished the season with 87 strikeouts in something like 50 innings," Banos said. "That's pretty amazing."
On June 19, the 17-and-under team will be in Flemington for the N.J. Super 17 Invitational at Diamond Nation (Flemington), an event likely to draw some serious attention from college coaches and scouts. First pitch is slated for 4 p.m vs the NJ DiamondJacks. Second round play will be on Saturday at 10:15am vs. the Wladyka Nationals and pool play concluds at 8am on Sunday vs. the ITZ Angels.
Saturday, June 13
Spotswood vs. JFK
Spotswood Wins Pitchers Duel 2-1
In the end, it was Spotswood's 2 unearned runs topping Kennedy's 1 unearned run in a 2-1 duel at Spotswood HS. AJ Pichalski went the route for JFK and Spotswood used 3 pitchers to close out the win. All of the runs came in the 3rd inning.
JFK opened the scoring on a lead off walk to Nick Mergel. He was advanced 2 bases on consecutive wild pitches and made his way home on Joe Marciano's sac fly to left. Jay Stolz would double after that, but was stranded at second by SHS starter Chris Stout. Marciano had the second hit off Charger pitching in the 5th. Those would be the only two hits surrendered by the Chargers on the day.
Spotswood responded in the bottom of the 3rd at the expense of the Kennedy defense. After a Cody Pace double, Mike Liming's fly to center field was mishandled by the sure handed Jorge Rivera. The error tied the game at 1. Catcher Shawn Weeks followed with a single, and Anthony Pietanza plated the go ahead run with a single up the middle. The score held for the rest of the contest.
Freshman lefty Chris Stout, Jeff Coy, and freshman closer Anthony Berg combined on the 2 hitter for SHS.
This was the opener for both teams in GMCSBL play.
Thursday, May 28
THE FUTURE IS HERE
Former Legion Star Cody Pace Leads the Way for the GMCSBL
New GMC Coaches Summer Baseball League a Threat to American Legion?
APRIL 13, 2009 • 5:19 PMBy Greg Tufaro
For Edison High School baseball coach Vinnie Abene, the decision to join a new summer league that will allow him to keep his incoming varsity team intact was easy.""To me," Abene said, ""it's exactly what you would want over the summer. You want to see what you are going to be in store for the following year. You want to see the players who are all coming back for your varsity team, how they are going to gel and how they are going to play together."
The Greater Middlesex Coaches Summer Baseball League, founded by Spotswood High School head coach Glenn Fredricks, differentiates itself from the competing Senior American Legion Baseball League, a 19-and-under league that allows recently graduated seniors and college students to play.Only scholastic players who are currently freshmen, sophomores and juniors are eligible to compete in the GMCSBL, which Fredricks said has received commitments from 14 schools. They are Edison, South Brunswick, Old Bridge, St. Joseph, Woodbridge, Colonia, South Plainfield, North Brunswick, Perth Amboy, New Brunswick, J.F. Kennedy, Spotswood, Metuchen and South River.Fredricks said several other schools, including Bound Brook and Rutgers Prep, are considering joining the newly-formed league, which will adversely impact Middlesex County Senior Legion.
Middlesex County American Legion Baseball Chairman Walter Zjawin said his organization currently has commitments from nine Senior Legion teams, a drop from the 14 that participated a year ago.The future of successful Senior Legion programs such as perennial state powers Iselin and Father & Son, which won the 2007 state title and finished second in New Jersey last summer, appears to be in jeopardy.Iselin draws its high school players from Colonia, Woodbridge and J.F. Kennedy. J.F. Kennedy coach Jerry Smith Jr. and Colonia coach Tom Hennessy both benefited from playing Senior Legion as high school sophomores, according to Iselin coach Frank Notaro.Notaro, who is also the head coach at Cardinal McCarrick High School, said he believes Smith and Hennessy enjoyed successful playing careers at Kean University because of their legion experience.
""I'm certainly disappointed," Notaro, who will enter his 26th year as a legion coach, said of having to compete with a new league for players.""I think it's not a bad thing for kids to get away from their high school coach and play somewhere else. Playing Senior Legion is really playing up. You are facing some of the top high school kids who just graduated and you are facing top college kids. What boy doesn't want to play up?"
To that end, Fredricks will form two showcase teams, one comprised of the top 17 high school seniors and another comprised of the top 17 underclassmen. He said those squads will play showcase doubleheaders on Wednesdays and on weekends.Some of those games will be contested before college scouts. They will not conflict with GMCSBL regular-season games, which will be played on Monday, Tuesday and Thursday nights (remaining weeknights are reserved for make-ups).GMCSBL teams will play 16 to 18 regular-season games from June 5 through July 24. All teams will compete in an in-season tournament, with the winner earning the league's spot to participate in the Connie Mack State tournament in Bridgewater, NJ.
Fredricks said he believed many GMCSBL players would not have a roster spot on most Senior Legion squads, which are usually stocked with recently graduated seniors and college players. Most legion programs draw from more than one town, increasing competition for playing time.""(The GMCSBL) becomes a high school feeder program which will benefit our kids going into the next high school baseball season," Fredricks said. ""It gives them an extra five or six kids who are not playing against somebody else's graduating seniors and are not sharing valuable playing time with kids from other towns."
Some current underclass stars, such as junior shortstop Juan Perdomo Jr. from South Brunswick, which will field a GMCSBL and Senior Legion team, face a difficult decision.""We are in the middle of it," said Perdomo's father, also named Juan. ""We've been talking a lot about it. It would be nice if he would be able to play with the (GMCSBL) showcase team and also play on the Senior Legion team. That would be the best of both worlds, but we know that probably he can't do that."Perdomo Sr. said he understands a coach's desire to maintain continuity in their program, but Notaro said he believes baseball players simply do not need the same time to gel as football and/or basketball players, who require more ""coordination as a team."""How long does it take a baseball player, like the second baseman and shortstop, or a pitcher covering first base, to work together?" Notaro asked. ""It's really nine individuals trying to play a team game."
The bottom line, Zjawin said, is more players will have more opportunity to play ball in Middlesex County this summer.""We wish everyone well," he said.
Tuesday, June 9
OPENING DAY
Newly Crowned Group III Champs JFK Open Play Thursday
GMCSBL OPENER A HIT
Opening day play of the inaugural season in the Greater Middlesex Coaches Summer Baseball League was a great success. 10 teams started their seasons' with some top flight pitching and some heavy hitting around Middlesex County. A quick trip around the diamond:
The defending GMC Champion St. Joe's Falcons opened up in style with a 13-0 blanking of Metuchen. Jared DeBrizzi and Anthony Parenti combined on the 1-hit shutout for Joe's. Alphonse Muglia and Shane Alvarez both belted triples for the Falcons, while Anthony Feltre had the only knock for Metuchen.
The South Plainfield Tigers also got solid pitching with Matt Cesare and Ryan Harrington shutting out Old Bridge 4-0.
At Woodbridge High School, White Division rivals Perth Amboy and Woodbridge battled to a 3-3 draw after darkness fell at the completion of 8 innings. Carlos Perez homered for Amboy and Mike Clark plated a run in the 3rd for the home Barrons.
Also in 2 late games: South Brunswick plated the winning run in the bottom of the 8th to down neighboring rival North Brunswick in a hard fought 5-4 battle. Blue Division South River took Colonia to the wire before falling 6-5 at South River High School.
5 teams still wait to open their summer campaigns with Spotswood, Kennedy, Edison, Rutgers, and New Brunswick getting the night off.
Some intriguing matchups take us into the weekend. Kennedy, fresh off of their 2009 NJSIAA Group III championship, hooks up with Spotswood on Thursday and Edison on Friday.
Early favorite St. Joe's will meet a familiar foe in South Brunswick out at Joe's Thursday in what may be the matchup of the young season. With Victor Diaz from St. Joe's, and Mike Muha on the S.B. side, two of the league's best pitchers could be on display Thursday night in Metuchen.....
Stay tuned!
Wednesday, June 13
2011 GMCSBL LEAGUE CHAMPIONSHIP
Wednesday, June 13
2011 16U Middlesex County Championships
Friday, July 13
2012 GMCSBL LEAGUE CHAMPIONSHIP