GARDEN CITY SOUTH LITTLE LEAGUE: Welcome
Entering our 60th LITTLE LEAGUE SEASON SERVING GARDEN CITY SOUTH, FRANKLIN SQUARE & WEST HEMPSTEAD!
Pleasee see this page for more information regarding our
second annual alumni softball game
on Saturday, June 15 at 1:00.
---
Brooklyn Cyclones Fund Raiser - 8/17, 6:00
Please see this page for more information
---
The Opening Day Parade and Pitch, Hit & Run event - 4/6
What a great opening day we had today. The weather and parade were awesome. This was topped off by our second annual Pitch, Hit & Run competition. Congratulations to all of the participants and to the winners in each category.

Girls 9-10 Champion
Madelyn Close
Girls 11/12 Champion
Catherine Hammer
Boys 7/8 Champion
Colin Healy - all around champion
Boys 9/10
Dean Metzger - all around champion
Stephen Deutsch - pitching champion
Marco Livreri - pitching champion
Boys 11/12
Jonathan Singleton - all around champion
Joseph Darcy - pitching champion
All of these winners will represent GCSLL in the regional championship on May 18 at our own Cherry Valley Ballfields.
Come down and root on our hometown players!
---
Please see this page for information on
Heartsaver and AED Training on 04/23/2013
at Saint Francis Hospital
and Youth Concussions
---
Another blast from the past! The following comes from Paul Brandel,
"Attached photo is of the initial Garden City South Little League senior division all star team. My father, Peter A. Brandel, was the league president at the time - and my older brother Albert was on the team."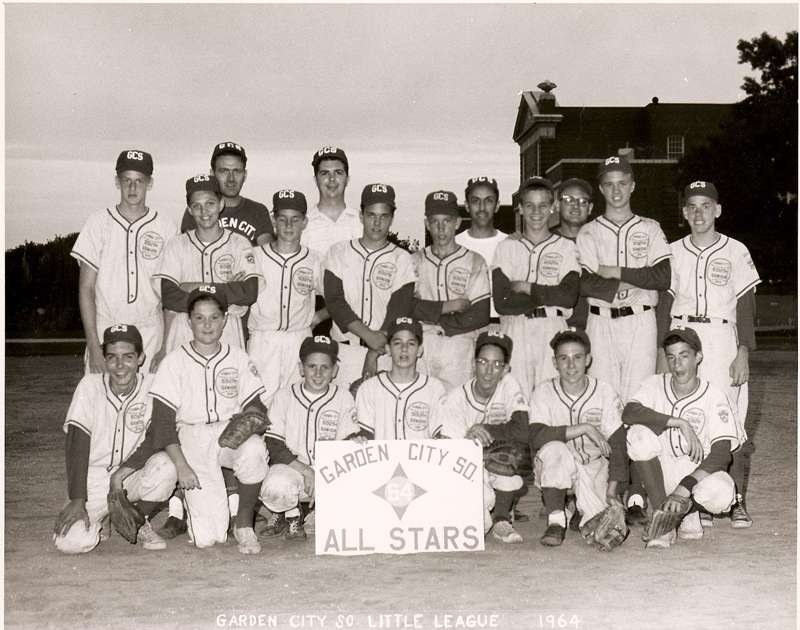 ---
The following is from a former GCSLL player, Gary Frutkoff, "
I found this photo of myself and other members of minor and major league GCSLL - we were marching in the Macy's Thanksgiving Day parade, 1961 with the float, "Meet The Mets" with Casey Stengel and Gil Hodges. I was a member of the Hawks and Red Sox from 1959 to 1964."
Thanks to Gary for sharing this classic shot.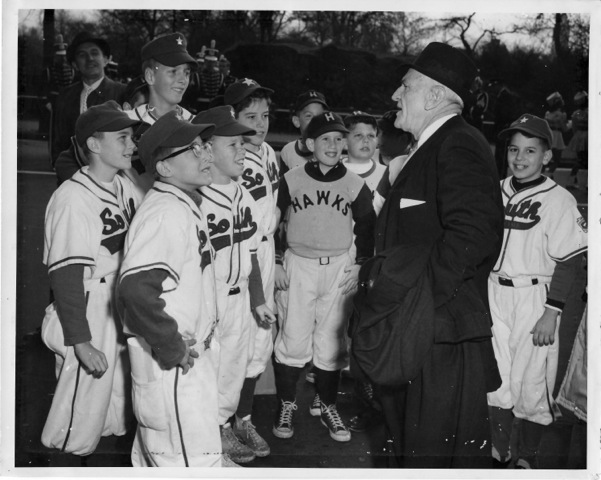 ---
Congratulations to our 2012 Pitch, Hit, and Run competition winners
Age 7/8 Girls Overall - Nicolette Clifford
Age 9/10 Girls Overall - Madelyn Langstrand
Age 11/12 Girls Overall - Catherine Hammer
Age 7/8 Boys Overall - Dean Metzger *Winner of the Sectional qualifier
Age 9/10 Boys Overall - Anthony DeNicola
Age 11/12 Boys Overall - Patrick Leahy
Age 11/12 Pitching - Patrick Mehr
Age 13/14 Boys Overall - Anthony Millan
---
Check the SAFETY page for information on free cardiac screening for
your student athlete and for free Heartsaver and AED training.
---
GCSLL IS NOW ON facebook© GO TO THIS LINK!
---
CHECK OUT OUR LEAGUE PHOTO ALBUMS! YOU CAN SAVE AND CREATE CUSTOM ITEMS!
---
CHECK OUT THE LATEST INFO FROM LITTLE LEAGUE INTERNATIONAL, INCLUDING THE LIST OF BASEBALL BATS EXCLUDED FROM THE COMPOSITE MORATORIUM HERE
---
PLEASE CLICK ON THIS LINK FOR A RECENT STORY ON HOW AED TRAINING SAVED ANOTHER LIFE!
---
WE ENCOURAGE ANYONE WITH DIGITAL PHOTOS FROM LEAGUE EVENTS TO SHARE THEM WITH US FOR WEBSITE POSTING. YOU MAY EMAIL THEM IN FILE FORMAT TO THE ADDRESS BELOW, OR SHARE YOUR GALLERY ALBUM WITH THE EMAIL ADDRESS
---
Welcome to the official website for the Garden City South Little League. Our League serves the Western Nassau Communities of Franklin Square, Garden City South, and West Hempstead. The entire Board strongly believes that this League is a core part of our community and will tirelessly work to ensure that the League continues into the decades ahead. This year we are celebrating our 54th season playing at the Cherry Valley fields. Join us this year as we continue providing a safe learning environment for our children that emphasizes teamwork, commitment, and most of all FUN! The Board appreciates your past support and your continued support in the future.
- Anthony Millan, President, Garden City South Little League
---
Please Contact Us With Any Questions or Concerns at: