FROST FALCONS '00 2ND YEAR 12U
********2011 & 2012 TN ASA STATE CHAMPIONS********
OUR NEW SITE IS UP- VISIT US AT
THE 2013 FALCONS ARE: MEAGAN, LILLY, BREANNA C., HANNAH, EMERALD, CHEYENNE, TRINITY, MALLORY, HALEY, ALEXIS, BREANNA V., SHELBY
****ASA QUALIFIER FRANKLIN TN- RAINED OUT*******
***ASA HALL OF FAME QUALIFIER- GOT OUR BERTH***
****APRIL 21ST****
*****ASA 14U APRIL CLASSIC CHAMPIONS APRIL 14TH***
*****CARROLLTON CLASSIC 2ND APRIL 7TH, 2013*******
*****KING OF MTN- RAINED OUT***********************
***ASA FRIENDLY 14U CHAMPIONS MARCH 17TH, 2013***
***TURF WARS V CHAMPIONS MARCH 10TH, 2013***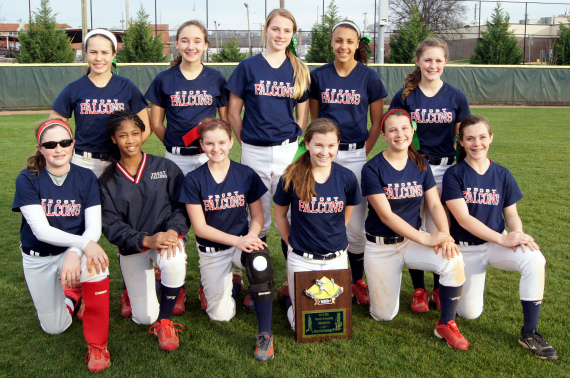 ***ASA EASTERN ELITE SHOWCASE 14U CHAMPIONS***
10-21-2012
*ASA PLAY FOR CURE 14U GOLD 2ND PLACE 10-28-12**
***************************************************************************
2012 TN ASA STATE CHAMPS! BACK TO BACK YEARS 2011 AND 2012
***************************************************************************
MOTTO "HUSTLE! HIT IT HARD! NEVER GIVE UP!"
*************************************************************
2012 TN ASA STATE CHAMPIONS
*********************************************
2012 ASA NATIONALS T-25TH OUT OF 83 TEAMS
ONLY 1 OTHER 2000 TEAM FINISHED LOWER THAN WE DID!
********************************************************
2011 TN ASA STATE CHAMPIONS
2011 ASA NATIONALS 3RD PLACE
2011 USFA WORLD SERIES 2ND PLACE
PLEASE VISIT OUR ORGANIZATIONAL WEBSITE AT FROSTFALCONS.COM.
*************2012 TN ASA STATE CHAMPS***************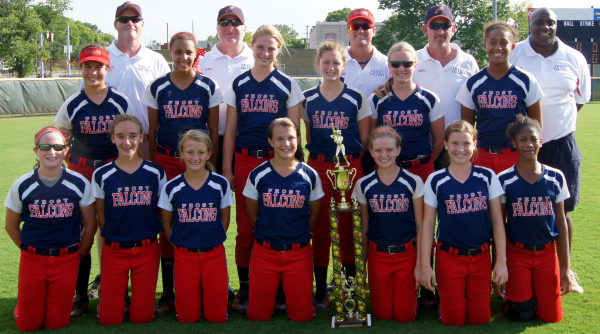 **************2012 TN ASA STATE CHAMPS*************
FALCON GIRLS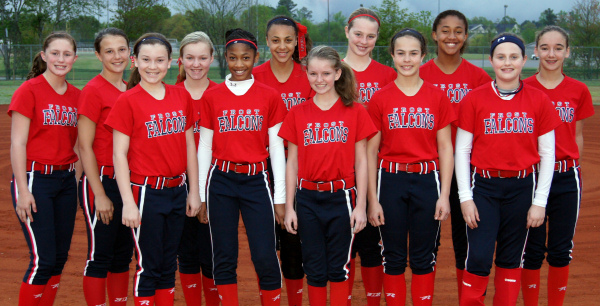 2012 TN ASA STATE CHAMPIONS 7-15-12
CONGRATULATIONS GIRLS! BACK TO BACK ASA STATE CHAMPIONS. BE PROUD, THAT'S A GREAT ACCOMPLISHMENT!
NSA GA 14U STATE 2ND PLACE 7/07 - 7/08
GREAT WEEKEND GIRLS!
TN USFA STATE 6-29 TO JULY 1- THE TEMPS WERE EXTREME AND THE FORMAT WAS CHANGED TO SINGLE ELIMINATION. WE PLAYED OUR HEARTS OUT BUT LOST 3-2 IN A TIE BREAKER TO LADY JAXX '99.
ASA 14U 3RD PLACE DALTON, GA 6-09-12
IT WAS A HOT ONE BUT THE GIRLS PLAYED GREAT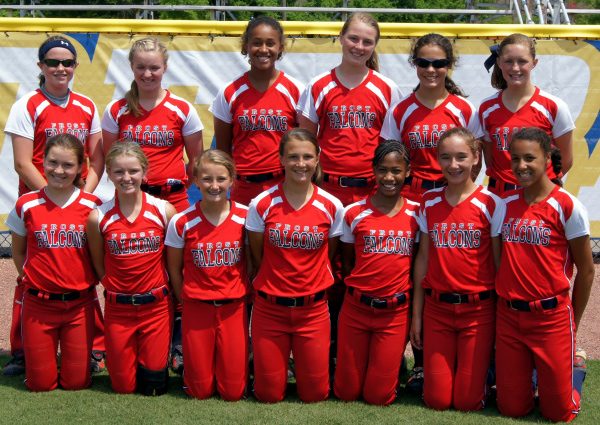 ASA MEMORIAL QUALIFIER CHAMPIONS 6-02-12
********WE GOT OUR BERTH TO THE ASA NATIONALS!!!!!!
ASA PLAY FOR THE CURE MAY 4-6 CHAMPIONS - WE WENT 5-1 AND PLAYED WELL THIS WEEKEND. KEEP WORKING HARD GIRLS IT'S PAYING OFF.
ASA QUALIFIER APRIL 27-29 - WE WENT 4-2 OVERALL BUT COULDN'T GET THINGS TO CLICK 100%. GREAT EFFORT GIRLS!
USFA EDWARDS PARK APRIL 21 14U 3RD- WE WENT 4-2 AND PLAYED SOME GREAT TEAMS AND FINISHED 3RD.
CARROLLTON CLASSIC 12U A APRIL 13-15 - WE WENT 5-2 AND BARELY MISSED MAKING THE PLAYOFFS. THAT EARLY SUNDAY M0RNING GAME GOT US AGAIN.
ASA 4-01-12 APRIL FOOL'S TOURN 14U 3RD PLACE TIE
PLAYED A 99 TEAM, 4 '98 TEAMS AND A '97 TEAM . KEEP UP THE HARD WORK GIRLS!
KING OF MOUNTAIN 3-25-2012
PLAYED ALL 2ND YEAR TEAMS AND FINISHED TIED FOR 14TH
*****
COACHES: STEVE FROST, STEVE BERGER, KEVIN KINCER, ROD TRIMIAR, JOHN WALTERS
The Frost Falcons are an organization that teach the proper fundamentals that will help these girls earn college scholarships. We make sure the girls learn to Win and Lose with Sportsmanship!
CONRATULATIONS TO THE FOLLOWING FALCON GIRLS THAT EARNED SCHOLARSHIPS THIS PAST YEAR:
MEGHAN ALLEN CLEVELAND STATE
MADDIE BRAY SHORTER
BETHANY JONES MTSU
WHITNEY LEON ETSU
JESSICA MORGAN CARSON NEWMAN
MILLIE PUTNAM MERCER
CHEYENNE WILLIS UTC
MARIAM WOOD ETSU
KARA WOODS ETSU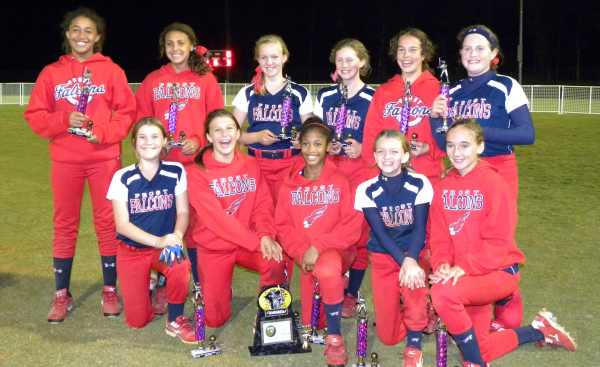 ASA FALL BRAWL 12U CHAMPS 10-23-11
\
2011 FALL RECORD 12U 12-1
*****2011 Record 70-9-3*****
*****2011 TN ASA*****
STATE CHAMPIONS
CONGRATULATIONS FALCONS!
ASA
STATE CHAMPS 7-12-11
Welcome to the Frost Falcons '00 Website! In 1983 Jim Frost coached his daughter Stephanie in a sport that was just up and coming for little girls in the Chattanooga area. Little did he know that his love of the game would develop and make positive changes in the lives of all little girls in the Chattanooga and North West Georgia area who love to play softball! Jim Frost has been instrumental in the upgrade of several high school, middle school and local recreational fields such as Tyner and Warner Park. Frost Stadium at Warner Park is the center of activity for women's softball. Also known as the "Field of 1000 Dreams" it also serves as "Home" for the UTC Lady Mocs. These facilities were built for players to have the opportunity to play and be seen by college coaches. These facilities also helped Chattanooga host the ASA Nationals for 10U in 2010.
The Frost Falcons '00 will carry on the legacy of all the hard work and knowledge that came before them and will work hard to show the level that they are capable of playing. Jim's son Steve Frost is the head coach of the Frost Falcons '00 and carries on his father's tradition by putting together a great coaching staff with Steve Berger, Kevin Kincer, Rod Trimiar and John Walters. This team of coaches knows what it takes to teach the girls the next level and take them there. Our goal is for every girl who plays softball on the Frost Falcons '00 to earn scholarships to play in college. Numerous players from the Frost Falcon organization have received scholarships over the years and continue to do so. We hope you like what you see on our site and we want you to sign our guest book before you leave. Now, let's play some ball!!!!!
USFA WORLD SERIES 2ND PLACE 7-17-11
THE GIRLS LOST 1 BRACKET GAME BUT BATTLED BACK TO THE FINAL FOUR GOLD BRACKET. UNFORTUANATELY THE TOURN WAS RAINED OUT SO WE DIDN'T GET A CHANCE TO FIGHT OUR WAY TO THE FINALS. CONGRATS TO THE TOP FOUR TEAMS, KENTUCKY STORM, THUNDER BLACK, FROST FALCONS AND TEXAS COBRAS!
*****TN ASA STATE CHAMPIONS 7-12-11****
TSFA STATE CHAMPIONS 6-26-11
USFA STATE 6/18-19 RAINED OUT

USFA SPRING FEVER CLASSIC CHAMPS 6-05-11
COOKEVILLE NIT CHAMPS 5-22-11
PLAY FOR THE CURE ASA CHAMPS 5-15-11
ASA HOF CLASSIC CHAMPIONS!!!!!!!!!!
5-01-11
FRANKLIN FRIENDLY CHAMPS 2011
UT STADIUM SCRIMMAGE 10-30-2010
The Falcons had the amazing opportunity to play at UT Softball Stadium against Marc Weekly's Astros 10U team. It was an experience they will cherish forever.
NSA ROME
class="MsoNormal">