Freeport Soccer: U6 Soccer
Notes on U6 Soccer
From the Player Development Guidelines - Best Practices for Coaching Soccer in the United States

"Best Practices for Coaching Soccer in the United States" coaching book serves as the sport's definitive new player development guidelines for ussoccer.com.

The entire handbook can be viewed and/or downloaded at; http://www.ussoccer.com/articles/viewArticle.jsp_280734.html

U-6: K and 1st graders
Soccer at these ages should be discouraged in any form other than as a fun activity for kids, that happens to includes a soccer ball. There should be groups of players rather than teams. Fees should be nominal. Attendance should be optional. Creating a joyful environment is mandatory.
Game Application
Game Form: 3 v 3 is best option for these ages
GK Status: Goalkeepers should not be used
Field Size: 4 v 4 (40 yards x 25 yards)—3 v 3 (30 yards x 20 yards)
Ball Size: 3
When ball goes out of bounds, the game is restarted with a kick-in or dribble-in. No throw-ins.
* Some General thoughts About This Age:
Five- and six-year olds are too young to be involved in any structured, organized soccer program. At most, they should be involved in fun activities that encourage the children to explore their physical abilities, while also including a ball with which to play. Make sure these are activitybased games that emphasize exploration and experimentation with the rolling, spinning, and bouncing qualities of the ball. The soccer ball should be considered a toy. There should be no activities where players wait in lines to perform a pre-determined movement or required action. Five- and six- year olds, although still young, are beginning to gain more control over their bodies. At the same time, it is still new to them and they will require a lot of time and energy figuring out what their bodies can do, and how to use this developing coordination. Children at this age also love to use their imagination when they play. Keep this in mind when designing games. They enjoy playing on their terms, and as a by-product of their play, they will gain some limited comfort with the ball. Although they love to play, their ability to stay focused on any one thing is very limited. Keep your activities short and simple. Finally, even as they are steadily developing physical and mental abilities, they are still very young. Always treat children with care, patience and give plenty of encouragement. It can be helpful to include parents in the practice/play time so they can take ideas home with them to their backyards or parks. If children must be involved in these organized practice times, they should be having so much fun that when they go home, the soccer ball becomes one of their favorite toys.
* Duration Of Practice; Ratio Of Ball To Child At Practice
30 to 45 minutes is the best option for these ages. Most of the practice should be spent in ratios of one ball per child or one ball per two children.
* General Description Of What Shoudl Be Happening Druing Practice
The children should be having fun with the ball. There should be periods of active playing where everyone is involved, and there should be ample opportunities for short breaks for water and for catching their breath. If there is more than one adult/coach, the children should be divided into smaller groups, with at least one adult per group. At these young ages, children work hard and tire quickly. Allow them to have "active rests," where they are not running but are trying to do something specific with the ball, often sitting or standing. Everyone should be occupied with something, even when resting. Keep the numbers from 1 v 1 to 3 v 3 and keep as many children actively involved with a ball as possible. Let them go to small goals with no goalkeepers. When
possible, a size 3 soccer ball should be used.
* General Description Of What Should BE Happening In Matches
U.S. Soccer recommends that there be no organized matches at this age. Consistently set up mini games at practice for your kids to compete with and against each other, according to their age.
Consider This: At these young ages, the primary goal is to make the player's experience with soccer so enjoyable that when he or she has a choice of activities, he or she choose to play soccer on his or her own.
* General Description Of Information That Is Communicated To The Players By The Coach
At these ages, the coach/parent should be positive and encouraging of each child. Specific soccerrelated information should be limited to basic ideas of how to best keep the ball from running out of bounds too often. There should not be any discussions about positions or any other team concepts.
* Best Qualities Of A Coach For This Age Player
Patience, good humor, and a willingness to see the world through a child's eyes. Also, the ability to speak their language and accept that the children's play will not look at all like soccer.

Number Of Matches Per Calendar Year
Children at these ages should not be playing any organized games. Playing with and against their teammates during practice times is sufficient and is to be encouraged.
Breaks From Organized/Mandatory Soccer
Children at this age should be able to play when they want to play, and walk away when they are through.
Travel
None.
State, Regional And National Championships
None.
Tournaments, Festivals, Etc.
None.
Characteristics Of U - 6 Players
Short attention span.
Can attend to only one problem at a time.
May understand simple rules that are explained briefly and demonstrated.

May or may not understand or remember: what lines mean on the field; what team they are on; what goal they are going for. We need to be patient and laugh with them as they get 'lost' on the field.

Easily bruised psychologically. Shout praise often. Give "hints", don't criticize.
Need generous praise and to play without pressure. No extrinsic rewards (trophies, medals, etc.) should be given for winning.
Prefer "parallel play" (Will play on a team, but will not really engage with their teammates.
Thus, a 3 against 3 game is, in reality, a 1 against 5 game because they all want the ball at the same time.
Very individually oriented (me, mine, my).
Constantly in motion, but, with no sense of pace. They will chase something until they drop.
They are easily fatigued but recover rapidly.
Development for boys and girls are quite similar.
Physical coordination limited. Eye - hand and eye - foot coordination is not developed. Need to explore qualities of a rolling ball.
Love to run, jump, roll, hop, etc..
Prefer large, soft balls.
Catching or throwing skills not developed.
Can balance on their "good" foot.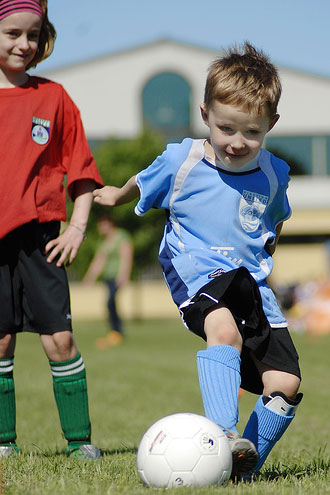 - - -
Involving The Parents
It is imperative that coaches get the parents involved. Not only are they are a major resource, but the U-6 player still views their parents as the most significant people in their lives. A pre-season meeting should be held with the parents so that objectives and policies can be addressed.
Some topics that Parents may want to address the Coach are:
A means of contacting everyone without one person doing all of the calling. (Phone chains.)
Complete all paperwork required for Freeport Community Ed.
Carpool needs.
The Saturday schedules, starting and ending on time, what your attendance expectations are.
What each player should bring to training: inflated ball, filled water bottle, soccer attire, shin guards (Cleats are not mandatory.)
Most importantly, your philosophy about coaching U-6 players. Everyone plays; that the game does not look like the older player's games; that you are there to ensure that their player is safe and has a good time, as well as learn about soccer.
What your expectations for them is during game time. How do you want them to cheer? Do they know that they should not coach from the sidelines?
Above all, try to enjoy yourself. If you do they probably will too.
Things You Can Expect
As coaches of these younger players there are things that we know that we can expect during training and games. If you know what to expect, you will be more effective in dealing with the hundreds of situations that come up. This will help you relax, and, in turn, allow you to enjoy the unpredictable nature of working with these children even more. Here are some of the things that we can expect.
Most players cry immediately when something is hurt. Some cry even when something is not hurt.
No matter how loud we shout, or how much we "practice" it, they can not or will not pass the ball.
Somebody will come off the field in need of a toilet. Somebody will stay on the field in need of a toilet.
The only player to hold a position is the goalkeeper (and we won't be playing with one). Don't even consider teaching positional play.
Twenty seconds after the start of a game, every player will be within 5 yards of the ball.
Several players will slap at the ball with their hands, or pick it up. Several parents will yell at them not to do that.
A model rocket that is launched from a nearby field will get 99% of the player's attention. By all means, stop whatever you are doing and go watch for a couple of minutes!

During a season, you will end up tying at least 40 - 50 shoe laces.
They will do something that is absolutely hysterical. Make sure that you laugh!
Coaching Rational
It is important to understand at the outset that players coming to any sport prior to the age of 6 years old, in general, do not do so by their own choice. As a result, their coaches need to give them something about which to get excited. Further, at this age, learning to play soccer is secondary to most other things in their lives.
With the above assumptions, lets look at some things that we can do to energize the U-6 players, and, hopefully, get them to the point where they will enthusiastically initiate the sign up for next year!
Each session should be geared around touching the ball as many times as possible. Involve the ball in as many activities as possible. Basic movements such as running, skipping, hopping, etc. need to be emphasized. If these can be done while kicking, catching, rolling, or dribbling a ball... all the better!
Training should not last for more than one hour. This is primarily due to physical fatigue and attention span considerations. Train once or twice a week. Any more than this may lead to their and your burnout.
Have as many different kinds of activities ready as you can get into one hour. Emphasis needs to be placed on what is FUN!.
Every player should bring his or her own size #3 or #4 ball.
Remember, although they may have very similar in birthdates, their physical and / or mental maturity my vary as much as 36 months. Activities need to accommodate these individual differences whenever possible.
Team play and passing is an alien concept to these players. They know that if they pass the ball, they may never get it back. In fact, they often will steal it from their own teammates. Do not get uptight if they do not pass, let them dribble to their heart's content.
Plan for at least 4, 90 second drink breaks, especially in warmer weather. Their "cooling system" is not as efficient as in older players.
86 ways to say "very good!"
from the Michigan State Soccer Association
1. Good for You!
2. That's really nice
3. Superb
4. That's the best ever
5. You did that very well
6. That's great!
7. You've got it made
8. Way to go!
9. Terrific
10. That's the way to do it!
11. That's not bad!
12. That's quite an improvement
13. Couldn't have done it better myself
14. Good thinking
15. Marvelous
16. You really are going to town
17. You're doing fine
18. Keep up the good work
19. You're really improving
20. That's it!
21. You're on the right track now!
22. That's better
23. Now you've got it figured out
24. You haven't missed a thing
25. Outstanding!
26. Fantastic!
27. That's coming along nicely
28. You outdid yourself today
29. I know you can do it
30. You're doing a good job
31. Good work
32. That's the right way to do it
33. You figured that out fast
34. That's better
35. I think you've got it now
36. Right on!
37. I'm proud of the way you worked today
38. Well, look at you go!
39. Tremendous!
40. That's the best you've ever done!
41. You certainly did well today
42. That's RIGHT!
43. Perfect!
44. Nice going
45. Great!
46. You've got your brain in gear today
47. Keep working on it…You're getting better
48. Now you've got the hang of it
49. You remembered!
50. WOW!
51. That kind of work makes me very happy.
52. Wonderful!
53. You're really working hard today
54. You're getting better every day
55. That's what I call a fine job!
56. You're learning fast
57. I knew you could do it!
58. You make it look easy
59. I'm very proud of you
60. That's a good boy/girl
61. One more time an you'll have it
62. That's very much better
63. Fine!
64. Super!
65. That's good 66. You did lot of work today
67. Good job
68. Keep it up!
69. You really make this fun
70. You've got that down pat
71. Good remembering
72. Congratulations
73. Nothing can stop you now
74. Exactly right!
75. You are doing much better today
76. Nice going
77. Keep on trying
78. Excellent!
79. You are really learning a lot
80. Sensational!
81. You've just about got it!
82. You're doing beautifully
83. I've never seen anyone do it better
84. That's awesome!
85. You've just mastered that!
86. You are very good at that.

"I don't believe skill was, or ever will be, the result of coaches. It is a result of a love affair between the child and the ball" – Manfred Schellscheidt