Fort Pierce Little League: Welcome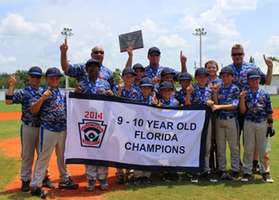 2014 9/10 year old State Champions
2014 FLORIDA STATE CHAMPIONS!
Fort Pierce Little League is proud to offer Baseball and Girls'
Softball for all children ages 4-16
****REGISTRATION AND TRYOUT CHANGES
New registration date has been added and tryout dates have changed:
Nov 19th 5:30-8
Nov 22nd 9am-1
Dec 13th 9am-1
Jan 7th 5:30-8
Jan 10th 9am-1pm
TRYOUTS:
Friday Jan 16th
7,9,11 yr olds-5pm
8,10,12yr olds -7pm
Saturday Jan 17th
7,9,11yr olds 9am
8,10,12yr olds 11am
On-line registration will be open on Tuesday 18th. Click this link to register your child online
**Remember if you register online you still must bring in 3 proofs of residency to Elks Park on one of these registration dates. Proof of residency is due by Jan17th.
Thanks :)
Join in the Fun - Become a Volunteer! There are many volunteer opportunities available during the season from keeping scores, running the scoreboards, helping in concession, plate and base umpiring and much more...Please contact us if you or someone you know may be interested. Thank you!