Fort Pierce Little League: Welcome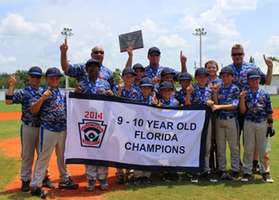 2014 9/10 year old State Champions
Fort Pierce Little League home of the
9/10 year old
FLORIDA STATE CHAMPIONS
is proud
to offer Baseball and
Softball for all children ages 4-16
Congratulatins to our 9 & 10 year old All Star team who took 1st place in the District, Sectional and State Championships this year! Also, C
ongratulations to the following All Star Teams who recently took 2nd place in the District Championship: 10/11BB, 12BB, 9/10SB and 12SB. We are all very proud of your accomplishments!
Fort Pierce Little League would like to extend A Huge Thank You to all of the teams this year - players, parents, coaches, managers and volunteers! We have had a wonderful regular season and we look forward to seeing you ALL back next year at Elks Park!

FPLL would like to THANK our Sponsors:

Wilco Marine, Undercover Skate Shop, Gilmore and Schoch, Blackwell and Sons, Loutina's Pizza, Jones and Lott, Carroll Collins, Stamm Equipment, Tillman's BBQ, St. Lucie Battery & Tire, 2 Boys Construction, Jacquin & Sons, A Touch of Brooklyn Pizza, Wolf Air Conditioning, Midway Vet, Boyd Law, VFW, B&D Grading Inc, Water's Edge Dermatology, Varsity, Machin Realty, Grimes Air Conditioning, RK Davis, Elks, Rotary, Red Bucket Pony, Harbor Community, Yavorsky's Trucking The Cake Lady, Lions, Kiwanis, D & D Garage Doors, Branca Realty, SE Elevator & Frank and Als Pizza.

Join in the Fun - Become a Volunteer! There are many volunteer opportunities available during the season from keeping scores, running the scoreboards, helping in concession, plate and base umpiring and much more...Please contact us if you or someone you know may be interested. Thank you!