Fairborn Little League Baseball: Locations
Babe Ruth Park (Juniors and Seniors Division)
700 PIERCE DRIVE
fairborn, Ohio 45324

Cemex Park Diamond Map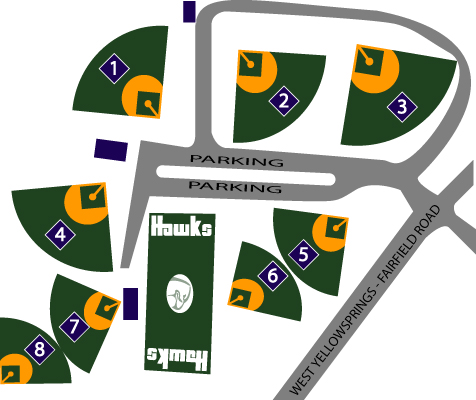 Cemex Park Field Map
701 W. Yellow Springs-Fairfield Rd
Fairborn, Ohio 45324

Fairborn Cemex Park Directions
FROM 444 (N. Broad St.)
Turn on W. XENIA DR.
Continue on E XENIA DR.
Bear Left on SPORTS ST.
Continue Left on W YELLOW SPRINGS FAIRFIELD RD. Go 0.2 miles. Arrive at Fairborn Little League Complex
FROM 675
Take the OH-235 exit towards FAIRBORN, exit #22. Turn Left on E XENIA DR - go 0.6 mile. Turn Right on W YELLOW SPRINGS FAIRFIELD RD - go 0.2 miles. Arrive at Fairborn Little League Complex. 701 W. Yellow Springs-Fairfield Rd., Fairborn, Ohio 45324.
701 W. Yellow Springs-Fairfield Rd
Fairborn, Ohio 45324

Fairborn District Boundry
First Dayton Little League
559 crown avenue
Trotwood, Ohio 45417

Enon Ball Fields
http://maps.yahoo.com/#mvt=m&lat=39.839264&lon=-83.95891&zoom=14&q1=701%20yellow%20springs%20fairfield%20rd%2C%20fairborn%2C%20oh&q2=510%20south%20xenia%20dr%2C%20enon%20oh&gid1=30697325
Fields are behind Indian Valley Middle School near the VFW. Mapquest will send you to the wrong school so don't use it. The quickest way to there is as follows.
1. Make a left out of Cemex Park on Yellow Springs Fairfield and go 2.8 miles.
2. Make a left on West Enon Rd and follow for another 3.2 miles. West Enon Rd turns into Enon Xenia Rd after an S curve to the right. Indian Valley Middle School will be on your right after passing the VFW on your left and Rebert Pike on your right.
3. The Majors Field is Diamond 1 next to the Concession Stand near the parking lot.
4. The Minors Field is in the NW Corner of the complex away from the parking lot. (Some Majors games are played here.)
5. No Stands so bring your lawn chairs!
Total Distance = 6 miles from Cemex Park
Huber Heights Little League Park
Located between Kitty Hawk Elementary and Menlo Park Elementary Schools in Huber Heights. Cut and paste the mapquest into your browser or click on the map icon at the bottom.
http://www.mapquest.com/maps?1c=Fairborn&1s=OH&1a=701+W.+Yellow+Springs-fairfield+Rd&1z=45324&2c=Huber+Heights&2s=OH&2a=5758+Harshmanville+Rd&2z=45424
Distance from Cemex Park = 8.29 miles
Estimated Time + 15 minutes
Parking is also available on the opposite side of Kitty Hawk Elementary in the Menlo Park Elementary Parking lot on Rosebury Rd.
5758 Harshmanville Rd
Huber Heights, Ohio 45424

Washington Courthouse
Washington Courthouse. Directions to the field are:
At the light, turn right onto Old Rte 35. (After a few miles Old Rte 35 will become Dayton Ave.) At the end of Dayton Ave., turn left onto W. Temple St. Go several blocks, at Lewis St., turn left. The ball park is on the left at the big curve.