Fort Wayne Sport Club 98B Blau: Welcome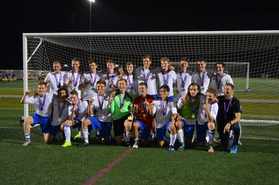 U19 Indiana State Cup Champs!
Welcome to the Fort Wayne Sport Club 98 Academy Blau website!
Congratulations FWSC 98B Academy Blau! 2016 U19 Indiana State Cup Champions!
We are Fort Wayne Sport Club's U98/U18 Academy Blau traveling soccer team located in Northeastern Indiana. In spring 2016, we will participate in the MRL First White Division . We will also compete in multiple tournaments this year including the Indianapolis College Showcase, Nike Academy Showcase, Adidas Blue Chip, and Crossroads of America Showcase.
We are coached by Corey Brueggeman. Our Director of Coaching is Greg Mauch who is assisted by Jim LaBorde.
We hope you enjoy our website! Check it often for updates.