FRANKLIN REGIONAL HOCKEY CLUB: Welcome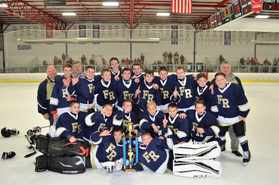 MS FALL FACE OFF TOURNAMENT CHAMPIONS
Members of the Franklin Regional hockey teams posed for a picture with the Stanley Cup on October 15, 2016. The team also got to check out the rings from 2009 and 2016.
THE 2016-17 GAME SCHEDULES HAVE BEEN POSTED. PLEASE GO TO VARSITY,JUNIOR VARSITY,AND MIDDLE SCHOOL TABS FOR TEAM SCHEDULE INFORMATION.
CONGRATULATIONS FRHC - 2015-16 VARSITY TEAM: 2016 PIHL CLASS "A" PENGUIN CUP CHAMPIONS!!!
The FRHC Varsity team defeated the South Fayette Lions by a score of 4-1 in the Class "A" Penguin Cup Finals on Tuesday, March 15. **See more images of FRHC - Varsity Penguin Cup Championship and PA State Final experience on the Varsity page. **
FRHC Volunteer Opportunities
We are in need of several different chairpersons and assistants for a number of upcoming events. We are also in need of donations for a few of these occasions. In order for these important activites to take place we need your help! Please contact your team manager if you would like to help out!
Volunteers are needed for the following events
End of Season Banquet
Tracking Volunteer Hours
Senior Night
Organizing Bus Trips
Fundraiser Events Help
"You miss 100% of the shots you don't take." Wayne Gretzky
The Franklin Regional Varsity Ice Hockey, Junior Varsity Ice Hockey, Middle School Ice Hockey, and Junior Panthers Developmental Ice Hockey teams are the sole teams represented by the Franklin Regional Hockey Club. No other team(s) or organization(s) are represented by or affiliated with the Franklin Regional Hockey Club.