FRANKLIN REGIONAL HOCKEY CLUB: Welcome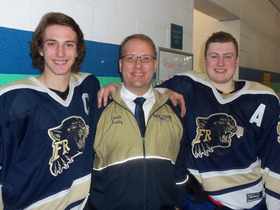 Zach Bearley, Coach Kurtz, and Joey Merlina will represent FRHC as all-stars.
CONGRATULATIONS TO OUR 2014-2015 PIHL ALL-STARS
Zach Bearley - Forward
Joey Merlina - Defense
Brian Kurtz - Coach
FRHC SENIOR NIGHT
Special thanks to all those who made senior night a great night for our seniors!!
FRHC - SPRING HOCKEY TEAMS
SPRING HOCKEY TEAMS ARE FORMING NOW!!
FRHC is currently attempting to coordinate teams at the Bantam and Midget levels to participate in the Allegheny Hockey Association's spring league. Information on younger age group teams may be coming. Stay tuned!!
If you are interested in participating please contact....
Bantams - John Newell - jnewell17@comcast.net
Midgets - Mike McIntyre - mikemac17@comcast.net
(* ONLY one forward position remaining at the midget level.)
PLAYERS CURRENTLY ROSTERED ON FRHC TEAMS ARE ENCOURAGED TO PARTICIPATE.
*New players may be contacted if there are open positions available on spring teams.
FRHC Volunteer Opportunities
We are in need of several different chairpersons and assistants for a number of upcoming events. We are also in need of donations for a few of these occasions. In order for these important activites to take place we need your help! Please contact your team manager if you would like to help out!
Volunteers are needed for the following events
End of Season Banquet
Tracking Volunteer Hours
Senior Night
Organizing Bus Trips
Fundraiser Events Help
Practice Schedule
GENERAL PRACTICE SCHEDULE
(Please be aware that the practice schedule may be changed due to conflict. Continue to monitor email and this website for scheduling information.)
SUNDAY
MS 6:10 - 7:20 pm
JV 6:40 - 7:50 pm
Varsity 8:00 - 9:20 pm
WEDNESDAY
Varsity 5:00 - 6:20 pm
THURSDAY
MS/JV 8:10 - 9:10 pm
"Great moments are born from great opportunities." Herb Brooks
The Franklin Regional Varsity Ice Hockey, Junior Varsity Ice Hockey, Middle School Ice Hockey, and Junior Panthers Developmental Ice Hockey teams are the sole teams represented by the Franklin Regional Hockey Club. No other team(s) or organization(s) are represented by or affiliated with the Franklin Regional Hockey Club.