FLETCHER HILLS LITTLE LEAGUE: Welcome
Welcome to the Official Fletcher Hills Little League Website
Home of the 1961 Little League World Series Champions!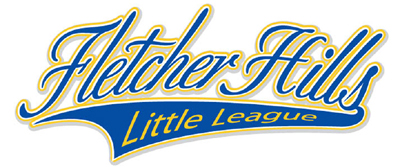 Fletcher Hills Little League has been an official Little League International chartered organization for over 50 years! Thank you to all of the players, parents, volunteers, sponsors, and fans who make this a fun-filled, successful experience for everyone.
Friday, August 1
Winterball is Here!!

Winterball 2014 is here!
Registration has now ended.
The Season:
Begins after Labor Day and ends before Thanksgiving. Each player will receive an FHLL Winter Ball T-shirt and hat.
What does Winter ball focus on?
Training and development of Little League players at the

Rookie, CAPs, Minors, and Majors levels. Designed to be instructional and to help the players get ready for the next season.
Instruction will include: hitting, batting, bunting, pitching, mechanism of throwing, infield and outfield play, catching, base running, and sliding.
All age groups from Rookies to Majors may play games, perhaps with other leagues, as well as ours.
The minimum play age for Rookies is baseball age 6 and for CAPs is baseball age 7.

**NOTE: Winterball level played does not guarantee the player will be drafted to that level for the following regular season.**
Handout:
Majors Fall/Winterball 2014
Saturday, June 28
FHLL 9/10 All Stars in Section Championship Game!!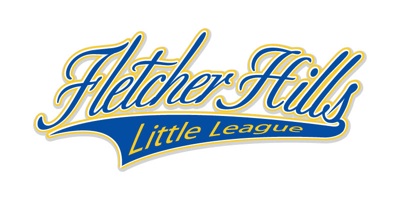 It was one of the most exciting games we've seen all season, with comeback heroics which forced the Sectional Championship game to extra innings. Unfortunately, the season had to end for our 9/10 FHLL All Stars, who lost by just 1 run in the 7th inning.
Even with the loss, our kids showed heart all the way through, and made it farther than any of our teams have made it in several years. They should all hold their heads high with pride.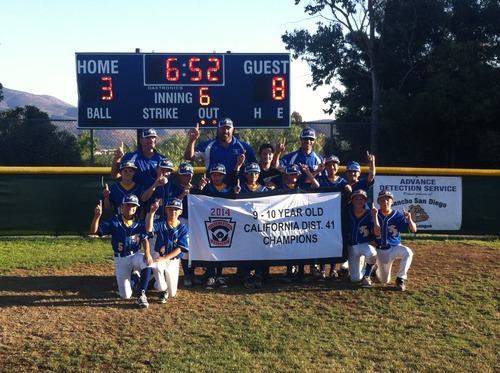 Congratulations to FHLL 9/10's for becoming the 2014 California District 41 Champions!!

Sunday, June 22
2014 FHLL All Stars
Tuesday, August 13
Join the Fletcher Hills L.L. Email Distribution