Little League Florida District 25: Welcome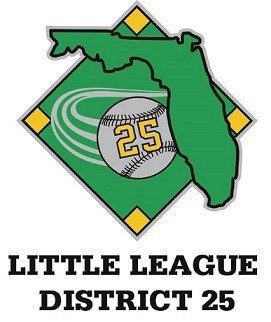 We have moved to our New District 25 Website , Please come with us.




Search for your correct league in your area.
There are a lot of valuable information for everyone to access from Board Members, Coaches. Umpires and Parents. Please check out some of the items like the equipment Information before you go out and buy anything and look what will be happening in 2018 with all the Baseball Bats, there will be a major change.
All Equipment
that your child is using needs to be checked before starting the tournament Season so they don't have the wrong bat size, cracked helmets & bats and painted helmets and have dangling throat guards.
You can email us at FLDistrict25@gmail.com or follow us on Facebook: Florida District 25 Little League.
It's the end of the year and that means preparing for the spring season!!!
Leagues have received their chartering packets, are setting their dates for registrations, tryouts, drafts, practices and schedules. Planning for ordering of equipment and uniforms, preparing the fields and recruiting the always needed volunteers (which a league can NOT OPERATE WITHOUT!) is constantly ongoing while looking to the community to help with manpower and financial help by sponsoring teams and the leagues.
Check out the league links at the bottom of the page to visit your league to see what you can do to help make your league run smoothly, make new friends and ensure all the children have a wonderful and safe experience with Little League!
The leagues of District 25 are:

You can follow our fan page on Facebook! Florida District 25 Little League - become a fan today!
Thanks for visiting the District Website! Visit the Guestbook and feel free to offer suggestions!