Monday, June 15
Florida District 22 Section III Little League Baseball/Softball
District 22 2015 All-Star Tournament
The schedule for this years All-Star District Tournament has been entered. If rain outs occur, this site will reflect game schedule changes as soon as they are released to the teams. Game results will be entered by the next day so all can stay up to date with the latest division standings. Good Luck to all the teams this year!
District 22 2015 Tournament of Champions
Major Softball: Rockledge Little League
Senior Softball: Rockledge Little League
Major Baseball: Merritt Island Little League
Junior Baseball: Inidan River City Little League
Senior Baseball: Port St John Little League
District 22 Umpires Going to Regionals and World Series!!
Dan Lawrence has been invited to officiate at the Junior League Baseball World Series being held in Taylor, Michigan. This tournament will be held August 16-23. Follow Dan during his tournament on Twitter, @Danalllaw
Other District 22 Umpires getting Regional Assignments:
Leon Vetch- Senior Baseball
Rob Weiner - Major Softball
Congratulations to Rockledge Junior Baseball on being the 2012 World Series Champions!!!
Team members include Gavin Spinneweber, Mike Hall, Blake Beyel, Brady Martello, Mason Studstill, Justin Robedeau, Drew Parrish, Jackson Parker, Kevin Clanton and Trevor Payne, team manager Dave Clanton and coaches Tom Hall and Robbie Robedeau.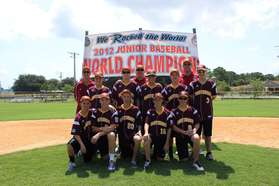 World Series Champion RLL Junior All-Stars