| | |
| --- | --- |
| Locations | |
Anderson Park - Kenosha
Located adjacent (SW) to Tremper High School. Fields border 30th Ave. and 89th St.


8705 30th Ave.
Kenosha, Wisconsin 53143


Brown Deer Park

Commissioners Park
Field is 1/4 mile west of Hwy 59


111th St.
Naperville, Illinois 60540

Fairy Chasm
5700 Fairy Chasm Rd.
Brown Deer, Wisconsin 53224

FC Milwaukee Office
5557 N. 124th Street
Butler, Wisconsin 53007

Phone: 262-790-4450

Frontier Park Sports Complex
3415 Book Rd.
Naperville, Illinois 60540

Horace Mann
2820 Union Ave.
Sheboygan, Wisconsin 53081


Marquette Valley Fields
Directly north of the Potawatomi Casino. Parking at east end of complex.


1818 W. Canal St.
Milwaukee, Wisconsin 53201


MF Valley View
Valley View Elementary School


W180 N8130 Town Hall Rd.
Menomonee Falls, Wisconsin 53051

MSOE Kern Center
1245 N. Broadway
Milwaukee, Wisconsin 53202

Mt. Mary College
3000 N. Menomonee River Pkwy.
Milwaukee, Wisconsin 53222


Reindahl Park
Directly west of East Towne Mall. Exit I-90 at US-151 (Washington Ave.) Southwest to Thierer Rd.(Wendy's & Office Depot are good landmarks) Park is one block west.


1900 Portage Rd.
Madison, Wisconsin 53704

SCORe
Sportscore II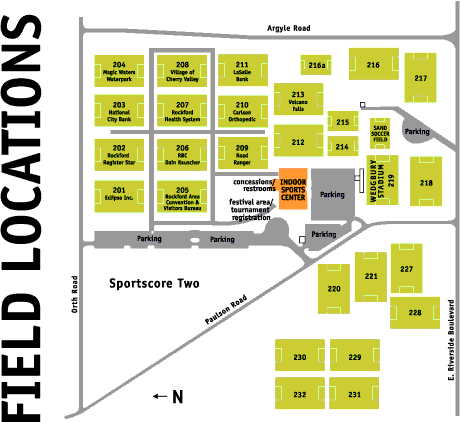 Traffic is always an issue...allow time for congestion
8800 E. Riverside Blvd.
Loves Park, Illinois 61111-5713

TBD
Uihlein Soccer Park
7100 W. Good Hope Rd.
Milwaukee, Wisconsin 53223


WES - Waukesha

Wyndham Lisle/Naperville
Follow this link for the hotel website.
Click on the compass below for a Yahoo! map to the hotel.


3000 Warrenville Rd.
Lisle, Illinois 60532


Brookfield Academy
Athletic fields are located west of Brookfield Rd.


3460 N. Brookfield Rd.
Brookfield, Wisconsin 53045

Brookfield Indoor
Dhaliwal Soccer Park
8200 W. Donges Bay Rd.
Mequon, Wisconsin 53092

Mequon Rotary Park
4100 W. Highland Rd.
Mequon, Wisconsin 53092

Milwaukee Sport Club
N56W14750 Silver Spring Dr.
Menomonee Falls, Wisconsin 53051


Reddan Soccer Park

River Barn Park
Hwy 57, 44W
West of the Milwaukee River. County Line Rd. does not cross the river from the east.


9808 N. Cedarburg Rd.
Mequon, Wisconsin 53092


USA Youth - Appleton
Go here for a field map.


3300 E. Evergreen Dr.
Appleton, Wisconsin 54911

Voight Soccer Park
19485 W. Lisbon Rd.
Brookfield, Wisconsin 53045