Welcome to Elmira District Boys Varsity Soccer!! Home of the Express!!
This is a site dedicated to the Boys' Varsity Soccer team for the Elmira City School District in Elmira, New York. The team is a member of the Southern Tier Athletic Conference (STAC) and participates in the West Division. Elmira is also a member of the New York State Public High School Athletic Association (NYSPHSAA).
NYSSWA Final State Ranking - 2006 (#10), 2007 (#19), 2010 (#16)
STAC West Division Champions - 2002 (Co-Champions), 2007 , 2008, 2012 (Co-Champions)
STAC Finalists - 2008
STAC Champions - 2008
#1 Seed in Section IV Tournament - 2006, 2007, 2008, 2009, 2010, 2012 (shared)
NYSPHSAA Section IV Finalist - 1988, 1989, 2002, 2006, 2007, 2010 , 2013
NYSPHSAA Section IV Champions - 1989, 2006, 2010
Southern Tier Athletic Conference
STAC West STAC Metro STAC Central STAC East
Elmira District (AA) Vestal (A) Johnson City (A) Oneonta (B) Horseheads (AA) Binghamton (AA) Susquehanna Valley (B) Chennango Forks (B)
Corning District (AA) Union-Endicott (A) Owego (A) Chennango Valley (B)
Ithaca (AA) Maine-Endwell (A) Seton Catholic (C) Windsor (B)
Norwich (B)
Friday, October 7
Horseheads boys edge Elmira to end regular season
Andrew Legare , alegare@stargazette.com @SGAndrewLegare 10:14 p.m. EDT October 6, 2016
Jarid Smith's first-half goal helped the Blue Raiders to a 1-0 victory in their final game before sectionals.
Scoring chances were at a premium Thursday afternoon at Horseheads High School. Fortunately for the Blue Raiders, sophomore midfielder Jarid Smith delivered when opportunity knocked.
Smith scored on a chip shot that was partially deflected by Elmira High School goalie Luke Baldwin before finding its way into the net with 22 minutes left in the opening half, sending Horseheads to a 1-0 victory on Senior Day. Jacob Orban set Smith up with an assist.
"We did the right thing at the right time. It's the way we try and play," Horseheads head coach Mark Mucci said. "That was the one case today where we played the offense the right way and we were rewarded for it. We had a couple of other chances."
The defense did the rest, holding Elmira to four shots as Horseheads finished the regular season with a 6-4-4 record.
Up next for the Blue Raiders, following a break of more than a week, will be the Section 4 Class AA Tournament. Mucci said the rest will come in handy, with some starters missing from the lineup Thursday because of injuries.
"I thought we had a good effort," Mucci said. "I think we've played better all year than we did today. I don't know if it was the field being in a little bad shape or what, but we've been able to possess the ball better than we did today. In the end, we got the victory, we kept the shutout. Defensively I thought we played great as a team. That was important going into sectionals."
The Raiders already had secured a sectional berth coming into the week, their first postseason appearance in three years. That made the regular-season finale far less stressful than the last two seasons.
"I was happy it didn't come down to the last two or three games like it has for me every year because the last two years, it's come down to the last game and we've tied them and we've lost sectionals by half a game," Mucci said. "To get the victory and already have secured sectionals, it's a good day overall."
Horseheads had a shot at an insurance goal with eight minutes left after Elmira was called for a handball inside the goalie box, but the penalty kick from Isaac Pastel went wide left.
Raiders goalie Tyler Morehouse made four saves. Elmira tried to push players up in the closing minutes to pressure Morehouse but still failed to produce a quality scoring chance.
"I didn't think either team had a lot of scoring opportunities today," Elmira head coach Derek Hamilton said. "I think it was mostly a midfield battle, transition. But they got that goal in the first half. We came out a little soft, a little weak. You're fighting uphill when you give up that goal that early."
The Express dropped to 2-8-3 during a frustrating week that saw Elmira's hopes for a sectional playoff spot disappear. Elmira tied Maine-Endwell, 2-2, on Tuesday after taking a 2-0 lead into halftime.
On the positive side, Elmira's young lineup has shown improvement. Hamilton said he would just like to see a full 80 minutes of spirited play, something that was again missing Thursday.
"We have such a young team, it's tough to get them going sometimes," he said. "We played much better in the second half today. Sometimes with the young guys, it just takes a little while to get them going. I think that's what's happened all season. We've been a tale of two seasons. The first half of the year we weren't so good, and the second half we were very competitive with everybody. I think that's just the maturation for a young squad."
Elmira has a chance to end the season on an upbeat note Tuesday, when it travels to Union-Endicott. The teams played to a tie in their first meeting this season.
"We didn't come out with the most intensity today," Hamilton said. "I challenged them and I said, 'Hey, listen, if you want to show pride, you come out and play well Tuesday in a match that really doesn't matter to us. That's pride. That's pride in yourself and that's pride in the program.' Hopefully, we can find it on Tuesday."
Follow @SGAndrewLegare on Twitter.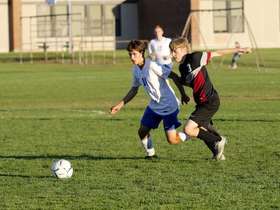 Photo by Star-Gazette
Monday, October 3
Express Blanks Binghamton
Boys soccer
Elmira 1, Binghamton 0: Noah Sperduto's first-half goal off a Cody Wright assist held up as Elmira picked up its second win of the season with a home victory over Southern Tier Athletic Conference foe Binghamton.
Luke Baldwin had seven saves for the Express (2-7-2).
Elmira Scoring - Sperduto (1-0), Hill (0-1)
Shots/Corners - Elmira (14-4), Binghamton (7-4)
Saves - Elmira (Baldwin-7), Binghamton (Felder-13)
Friday, September 16
HS Roundup: Elmira, Horseheads boys play to soccer tie
Andrew Legare, alegare@stargazette.com @SGAndrewLegare 9:42 p.m. EDT September 15, 2016
Nick Juan scored for Horseheads and Walker Moss netted a goal for Elmira on Thrusday as the teams played to a 1-1 tie in a Southern Tier Atheltic Conference game.
Juan's goal, which was assisted by Kellen Boyles, came after he split the defenders before beating the goalie to the right side.
Moss scored the tying goal with 11 minutes remaining off an assist from Luke Baldwin.
Express goalie Luke Baldwin made 12 saves.  Horseheads (3-1-2) had a 13-3 edge in shots on goal.
Elmira Scoring - Moss (1-0), Baldwin (0-1)
Horseheads Scoring - Juan (1-0), Boyles (0-1)
Shots/Corners - Elmira (3-2), Horseheads (13-3)
Saves - Horseheads (Morehouse-2), Elmira (Baldwin-12) 
Friday, September 9
HS Roundup: Express boys rally for first win
Photo by The Corning Leader
Andrew Legare, Elmira
Two goals from freshman Noah Sperduto lifted the Elmira boys soccer team to its first win, 2-1, over Corning.
 Freshman Noah Sperduto scored the first two goals of his varsity career in the second half Thursday night as the Elmira boys soccer team rallied for its first win, 2-1, over Southern Tier Athletic Conference foe Corning at Corning Memorial Stadium.
Sperduto scored the tying goal with about 20 minutes left, then netted the winner with eight minutes to go off a feed from Jasio Ziembicki. Express head coach Derek Hamilton described it as a "fantastic" goal, with Sperduto beating two defenders off the dribble before finishing.
"He had great composure in the box," Hamilton said.
Paul Milliken added an assist for Elmira, which improved to 1-3.
"We have such a young team that I think the win does more for us than simply getting three points," Hamilton said. "It lifts our spirits and shows we can play with anybody."
Cam Metarko scored for Corning (2-2).
Elmira Scoring - Sperduto (2-0), Paul Milliken (0-1), Ziebecki (0-1)
Corning Scoring - Metarko (1-0)
Shots/Corners - Elmira (11-1), Corning (9-3)
Saves - Elmira (Baldwin - 8), Coring (Ekstrom - 9) 
_____________________________________________________________________________________
 Elmira outlasts Corning, 2-1
 By The Leader staff
CORNING - The Hawks had the lead at halftime, but Elmira had the lead when the final horn sounded in its 2-1 win over Corning Thursday at Memorial Stadium.
In a game played in rain and drizzle, the Hawks grabbed the lead in the first half on a Cameron Metarko goal.