Elmer Little League: Welcome
Welcome to the Home of Elmer Little League
District 3 - Section 4 - New Jersey
Little League Baseball & Softball International

Elmer Little League provides Baseball and Softball programs for boys and girls ages 5 through 16. Our main goal is to provide a sports program for our children to learn the fundamentals of Baseball or Softball, participate in a team sport and have a whole lot of fun! Following the guidelines set by Little League Baseball, Inc., playing a team sport can teach a child discipline, character, loyalty, commitment, and courage.
Elmer Little League Boundaries:

Elmer Borough
,
Pittsgrove Township,
Upper Pittsgrove Township
Elmer LL Fall Softball & Baseball LAST Registration - August 11
Elmer LL will hold their last Fall Ball registration in baseball and softball on Monday, August 11, at the Elmer Borough Hall, 6 pm to 8 pm.
Levels of Play
Teams will be formed if there are enough players, and more importantly, coaches. This is a great opportunity for parents to get involved.
Softball: minors (ages 9 and 10), majors (11 and 12) and seniors (13-16)
Baseball: minors (ages 7-9), majors (9-13) and juniors (13-14). Players age 9 can choose minors or majors and players age 13 and played in the majors in the spring can chose to stay at majors or move up to juniors.
Both leagues will schedule approximately 12 games, but there will be no playoffs. The Fall Ball programs are developmental in nature so players are given opportunities to play multiple positions.
Depending on the number of teams formed at each level, we may have to travel to surrounding communities in order to complete the schedule.
As always, non-Elmer LL players are welcome to join the fall league. A flat $60 fee will be charged to all players. For more information contact John Roberts for softball (
danabrygrace@aol.com
) and Joe Cardona for baseball (
cardona@rowan.edu
).
11-12 year old GIRLS SOFTBALL ALL-STAR TEAM WINS DISTRICT 3 CHAMPIONSHIP
The Elmer 11-12 year-old Girls Softball Team beat Pennsville 10 to 0 in the final game to WIN the District 3 Championship.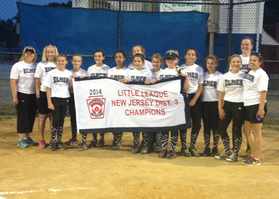 2014 11-12 year old SOFTBALL DISTRICT 3 CHAMPIONS
SENIOR LEAGUE (13-16) GIRLS SOFTBALL ALL-STAR TEAM WINS DISTRICT 3 CHAMPIONSHIP
The Elmer Senior League Softball Team beat Penns Grove in the final game  7 to 6 in 9 ininngs to WIN the District 3 Championship.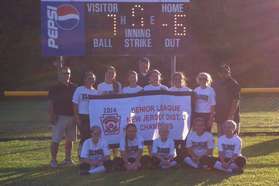 2014 SENIOR LEAGUE SOFTBALL DISTRICT 3 CHAMPIONS
10-11 year old GIRLS ALL-STAR SOFTBALL TEAM WIN SECTION IV CHAMPIONSHIP
The Elmer 10-11 year-old Girls Softball Team beat Upper Twp. 18 to 5 in the final game to WIN the Section IV Championship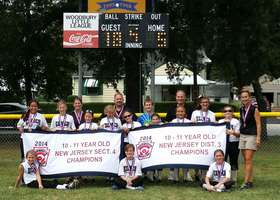 2014 10-11 year old SECTION IV CHAMPIONS
Elmer Little League (District 3) hosted the
New Jersey Senior Softball State Tournament.
New Jersey State Senior League (13-16) Softball Tournament July 18 to July 22
Manasquan-Brielle/Wall beat Par Troy East in the final game
12 to 10 to win the New Jersey State Championship.
For Tournament Information, Schedule and Scores, click on the link above. You will be directed the the District 3 web site.
All-Star Tournament Schedules & Scores
District 3 All-Star Tournament Schedules and Scores for Baseball & Softball
can be viewed on the District 3 web site. CLICK HERE to be directed to the District 3 web site.
To view the All-Star Tournament Games Played in Elmer Click Here.
To View ALL the Elmer All-Star Team Games Click Here.
Baseball Bat Resource Page
Little League International has assembled an online resource page dedicated to baseball bat information. Click Here to find the latest bat information, including the current Little League Baseball rules and regulations governing bats, definition of terms, the moratorium on the use of composite bats, and a series of frequently asked questions, with answers and licensed bat lists.
Important Rule Changes for the 2014 Little League Season
As we enter into the 75th year of Little League, here are several important changes to the rules and regulations that you'll see in the 2014 Little League Rulebooks.
Check the Calendar for Upcoming Events
A SPECIAL THANKS to our SPONSORS
Elmer Little League would like to thank our DEDICATED SPONSORS. Please take time to visit the
SPONSORS
link located on the left-hand side of our web site. Without the continued support of these businesses and organizations Elmer Little League would not be capable of providing Little League Baseball and Softball for the youth of our communities. THANK YOU ! ! !