2014 Elizabethport Little League Season: Welcome
Elizabethport Little League Main Number 908-248-2950
>
2014

ONLINE REGISTRATION IS NOW OPEN FOR THE UPCOMING SEASON!!!!

CLICK ON THE REGISTER NOW

BUTTON ABOVE!!

For more info on registration please click on the Registration Info page located on the left side menu.

If you are experiencing issues with the online registration process,please call 877-228-4881 choose option 3

For other issues email us

2014 En línea se encuentra abierta la inscripción para la próxima temporada!!!!

Haga clic sobre el registro nowbutton arriba!!

Para obtener más información sobre el registro, por favor haga clic en la información de registro página ubicada en el menú del lado izquierdo.

Si usted está experimentando problemas con el proceso de registro en línea, por favor llame 877-228-4881 elija la opción 3

Para otros problemas correo electrónico

Important Dates (Please mark your calendar)

Check back for updates or Like us on Facebook

Minors/Majors/Junior-Senior Player Ratings February 22-23, 2014 Exerbleben Rec Ctr Richmond & McKinley Please note the date and location for this event may change. you will receive an email early February with exact details. Parent's Nite TBA (1st week in March)

Peterstown Rec Center 410 Palmer Street

Uniform Distribution: March 27 & March 28, 2014

Powell Memorial Field 371 Dowd Ave

Season Begins for Minors/Majors Only:

Saturday, March 29, 2014

Season Begins for TBall/Rookies/Softball

Saturday, April 5, 2014

Opening Day Parade & Ceremony

April 5, 2014

Parade will start at School #1 250 Broadwa and end at Powell Field. Please arrive and assemble at Jackson Park by 12:15PM

3rd Annual Major League Baseball Pitch Hit & Run Contest April 5, 2014

All Fundraiser Forms & Monies Due:

May 18, 2014 @ Powell Field

Picture Day: May 18, 2014 Powell Field

Your help is needed to make this year a success! Parents and friends are encouraged to call the Coaches or email EPLL to volunteer. Participation is the key to making this a great time for the kids and to make the 2013 season a memorable one. Please contact to help out!

We Need right now:
Coaches
Team Moms
...ANY helping hands!!

Call the phone number below or email EPLL at the address listed below to find out descriptions of positions or what YOU might be able to do to help out your kids and the league. Call us at 908-248-2950 or email us at

ElizabethportLL@gmail.com
Contact Elizabethport Little League
Email us at ElizabethportLL@gmail.com
Elizabethport Little League Phone Number 908-248-2950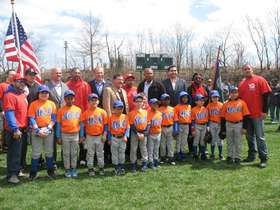 Opening Day Ceremony 2013
Saturday, April 13
Elizabethport Little League Opening Day
OPENING DAY 2013
Elizabethport Little League Celebrates another great opening day. A special thank you to all of our members of the political community for coming out to show their support. We had a fabulous day as we marched from School #1 down to Powell Field. A special mention to Darnell Holt who recited our National Anthem and was recognized for his Perfect Score on the NJ ASK Exam.
After a marvelous cermony, first pitches from our VIP guests, and refreshments the kids competed in our second annual Pitch, Hit and Run Contest. This was a special day as this was the first time we have joined with North Elizabeth Youth League for a great 2013 Season!
Be sure to check out our facebook page at the link above for all the great photos.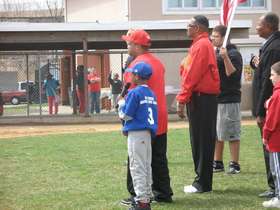 Darnell Holt recites the National Anthem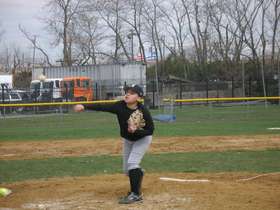 Kevin "#6" Lopez winning the 9& 10 Pitch Division
Saturday, April 13
Elizabethport Little League's Second Annual Pitch, Hit & Run Contest Sponsored by MLB
Richard Lorenzo Launches one to take the 9&10 Hitting Division
PITCH, HIT AND RUN CONTEST RESULTS
We hosted our Second Annual Skills competition sponsored by Major League Baseball. The kids competed in three different categories. For more pictures of the competition follow the link to our facebook page of opening day events.
Thank you to all the kids for competing. Here are the winners who will be representing Elizabethport Little League in the sectionals and qualify for a chance to compete at a MLB ballpark.
Girls 7&8 Year Old Division
Run Champion- Jada Brown
Overall Champion-Jada Brown
Boys 7&8 Year Old Division
Pitching Champions-Amaury Cepero, Januel Flan, Ivan Cruz
Hitting Champion-Quaran Williams
Run Champion-Quaran Williams
Overall Champion-Quaran Williams
Boys 9&10 Year Old Division
Pitching Champion-Kevin "#6" Lopez
Hitting Champion-Richard Lorenzo
Run Champion-Jose Valdez
Overall Champion-Richard Lorenzo
Girls 11&12 Year Old Division
Pitching Champions-Imani Steele, Pamela Pajuelo
Hitting Champion-Pamela Pajuelo
Running Champion-Pamela Pajuelo
Overall Champion-Pamela Pajuelo
Boys 11&12 Year Old Division
Pitching Champions-Nathaniel Rosa,Otello Black, Abdul Ripley
Hitting Champion-Abdul Ripley
Running Champion-Abdul Ripley
Overall Champion-Abdul Ripley
Boys 13&14 Year Old Division
Picthing Champions-Jayden Jacobs, Javell Barnes
Hitting Champions-Javell Barnes
Running Champion-Javell Barnes
Overall Champion-Javell Barnes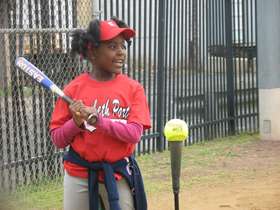 Jada Brown Ready to Compete in the Girls Division
Saturday, February 2
Like Us on Facebook
The League also has a facebook page. Find us at Elizabethport Little League. If you visit us please like us on Facebook we need all your support.