El Dorado Lacrosse: Welcome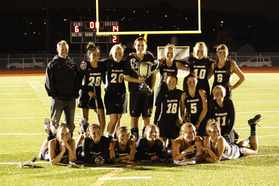 Congratulations 2012 Girls Varsity Team for bringing the Cup Home!!
Friday, June 8
____________
Final Booster Meeting
of the Season

Please join us for the final Booster Club meeting of the year

Wednesday, June 13
7:00 pm - EDHS PE Classroom

The 2012 player/parent survey results will be distributed
and the leadership team for the 2012-2013 academic year will be introduced.
____________

All-American Selections
Congratulations
Ashley Eickoff
for being selected as All-American by US Lacrosse!
___________

All-League Selections
Congratulations to the following Golden Hawk Lacrosse Players
for being selected ot the Century - Empire All-League Teams

Boys All-League Teams

First Team:

Curtis Davila
Nick Fonseca
Bryan Kitahara

Second Team:

Everett Montano
Brian Robertson
Jake Wagner
Honorable Mention:
Jake Levine
Brian Sutherland
Girls All-League Teams

First Team:

Ashley Eickoff
Alexandra Kyte

Second Team:

Dee Fink
Nicole Robertson
Girls First Team All Orange County

Ashley Eickoff