Eagles Basketball Club: Welcome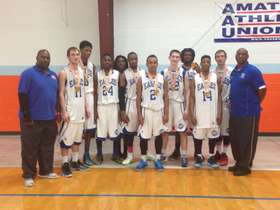 2014 BearCat Champions
EAGLES BASKETBALL CLUB
The Indy EBC AAU Program has developed a new website we can be found at the following link:
http://indyeaglesbasketballclub.weebly.com/
Welcome to the AAU Indianapolis Eagles Basketball Club web site. The Indianapolis Eagles are a 501(c)(3) program as a subordinate for the Amateur Athletic Association (AAU) whose mission is: "To help students athletes realize their academic and total potential through athletics." We are committed to assisting male athletes ages 12-17 in improving their individual basketball skills by providing knowledgeable coaching along with the opportunity to play with and against the highest level of competition.

An equally important goal of the club is to develop character, teamwork, and sportsmanship in an enjoyable basketball environment. Players also develop new friendships established through the travel and competitive experience.

We believe that youth sports, when properly run at all levels, are a healthy, fun and positive aspect of a child's life. Imparting lifelong values that are the behavioral foundation of our future leaders. To this pursuit, we offer a program that will embody this philosophy.
"The success of the season is not determined by wins or losses, but by the improvement of the players in their skills, knowledge of the game, and love of the game."
Participation in Basketball

High School Players

1,002,040

NCAA Players

30,624
NCAA Teams & Scholarships

D1

D2

D3

Teams

652

560

817

Scholarships

91,26

5,600
2015 Summer Schedule (17U)
| | | | | |
| --- | --- | --- | --- | --- |
| Dates | Days | Tourney | Location | NCAA Live Period |
| March | | | | |
| Mar 27-29 | Sa-Sun | Coach T Classic | St. Louis | No |
| | | | | |
| April | | | | |
| Apr 3-4 | Fri-Sat | Easter Classic | Best Choice Fieldhouse | No |
| Apr 10-12 | Fri-Sun | BearCat Classic | University of Cincinnati | No |
| Apr 17-19 | Fri-Sun | IndyBall Shootout | Best Choice Fieldhouse | No |
| Apr 24-26 | Sa-Sun | UA Jayhawk Invitational | Olathe, KS | Yes |
| | | | | |
| May | | | | |
| May 1-3 | Fri-Sun | Speice Run & Slam | Ft. Wayne | No |
| May 8-10 | Fri-Sun | Adidas May Classic | Best Choice Fieldhouse | No |
| May 16-18 | Fri-Sun | Indiana AAU State Tourney | Franklin Comm H.S. | No |
| | | | | |
| June 2-27 | Fri-Sun | High School Period | | |
| | | | | |
| July | | | | |
| Jul 8-12 | Wed-Sun | Adidas Invitational | North Central | Yes |
| Jul 15-19 | Wed-Sun | NY2LA Summer Jam | Mequon, WI | Yes |
| Jul 21-27 | Tues-Mon | AAU Boys Nationals I | Louisville, Ky | Yes |