Eden Prairie Swim & Dive: BOYS
Congratulations 2013 Boys Swim & Dive Team!
State Champions
Section 6AA Champions
Lake Conference Champions
True Team State Champions
Maroon & Gold Champions
Karol Carlson Invitiational Champions
13-0 Undefeated Season
2 New All-Time MN State Records (200 Medley Realy, 400 Free Relay)

7 New EPHS Records (200 Medley Relay, 200 Free, 50 Free, 100 Free, 500 Free, 100 Back, 400 Free Relay)

8 New Oak Point Pool Records (200 Medley Relay, 50 Free, 100 Fly, 100 Free, 500 Free, 200 Free Relay, 100 Breast 400 Free Relay)

42 Total Pool & Meet Records Broken
86 "Top 20" All Time EPHS Swims
Section 6AA Swimmer of the Meet (Jonathan Lieberman)
Section 6AA Coaches of the Year (Kelly Boston, Aaron Monson, Becca Morness)
Minnesota AA Coach of the Year (Kelly Boston)

Wednesday, February 6
Four Swimmers Represented During National Signing Day Ceremonies at EPHS
The EPHS Swim & Dive Team was well represented during
National Signing Day
.
Bryce Boston
(University of Minnesota),
Aaron Greenberg
(Yale),
Jonathan Lieberman
(Northwestern University), and
Ellie Suek
(Missouri) will transition to Divison-I colleges to further their education while continuing their swimming career this Fall.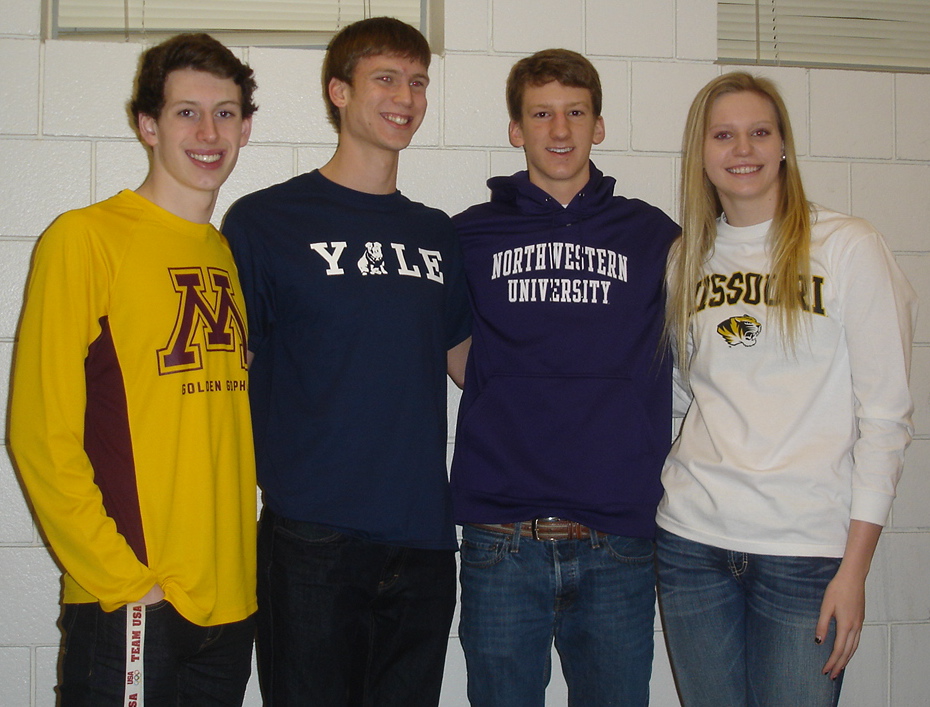 (L-R) Boston, Greenberg, Lieberman, Suek
Wednesday, January 30
Last Solfelt ending an era at Eden Prairie (by Star Tribune)
Friday, December 21
Eagles & Irish donate 200 lbs of food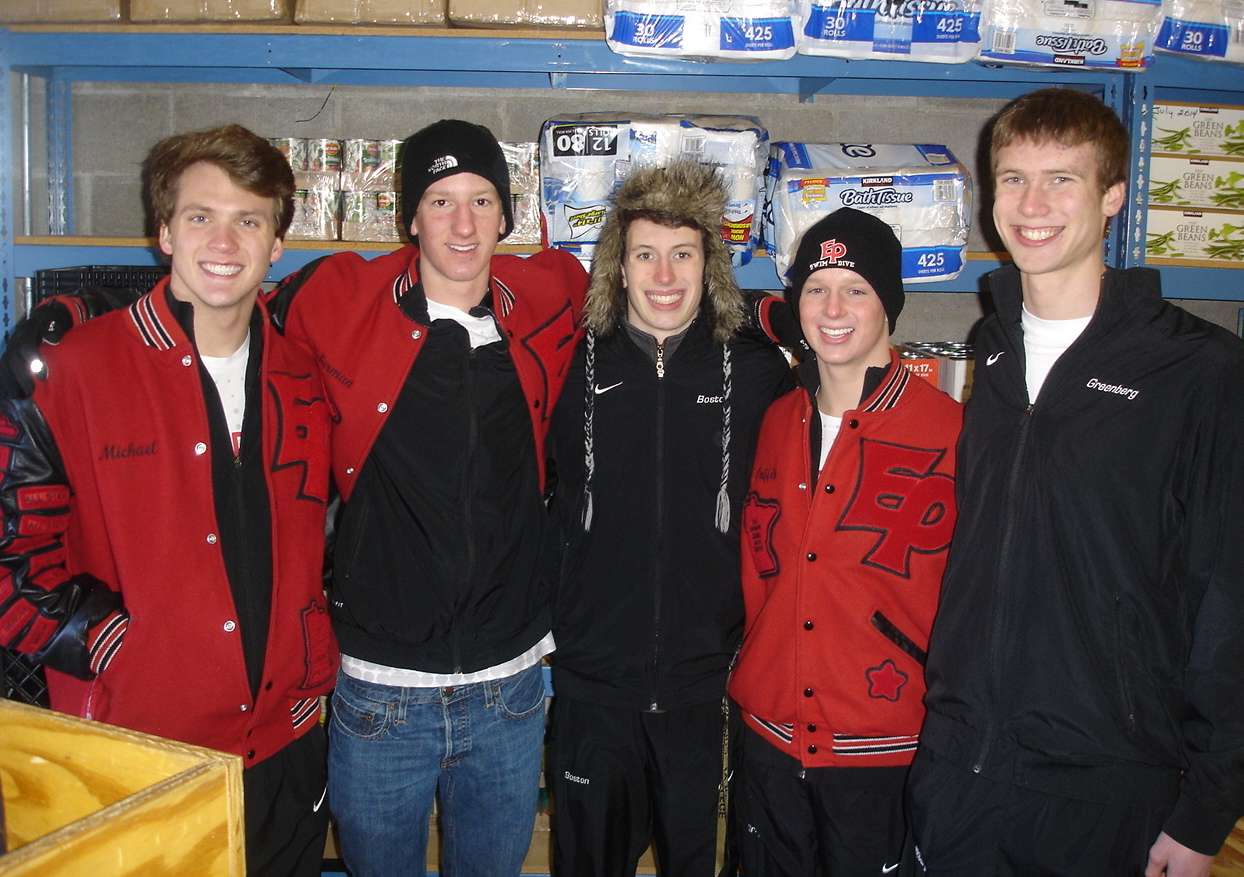 Captains deliver food to PROP (Solfelt, Lieberman, Boston, Griffith, Greenberg)
Over 200 lbs of food items were donated by the families and athletes of the Rosemount and Eden Prairie High School Swim & Dive Teams. Food was collected during Monday's dual meet at Oak Point and donted to PROP, a local food shelf in Eden Prairie.
Congratulations 2012 Boys Swim & Dive Team!
2012 State Champions
2012 Section 6AA Champions
Lake Conference Champions
True Team State Champions
Maroon & Gold Champions
Karol Carlson Invitational Champions
13 - 0 Undefeated Season
1 New All-Time MN HS State Record (200 Free Relay)
4 New EPHS Records (100 Fly, 100 Free, 500 Free, 200 Free Relay)
4 New Oak Point Pool Records (200 Med Relay, 100 Fly, 500 Free, 200 Free Relay)
Section 6AA Swimmer of the Meet (Jonathan Lieberman)
Section 6AA Coaches of the Year (Kelly Boston, Paul Kirihara)

Minnesota Class AA Coach of the Year (Kelly Boston)

Thursday, December 6
Star Tribune Swimming Preview: Five Story Lines
Thursday, December 6
Star Tribune Swimming Preview: Top 10 Individuals