ERIN MILLS EAGLES GIRLS U16: Personal Achievement

G18 WIN GOLD IN 2005
TWO OF OUR PLAYERS RETURN FROM NOVA SCOTIA WITH THE GIRLS 18 NATIONAL CHAMPIONSHIP GOLD
Kristina Terpoy and Laura Twidle were selected to fill out the roster for the Erin Mills girls 18 team at the National Club Championships that ran from Oct 5-10 in Sydney, Nova Scotia.
Congratulations to both girls who earned a gold medal and helped bring home one of the two National Championships for the club in 2005.
opus
LAURA TWIDLE WINS GOLD AT 2005 OFSAA MIDGET CROSS COUNTRY PROVINCIALS
FELICIA WINS FREE THROW CHAMPIONSHIP
On Feb 12 Felicia won the next division level championship and now moves on to the Regional championships.
EAGLES DOMINATE THE RUNNING TRACK
Two of our Eagles dominated the Mississauga Public School track meet held at Centennial Park on June 10 competing against 20 local schools.
Ariana, representing Hazel McCallion School, took the gold in the Senior 100M, 200M, 400M and the 400M relay.
Laura rounded out the track events with gold in the Senior 800M and 1500M events.
Our two Eagles swept all of the running events in the day long competition.
BREAD AND HONEY FESTIVAL 5K RUN
The Eagles participated in the 2004 Bread and Honey Festival 5K run on June 6.
Congratulations to all runners for their excellent results among over 600 runners in the race.
Special kudos to Laura and Leanne who recorded first and third place respectively in the 13-19 age group and to Katie from our U13A team who recorded first place (and fourth female overall) in the 12 and under category.
Additional photos in the Team Photos pages.
Thursday, February 21
HEROES
HEROES
"When I am called to duty God, whenever flames may rage. Give me strength to save some life whatever be its age."
These are some the words that surely run through the minds of every man and woman who is called to duty. The shrill of the alarm shatters the stillness of the night.
The sound is not unknown to them or ever silent for long, but each time the alarm tolls they rise from their beds with calming speed gained through hours of training and rush to the scene of danger. Our heroes of the night.
Teachers, staff and students of Divine Mercy School, My name is Cayla Brianna Avila and I have chosen to speak to you today about our fire fighter heroes.
We take them for granted simply because we know they are there for us. The big red flashy truck – A three digit phone call away. Never once imagining what the life and job of a firefighter could be.
The pictures we see in television movies or news clips can never truly capture the terrifying reality these brave people face on a daily basis.
Have you ever been weighted down with an insulated bunker suit of fifty pounds or more while trying to pull a human life from a burning car?
Have you ever felt the force of 155 gallons of water per minute pounding at your back? Or felt the intense heat of the licking flames clawing at you while doing it? Can you feel it?
"Help me embrace a little child before it is too late or save an older person from the horror of that fate. Enable me to be alert and hear the weakest shout and quickly and efficiently to put the fire out."
Have you ever entered a building with smoke so thick and foul you can't see past the
end of your arm, knowing the fire is lurking behind the walls ready to erupt? Have you ever heard the cry of agony from a desperate mother who's child is lost in an inferno? Or the wailing of an elderly wife who's husband is trapped with crippled legs in a wheel chair? Can you hear it?
It is our human instinct for safety and security that makes us run from danger and harm, but the instinct of a firefighter and protector is to run to it and fight that danger no matter the odds. Can you imagine the compassion and endurance required for such a job?
Do you have it?
"I want to fill my calling and to give the best in me to guard my every neighbour and protect his property."
Take a look around you. That's you and me. The unknown face, the total stranger, we are that neighbour they have chosen to protect. They've taken a oath to live their lives by a set of rules only the strongest of mind and the bravest of heart ever could.
We are the lucky ones, for we are able to curl up under a blanket of safety our firefighters provide for us. Have you ever ridden in that big red truck, with sirens blaring and lights flashing as it speeds through traffic headed for dangers unknown? Have you ever looked at a member of your crew and wondered if this was the last time you'd ever see them? Do you carry a mental picture with you of everyone you truly love? Or know the meaning of the phrase I'll see you later? They do.
"And if according to my fate I am to lose my life please bless with your protecting hand my loving family from strife."
These are the final words of the Fireman's Prayer, author unknown, which hangs in fire halls across North America, and these are the words only the bravest can commit to heart and despite the risk continue to do their job anyway. For you, for me.
When was the last time you visited a fire hall and looked a truly great hero in the eye?
Do you want to?
CAYLA AVILA
GRADE 6
DIVINE MERCY SCHOOL, MISSISSAUGA, ONTARIO
(and past GOALKEEPER ERIN MILLS EAGLES GIRLS 1990)
Click on Cayla's picture to visit the Mississauga Fire Department
EAGLES RECOGNIZED IN THEIR SCHOOL ATHLETICS
2004 School Athletes of the Year
Six of our Eagles were recognized at the end of their grade 8 school season this year as "Athlete of the Year". Six different Mississauga schools - six different top awards for their overall athletic contributions to their schools.
Such personal success is the root of our overall team's success this year.
Several other players would have been in this circle had their schools offered a similar award.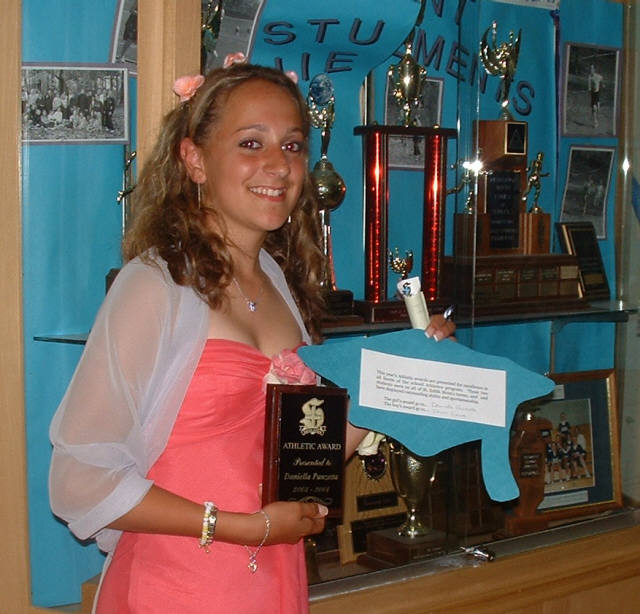 Dani Athlete of the Year 2004
EAGLES TRACK "DIVISION" EXCELS AGAIN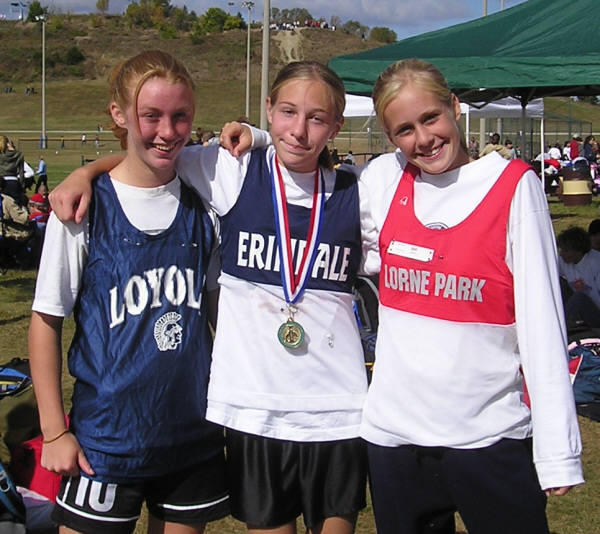 Dolphin Invitational Cross Country
Three of our Eagles competed in the Dolphin Invitational Cross Country meet at Centennial Park on Oct 5 representing their respective schools.
They ran against 300 athletes from 100 schools from far and wide.
Laura won the race convincingly. Leanne was 32nd and Shari was 56th.
Congratulations to all for an outstanding performance.
The dynamic trio continued with their strong performances on Oct 29 with the OFSSA qualifiying races. Laura captured the win again with Leanne in at 11th and Shari at 12th in a field of more than 100.
OFSSA All-Ontario finals in Guelph on Nov 6 were a great success with Laura winning gold in the Midget Girls !!
3.096 Km in a blazing 10.50.2 minutes.
Sunday, October 26
EAGLES WIN BIG AT SCHOOL CROSS COUNTRY MEET
On Sep 23 ten public schools competed in a cross country race on the hills behind Rivergrove CC.
Shari took second place in the Seniors and Laura won the race beating all Juniors and Seniors with a 32 second lead.
Well done Eagles!!