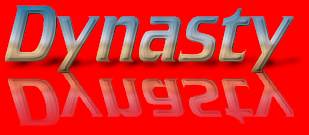 Thursday, February 2


BIRTH of DYNASTY GOLD - 1997


The year was October, 1997 and Coach Dave Clark had just ended an era of coaching his 18u team. The girls were seniors & some were accepting their college scholarships. Now was the time to begin a new era. Together with Son-in-Law, Steve Grubbs & Dan Saldecke, Dave held the teams first practice on Oct 22nd. The 4 girls who showed up were Amanda Grubbs, Becky Saldecke, Catie Brown & Katie Colton. The following week, Nov. 2nd, Sarah Vertelka joined. Then by 3rd week we had Brittany Schwartzkopf, Lauren Tuey, Kelli Hawkins, Brittany Quijada
& Tiffany Melgoza join us.
One month after the team was formed we entered our first tournament, the 1st annual ASA Thanksgiving blast in Chino Hills. Gabby Smith & Jill Barterlo joined us & we finished in 4th place.
By the spring of 1998, we 'lost' a few & gained newcomers Brook & Kameryn Hebenton, Megan Cowles, Fiori Barton, Tyler & Tarin Lent. Andria Briones joined us in May, 1998 as a pitcher and we went to Las Vegas & won our first tournament on Mem Day.
While attending a July 4th tournament in the summer of 1998, the coach of the championship team came up & introduced himself to Clark. His name was Gerald Brantley. He asked if he could bring his daughter Chachera & 3 other girls to join us for our trip to the AAU National
championship in Salt Lake City, Utah. He told Clark, up front, that he was going to start a 10u Invasion team & he wanted himself & his 4 girls to get some National championship experience. By this time we had again 'lost' a few & gained Vickie Barranco, Holly Doerges, Paula Frias & Melissa Goeson. Gerald & his brother Jim brought Chachera, Lucinda Guarderas, Rennea Romo & Leslie Burgos to Colony park about a month before we were to leave. A couple weeks befor leaving on our Utah trip we picked our oldest girl, 10 yr old Samantha Parks.
In a great week of traveling & playing ball, Dynasty finished in second place for the AAU National Championship. (Invasion 10u won the ASA National Championship the following summer - 1999).
After many victories & a few tournament championships the Dynasty team made it to the spring of 2001 with 10 girls born in 1990. Amanda Grubbs & Lauren Tuey were still 'mainstays' of the team. The new girls were Andi SanAntonio, Kelsea Rainwater, Bre Evans.