Duchesne Hockey Club: Welcome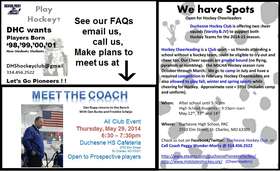 May 2014 Headlines
Wednesday, April 23
Coach Rupp Returns to Bench
Coach Dan Rupp's return to the Pioneer Bench
By Peggy Wunder-Moritz
April 23, 2014
St Charles, MO – In March 2013, Coach Dan Rupp guided the Duchesne Ice Hockey Pioneers in the Wickenheiser Cup finals at Scottrade. Dan Rupp has served on the Duchesne Hockey Club coaching staff for over six years and returns to the bench with a renewed focus. His message of discipline, respect, and excellence, as he rallies the Pioneer's both on and off the ice.
A Meet the Coach event is being planned for one evening the last week of May 2014. It will be open to the public at the Duchesne High School cafeteria, all interested players and their families are encouraged to attend. While many players do attend Duchesne Catholic High School, grandfathered JV players who attend area schools without hockey clubs are valued and welcomed contributors. We accept students from St Charles County and St Louis County who are age-eligible with a passion for excellence in hockey.
About Duchesne Hockey
Duchesne Catholic High School Hockey has been a club sport for eighteen years and aligns with the MSCHA – Mid States Hockey Association- http://www.midstateshockey.org/. For more information about DHC, please visit http://www.eteamz.com/DuchesnePioneersHockey/.
Contact
To learn more about DHC, please contact
Doug Maloney, President
Duchesne Hockey Club
###
Friday, June 13
Updated schedule of remaining JVD Games:
Tuesday, May 6