Admin

Last updated

05-22-15 06:50 AM

Cavaliers Edward Overstreet

864-256-0797

Fax: 864-349-2133

E & M Photography, Inc.

314 Woodgrove Tr.

Spartanburg, South Carolina

29301
Call E & M Photography, Inc. @ 864-256-0797 - To Schedule Your Senior Picture Photo Shoot! Click on Senior Packages for more information on cost






If you are interested in purchasing pictures - you can do so by clicking on,

Cavalier Galleries

. This method requires the use of a "PayPal" account.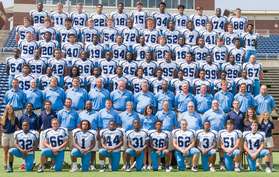 2014 Varsity Football
Monday, September 15
Dorman Statistics
Thursday, December 4
Dorman High School football wide out J.J. Arcega-Whiteside was named this morning as the
2014-15 Gatorade South Carolina Football Player of the Year
!
Saturday, November 22
2014 Season Ends with 27-13 loss to Defending State Champs, Dutch Fork.
With the feel of winter coming on......Dorman's season came to an end tonight at Dutch Fork HS, losing 27-13. The Cavaliers had a great year - congratulations to both coaches, players, and fans.
Defensively, Micah Nash played a great game with 6 unassisted tackels and 2 assited. JJ Arcega Whiteside had 10 receptions for 116 yars while quarterback, Collin Hill was 20-31-0-233 yards. For more stats, click Dorman vs Dutch Fork Playoff Round II. - thanks to Oliver Roosevelt for providing statistics this year.
To view pictures from tonight, click "Cavalier Galleries" then select the "Football" section for the links to this and past games.
Again, Cudos to all the Cavaliers - Boosters - Fans - Administration for putting together yet another great football season!
Friday, November 14
Dorman Advances - Dorman at Fort Mill Winning 48-17
Cavalier fans bundled up and weathered a great Dorman game and win!
Dorman advances to round II - defeating the Fort Mill Yellowjackets 48-17 tonight in game filled with Yellowjacket turnovers - all at the wrong place and time.
Running game - awesome - passing game - awesome - defense - awesome!
JJ Arcega Whiteside (player of the game) had 16 catches for 222 yards - Collin Hill was 22 for 33 for 267 yards - Shanard Bain rushed for 18 times for 140 yards - a great offensive showing!
The Cavaliers will travel to Dutch Fork next week for Round II! Plan now to be there as this game (rematch) should proved the game of the year!
Friday, November 7
Regular Season Comes To An End - Dorman 35 - Riverside 5
Tonight - with a touch of winter cooling off things, the Dorman 2015 Football regular season concluded with a 35-5 win over Riverside HS, Greer.
With the exception of the first 4 minutes of the game - Dorman dominated both offensively and defensively until the final bell.
With this win, Dorman was able to rest starters for most of the second half which meant the bench was emptied and playing time was granted to virtually everyone.
The Cavaliers took care of business!
Now with the regular season behind us....playoffs are on us. We will open playoffs at Ft. Mill next Friday. To view brackets for Division I - click on Brackets.
To view pics from tonight's game, click on Dorman vs Riverside from Oliver Roosevelt.
Pictures will be uploaded to "Cavalier Galleries" in the "Football" section......or you can go to http://www.schsprep.com and select "Football."
Thursday, November 6
JV's season ends with win over Riverside
Congratulations to the JV football team on their season ending win over visiting Riverside HS, 41-0.
I will be uploading pictures at "Cavalier Galleries" in the "Football" section.
Great job players and coaches on a great year! Dorman's future is looking good!
Friday, October 31
Dorman vs Biyrnes
What a great night for HS football - weather - crowd and THE GAME. With the Region II AAAA Title on the line, Dorman and Byrnes (ranked No.1) left nothing on the field. Nothing - no second guessing - just a hard fought game with two very good football teams lining up and going at it. The ending was not the one we wanted.....losing to a 25 yard field goal with 14 seconds remaing, 17-16 but it is an ending we have to run with and run with it we will.
Offensively, Shanard Bain had an awesome night with 142 yards rushing while JJ Arcega/Whiteside hauled in 8 passes for 151 yards.
Defensively, what can you say - with a bend but not break effort all night, the Cavaliers held the "high scoring" Rebels to 2 TD's and FG.
Penalities - far to many for both teams, 11 penalities for Dorman and 19 for Byrnes. But the penalities hurt both teams in different ways - Dorman's redzone penalities haulted possible scoring drives - yikes - only if - only if!
Click Dorman vs Byrnes to view stats from tonight's game.
Simply put, the road to Columbia will be a little different - thats' it. It's time to move forward - next week our final game of the year, regular season at Riverside - a much improved team!
I will be working on pictures which can be viewed at "Cavalier Galleries" in the "Football Section" asap. There is a lot going on this weekend - Sunday may be the earliest before the pics are ready.
Monday, October 27
Dorman to host Byrnes For Region II AAAA Title
Dorman vs. Byrnes – The Series
This is the 55th meeting between Dorman and Byrnes. The Rebels lead the overall series with a 28-25-1 record (includes 2012 forfeit victory by the Cavaliers). Byrnes has had the upper hand since 2002 with a 12-4 record vs. the Cavaliers. The teams have met four times in the post season (including the 2009 and 2010 state championship games) with Byrnes having a 3-1 edge in play-off games. Dorman head coach Dave Gutshall looks to even his record against the Rebels this week as he enters the game with a 12-13 record against Byrnes as head coach of the Cavaliers. Byrnes head coach Brian Lane is facing the Cavaliers as head coach for the first time this week.
The Last Dorman/Byrnes Game at Cavalier Stadium Was a Forfeit
One of the strangest twists of the Dorman/Byrnes rivalry occurred two years ago during the 2012 season. On October 26, 2012 the Rebels won an offensive shootout in Cavalier Stadium by the score of 51-41. Two weeks later on November 9, however, the South Carolina High School League ruled that the Rebels had dressed out an ineligible transfer student from Dorman and awarded the Cavaliers a forfeit victory which made them the Region 2-AAAA champions. Because the state play-offs started the day of the ruling by the High School League, it was too late for the play-off seedings to be adjusted to give Dorman a higher seed. The Cavaliers ended up losing to Stratford in the first round of the play-offs that season.
Offensive Juggernauts
Two of the top offenses in the state will square off on Friday night. The Cavaliers have scored a school record 417 points in their first nine games this season for an average of 46.3 points per game. Last year the Cavaliers averaged 34.2 points per game. The Rebels have scored 412 points on the season for an average of 45.78 points per game. The Byrnes offense has been on a tear the last two weeks scoring 69 points vs. J.L. Mann and 70 points last week vs. Mauldin. It is interesting to note that in the contests that both teams lost, they scored a season low of 28 points in those games. Dorman lost to Spartanburg 35-28 while Byrnes lost to De La Salle 56-28.
Giant Killers
Both Dorman and Byrnes have knocked off number one ranked teams this year. The Rebels defeated pre-season number one ranked Northwestern 30-22 in their opener. The Cavaliers defeated number one ranked Dutch Fork 48-37 on September 14. The Cavaliers will hope to catch lightning in a bottle once again as the Rebels come into this week's game as the number one ranked team in the state.
Shrine Bowl Preview
This week's game will feature four Shrine Bowl players. Rebels wide receiver #11 Tavin Richardson has 299 receiving yards and three touchdown receptions on the year. Rebels defensive back #5 Lyrics Klugh has recorded two interceptions on the season and he is a dangerous kick-off and punt returner. Cavaliers' wide receiver #22 J.J. Arcega-Whiteside has 1299 yards receiving and 16 touchdown receptions this season. Dorman defensive back #7 Aron Spann has 42 tackles and one interception this season. Spann is also used as the "Gator back" for the Cavaliers and he has 157 yards rushing and 16 touchdowns on the year.
J.J. Arcega-Whiteside Breaks School Record
Dorman senior wide out J.J. Arcega-Whiteside has broken the Dorman school record for career receiving yards. Arcega-Whiteside now has 3254 receiving yards for his career which tops the previous record of 3170 held by Desmond Geter who played at Dorman from 1993 to 1995.
Efficient quarterback
Using the same standard as the NCAA for passing efficiency, Dorman quarterback Colin Hill has a quarterback efficiency rating of 179.96. Comparing him to current NCAA quarterbacks, that would put him the equivalent of 3rd in the nation, behind Oregon quarterback Marcus Mariota and Clemson's Deshaun Watson.
Offense or Defense?
Defensive back Aron Spann comes over to offense once in a while, mostly in the wildcat formation. In 32 carries has has scored 16 touchdowns, one for every two carries. Spann is tied with JJ Arcega-Whiteside for scoring this season with 102 points.
Returns of the Day
Dorman's Tyrek Long has 14 punt returns for an average of 18.1 yards. One of those returns was for a touchdown. He also has 6 kickoff returns for an average of 29.2 yards – and one of those was for a touchdown as well.
How About Some Defense
The leading defenders for the Cavaliers are linebackers Austin Eubanks and Wesley Robinson. Eubanks has been in on 53 tackles, 9 tackles for loss, 3 sacks, 1 pass breakup, 3 QB hurries and 1 fumble return. Robinson has been in on 52 tackles, 5 tackles for loss, 1 quarterback hurry and 1 fumble return.
Flynn Harrell, Dorman AD
Friday, October 24
We're Back! Dorman over Boiling Springs
It feels soooo good to be back on the winning side of things. Great job coaches and players on taking a bye week, after our first loss, and playing at peak performance. Without a doubt a great defensive and offensive showing by Dorman's starters.
Aron Spann was super human tonight - was not going to be stopped!
Collin Hill had plenty of time to turn out some amazing numbers - Offensive Line awesome
JJ Arcega/Whiteside - is going to catch the ball - period - his yards after the catch have to be Dorman records.
Denfensive presure was dominating - awesome job!
The stats are a little confusing and paint a picture of a close game - but close is not even close to what took place last night......with a 42 to 7 lead at halftime - Dorman was able to empty the bench and give valuable playing time to 2nds and beyond throughout the 2nd half!
I will be working on tonight's pictures which will be viewable at "Cavalier Galleries" in the "Football" section.
Click to view game statistics click on Dorman vs Boiling Springs.
But that game is history and one more regular season game remains - a home - senior night - with the REGION and home advantage in the playoffs on the line. Folks I expect Cavalier Statium to be packed! I will be circling the tailgaters before the game looking for free eats :) I'll take your picture for food!
Exciting times!
Thursday, October 23
Freshman and JV's Win - vs - Boiling Springs
The Freshman Football team battled the visiting Boiling Springs Bulldogs for a half but poured it on the second to win 46-20. The JV's defeated the previously unbeaten JV Bulldogs 10-7 in a defensive slugfest. Great job Cavaliers - next week these two fine teams will travel to Byrnes and another region showdown.
Click Cavalier Galleries and select the "Football" section for links to both games (Video) - thanks to good friend Ken Toney.
Friday, October 10
Dorman Loses First Game!
A great night for football - super weather and the crowd was huge, loud, and supportive!
When the Cavaliers bounced back with 21 unaswered points to tie the game - together with the huge momentum change in favor of the Cavaliers, I thought, there was no stopping us now. But - give it to the Vikings - they played their hearts out as did the Cavaliers in a game that saw perhaps too many critical game changing misstakes/penalities all of which helped to contribute to our first loss of the year. But that was then....and this is now. We have two huges games on the horizon with a major Region battle in play.
To view game stats - click on Dorman vs SHS.
We will be ready!
I will be adding pictures asap. Check back here for the links and access.
Thursday, October 2
Dorman vs Mauldin - Homecoming
The storm that was expected on Friday ended up coming early in the form of Collin Hill to JJ Arcegaq/Whiteside. The Cavaliers jumped out to a 21 point lead in the 1st half and crusied to a Region II AAAA win tonight before a great crowd, considering all things.
This storm, thankfully, did not upset "Homecoming" plans as a new queen (Ayanah Johnson) was crowned along with her court. Great night.
To view stats from tonight, click on Dorman vs Mauldin Dorman vs Mauldin
I will be working on pictures from tonight - the game and all of the "Homecoming" festivities to view go to "Cavalier Galleries" or copy this URL and paste in your browser http://www.schsprep.com - once there select "Football."
Northwestern defeated number one ranked York last night....with that loss, Dorman is now ranked Number One in Region II AAAA. As coach Flynn, AD, aptly put, what really matters is that were are still ranked #1 late on Halloween night.
Friday, September 26
Dorman vs J.L. Mann - Region II AAAA
Another great night for a football game! Perfect weather continues! Dorman traveled to Greenville to play their second Region II AAAA game of the year - and in so doing won their 6th straight game to go 6-0 for the year.
Dorman's Tyrek Long, took the opening kick off 83 yards to begin the scoring. At the end of the first quarter, the Cavaliers had a 35 - 0 lead. Coaches were able to begin shuffle 2nd and 3rd stringers in the balance of the night giving awesome playing experience to the bench. Final score, 58-3
To view stats from the game, click on Dorman vs JL Mann.
I will be adding pictures from tonight that can be viewed by clicking on "Cavalier Galleries" or copying the URL address www.schsprep.com and pasting in your browser - then select the "Football" section for the link to this and other games.
Thursday, September 25
Freshman and JV Teams host J.L. Mann Patriots
The Freshman and JV Football teams hosted the JL Mann Patriots tonight in Region II AAAA matchups. The 9th grade team defeated the Patriots 42-6 while the JV's were equally impressvie with their 35-0 victory. Congrats to coaches and athletes!
Pictures from these games can be viewed by clicking on "Cavalier Galleries" or copy and paste this URL address in your browser http://www.schsprep.com - once there, select the "Football" section for the links to these and past games.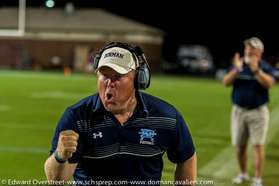 Coach Dempsey Likes It When Defense Finishes!
Friday, September 19
Dorman Host Dutch Fork
Was this a perfect night for football.....
Dorman welcomed the number one ranked Dutch Fork Silver Foxes to the "U" and then proceeded to send them home with their 2nd loss (their first loss was a three point loss against the No. 1 randked team in the US - Allen HS) Final Score Dorman 48-Dutch Fork 37.
Player of the Game - Aron Spann - 3 touchdowns, 8 tackles, and 1 18 yard reception!
Click Game Stats for tonight's game statistics.
Hats off to our coaching staff for both preparation and play calling - then wow! - executiion by the Cavaliers was close to perfection.
Great defense - made stops when they had too - huge stops! and offense - the passing and second half running game was "spot on."
There was no doubt in my mind that the Dorman faithful got their monies worth tonight - makes you proud to be a Cavalier!
I will be working on pictures from tonight's contest - they will be uploaded to Cavalier Galleries, www.schsprep.com - once there click on "Football" for the link.
The win improves the Cavalier record to 5-0 with some powerfull football coming up in the weeks ahead!
Friday, September 12
Dorman at Rock Hill
The Cavaliers dodged a weather bullet....then overcame the Bearcats at Rock Hill, winning 35-14 their 4th game.
To view a stats summary, click on Dorman vs Rock Hill
Next week, the Cavaliers return home to face the No. ranked team in the state, Dutch Fork. Fans - get ready - ready to show up, shout out and do so relentlessly! Noise will be the 12th man!
Thursday, September 11
Freshman and JV Teams play host to the Rock Hill Bearcats
Tonight the Freshman Cavaliers had a great outing against the visiting Bearcats from Rock Hill. It was a hot humid night - too hot to take pictures and too hot/humid to be doing anything - but the Cavs charged out of the gates with offense and stiffling defense to gain a 33 to 0 halftime advantage and then the bench took over from there, getting loads of playing time in the 2nd half. Final Score, Dorman 40, RH 7.
The JV's had a bit of a struggle getting started but cranked up "their game" winning 30-14.
I will up uploading pictures to "Cavalier Galleries" or copy and paste this URL www.schsprep.com and then select the "Football" section for the links to this and other games.
Friday, September 5
Dorman vs Greenwood
Hot - muggy - humid - no breeze - sticky - sweat - and our first home game! The weather couldn't have dialed up a more uncomfortable weather-night. I marveled at the players ...all padded up and digging in - all night long.
Dorman jumped out front on turnovers - built a lead on turnovers - and kept the momentum going on a strong passing game. JJ Arcega Whiteside had a "night of nights" catching 10 passes for 269 yards and 3 TD's.
Final score, Dorman 41, Greenwood 13.
Colin Hill had 17 recpetions for 31 attempts, ZERO interceptions and 330 yards passing. Cudos Colin!
Congrats also go out to Zach Hughes whose 80 yard interception went the distance for 6.
Great effort by all!
I will be uploading pictures from the game asap. To view head over to Cavalier Galleries www.schsprep.com and select the "Football" section for the link.
Friday, August 29
WOLI-FM Games To Be Broadcast on 103.9
Friday, August 29
WOW!
WOW! It seems like WOW was the most used word last night...by everyone. From the trip up - when traffic came to a stop - to WOW one of the longest games we have ever played.
Then you have to add some more WOW's when you think of Austin Eubanks who put up 8 unassisted tackels and 1 assisted, Austan Inzerra with 5 unassisted and 4 assisted, Aron Spann 5 unassisted and 2 assited plus one rushing touchdown. There were a lot more WOW's on defense - especially when we needed stops the most but the offense was just "lights Out Wow." Scoring 49 points would normally be more than enough....subs would be getting valuable playing time while starters would be geting a needed, hot night, break.....not tonight - this was a "down to the final play" kind of game and fortunately, for the Cavalliers - the biggest defensive and offensive plays were "at the right time."
There were just too many playmakers on offense - from Colin Hill (playing in his first game at QB) to Shannard Bain - and how can you leave out our entire recieving team - great catches and runs after the catch. Kick off and punt receiving was just "more and more WOW."
I will be adding more on the game - stats and pictures so be sure to follow this link. When the pictures are finished, you will be able to view them on "Cavalier Galleries" www.schsprep.com in the "Football" section.
Next week....Greenwood comes to the "U". This will be our first home game - WOW, can't wait!
Wednesday, August 27
Cavalier Double Header features Freshman and JV's vs Gaffney
The Freshman and JV teams squared off against visiting Gaffney in an exciting night of Cavalier football. Cudoes to both teams. The freshman team lost in the closing seconds, 27-22 and the JV's won their game, 21-15. The Cavaliers are blessed with some outstanding young talent - methinks the future looks very very good! I will be uploading pictures from both games today at "Cavaliers Galleries," just select "Football" for the pics.
Friday, August 22
Dorman Opens With Region Foe, Wade Hampton
The Cavaliers opened their regular season with a Region II AAAA team, the Wade Hampton Generals. Playing at Wade Hampton - The Cavs took charge and kept control of both offense and defense. Realizing I am a sideline photographer - my report is far from official - but in my humble opionion.....we couldn't have played better. The Cavaliers were playing without their starting QB, but no matta - Jalen Fowler took charge and looked very impressive - especially since he is a sophomore. You gotta love him!
The Cavalier "D" played lights out. They showed no mercy. It was late in the first half before the Generals put up their first, first and Ten.....and they were held to under 100 total yards for the night.
With a 42-0 lead with 3 minutes left in the 3rd.....the Cavs begin to empty the bench giving some quality playing time and valuable experience that may well come in handy down the long road ahead.
Final Score 49-7 - To view stats from the game, click on Dorman vs Wade Hampton (by Oliver Roosevelt)
I will be working on pictures from the game which will be viewable at "Cavalier Gallery" in the "Football" category.
Next week, we hit the road again to Gaffney! Whoa - it doesn't get any easier!
Saturday, August 16
Jamboree
Dorman traveled the short distance to play in the Clinton Jamboree at Red Devil Stadium. The JV's opened the night playing Laurens and winning their once quarter scrimmage 13-0. Eli Buckley led the Cavs to an impressive one quarter win.
Following the JV game, the Varsity Cavaliers, playing without starting QB, Collin Hill, defeated the Laurens Raiders Varsity squad, 7- 0. The Cavaliers were led by Jaylen Fowler 6'4 - 205, 10th grader who did an outstanding job. Costly penalities were a'plenty tonight - the Cavalier coaching staff will continue their evaluation of personnel, work on misstakes, and fine tune the team for the season ahead.
Hopefully Dorman will have everyone healthy in time for the season opener, this Friday at 8:00 pm, Wade Hampton HS.
To view pictures from tonight's games - JV and Varsity - goto "Cavalier Galleries" and select "Football" for the links.
See you next Friday!
Thursday, August 14
Dorman at Irmo
The Cavaliers packed the bus and travled to Columbia SC for a "gamelike" scrimmage with the Irmo Yellowjackets. Both teams were able to test their talent and depth - work on strenths and weakness and gain valuable incite in preparation for their season openers.
The Cavaliers did outscore the Yellowjackets 27-7 but again, this was a talent testing event with coaches more interested in seeing "who can do what" than forcus on the final score.
Tomorrow, Friday, the Cavaliers will travel to Clinton SC and play Laurens in a Jamboree featuring both the JV's and Varsity. Folks it's gametime! Load the kids, plenty of fried chicken, cold drinks and brownies and let the fun begin!
Oh how I love this time of year!
Saturday, August 9
Dorman scrimmages Lexington
The Cavaliers and Wildcats held a 2 plus hour scrimmage this morning at Cavalier Stadium in perfect weather consider August! Both teams had dissappointing turnovers - fumbles and interceptions - and now is the best time to work those wrinkles out.
No doubt coaches from both teams will be pouring over game videos evaluating personnel and grading performances while working to coach out the misstakes and fine tune the offense, defense, and special teams play as this years season fast approaches.
Pictures from today are going to be viewable at "Cavalier Galleries" in the Football Section early Sunday morning.
Looking into next week, on Thursday, the Cavaliers will travel to Columbia, SC and scrimmage the Irmo Yellowjackets, 6:00 pm and then on Friday, Dorman will play in it's only Jamboree vs Laurens. The JV's will play Laurens at 6:00 - then the Varsity plays. This Jamboree will be at Clinton.
Thursday, August 7
Dorman Holds First Scrimmage
Tonight the 2014-15 Cavalier Football team held it's first scrimmage of the season hosting the Hillcrest Rams - The both the Cavaliers and Rams traded scores througout the evening giving both coaching staffs plenty of material to focus on as they evaluate their personnel. Saturday morning, the Cavaliers will host the Lexington Wildcatsfrom Columbia SC.
Sure was great being back on the field!
Pictures from tonight's scrimmage can be viewed by click on "Cavalier Galleries" then select the "Football" section for the links to this scrimmage, roster pictures, coaches and staff, as well as pictures from prior seasons.
Good luck Cavaliers!
Monday, October 19
Friday, July 18
Fall Practice Schedule - Scrimmages and Jamborees
Important Dates to add to your calendar as the 2014-15 Cavaliers "kick off" their season!

August 1: First Practice 8:00 am

August 6: Dorman Football Photo Day at 11:30 am

August 7: Varsity Scrimmage vs. Hillcrest at home at 6:00 pm

August 9: Varsity Scrimmage vs. Lexington at home at 10:00 am

August 13: Ninth Grade Football in Gaffney Jamboree at 7:30 pm

August 14: Varsity Scrimmage at Irmo at 6:00 pm

August 15: JV Football vs. Laurens in Clinton Jamboree at 6:00 pm; Varsity vs. Laurens in Clinton Jamboree at 6:30 pm

August 22: First Varsity Game at Wade Hampton at 8:00 pm