Admin

Last updated

11-27-15 10:37 PM

Cavaliers Edward Overstreet

864-256-0797

Fax: 864-349-2133

E & M Photography, Inc.

314 Woodgrove Tr.

Spartanburg, South Carolina

29301
Call E & M Photography, Inc. @ 864-256-0797 - To Schedule Your Senior Picture Photo Shoot! Click on Senior Packages for more information on cost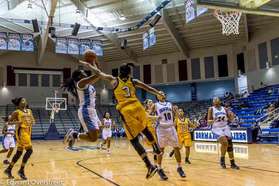 Teyanna Rogers scores 19 points to lead Lady Cavaliers
Tuesday, November 24
Lady Cavaliers host the Lancaster Lady Bruins in Cavalier Invitational
The lady Cavaliers entered the championship game with the No. 1 ranked Lady Bruins (Lancaster Class AAA) and battled to the end but came up short. Tied at the end of three the Lady Bruins were able to out score the Lady Cavaliers by 6 to win the Cavalier Invitational. Teyanna Rogers scored 19 points to lead the Lady Cavaliers. Pictures from tonights game can be viewed at "Cavalier Galleries" in the "Basketball" section.
Tuesday, November 24
Lady Cavaliers Open Tournament With Win!
Congratulations to our varsity ladies basketball team on their 59-55 victory over Greer in the first round of the Lady Cavalier Invitational last night. Good luck to the Lady Cavaliers tonight as they host AAA #1 ranked Lancaster at 7:30 in the DHS Arena in the championship game of the Lady Cavalier Invitational.