Admin

Last updated

04-26-15 07:59 AM

Cavaliers Edward Overstreet

864-256-0797

Fax: 864-349-2133

E & M Photography, Inc.

314 Woodgrove Tr.

Spartanburg, South Carolina

29301
Call E & M Photography, Inc. @ 864-256-0797 - To Schedule Your Senior Picture Photo Shoot! Click on Senior Packages for more information on cost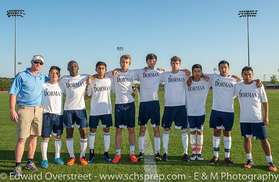 Coach Eskew with 9 Soccer Seniors
Tuesday, April 21
Dorman Honors Seniors - Defeat SHS
Tonight was a special night for the 2015 graduating senior soccer players......playing their last regular season home game. Nine seniors were recognized for both their academic and athletic accomplishments - WHEW, impressive group! Along with their families and favorite teachers, District Six's Superintendent of School, Daryl Owings, Dorman Principal, Ken Kaiser, and Athletic Director, Flynn Harrell saluted each of these athletes thanking them for their contribution during their time at Dorman.
The Cavaliers then hosted the visiting Spartanburg Vikings and won a tight game - 1-0.
Great job Cavaliers and good luck with the balance of your games!
To view pictures from tonight, go to "Cavalier Galleries" and select the "Soccer" option from the main menue of choices.
Tuesday, March 31
Dorman Host Byrnes - Region II AAAA
Dorman defeated the visiting Byrnes Rebels, 4-1 in a Region II AAAA game tonight. To read the Spartanburg Herald Journal's story, click on GoUpstate Online.
Pictures from tonight's game along with JV's can be viewed by clicking on "Cavalier Galleries" then select the "Soccer" tab for the link.
Congratulations to the JV's on their 4-0 win over Byrnes!
___________________
The Varsity Lady Cavaliers traveled to Byrnes and delivered a 2-0 win while the JV's won 1-0!
Great day for Dorman Soccere!!!
Great job coaches and players!
Monday, March 23
Lady Cavaliers Host JL Mann
The Lady Cavaliers hosted Region II AAAA JL Mann tonight. I was able to catch the 1st Half, with score tied at 1 apiece. The Cavaliers ended up losing 5-1. To view pictures from tonight, click on "Cavalier Galleries" and select the "Soccer" section.
Thursday, March 19
Cavaliers Host Wade Hampton
Tonight, it was both soggy, rainy, and cool, but congratulations go out to both the boys and girls varsity soccer teams on their wins over visiting Wade Hampton. The boys won 4-1 (Cavalier goals came from four different players). The boys improve their record to 8-1 overall and 4-1 in Region II AAAA.
The girls defeated the Lady Generals 4-2 (Morrison Trnavsky scored 2 goals while Allie Cardew added 1 goal and assist). The Lady Cavaliers improve their overall record to 7-2, and 4-1 in Region II AAAA.
Great job Cavaliers
Sunday, March 1
Great Soccer Weekend for Cavaliers
Congratulations to both the womens and men's soccer teams - a great weekend for the Cavaliers!
Varsity girls soccer defeated Northwestern 3-0 and Riverside 2-0 in the Taco Bell Viking Cup at Spring Valley
Varsity boys soccer defeated St. Joseph's 2-1, Rock Hill 2-0, Brookland Cayce 1-0 and Northwestern 2-1 in the Bryan Ostrower Soccer Showcase in Rock Hill