Admin

Last updated

03-07-14 10:11 AM

Cavaliers Edward Overstreet

864-256-0797

Fax: 864-349-2133

E & M Photography, Inc.

Spartanburg, South Carolina

29304-0021
If you are interested in purchasing prints and/or pictures on accessories - click on,

SCHS Prep Gallery

. You can also purchase prints directly from the

Cavalier Galleries

with a "PayPal" account.



Wednesday, November 28
Call E & M Photography, Inc. @ 864-256-0797 - To Schedule Your Senior Picture Photo Shoot! Click on Senior Packages for more information on cost

Thursday, October 31


Cavaliers Adavnce To Round III




Dorman did it again.......this time traveling to Blythewood and winning 4-2 to advance to round three of the State Championship Playoffs. They will next play the winner of the Riverside/JL Mann match on Monday.

Click to view latest GoUpstate Online story.

Great job ladies and coach Napier!





Wednesday, October 30


Wow! Cavs Down Nations Ford in Upset!




Wow! The Lady Cavaliers took their show on the road yesterday to Rock Hill, SC. to play "top seeded" Nations Ford in Round One of Playoff Action. The Cavaliers battled their way to a 4-2 win returning home victorious. The lady Cavs will next face Hillcrest HS as the quest for State continues!

Click GoUpstate Online to read the Spartanburg Herald Journal Story!

Great job Ladies!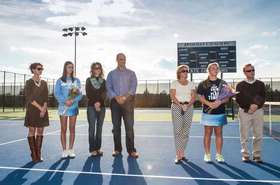 Carson Pellegrino and Meredith Graham Honored
Monday, October 21
Dorman Host Byrnes (Seniors Recognized)
Dorman hosted the Lady Rebels from Byrnes today in a Region II AAAA match. Perfect weather and near perfect outcome as the Lady Cavaliers won 6-1.
This match also marked the last regularly scheduled home match for two Dorman seniors. Meredith Graham and Carson Pellegrino. Both Meredith and Carson, playing in number one and two spots won their final home season matches,
Meredith won 6-0, 6-1
Carson won 6-3, 6-1
Great job ladies and congratulations on your oustanding season and career at Dorman.
You can view pictures from today's match and recognition ceremony by click on "Cavalier Galleries" then select "Tennis" for the link.
Thursday, September 26
Cavaliers Host Riverside
The Lady Cavs hosted the Lady Warriors (Riverside HS) this afternoon in a close contest. The Cavs came out on top winning 4-3.
Great job players and coaches!
Sunday, September 22
Gaffney Falls To Dorman
The Lady Cavaliers hosted the Lady Gaffney Indians this afternoon and went on to win the match. To view pictures from today, click on "Cavalier Galleries" then select the "Tennis" option from the menu choices to access the link.
Friday, September 6
JV's and Varsity Win vs Gaffney
Both the JV and Varsity Tennis teams - JV's won 6-1 and Varsity 5-2. Great job ladies. Pictures from this afternnoon will be uploaded ASAP....check back for the links.
Saturday, August 24
EyeOpener Kicks Off at Dorman
Dorman opened the season hosting their annual EyeOpener Tournament. I was able to stop by for some early action only to find the Cavs playing very well. The Cavaliers defeated Laurens 7-0....and then Southside Christian (Winners Bracket) 6-1.
Click on "Cavalier Galleries" then "Tennis" to view pictures from today's tournament.
These Lady Cavs are playing well! It's going to be a great year on the courts!
Friday, August 2
Welcome Back......
The 2013-14 school year is upon us! Welcome back!