Admin

Last updated

03-07-14 10:11 AM

Cavaliers Edward Overstreet

864-256-0797

Fax: 864-349-2133

E & M Photography, Inc.

Spartanburg, South Carolina

29304-0021
If you are interested in purchasing prints and/or pictures on accessories - click on,

SCHS Prep Gallery

. You can also purchase prints directly from the

Cavalier Galleries

with a "PayPal" account.



Call E & M Photography, Inc. @ 864-256-0797 - To Schedule Your Senior Picture Photo Shoot! Click on Senior Packages for more information on cost

Tuesday, October 22


Lady Cavs Advance To State




Congratulations to the vsrity girls golf team on shootng a 349 in the Upper State Qualifyer at Three Pines to advance to the State Championship Tournament that will be held next Monday and Tuesday at Willow Creek.

Good luck ladies!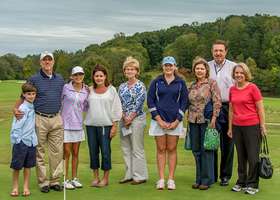 Seniors Recognized Along With Families and Favorite Teachers
Tuesday, October 8
Seniors Recognized - Dorman vs Byrnes
Dorman closed out their regular home season match hosting the lady Rebels from Byrnes HS. As is the Dorman tradition, the Lady Cavalier seniors were recognized for their contributions to the golf program over the past years.
To view pictures from this afternoon, click on "Cavalier Galleries" then select the "Golf" section for the link....there is also a link to a short video of the program.
Thank you seniors for the time you spent and price you paid to represent the Cavaliers in both the classroom as well as the golf course.
Families and favorite teachers were on hand to support these fine ladies.
You will be missed!
Sunday, September 22
Lady Cavaliers Host Oakbrook Prep.
Dorman hosted Oakbrook Prep today at Carolina Country Club. The Cavs went on to win the match. To view pictures, click on "Cavalier Gallereies" then select "Golf" for the link.
Great job Coaches!
Monday, August 26
Cavaliers Play In Lady Viking Invitiational
The Lady Cavaliers teed it up at The Creek in the Lady Viking Invitational today at 1:00 pm. What great weather for golf. I made the rounds with camera in hand and took a few shots of this year's team in action. To view pictures, click on "Cavalier Galleries" then select "Golf" for the link.
Friday, August 2
Welcome Back......
The 2013-14 school year is upon us! Welcome back!