Admin

Last updated

10-23-14 08:36 AM

Cavaliers Edward Overstreet

864-256-0797

Fax: 864-349-2133

E & M Photography, Inc.

314 Woodgrove Tr.

Spartanburg, South Carolina

29301
If you are interested in purchasing prints and/or pictures on accessories - click on,
SCHS Prep Gallery
. You can also purchase prints directly from the
Cavalier Galleries
with a "PayPal" account.
Wednesday, November 28
Monday, October 6
Dorman at Spartanburg
The Cavaliers continued with their winning ways with a 3 - 0 sweep of the Lady Vikings (Spartanburg HS) tonight. The JV's also won their match, 2-0.
The Lady Cavalier will be hosting Wade Hampton tonight - JV's at 5:30, and Varsity playing at 7:00pm.
Great job ladies!
Tuesday, September 30
Dorman vs Mauldin
The Lady Cavaliers traveled to Mauldin and defeated the Lady Mavericks 3-1 to notch another Region II AAAA win. The JV's also won their match, 2-1.
Great job Ladies!
Thursday, September 25
Dorman Host JL Mann
Congratulations to the Dorman volleyball teams - the JV's beat JL Mann 2-0

_______________________________

The Lady Cavaliers were hot from the gitgo and never cooled winning three straight vs visiting JL Mann, 3-0!@

25-10, 25-9, 25-8

Dorman;s record is 19-4 over all and 8-0 in region

_______________________________

Dorman travels this weekend to Woodward Academy to participate in the annual Border Wars. Dorman will play Page HS, Tn; Centennial HS, TN; Ooletwah HS, TN; Pope HS, Ga; and Woodward Academy, GA.
Tuesday, September 16
Dorman at Boiling Springs
Dorman's JV's and Varsity traveled to Boiling Springs HS today and notched two Region II AAAA wins,
Dorman JV beat BSHS 2-0
25-17, 25-18
Dorman varsity beat BSHS 3-0
25-20, 25-13, 33-31
Region Record 5-0, Overall Record 16-3
Congratulations Ladies!
Thursday, September 11
Dorman at Wade Hampton
Dorman's JV's and Varsity Volleyball teams defeated Wade Hampton in a Region II AAAA match tonight, 2-0, and 3-0 respectively. Great job ladies and good luck tomorrow in the TOURNAMENT OF CHAMPIONS!
Go Cavs
Tuesday, September 9
Dorman vs SHS
The Lady Cavaliers CLICKED tonight. defeating Region II AAAA Spartanburg HS lady Vikings, 25-11, 25-21, and 25-18. Coach Kirkland was able ot give valuable playing time to her bench tongiht - this experience is huge.
This team is flat loaded with hitters - as stated in the past - once the "DEFENSER" gets a few miles under it's belt - "Whoa Nellie!" - the Cavs are going to be hard to stop.
To view pictures from tonight, click on "Cavalier Galleries" or copy and past this URL in your browser, www.schsprep.com, then select the "Volleyball" secton for the links to this and other matches.
Next - Dorman at Wade Hapmton - Thursday 5:30 JV's and 7:00 Varsity.
Friday, September 5
Dorman Host Match With Mauldin
The Lady Cavaliers won a Region II AAAA match with the Lady Mavericks (Mauldin HS). The first game came too easy, winning 25-14. Not so in the second as the Lady Mavericks bounced back with hits and defense of their own to win 25-22 (the Cavs were down as much a 7 points in this game)...from then on the Lady Cavaliers upped their defense winning the last two games 25-16, 25-16. Great job ladies.
Pictures from today can be viewed by going to Cavalier Galleries (www.schsprep.com) then selecte "Volleyball" for the link.
Friday, August 29
Dorman at JL Mann
The Lady Cavaliers had a great evening of volleyball with both the varsity and JV teams bringing home convincing wins. These ladies are the real deal!
Dorman won the match 3-0
25-17, 25-12, 25-17
Record 7-1, 1-0
____________________
Dorman JV won 2-0
25-10, 25-12
Record 4-1, 1-0
Tuesday, August 12
Dorman Host Scrimmage
The Lady Cavs played host to a multiteam scrimmage tonight in preparation for another great year. To view pictures of some Cavalier action, click on Cavalier Galleries and select "Volleyball" for the link.
Great job Cavaliers!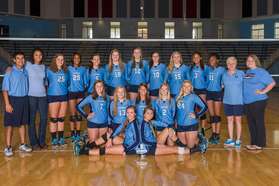 2014 Varsity VB Team
Thursday, July 18
2014 Teams, Varsity and JV
Pictured above:
Justin bass, Coach Lia Kibler, Katy Groke, Mariah Copeland, Jessica Johnson, Claudia Casey, Thayer Hall, Lily Dempsey, Hannah Garrett, Omara Daniels, raven Peters, Coach Kirkland, Marianne Beck
Kneeling:Caroline Plexico, Jordan Steading, Haley Gosnell, Emily Wingo, Sarah English
Seated:
Katie Lloyd, Tatum Metts
Click on Cavalier Galleries, then select Volleyball for the 2014-15 Varsity Cavalier Volleyball Team
While you are there, be sure to check out the JV team - Dorman's future looks to be in solid hands!
This year's team is hopeful to have yet another successful campaign. Come support this team as the begin their quest!
Go Cavaliers!