Admin

Last updated

02-09-16 12:10 PM

Cavaliers Edward Overstreet

864-256-0797

Fax: 864-349-2133

E & M Photography, Inc.

314 Woodgrove Tr.

Spartanburg, South Carolina

29301
If you are interested in purchasing prints and/or pictures on accessories - click on,
SCHS Prep Gallery
. You can also purchase prints directly from the
Cavalier Galleries
with a "PayPal" account.
Wednesday, July 29
2015 Varsity Volleyball Schedule
Tuesday, November 10
Upper State Champs
Upper State Champions!
Columbia here they come!
The Lady Cavaliers maintained their focus - not letting up - to oust the very good lady Jackets from TL Hanna in their quest to play of State.
In three straight, the Lady Cavaliers let TL get close....and in the last set, TL held the lead early in the set, but a fierce determination to get and maintain the lead and control of the outcome was all CAVALIERS.
Scores of each set, 25-16, 25-22, 25-20
Dorman will play Wando in the AAAA State Championship on Saturday at White Knoll High School at 6:00 pm
Great job ladies!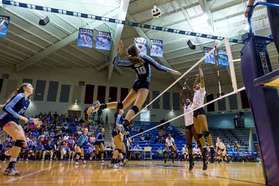 Lily Dempsey (13 Kills) nails a screamer vs Northwestern!
Thursday, November 5
State Playoffs Round 3 vs Northwestern
WOW and more WOW.....Round III of the State Playoffs was a near perfect performance by the Lady Cavaliers as they handed the visiting Northwestern Lady Trojans a loss ending their season.
Everyone played well....everyone! ... well everyone except me. I brought two cameras and only one lens - a wide angle so pics from tonight are very very wide! Images from the game - as wide as they are - can be viewed at "Cavalier Galleries" in the "Volleyball" sectioin.
Set 1 25-12
Set 2 25-17
Set 3 25-17
Thayer Hall led the Cavaliers in Kills with 21 with 12 digs. Lily Dempson also contributed big with 13 kills! and 3 blocks..... Jessica Johnson had 6 kills with 4 blocks. Jordan Steading had 3 aces and nine digs. Haley Gosnell and Emily Wingo both had 17 assists.
The Lady Cavaliers will host TL Hanna next Tuesday, November 10th at 6:00 pm. EVERYONE needs to plan on filling the area in support of these amazing ladies!
See you next week - I will be better equiped with the right gear!
Wednesday, November 4
Dorman Host Ft. Mill
State Playoff Action!
Dorman cruised to a 2nd round win defeating the visiting Ft. Mill Lady Yellowjackets.
Set 1 - 25-12 Dorman
Set 2 - 25-20 Dorman
Set 3 - 23-25 Ft. Mill
Set 4 - 25-8 Dorman
The Lady Cavaliers will be hosting the Lady Trojans (Northwestern) on Thursday at 6:00 pm.
Pictures from tonight's playoff action can be viewed at "Cavalier Galleries" in the "Volleyball" section.
Great job ladies - See you Thursday!
Thursday, October 29
Round One - State Playoffs vs Riverside
Varsity volleyball defeated Riverside 3-0 in the first round of the state play-offs. Dorman will play Fort Mill at home on Tuesday at 6:00 pm in the second round. In fact, the Cavaliers will play all playoff games at home with the State Championship game being played at White Knoll HS in Columbia.
25-12 Game One
25-15 Game Two
25-14 Game Three
To view pictures from tonight's game, click on "Cavalier Galleries" and select "Volleyball" from the menu choices.
Great job ladies...see you TUESDAY!
Thursday, October 15
Dorman at Riverside - Region Champs
Varsity volleyball over Riverside, 3-0. 25-17, 25-17, 25-19. The Lady Cavs are Region champs.
Playoffs start 10/29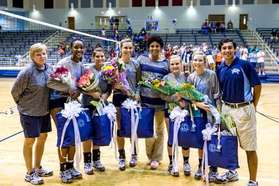 Seniors Play Last Regular Season Home Game
Tuesday, October 13
Dorman Host Byrnes
Dorman had to fight and claw their way to a Region win tonight over the visiting Lady Rebels (Byrnes HS) but prevail they did.
Dorman JV defeated Byrnes 2-1
Dorman Varsity defeated Byrnes 3-1
Game 1 30-32
Game 2 25-23
Game 3 25-19
Game 4 26-24
Thayer Hall helped lead the Lady Cavaliers with 26 kills 29 digs while Lily Demsey (13 kills) and Omara Daniels (11 Kills). Emily Wingo helped the cause offensively with 28 assists. Jordan Steading was the leader on defense with 28 digs.
Tonight was senior night! Seniors along with their families and favorite teachers were recognized for their achievements to the Cavalier program both athletically and academically.
Great job ladies!
Pictures from tonight's game will be viewable ot "Cavalier Galleries" in the Volleyball section.
Thursday, October 8
REGION II AAAA CHAMPS
The JV's and Varsity Volleyball teams swept Boiling Springs, 2-0 and 3-0 respectively to clinch the Region II AAAA Championship!
Varsity
Game 1 25-13
Game 2 25-16
Game 3 25-14
Great job Ladies!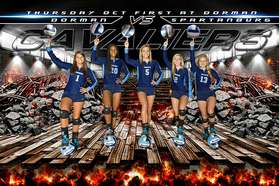 Dorman Seniors Provide Winning Leadership
Friday, October 2
The lady Cavaliers hosted Region II AAAA Spartamburg lady Vikings. The Vikings were defeated in both JV and Varsity play.

Dorman JV won 2-0

Dorman varsity over SHS 3-0

Game 1 25-11

Game 2 25-17

Game 3 25-11

To view pictures from tonight's game, go to "Cavalier Galleries" and select "Volleyball" for the link.

Great job ladies!

Dorman is now 23-1, 10-0 region
Tuesday, October 6
Dorman at Wade Hampton
Congratulations to the Lady Cavalier Volleyball team!
Dorman JV won 2-0. Dorman traveled to face the Wade Hampton Lady Generals....
JV's won 2-0
Dorman varsity won 3-0
25-8
25-10
25-10
Great job Ladies!
Tuesday, September 29
Dorman Sweeps At Mauldin
Congratulations to the JV's who won an exciting match at Mauldin 3-0.
(25-13, 20-25, 16-14)
In varsity action, the Cavaliers defeated Mauldin 25-13, 25-22, 25-14!
These ladies are special. Be sure to support the Cavaliers this Thursday as they host the Spartanburg Lady Vikings!
Thursday, September 24
Dorman's Varsity and JV Travel To JL Mann
Both the JV's and Varsity swept the Lady Patriots tonight. Great job ladies!

Dorman JV beat JL Mann 2-0

Dorman Varsity beat JL Mann 3-0

25-17

25-14

25-14

Thayer hall 11 aces 15 kills

Omara Daniels 5 aces

Lily Dempsey 6 Kill Blocks

Emily Wingo 18 assists
Tuesday, September 22
Riverside at Dorman
The Lady Cavaliers picked up where they left off this past weekend....WINNING. This time the Riverside Lady Warriors fell to the Lady Cavs at home.
Dorman JV beat Riverside 2-0
Dorman Varsity beat Riverside 3-0
Game 1 25-6
Game 2 25-15
Gane 3 25-17
Dorman is now 21-1, 7-0 in the region
Next match at JL Mann on Thursday at 7:00
___________________
Jordan Steading had 7 aces
Thayer Hall had 13 kills
Jordan Steading had 12 digs
Chloe Dillard had 10 digs
Emily Wingo had 20 assists
See ya Thursday!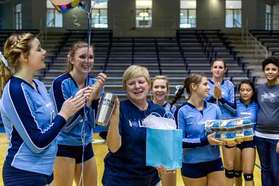 Coach Kirkland's Team Celebrates her 800 Win!
Saturday, September 19
Dorman Wins Tournament of Champions
The Lady Cavaliers have been host to the Tournament of Champions for years ......but this year, for the first time saw the Cavaliers fighting back from a loss to St. Joseph to defeat them in the Championship game ....winning GOLD!
Friday night, the Lady Cavalies defeated Mussleman HS ...this win was coach Paula Kirkland's 800 win. WOW!
So, a big TIP OF THE CAVALIER TEN GALLON HAT to both Coach Kirkland and her winning Cavaliers for their outstanding weekend of tournament volleyball.
To read the Spartanburg Herald Journals account, click on "GoUpstate" online!
Pictures from the Mussleman vs Dorman game can be viewed by visiting "Cavalier Galleries" and then select the "Volleyball" section.
Thursday, September 17
Whew! Dorman at Byrnes
Congratulations to the Lady Cavaliers on their big Region II AAAA "hard fought" road win over the Lady Byrnes Rebels last night.
Game one - 25-23
Game two - 25-22
Game three - 26-24
Dorman High School Volleyball Coach Paula Kirkland goes for career victory #800 tonight as head coach at Dorman High School. The Cavaliers will play Musselman High School from Inwood, West Virginia tonight at 7:00 pm in the first round of pool play in the Tournament of Champions. The match will be played in the Dorman High School Arena. Musselman is the defending Class AAA state champions in West Virginia. Coach Kirkland enters tonight's match with a career record of 799-122 as a head varsity coach. She is a member of the South Carolina Athletic Coaches Association Hall of Fame.
The Dorman volleyball team will continue play in the Tournament of Champions in the DHS Arena on Saturday morning against Pickens at 9:00 am and Ashley Hall at 10:00 am. The tournament, that features 16 of the top volleyball teams in the southeast, will continue all day on Saturday at Dorman High and the Dorman Freshman Campus.
Record 13-0, 6-0 Region
Tuesday, September 15
Dorman Host Boiling Springs
In a battle of top 10 teams....the Lady Cavaliers prevailed. Tonight the visiting Lady Bulldogs fought and clawed but failed to win a game as the Lady Cavs sweep the 'dogs and huge Region II AAAA win.
Game One - Dorman 26- BS 24
Game Two - Dorman 25 - BS 17
Game Three - Dorman 25 - BS 19
Dorman remains undefeated!
Great job Ladies!
Thursday, September 10
Dorman Host Wade Hampton
"Hats off" to both the JV's and Varsity teams on their sweeps of the visiting Lady Generals, Wade Hampton.
Dorman vs Wade Hampton
Varsity 3-0
25-13
25-8
25-16
Jessica Johnson 4 Aces 9 kills
Thayer Hall 22 kills
Lily Dempsey 9 Kills 1 assist
Jordan Steading 4 assist 17 digs
Jessi Deguzman 17 digs
Carolina Plexico 17 assist
Emily Wingo 20 assist
Great job ladies!
Pictures from tonight are being uploaded to "Cavalier Galleries" in the "Volleyball" section
Wednesday, September 9
Dorman at Spartanburg HS
Congratulations Lady Cavaliers on your sweep of the Lady Vikings - Spartanburg.

The JV's Won 2-0!

Varsity: Won 3-0

25-15

25-13

25-16

Stat leaders:

Kills - Thayer hall 15

Jessica Johnson 10

Lily Dempsey 9

Aces:

Omara Daniel 3

Jordan Steading 3

Jessica Johnson 3

Assists:

Emily Wingo. 17

Caroline Plexico 10

Haley Gosnell 9
Friday, September 4
Dorman Tops Mauldin
Sometimes a little slow to start.....but so far, but so far, strong to finish! These ladies have gooooood chance to have a very "SPECIAL" year!
Tonight, the Lady Cavaliers hosted the lady Mauldin Mavericks,
Winning:
25-19
25-16
25-15
Thayer Hall 20 kills and 10 Digs
Lily Dempsey 10 Kills
Emily Wingo 21 Assist
Carolina Plexico 10 Assists
Jessica Johnson 10 Digs
Great job coaches and players!
Thursday, July 30
Dorman's Volleyball Team Recognized For Academic Achievement!
I am pleased to announce that Dorman Volleyball has once been notified by the American Volleyball Coaches Association that they have met the criteria and have been awarded the AVCA Team Academic Award.
AVCA Team Academic Awarad Click here to read the article
Paula Kirkland
Assistant Athletic Director
Head Volleyball Coach
Dorman High Schoo
Wednesday, November 28