Admin

Last updated

02-11-16 05:17 PM

Cavaliers Edward Overstreet

864-256-0797

Fax: 864-349-2133

E & M Photography, Inc.

314 Woodgrove Tr.

Spartanburg, South Carolina

29301
Saturday, October 24
Spartanburg County Championship
Congratulations to the JV and Varisty girls and boys cross country teams all took first place in the Spartanburg County Meet held at Milliken Park. It was the varsity boys third Spartanburg County Championship in a row and the varsity girls fourth County Championship - in a row
Great job Cavaliers!
Saturday, September 26
Cavalier Classic Meet
It was a damp misty morning but that didn't give cause for alarm as it turned out to be a great day for Dorman runners at the Cavalier Classic Cross Country Meet.
The boys cross country team finished second while the girls finished first!
Great job Cavaliers!
Wednesday, July 29
2015 Schedule
2015 Cross Country Schedule
Wednesday, September 16
Cavaliers Host 8 Teams in Open Meet
Today, the Cavalier cross country teams hosted an 8 team Open Meet. The lady Cavaliers finished in 1st Place while the boys finished 2nd.
Great job Cavs. Images from today can be viewed at "Cavalier Galleries" in the "Cross Country" section.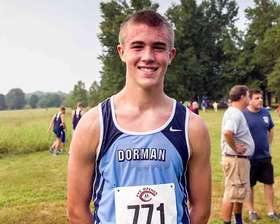 Wynn Johnson 16:00.67 time finishes in 3rd Place at EyeOpener
Saturday, September 5
EyeOpener at Milliken
Dorman's boys and girls XC teams had a great showing at the Milliken EyeOpener Cross Country Meet today, with Dorman's Wynn Johnson finishing 3rd in the international division with a time of 16:00.67. Both the girls and boys finished in 5th and 7th places respecteively, in the International Division.
To view pictures from today, click on Cavalier Galleries and select "Cross Country." There will be two links, one the curtesy of Dave Coggins!
Click on "GoUpstate" online for the Spartanburg Herald Journal's story.