CA District 33 Little League: District Feature Stories
Ted Kaplan - Veteran Umpire & Volunteer
Ted worked the last game of his illustrious umpiring career at Allied Gardens Little League, during the 2015 opening day game between the Tigers and the A's.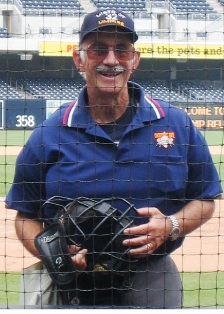 Tom Kaplan
Jan 22 1927 - June 1 2015
Ted is survived by his wife Trina, sons Steven and Larry and daughter Susie, their spouses Jill and Donna Kaplan and David Venegas, two grand-daughters by Susie and David, Alexandra and Daylen, Steve's foster son Justin, and Steve's wife Jill's two children, their spouses, and seven grandchildren. Ted accomplished a lot in his life but he would tell you that he is most proud of the 67-year marriage he created with Trina.
Ted was born on January 22, 1927 in Brooklyn, NY. He lived in Brooklyn until serving in the US Army in Japan after WW II. He married Trina on June 20, 1948 and earned a business degree from Brooklyn College. He worked as an accountant in New York City and for a year in Los Angeles before moving to San Diego in 1959 to work as Assistant Accountant for Marty Gleich at American Housing Guild, builder of homes, apartments and more. Within a year he was promoted to Head Accountant, then Comptroller and CFO as AHG grew in the 60's. Ted retired in 1992 after 33 years with Marty Gleich and AHG. Ted shared his financial expertise with all who needed it and did the taxes for as many as seven people every year.
Ted played and followed many sports all his life, including stickball as a young boy. He was an accomplished runner at New Utrecht High School in Brooklyn. He was the fourth fastest member of New Utrecht's cross-country team that won the Brooklyn championship and narrowly missed winning the New York City championship.
He took up tennis in 1960 and quickly became an excellent player. He played tennis 2-3 times a week for over 50 years, hanging up his racket at the age of 87. He was adept at putting spin on the ball. 1960 is also the year Ted started his long career as an umpire. His eldest son had started Little League and he wanted to volunteer his time. He chose umpiring over coaching and San Diego youth baseball is lucky that he did.
Ted mastered the mechanics of umpiring and the art of calling balls and strikes. Ted's strike zone was consistent, which endeared him to many a coach and player. Ted studied the rule book, learning it as well as just about anyone. He loved to discuss the rules and interesting situations, especially with his two sons who also learned the rulebook and did some umpiring.
Ted umpired at least two games a week for many years for Mission Village Little League and Serra Mesa Pony League. He served ten years as Head Umpire for Little League's District 33. He ran a rulebook and mechanics clinic that was open to all umpires.
Ted took a 15 year break from umpiring but returned to it when he retired in 1992. He volunteered twice a week as umpire for Senior Softball La Mesa and also for the Senior Softball Travel League. His passion rekindled, Ted joined a local umpiring association started by Dusty Harang and began working youth baseball games. Ted worked over 100 games a year until scaling back in his 80s.
He volunteered as an umpire in Williamsport, Pennsylvania, at one of the numerous tournaments put on by Little League baseball, and at three Fantasy Camps, one for the Boston Red Sox and two for the San Diego Padres.
Ted visited AGLL while watching his great grandson play ball during the Fall 2013 season. He offered to help out and at 87 he became a regular AGLL umpire in 2014. Ted would often linger after games and chat about rules and the history of our league and district.
Ted's family was the most important thing in his life, but he had many interests. He loved to read the newspaper. He loved movies and live theatre. He and Trina supported numerous local theatres and they gave generously to myriad causes. He enjoyed his time at his desktop computer. He and Trina were accomplished bridge players. Ted loved to listen to the music from his youth.
Ted and Trina traveled extensively. They made a few visits to Hawaii, Mexico, and Canada as well as visiting Spain, Portugal, Morocco, the United Kingdom, Ireland, Israel, Guatemala, Costa Rica, Ecuador, including the Galapagos, and Peru, including Machu Picchu. They made yearly visits to New York and Florida to visit relatives. They cruised to Hawaii in the 60s and to Alaska, Hawaii, Mexico and the Panama Canal in retirement.
Ted was a kind and gentle man who treasured his family. He was compassionate. His hugs will be remembered by all who savored one. He was dependable. You could always count on him. Our world needs more people like Ted Kaplan.
---
"Joe Schloss Day"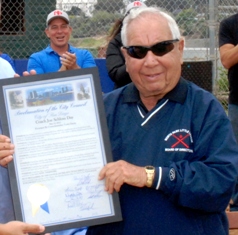 On May 16th 2015 at North Park Little League's Morley Field, Coach Joe Schloss was honored for his 60 years of coaching youth baseball in San Diego, the last 58 years at North Park.
The ceremony marked
May 16th, 2015
as "Joe Schloss Day" in San Diego. A special proclamation and commendations were presented to Joe by
Todd Gloria,
San Diego City Councilmember;
Richard Barrera,
School Board Trustee;
Sal Giametta,
Chief of Staff for County Supervisor Ron Roberts and
Pete Gregorivic,
Assistant District Administrator for Little League's District 33.
Joe is the longtime owner of the family-run A-B Sporting Goods on University Avenue in North Park. He's a San Diego High School graduate, who served in the Navy during World War II. Joe is an active volunteer in the community. He teaches his players to play hard and play fair, and to live their lives with respect for others, and to help out their communities however they can. Many of Joe's former players were in attendance, including players from his teams in the mid-1950's. The Famous San Diego Chicken entertained the crowd! Joe is still going strong, and says he's not finished coaching yet, not even close. Here's to many more years. Thanks, Joe!
Below are some of the photos taken on "Joe Schloss Day" for your enjoyment....
| | | |
| --- | --- | --- |
| Joe interviewed by local TV stations | | Todd Gloria speaking about Joe |
| Joe receiving his Proclamation | | Richard and Joe Sal and Joe |
| Pete and Joe with Joe's wife Barbara | | Joe saying a few words while the SD Chicken looks on |
| Joe being congratulated by former players | | Once the ceremony was over... It was gametime |
---
Joe Berardini - Sunshine Little League
District 33 has lost one of its Hometown Heroes. Joe was a veteran of WW II and participated in the freeing of Europe. Joe was also a Hometown Hero for his devotion to the children of our community by founding Sunshine Little League and working with the City to obtain their present fields.


Clay Berry


October 3, 1920 - April 24, 2015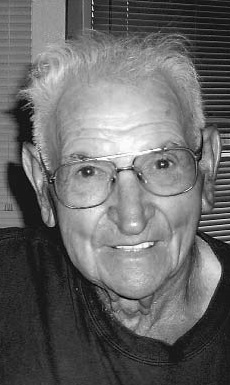 He put his blood, sweat, tears and love into the Sunshine Little League for well over fifty years "for the kids". I spent many years of my youth down at Sunshine working with him watering, mowing lawns and will cherish the memory on those ballfields which I consider hallowed ground. I cannot drive on the 94 to the 805 without looking over to the right and thinking of the love he freely gave of himself to those in his community. If he wasn't at home, the whole family knew where he was.....at Sunshine!

Robert J. McBride
Grandson of Joe Berardin

Beloved husband, father and grandfather, Joe passed away peacefully after a brief illness. He was born in San Diego, attended Hoover High School and worked forty six years for Convair. He served in General Patton's 2nd Armored Division during World War II and was decorated with Good Conduct, European Campaign with three bronze battle stars and World War II Victory medals. Wounded during the occupation of post war Germany, he was sent to San Francisco to recuperate where he met his bride of 68 years, Mildred Minton. A founder of Sunshine Little League, he organized the local trade unions to help him build the ball fields that remain to this day his legacy, Berardini Fields on Federal Boulevard. He is survived by his wife Mildred, daughter Stella, sons Patrick, Walter, Joe all of San Diego and four grandsons, thirteen great grandchildren, two great, great grandchildren and a sister Angelina Des Roches of The Dalles Oregon. In lieu of flowers or contributions, the family requests a donation be made to Sunshine Little League in his honor. To quote him "It's for the kids!"


---
Our Unbelievable Trip to the 2014 Little League World Series
by Robert Henderson, Rolando Little League

My son,
Carter Henderson
won a family trip to the
2014 Little League World Series
in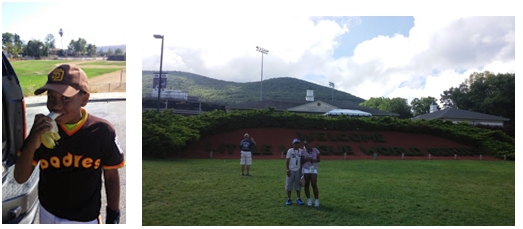 Williamsport, PA through a Chiquita banana contest. We submitted a photo of him eating a banana just before his TOC Minors game at Allied Gardens and it won the photo Grand Prize.
To say this trip and the Little League World Series were a highlight of our lives is an understatement. We've seen the LL World Series on TV for several years but we were just amazed by it in real life. We had VIP access to all the games and

this year was extra special because of history being made by Mone' Davis (first female pitcher in semi-finals) and the team from Chicago. It was just incredible to witness how well run and organized this event is. The facilities are outstanding and they treat all the players and their families wonderfully.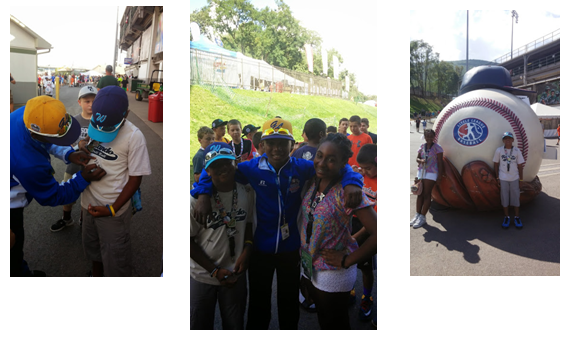 Carter was able to meet many players from around the world. He spoke with the kids from the West team (Nevada) and made friends with many of the Latin America and Mexico players (because he speaks fluent Spanish). One day he spent trading pins at the pin trading tent. I didn't realize how serious everyone is about pin trading. His pins from California were very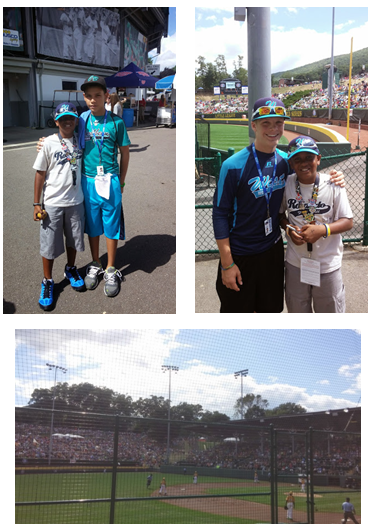 valuable and got him a lot of trade value. Our first day there he proudly wore his Padres jersey and cap. We made friends with the District Administrator from Pennsylvania ("Dancing Bob") who is always on TV dancing in the stands. Both our kids (Carter & Brooke) made friends with some local kids who showed them the entire baseball complex. We actually got on TV too; because one of the coaches at Rolando says he saw my Rolando cap and Carter's jersey, but didn't realize it was us, at first.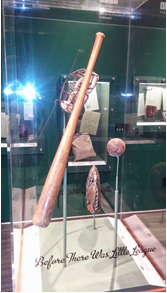 Carter got many players autographs on his hat, his shirt, and numerous baseballs. We saw great baseball and sportsmanship being displayed by all the players in the World Series tournament. Everyone we met there were very nice to my family. To see the game of baseball being played by kids from around the world was very fulfilling.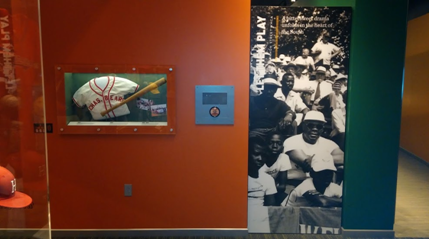 We went to the Little League Museum and learned all about America's favorite sport and how it has influenced all those involved in it. And how the 2014 Little League World Series was also history making.
While there on the east coast; we went to Philadelphia and Washington DC. Our kids should never have any issues with American history ever again. I would recommend a visit to the Little League World Series if you ever get the chance.
The most memorable thing my son said at the end of the trip was: "Dad I want to come back here to Williamsport, as a player".
---
District Honors Volunteer for 50 Plus Years of Service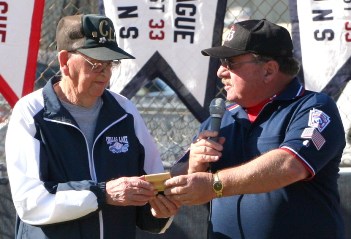 Bob Bouchard receiving the Plate Brush Award at CLLL
On a sunny Saturday morning, Mr. Bob Bouchard headed out to Chollas Lake Little League, not to umpire but to be recognized as someone who has volunteer his time to the kids of little league baseball for over 50 years. Instead of being behind the plate, making calls and trying to stay out of the lime light, Bob was the center of attention during the opening ceremonies at Chollas Lake Little League on March 3rd 2012.
Brent Forrest, on behalf of District 33 presented Mr. Bob Bouchard the coveted "Plate Brush" award. Bob was honored by Marti Emerald and the San Diego City Council for his 50+ years as a volunteer umpire at Redwood Village and Chollas Lake Little Leagues. March 3rd, 2012 was officially proclaimed by the City of San Diego as "Bob Bouchard Day".
There were many district umpires and representatives there to celebrate Bob's day, and to share in honoring Bob as a long time volunteer, mentor, and friend. There are several umpires that started at Chollas Lake, who have umpired at the World Series, who were influenced early in their careers by Bob's teaching and style.

Ned Kern
President of Chollas Lake Little League


---
Dorothy, You Will Always Be Remembered

It is with great sadness to report that District 33 has lost a dear friend and staff member Dorothy DuPont. Dorothy lost her battle with kidney cancer and passed away on February 14th. Dorothy was born in Sheridan, Wyo., July 22, 1943, to Herbert Hagen and Sarah Howes Hagen. She graduated from Sheridan High School in 1961 and received a BS in Mathematics from the University of Wyoming in 1965. Dorothy belonged to Gamma Phi Beta and the Daughters of the American Revolution. She was an avid bridge player and a longtime supporter of PTA and Little League.

Dorothy was a valuable Little League volunteer in District 33 since 1978. She served in many capacities, starting with Mission Village Little League (the previous name of Serra Mesa). Dorothy was instrumental as the President of Mission Village of obtaining the use of the property and moving the league to the present location. Dorothy was rewarded the highest honor that this District has to offer, the Jim Jones Volunteer of the Year Award.
Dorothy was the only person that remained on the District Staff when I became DA. While her main duty on staff was as our scheduler, she also was a valuable adviser who would often remind me what Little League was all about. Dorothy was an amazing scheduler. I can't tell you how often she would rewrite a schedule due to last minute changes. Leagues would add a team or subtract a team or change their field availability or add some new thing after the schedule was written. Every time without complaint Dorothy would rewrite the schedule. When I wrote the tournament schedules using a computer program, I always sent them to Dorothy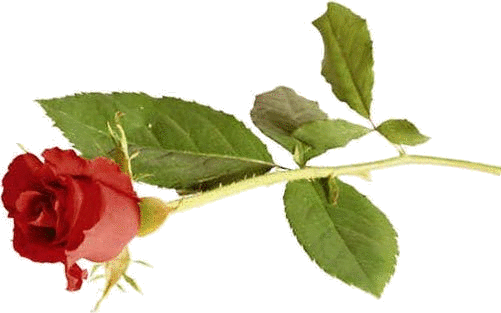 for reviewing. Dorothy would catch my mistakes and let me know where I had made an error or else did something that would not work. She was amazing at being able to make a schedule work no matter how many variables or how many teams were involved.

She is survived by her husband of 44 years, Henry; two sons, Scott and Daniel; five grandchildren, Carlos, Hector, Robert, Madeline and Catherine; her brother, Frank; and various nieces, nephews and cousins. Here is a link to her obituary in the UT: Dorothy DuPont's Obituary

Clay Berry
District Administrator
California District 33

---
District 33 is Permanently Represented at Western Region
District 33 is now represented at Western Region headquarters in San Bernardino forever. The District purchased a Bollard for the North parking lot. You're asking yourself, what the heck is a Bollard? Well here is the story behind the WR Bollards.
Jim Gerstenslager
, Western Region Director, was given a directive by Williamsport to create a barrier between Little League Drive and the northern parking lot of the Western Region complex. It had been suggested that a series of posts and a sturdy chain would stop vandals that were using the area for their own personal enjoyment with no regard to the Little League's property. An idea was concocted that a series of concrete baseballs and softballs would certainly due the job but the cost did seem out of the question. However, after some research and some negotiation Western Region found a company that was local to the complex and would delight in creating the diverters for them.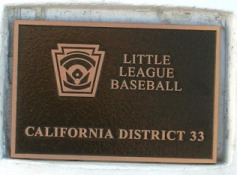 District 33 Bollard Plaque
These diverters are called Bollards; you will see them at schools, public parks and roads throughout the country. The Western Region bollards are unique because not only will they do the job as requested by Williamsport but it is an opportunity for leagues, districts and individuals throughout the region to have their own personal testimonial to Little League, but also a small portion of the donation will go to the maintenance and upkeep of the Western Region complex. The 1200 pound white baseballs are made of white concrete, and placed on a foundation formed in the shape of a home plate. They are secured by bolts and are sprayed with a chemical so that graffiti can be easily removed. A 4"x 6"cutout strategically placed on the ball is inserted with our District name.
---
Congratulations to Jacob, Jack and Darren

District 33 would like to share the accomplishments of three boys from our little league family who on June 28th went out and won the 40th Annual OMBAC Junior Over the Line World Tournament 9-11 age division. The 3 boys in the picture represent Mission Trails, Rolando and San Carlos Little Leagues.

The boys from left to right are: Jacob Balesteri (MTLL), Jack Stronach (Rolando) and Darren Henry (SCLL). Way to go guys!!





Junior Over the Line Tournament Champions
---
A Video Message From Little League International
Little League International has an important message for all parents of little leaguers. Dugout, our Little League mascot, has posted a Little League video on YouTube. Just click on the image to see the 15-second video, which shows parents what it's like to be shouted at during a game.
To view more videos from Dugout, please click on the following link....
http://www.youtube.com/user/DugoutTheMascot
Sincerely,
Little League International
P.O. Box 3485
539 US Route 15 Hwy
Williamsport, PA 17701-0485
Phone: 570-326-1921
Fax: 570-326-1074
---
2009 Local League Opening Day Ceremonies
After a long winter that included many hours devoted to field maintenance, coaching clinics, finding out what are the new hot items to sell in the concession stand and working on game schedules for all your teams without any conflicts. The time has come for the players to take to the fields. Good luck to everyone and hope you have a great season.

Please send us a few photos of your Opening Day ceremonies to district33@cox.net and we'll post them for everyone to enjoy.





---
Volunteer Builders Set Things Right
Kearny Mesa Little League recently went through some rough times getting their Snack Shack rebuilt. With the help of
Michael Turko
for KUSI NEWS, they were able to get their Snack Shack finished in time for the upcoming season. It is great when the community comes behind us and supports our efforts. I want to thank Mario Torres, President of KMLL, for staying on course and getting this done when everything looked impossible just a few short months ago. Please take a look at the video that aired on Tuesday, March 3rd, 2009 on the
KUSI Turko Files
.
Clay Berry
District Administrator
Ca District 33
---
2009 Padre Clinic Re-Cap
by Clay Berry
The Padres hosted a coaching clinic taught by
Al Price
from Big Al Baseball on January 25th, 26th and 27th. Sunday (1/25) was the largest one-day clinic that Big Al had taught and the three day combined attendance of 1055 was also a record. The Padres were great host with every clinic held on the Petco Park field, it was a real treat for all those who attended.
There were 11 Little League Districts that sent coaches as well as all the Pony Youth Organizations in San Diego County. District 33 by far had the best turn out with over 35% of those present from our District. In just counting those that attended from Little League, District 33 had over 40% of the attendees.
This was the sixth year that Big Al has come to San Diego and every year attendance has grown. This is the third year that the Padres have hosted Big Al and the first that District 33 did not host Big Al. However the new partnership between District 33, the Padres and all youth ball in San Diego worked so well we look forward to the coming years and continuing this relationship.
Special thanks are owed to the following people.
Ned Kern
who organized the volunteers and was instrumental in every aspect of the clinic and was a major contributor to the success of the clinic.
Michele Anderson
VP San Diego Padres that coordinated the clinic from the Padres end. Michele worked extremely hard to make this a success and far exceeded our expectations in every way as our host. Finally to Big Al for sharing his talents with all of those that attended and made every session a special time for each of the attendees. Be sure to take a look at our
Big Al Clinic Photo Album
and The Padre's
2009 Coaches Clinic Photo Gallery
.
---
AGLL "Little Padre Fields" Dedication
The dedication ceremony for the newest "Little Padre Fields" was held at Allied Gardens Little League on Saturday, December 6th, 2008. It was a good time for everyone. The folks at AG would like to share some of the photos of the ceremony with everyone in District 33. You can view the
press release
from the Padres, and see a few more
photos
from the event on the Padres website.
---
Our Trip to the 2008 Little League World Series
by Bonnie Akashian

Bonnie, Levon and Alex Akashian along with Clay and his wife Elisa attended this year's Little League World Series in Williamsport PA this summer. Bonnie has been so kind to share some of her insights and photos of her recent trip with all of us.
Our trip to Williamsport was quite an experience. One of the reasons we went to Williamsport this year was to watch our friend Mark Bernstein from our neighboring District 31 umpire. We were lucky weather wise, experiencing for the most part, wonderful weather. The first day of the tournament was the one day with rain. Although only one game was rained out, unfortunately, it was Mark's 8:00 p.m., prime-time plate. It's amazing to watch the grounds crew in action. If we had that much rain, we wouldn't have played for a week! It was a very crowded tournament this year with record breaking crowds. We watched games in both stadiums but the original stadium, Lamade Stadium, is by far nicer and more comfortable than Volunteer Stadium, which opened in 2001. Alex spent a lot of time in the pin trading area but admitted that he enjoyed trading pins more in San Bernardino. That's probably because he's known in San Bernardino. They do an amazing job at this tournament, using hundreds of volunteers including ushers. Of course, they need the ushers because parts of each stadium are not open to the general public and someone has to police this. Dugout appears at every game and does a wonderful job. We learned that Dugout is actually two different women and there are two uniforms, one with teeth and one without. Both of them do a great job with the players, umpires and fans and everyone has a great time with Dugout. Many of the games we saw were wonderful games. Hawaii played an amazing semi-final game and won in the 6th inning. Unfortunately, Mark would have gotten the championship plate if Hawaii had lost. Thankfully, Hawaii finished it off and won it all. One of the things that is interesting at the World Series is not only the difference between the American teams and the International teams, but the difference between the International teams themselves. Japan and Mexico were on a different playing level than Italy or Canada. There are many different levels of little league represented there. The day of the championship game was humid! That was the worst day we had. I'm glad the weather waited until we were heading home to change. It was a wonderful experience and I would recommend the trip to any person involved in Little League. If any of you decide to go, Levon, Clay and I would be happy to share what we learned with you.
---
Adam Bender's Amazing Story
Adam Bender, 8, is one of several kids who plays catcher in Southeastern's rookie league at Veterans Park in the state of Kentucky. What makes Adam stand out is that he plays one of the toughest positions on the field with only one leg. Because of cancer, he had his left leg amputated when he was one. Adam doesn't use a prosthesis, and only uses crutches when he reaches base for the Astros.
Since the story of 8-year old cancer survivor Adam Bender was published in the Lexington Herald-Leader, and on
http://www.kentucky.com/211/story/420950.html
, on June 1, 2008, the one-legged catcher has been invited to throw out first pitches at a Chicago White Sox game, a Cincinnati Reds game, a Houston Astros game, and has been invited to a Garth Brooks benefit in Las Vegas. He is also being profiled for a story that will air on ESPN. On Sunday June 6, 2008, Adam threw out the ceremonial first pitch to Adam Dunn of the Reds. Take a look at the inspirational
Video and Interview with Adam Bender
.