CA District 33 Little League: Links
Allied Gardens Little League
Chollas Lake Little League
Kearny Mesa Little League
Lake Murray Little League
La Mesa National Little League
Mid City Little League
Mission Trails Little League
Murphy Canyon Little League
North Park Little League
Patriot League
Rolando Little League
San Carlos Little League
Serra Mesa Little League
Sunshine Little League
Tierrasanta Little League
Little League Forms and Publications
Looking for a specific little league form? Here is a link to Little League International for all the current forms used in Little League.
Mike's Action Photo
District 33 Photographer.
District 32
Our neighboring district and part of section 6. D32 is made up of the following San Diego leagues: Balboa, Clairemont Hilltoppers, Clairemont Mesa, Coronado, Mira Mesa West, Mission Bay, Penasquitos Central, Penasquitos North, Penasquitos South, Peninsula, Point Loma, Presidio, Scripps Ranch and University City.
District 31
Our neighboring district and part of section 6. D31 is made up of the following San Diego leagues: Carmel Mountain Ranch, Del Mar American, Del Mar National, Encinitas, Encinitas National, Escondido American, Escondido Continental, Escondido National, Poway American, Poway National, Rancho Bernardo, Rancho Santa Fe, Solana Beach and Valley Center.
District 70
Our neighboring district and part of section 6. D70 is located north of San Diego, includes the leagues of Bonsall-Fallbrook, Oceanside National, Oceanside American, Oceanside Valley, Pendleton, Rancho Buena Vista, Vista American and Vista National. These leagues were formally part of District 28.
District 42
A neighboring District from Section 7 located south of San Diego. D42 is made up of the following leagues: Chula Vista American, Chula Vista National, Eastlake, Imperial Beach, Luckie Waller, Park View, San Ysidro, South Bay, Southwest and Sweetwater Valley.
District 41
A neighboring District from Section 7 located east of San Diego. D41 is made up of the following leagues: Alpine American, Cajon de Oro, El Cajon American, El Cajon National, El Cajon Western, Fletcher Hills, Jamul, Lakeside American, Lakeside National, Mountain Empire, Rancho San Diego, Rios Canyon, Santee American, Santee Pioneer American, Santana National and Singing Hills.
District 66
Our neighboring District to the south of us. Leagues included in D66 are; Encanto Little League, Las Palmas Little League, Lemon Grove Little League, National City American Little League, San Diego American Little League, San Diego Southeastern Little League, Skyline Little League, Spring Valley Little League, Twin Hills Little League and Valley de Oro Little League.
Western Region
The Western Region Headquarters is located about sixty miles East of Los Angeles on Interstate Highway 215. The total complex consists of 27 acres, with a Major League field that seats approximately 8,000, and is where each year the Little League Major Division Regional Tournament is played. The Western Region consist of eleven western states; California, Hawaii, Oregon, Washington, Alaska, Wyoming, Montana Idaho, Utah, Nevada, and Arizona. The Regional Facility offers Leadership Training Clinics for League Officials, District Administrators, Managers/Coaches, Scorekeepers and Volunteer Umpires.
Little League Online
Little League Online is the backbone of information for Little League Baseball and Softball. All the information that surrounds Little League can be found on this website.
San Diego Junior Padres
Hey Kids! We want YOU to be a Junior Padre! Membership is FREE. Just click on the Swinging Frair to take you to the Junior Padre web site.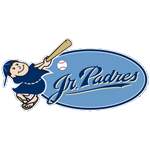 Join up today!
National Pitching Association
Positive Coaching Alliance
Big Al Baseball
Al Price
- is known in Little League Baseball as Big Al was part of the "Al and Al" team that were the originators of the "Know Your Baseball" training program, which is the Little League Official Education Program for Managers and Coaches.
Unpage
The Unpage website is dedicated to providing you with current and historical coverage of Little League Baseball state and region tournaments in the major baseball (11-12 years old) division. To access our coverage of 23 states and provinces, as well as all U.S. region tournaments, the Canadian and Japanese Region tournaments, and the Australian national tournament, click on the links above.
Are you looking for a certain little league and/or District in California? Take a look at the following link...
Unpage California Little League Directory