CA District 33 Little League: Welcome
| | | |
| --- | --- | --- |
| | Our District is located in San Diego California and is comprised of 15 leagues. Our area covers parts of San Diego and La Mesa from Balboa Park to Mount Helix from Highway 94 to Highway 52. Please take a look at our League Boundaries Map for further details. | |
Helping young people develop character, discipline and teamwork while maintaining physical
and emotional well being through Little League Baseball.

---
6th Annual Dorothy Dupont Memorial Tournament
Friday, March 14th thru Sunday, March 16th 2014
Location:
Murphy Canyon LL Damato Field
Rules:
2014 DDM Tournament Rules

Brackets:
2014 DDM Tournament Brackets
The 6th Annual Dorothy Dupont Memorial Tournament will be held March 14
th
thru March 16
th
2014 at Murphy Canyon Little League's Damato field. Damato field is located at 4500 Damato St. San Diego, California 92124. Eight Major Division teams from District 33 Little Leagues will participate in the tournament.
This year we are proud to announce the following leagues that will be participating in the Dorothy Dupont Memorial Tournament:
Rolando, Kearny Mesa, Mission Trails, Murphy Canyon, Lake Murray, Sunshine, Chollas Lake and Mid City

| | |
| --- | --- |
| | District 33 is proud to have Mike's Action Photos as our Official DDM Photographer. Mike will be taking some great shots of players during the tournament and will be selling photos at Murphy Canyon. |
---
San Diego City College Baseball Clinic a Great Success!
The City College Knights baseball program put on a great clinic for District 33 on Sunday March 9
th
2014. The clinic featured about a dozen stations which students could rotate through, gaining valuable coaching tips and techniques.


2014 San Diego City College / North Park Coaches Clinic Participants
Each station was taught by the City College baseball players and the students participated in all the drills. Coaches and Managers learned hands on how to conduct each station. It was a fantastic clinic and a special thanks goes to Head Baseball coach Chris Brown, Assistant head coach Aaron Detty, and all the City College players who gave their time.
John Perretta
North Park Little League
---
Friday Night Lights - Game of the Week
Time:
7:00pm - 9:00pm
Location:
Murphy Canyon Little League's Little Damato Field
Schedule:
2014 Friday Night Lights Schedule

Friday Night Lights begins on March 21st 2014. The full schedule is now posted. All games will be played at MCLL's Little Damato field located at 4500 Damato St. San Diego, California 92124.

Make your plans to come out and witness some exciting District 33 Majors Division Baseball Inter-League games under the lights.

Our first game is scheduled for March 21st

Murphy Canyon vs Chollas Lake
---
7th Annual CBI Tournament at Western Region
Friday, March 28th thru Sunday, March 30th 2014
Location:
Western Regional Facilities
Information:
CBI Visit Information
,
WR Information
Rules:
2014 CBI Rules

Brackets:
2014 CBI Brackets

The seventh annual CBI Tournament will take place Friday, March 28th thru Sunday, March 30th at Little League Baseball Western Region Headquarters, Al Houghton Stadium located at 6707 Little League Dr. San Bernardino, CA 92407. This is a special weekend tournament that involves 8 regular season major division teams from District 33 Little League.

This year we are proud to announce the following leagues that will be participating in the CBI: Murphy Canyon, Lake Murray, La Mesa National,
Serra Mesa, North Park, Allied Gardens, San Carlos and Tierrasanta

| | |
| --- | --- |
| | District 33 is proud to have Mike's Action Photos as our Official CBI Photographer. Mike will be taking some great shots of players during the tournament and will be selling photos at Western Region. |
---
Why do individuals volunteer their time to Little League Umpire?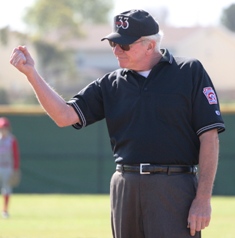 Bill Owens
For many reasons would be the simple answer. However, for Bill Owens from the Patriot League, Little League umpiring is an activity which he demonstrates a great passion. Over the years Bill has umpired an average of 60 games a year to demonstrate his commitment to the youth of Little League Baseball. He has worked hard over the last 22 years to develop himself as an outstanding volunteer umpire. His on the field expertise shows to the youth of Little League how hard work and commitment builds skill and professionalism. Bill has been active in Little League at many levels. He has coached and managed, a Board member for over 18 years, an active member of the California District 33 Staff as well as a contributor on the District Umpire Staff. Over the years Bill has been honored in a variety ways with the Umpire of the Year and Umpire Service Awards. He has also has received the District 33 Service Award.
California District 33 is honored to announce that Bill Owens has been selected to umpire in the 2014 Juniors Regional Tournament in Vancouver, Washington in August. His selection is evidence of Bill's commitment to the Little League Program as both a volunteer and an umpire.
Congratulations to Bill on his selection. Also we wish to thank his wife Barrie and son Brian for sharing Bill with us.
Mark Beall

Umpire Consultant
California District 33
---
2014 District Service Awards
District Service Awards are given to individuals nominated by their league that has several years of outstanding service to their league as well as having impacted the District by serving the other leagues in some capacity, usually by being involved in tournaments or something district wide. District Service Awards are usually given out on the League's Opening Day or Team Announcement Night. The rest of the District awards are presented at our annual dinner in May.

The 2014 District Service Award recipients are...

JP Prater
Serra Mesa Little League


Andy Carver
Serra Mesa Little League

Mario Pappazi
San Carlos Little League
---
Special Offer for D33 Families

Flyer:
Mattress By Appointment Flyer


CA DISTRICT 33 is proud to partner with San Diego based
Mattress By Appointment
in an effort to raise money to benefit leagues in our District.
Mattress By Appointment is a factory direct outlet and prices are reduced 50% to 70% lower than other stores. Mattress By Appointment is located at 7128 Miramar Rd., Suite 6, San Diego, CA 92121. For more information please call 619-384-7432.
For every mattress purchased by a D33 family or referral, Mattress By Appointment will donate $25.00 directly to the individual league the family of referral comes from.

Please bring the attached flyer with you and/or make sure to inform them which D33 league you are from when purchasing a new Mattress Set from them!
Here are some of their prices...

Factory Direct Pillowtop Mattress Sets

Twin Sets from $350.00
Full Sets from $400.00
Queen Sets from $400.00
King Sets from $700.00
Made by Serta exclusively for Mattress By Appointment
---
SABR Baseball Research Center opens at new San Diego library
By Jacob Pomrenke
SAN DIEGO — "Breathtaking" and "spectacular" were two of the words commonly used to describe the new Sullivan Family Baseball Research Center, home of the SABR Collection, on Saturday, September 28, 2013, at the San Diego Central Library's grand opening celebration.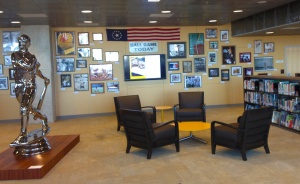 Sullivan Family Baseball Research Center at San Diego Central Library
Even the librarians who work there were impressed.
"It's the biggest baseball library west of Cooperstown!" said Rosemary Diciedue, a San Diego librarian since 1989.
San Diego's long-awaited new library building — a $184.9 million, nine-story facility designed by Rob Wellington Quigley — opened for business on September 30th. A sneak peek of the library was offered Saturday, with a day-long street festival on Park Boulevard near Petco Park.
The Baseball Research Center opened in 2001, with an initial collection of books and microfilm donated by SABR's Ted Williams Chapter. In the years since, it has grown to more than 3,000 publications, books, and journals, and 300 microfilm reels, all available to the public at San Diego's downtown library.
"The library folks have been heaven to work with," said SABR member Andy Strasberg, the former San Diego Padres vice president who, along with Tom Larwin, spearheaded the creation of the research center.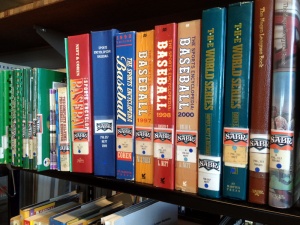 SABR Collection: San Diego baseball research center includes more than 3,000 publications and 300 microfilm reels, all available to the public.
In 1998, the Ted Williams Chapter partnered with the Central Library to open the research center and the initial acquisition was made in 2001. It included a complete set of The Sporting News, Sporting Life, University of Notre Dame baseball guides and SABR's annual publications, The Baseball Research Journal and The National Pastime.
Today, baseball fans and researchers can also view thousands of books on baseball history from its early origins in the 1700s to the present day, biographies, instruction manuals, encyclopedias, Spanish-language titles and San Diego Padres scrapbooks. The SABR collection also includes microfilm reels that are only available in one other location, the National Baseball Hall of Fame Library in Cooperstown, including 19th-century baseball scrapbooks, American Association and Union Association records, Black Sox Scandal archives, player questionnaires and minor league contract cards.
The Baseball Research Center is named after the Sullivan family, longtime supporters of the library expansion project. Katie Sullivan is the former president of the Friends of the San Diego Public Library.
San Diego Central Library: New $184.9 million, nine-story building is just blocks from Petco Park.
"Katie and Dan Sullivan wanted to combine their love of libraries with their love of baseball," Diciedue said.
The reading room on the eighth floor of the library, which houses the Baseball Research Center, offers eye-popping views of the iconic Coronado Bridge and San Diego Bay. A shiny bronze/chrome Yoram Wolberger statue of a player swinging a bat, on loan from the Museum of Contemporary Art San Diego, sits in front of a digital billboard highlighting the many resources in the SABR collection and framed photos from Strasberg's 2012 book Baseball Fantography.
Diciedue said she hopes the center can be used to hold baseball events and maybe show live games on special occasions.
"You come up here and you don't want to ever leave," she said. "You're surrounded by baseball. It's beautiful."
---
How to Stop a Bullying Coach
By Patrick Cohn, Ph.D. and Lisa Cohn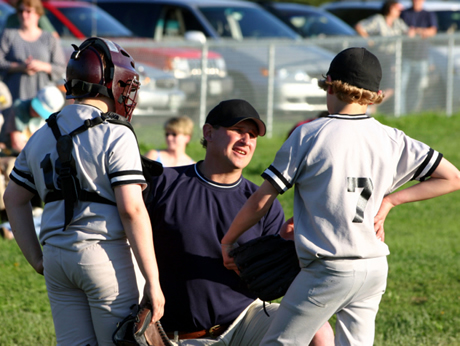 Bullying is a growing epidemic in sports. As sports parents, it's critical for you to be prepared to protect your young athletes. If you think this issue won't ever come up in your kids' sports careers, think again. Bully coaches are the number one topic parents write us about at
Kids' Sports Psychology
.
Have your kids ever had a coach who yelled at, insulted or intimidated them? It's possible they have, but were too embarrassed to tell you. It's important for you to be on the lookout for bully coaches and to take immediate action if you suspect your young athletes are being bullied.
Bully coaches target all kinds of young athletes. They can set their sights on kids who are overweight, small, or who lack confidence, for instance. These coaches also target gifted athletes because they believe their approach will "toughen up" their athletes.
It's important to keep in mind that most volunteer coaches are not trained. Many of them use teaching techniques that their coaches used with them. Some of them don't understand they're acting like bullies. Many coaches will change their behavior if you approach them in an appropriate manner. We've received letters of confession from coaches who say that once they understood how much their words and actions hurt their athletes, they changed their style. More: 6 Tips for Coaching Your Own Child
Whether a coach's bullying is intentional or unintentional, your job as sports parents is the same. If your athletes are teased, excluded or otherwise treated badly by coaches, you need to take steps to help keep their confidence intact, stay focused under adversity, and remain in sports.
The bottom line, for you as parents: Be on the lookout for bully coaches and arm yourself with the information you need to take action.

Stories From the Trenches

The many sports parents who have written us about bullying say their young athletes are teased, harassed, intimidated and threatened by bully coaches. Here's what some sports parents tell us:
"My daughter was bullied relentlessly on her high school gymnastics team by her coach. She was screamed at in front of her entire team after every meet, called names, criticized for everything, including how she talked, how she looked, what she wore. She was hanged in effigy." - Sports Parent
"Our teenage son's football experience has soured because of coaches who do not want their players to have any fun. One practice his coach told him to get in line for a drill and he told the coach his shoulder and arm hurt too much. The coach told him to quit whining over aches and get in line. When my son refused, from that day on their relationship has been bad. Eventually we took him to doctors and he missed the rest of the season." ~ Sports Parent. For more stories from parents visit the Youth Sports Psychology blog.

How Bully Coaches Affect Kid's Experience

Youth coaches are critical to kids' sports experiences. They can influence whether young athletes enjoy sports and want to continue to play. Some coaches get kids fired up about playing sports, while other coaches may discourage kids or take the fun out of sports. A good coach can keep kids' interest in sports alive.
Bullied kids think there is something wrong with them. This deflates them and creates a lack of comfort and security in sports. Often, young athletes' first reaction to being treated this way is shame. They don't want to talk about their experience. They feel as if they somehow caused the coaches to treat them badly.
What's more, bullying can hurt an athlete's confidence—in and out of sports. Sometimes kids say they can't get a bully's negative words out of their heads.
Kids who are bullied experience difficulty focusing on what they should focus on. They sometimes obsess about what a coach might say or do if they make mistakes or do something wrong. The kids are in fear. They focus on the wrong things during sports because they are preoccupied with gaining approval from the coach (or not disappointing the coach). Often they are afraid of how the coach will react if they make a bad move or decision.

Behaviors of Bully Coaches

Bully coaches often yell at, tease, humiliate and intimidate kids. Parents should never underestimate the importance of this type of behavior. It can really hurt kids' self-esteem.
As sports parents it's your job to ensure your athletes are in good hands. Bully coaches do NOT toughen up your young athletes, as they might insist. They don't improve kids' performance, either.
Coaches who bully—either with harsh words or physical harm—can hurt young athletes' self-esteem, undermine their social skills and make it hard for them to trust. In some cases, these coaches can make kids feel anxious and depressed. More: 3 Sports Psychology Tips for Parents and Coaches
What's more, coaches who use such negative feedback are generally focused too much on one thing: winning or turning out elite athletes. They give kids the message that winning is everything. That makes kids focus too much on outcomes—such as the score or win. It can prevent them from reaping the social and emotional benefits of taking part in sports.
Focusing too much on the score or winning also can hurt kids' performance. They often develop fear of failure. That means they stop taking risks and they play too tentatively. That's because they're afraid the coach will yell at them or punish them.

Take Action

Before you even sign your kids up for a team, it's entirely appropriate and reasonable to interview the coach. You should ask potential coaches about their philosophy and how they handle playing time.
More:
Why Coaches Should Have a Parents Meeting
If your young athletes are already part of a team, but don't seem happy with the coach, you need to do some research. Gently ask your kids questions about how the coaches treat the team and watch carefully for how they react.
You might ask other parents what they've seen or heard. Attend games and practices and keep a lookout for signs of yelling, intimidation or physical bullying. Some coaches, for example, will throw balls at kids in an effort to scare them. This shouldn't be tolerated
If you see or hear about a coach who yells at, intimidates or insults kids, you should take action. If you merely sit back and complain, you're part of the problem. Instead, you need to begin by talking to the coach. You can gently suggest that his or her behavior may hurt kids' confidence or self-esteem.
In some cases, you may find that you can't change the coach's behavior. If this happens, you should try talking to a league or school administrator who oversees the coach. If that isn't helpful, consider moving your child to a different coach or team. Staying with the same coach will likely increase your kids' anxiety and hurt their athletic performance and confidence—at a minimum. More: How to Keep a Strong Parent-Coach Relationship
Award-winning parenting writer Lisa Cohn and Youth Sports Psychology expert Dr. Patrick Cohn are co-founders of The Ultimate Sports Parent. Pick up their free e-book, "Ten Tips to Improve Confidence and Success in Young Athletes" by visiting youthsportspsychology.com.
---
What Makes A Nightmare Sports Parent -- And What Makes A Great One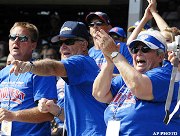 Hundreds of college athletes were asked to think back: "What is your worst memory from playing youth and high school sports?" Their overwhelming response: "The ride home from games with my parents."

With the new baseball and softball season fast approaching, we would like to share with you the following article published on the website " The Post Game." Take a minute and click on the following link: http://www.thepostgame.com//blog/more-family-fun/201202/what-makes-nightmare-sports-parent and see if what type of Little League parent you are?


---
Teaching Life's Lessons
Little League On-Line offers monthly newsletters on safety, coaching, umpiring and general little league issues. From time to time we will share articles that we think would be good for everyone in Distict 33 to read. In the March 2012 newsletter "Fair Ball" is an article written by Bill Carter, Western Region Umpire in Chief, titled "Teaching Lifes Lessons." Please take a moment and click on the following link to read Bill's article: http://www.littleleague.org/Page58860.aspx


---