CA District 33 Little League: Welcome
| | | |
| --- | --- | --- |
| | Our District is located in San Diego California and is comprised of 15 leagues. Our area covers parts of San Diego and La Mesa from Balboa Park to Mount Helix from Highway 94 to Highway 52. Please take a look at our League Boundaries Map for further details. | |
Helping young people develop character, discipline and teamwork while maintaining physical
and emotional well being through Little League Baseball.

---
2014 Spring Season Registration Information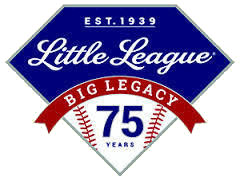 Many of our leagues are currently taking registration for the 2014 spring season. Take a look at our District 33 Boundaries map to find your neighborhood. Then click on the color code link to find out what local little league boundaries you are in. Then click on your league link to find out the exact information you need to know about registration and get your child signed up before it's too late. You don't want to miss out on any of the fun. Boys and girls ages 5-16 (as of April 30, 2014) are eligible. Some leagues are taking 4 year olds, check your local league for further details. Be sure you have an original birth certificate and three forms of proof of residency for registration.
CPR/AED & First Aid Course

Saturday, December 14th, 2013
12:00pm to 1:45pm
Location:
College-Rolando Library

Cost:
$30.00 ($10.00 discount for District 33 Coaches and Guests)
Flyer:
CPR/AED Flyer

Life Safey
is offering a CPR/AED & First Aid Course to everyone in District 33. The course will be taught by Tom Anglim
,
Director of Life Safety Services.The class will be taught at the College-Rolando Library at 6600 Montezuma Road, San Diego, 92115 on Saturday, November 23rd from 12.00pm to 1:45p.m and again on Saturday, December 14th from 12.00pm to 1.45pm.The cost is $30 per person. A $10.00 discount will be applied for all District 33 Coaches and Guests. To register for the class, please contact Tom Anglim at (619) 488-0154 or by email at
tomedic@aol.com
Emergency Management Clinic
will follow each of the CPR/AED training session and is free to all Coaches and Managers in Distict 33. This clinic is approved by the District and can be counted towards your requirement to participate in 2014 District tournaments.
---
Winter Youth All Skills Camp


Where:
Tony Gwynn Stadium (SDSU Campus)
When:
December 21st & 22nd from 9:00 am to 3:00 pm *Please arrive early to sign in
Who:
Any and all ages and skill levels ages 7 to 13
Cost:
$225
What to Bring:
Bat, Batting Gloves, Helmet, Glove
Registration:
www.collegebaseballcamps.com/aztecs
This 2 day camp is designed to help players take their game to the next level. The camp will cover all aspects of the game. Instruction will include the proper techniques of hitting, pitching, catching, infield, outfield, base running, and team defense. The camp is run by the SDSU coaching staff, including head coach and MLB hall of famer
Tony Gwynn
. Each camper will also receive an Aztec camp t-shirt.
For any questions please contact assistant coach and camp coordinator
Joe Oliveira
at (619) 594-4186 or
joliveira@mail.sdsu.edu
---
Bob Bouchard - Long Time Little League Volunteer
By Ned Kern
Chollas Lake Little League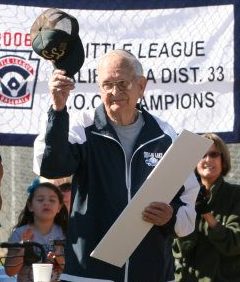 Bob Bouchard
Our community lost someone very special on Wednesday November 20th 2013. Bob Bouchard, long time volunteer at Chollas Lake Little League, our dear friend passed away. I know Bob is in a better place and with his loved ones, but there are those he left behind. I know that I and probably many others are not feeling like celebrating right now, but there are many things to celebrate about Bob's life. I want to take a moment to say thank you to Bob for what he meant to the community and to my family.

Bob was different things to different people, to me he was the epitome of a selfless volunteer that made a difference in kids lives, not for a few years, but for over 50 years. Bob's approach to umpiring was: Know the rules, get the rules and the calls right, make it as fun for the kids as possible, and get a bowl of Chili after the game and talk about the game while eating his chili. When I would talk to the players about Bob it was clear that they felt better about the game and themselves when he was umpiring.
Bob loved to tell stories, so I will tell one of Bob that was a couple of years ago. We were honoring Bob at Chollas Lake with District 33 umpires, Sue Botos from the Padres, Reggie Waller, and past players and coaches all in attendance. We had a declaration from the City making this "Bob Bouchard Day" in San Diego, March 3rd 2012. The declaration was presented by Councilwomen Marti Emerald. Bob told one of his stories about when he was umpiring and we all thoroughly enjoyed it. When the ceremonies were coming to an end Bob was going to help with the first pitch of the year to open the season. We were going to have Bob call one more strike. We had Sue Botos from the Padres and Reggie Waller throwing out the first pitch. Bob said he would rather throw out the first pitch than call it as an umpire. I let Bob know that I really would like to see him call one more strike and he graciously agreed. He got behind the catcher, the first pitch was thrown. Bob stands up out of his crouch and says I can't do it, I can't call that a strike it was a ball. To his very last call as an umpire he felt he had to get it right!

Tye Waller told a group of District Administrators that kids won't always remember what a great coach taught them, but they will always remember how they made them feel. That is the perfect description of Bob, the kids won't always remember what the call was or what he said, but they remember on Thursday nights Bob and Richard made them feel great!
Thank you Bob for being our friend, our mentor, and our guide. I missed having you up at the fields every Thursday, I missed putting on the uniform and being out on the field with you, I will miss the times you came up to visit. I feel better knowing that you will be able to get together with Dick and you will make that strike call that I so selfishly wanted to see. I know that you will be umpiring in heaven with Dick, because without the chance for you to umpire again, it would not be heaven.

So this is not goodbye, but rather a pause until we meet on the big Diamond in the Sky!
---
Special Offer for D33 Families

Flyer:
Mattress By Appointment Flyer


CA DISTRICT 33 is proud to partner with San Diego based
Mattress By Appointment
in an effort to raise money to benefit leagues in our District.
Mattress By Appointment is a factory direct outlet and prices are reduced 50% to 70% lower than other stores. Mattress By Appointment is located at 7128 Miramar Rd., Suite 6, San Diego, CA 92121. For more information please call 619-384-7432.
For every mattress purchased by a D33 family or referral, Mattress By Appointment will donate $25.00 directly to the individual league the family of referral comes from.

Please bring the attached flyer with you and/or make sure to inform them which D33 league you are from when purchasing a new Mattress Set from them!
Here are some of their prices...

Factory Direct Pillowtop Mattress Sets

Twin Sets from $350.00
Full Sets from $400.00
Queen Sets from $400.00
King Sets from $700.00
Made by Serta exclusively for Mattress By Appointment
---
2013/14 Western Regional Clinics Schedule
Directions to:
Western Region
Once again Western Region in San Bernardino will be conducting training classes for everyone involved in Little League. These clinics provide information that you can use daily as a volunteer in Little League.
Take a look below to see their Leadership Training Schedule for the upcoming season. Online Registration for all Regional Clinics opened on October 1st, 2013. Registration will be by credit card only. If you don't have a credit card, you will need to call and register with the regional office at 909-887-6444 ext. 4113. If you have any questions concerning online registration, please contact Cheryl Robinson
crobinson@LittleLeague.org
or call Western Region Headquarters at 909-887-6444 ext. 4133.
Click on the clinic desired to register for each clinic. This year, Western Region will only be offering Adult Umpire school. There are many Umpire Outreach Clinics offered around the region. These are excellent clinics for beginning or experienced umpires.
---
Big Al Jamboree Re-Cap
Ned Kern from Chollas Lake Little League would like to share his re-cap of the Big Al Bubba Baseball and the Big Al Jamboree that was held at Chollas Lake for all lower division players in District 33 on Saturday, September 14th and 15th, 2013. The Big Al Jamboree was the official kickoff for the 2013 District 33 Fall Ball season for the lower division players. We would like to thank Ned for working out all the logistics on putting on an event of this magnitude, on the behalf of District 33. If you have any photos that you would like to share of the Jamboree, please send them to
district33@cox.net
and we'll post them for others to enjoy.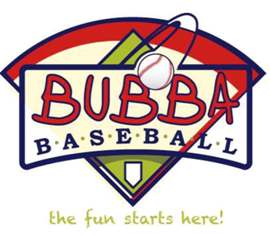 Saturday afternoon started with the kick off of the Second Fall Ball season of Bubba Baseball for player's ages 4 thru 6. It was nice to see that Bubba has grown from one league a year ago to three leagues this year. There were about 50 players in attendance and many more parents. Parents were introduced to the game of Bubba from its Founder; Big Al, as well as the philosophy behind Bubba Baseball. After some initial warm ups the players were split into 6 teams and we had practice games. We had a lot of parents out on the field helping, and a lot of parents that were able to enjoy watching their players play, many for the first time in an organized sport. After the clinic the players were divided into their teams and players received their uniforms and player handbooks.
Immediately after the completion of Bubba Baseball, we had a Coach Pitch clinic for experienced 5 & 6 year old players. This is the first season of Coach Pitch baseball in Fall Ball for District 33 and it appears to be a hit. We had nearly 60 players from 6 leagues. Al and Scott went over some basics with the coaches and players and then they got onto the field and ran and worked hard. The coaches were great working on the drills that Al and Scott presented, and the players had a lot of fun.
On Sunday morning, we started with the 7-9 year old group. We had a total of 17 teams and nearly 200 players and 50 managers and coaches. Al and Scott organized the teams in quick fashion and the Jamboree started with great energy and enthusiasm. Each activity seemed to gain even greater involvement and greater effort and enthusiasm. Players competed in their own teams and against other teams. We saw some remarkable efforts and results from the players and great teaching from the coaches. It was a very hot day, but the kids did not seem to mind, they were having fun. It is amazing how Al and Scott as a team can generate the type of enthusiasm and transfer of knowledge to such a big group, but they do!
Immediately after the end of the Coach Pitch clinic, we started organizing teams for the 9-12 year old group. We had 27 teams and nearly 300 players and 80 coaches. With even a greater challenge to get 27 teams set up, Scott and Al again got the teams organized and set up for the session. It was even hotter and the teams could have easily used this as an excuse, but they did not, they hustled throughout the session, ran back and forth from their lines to their grids, and worked hard at the practice and competitions. Al and Scott were so impressed with how hard the teams continued to work and how this was consistent throughout all the team, even with the heat.
Al spoke about how fantastic the entire two days went and how engaged the players and coaches were. In Al's estimation this was the most consistently engaged since we started the Jamborees 3 years ago. The amazing thing about this statement is that each year Al and Scott have been impressed and wondered if the level of engagement and enthusiasm can be topped, yet it appears we have.
Al and Scott wanted to thank all the coaches and players for helping to make this year's Jamboree so fantastic. I know we had a number of managers, coaches, players and parents already thank Al and Scott, (get pictures and autographs), but I feel confident I speak for all that attended in thanking Al and Scott for a fantastic weekend of developing both the Player and the Person!
Learn more about BIG AL BASEBALL, and the curriculum and resources BIG AL and Scott have created for coaches, players and parents by visiting their website @ http://www.bigalbaseball.com/
Ned
---
Allied Gardens takes 2nd Place in 10/11 So-Cal State Tournament
We
would like to
recognize
Allied Gardens Little League
10/11 baseball team for what they accomplished during the 2013 All-Star tournament. Little League created the 10/11 year old All-Star division in 2004. This division ends their tournament at the State level.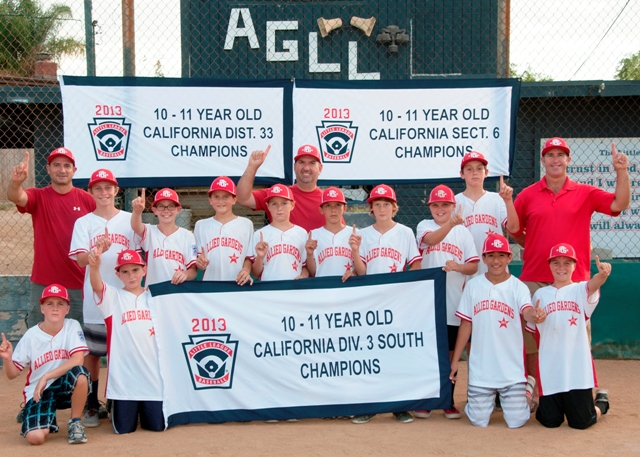 Allied Gardens Little League 2013 10/11 Baseball Team
AG won the District, Section and the Southern California Sub-Division flags. With their wins of these flags, AG was only one of two teams left in the 10/11 Baseball All-Star tournament for Southern California. In the So-Cal State Championship tournament, AG faced the Northern Southern California Sub-Division winner; Encino Little League. Encino denied AG from winning the State Championship flag and finished 2nd out of over 320 teams that started the tournament with a 10-3 record overall.
It has been over 30 years since a District 33 "small diamond" team has been one of the last two teams playing at the State Championship level. AG is the first D33 baseball team to advance to the 10/11 State Championship level. Adding to significance for AG, last year they were the first D33 baseball team to advance to the 9/10 Sub-Division State tournament, finishing 6th overall.
Manager Pete Famolaro said "AG was very appreciative of the fan support received along the way and honored to represent District 33 in the tournament". Congratulations to the players, coaches and parents for a great run in the 2013 All-Star tournament.
---
How to Stop a Bullying Coach
By Patrick Cohn, Ph.D. and Lisa Cohn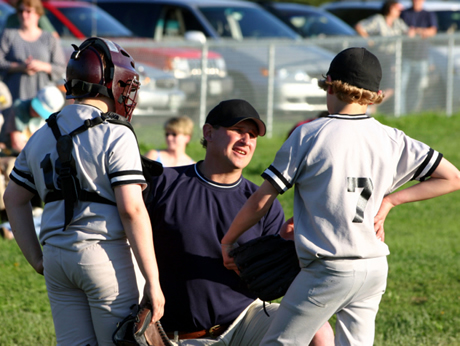 Bullying is a growing epidemic in sports. As sports parents, it's critical for you to be prepared to protect your young athletes. If you think this issue won't ever come up in your kids' sports careers, think again. Bully coaches are the number one topic parents write us about at
Kids' Sports Psychology
.
Have your kids ever had a coach who yelled at, insulted or intimidated them? It's possible they have, but were too embarrassed to tell you. It's important for you to be on the lookout for bully coaches and to take immediate action if you suspect your young athletes are being bullied.
Bully coaches target all kinds of young athletes. They can set their sights on kids who are overweight, small, or who lack confidence, for instance. These coaches also target gifted athletes because they believe their approach will "toughen up" their athletes.
It's important to keep in mind that most volunteer coaches are not trained. Many of them use teaching techniques that their coaches used with them. Some of them don't understand they're acting like bullies. Many coaches will change their behavior if you approach them in an appropriate manner. We've received letters of confession from coaches who say that once they understood how much their words and actions hurt their athletes, they changed their style. More: 6 Tips for Coaching Your Own Child
Whether a coach's bullying is intentional or unintentional, your job as sports parents is the same. If your athletes are teased, excluded or otherwise treated badly by coaches, you need to take steps to help keep their confidence intact, stay focused under adversity, and remain in sports.
The bottom line, for you as parents: Be on the lookout for bully coaches and arm yourself with the information you need to take action.

Stories From the Trenches

The many sports parents who have written us about bullying say their young athletes are teased, harassed, intimidated and threatened by bully coaches. Here's what some sports parents tell us:
"My daughter was bullied relentlessly on her high school gymnastics team by her coach. She was screamed at in front of her entire team after every meet, called names, criticized for everything, including how she talked, how she looked, what she wore. She was hanged in effigy." - Sports Parent
"Our teenage son's football experience has soured because of coaches who do not want their players to have any fun. One practice his coach told him to get in line for a drill and he told the coach his shoulder and arm hurt too much. The coach told him to quit whining over aches and get in line. When my son refused, from that day on their relationship has been bad. Eventually we took him to doctors and he missed the rest of the season." ~ Sports Parent. For more stories from parents visit the Youth Sports Psychology blog.

How Bully Coaches Affect Kid's Experience

Youth coaches are critical to kids' sports experiences. They can influence whether young athletes enjoy sports and want to continue to play. Some coaches get kids fired up about playing sports, while other coaches may discourage kids or take the fun out of sports. A good coach can keep kids' interest in sports alive.
Bullied kids think there is something wrong with them. This deflates them and creates a lack of comfort and security in sports. Often, young athletes' first reaction to being treated this way is shame. They don't want to talk about their experience. They feel as if they somehow caused the coaches to treat them badly.
What's more, bullying can hurt an athlete's confidence—in and out of sports. Sometimes kids say they can't get a bully's negative words out of their heads.
Kids who are bullied experience difficulty focusing on what they should focus on. They sometimes obsess about what a coach might say or do if they make mistakes or do something wrong. The kids are in fear. They focus on the wrong things during sports because they are preoccupied with gaining approval from the coach (or not disappointing the coach). Often they are afraid of how the coach will react if they make a bad move or decision.

Behaviors of Bully Coaches

Bully coaches often yell at, tease, humiliate and intimidate kids. Parents should never underestimate the importance of this type of behavior. It can really hurt kids' self-esteem.
As sports parents it's your job to ensure your athletes are in good hands. Bully coaches do NOT toughen up your young athletes, as they might insist. They don't improve kids' performance, either.
Coaches who bully—either with harsh words or physical harm—can hurt young athletes' self-esteem, undermine their social skills and make it hard for them to trust. In some cases, these coaches can make kids feel anxious and depressed. More: 3 Sports Psychology Tips for Parents and Coaches
What's more, coaches who use such negative feedback are generally focused too much on one thing: winning or turning out elite athletes. They give kids the message that winning is everything. That makes kids focus too much on outcomes—such as the score or win. It can prevent them from reaping the social and emotional benefits of taking part in sports.
Focusing too much on the score or winning also can hurt kids' performance. They often develop fear of failure. That means they stop taking risks and they play too tentatively. That's because they're afraid the coach will yell at them or punish them.

Take Action

Before you even sign your kids up for a team, it's entirely appropriate and reasonable to interview the coach. You should ask potential coaches about their philosophy and how they handle playing time.
More:
Why Coaches Should Have a Parents Meeting
If your young athletes are already part of a team, but don't seem happy with the coach, you need to do some research. Gently ask your kids questions about how the coaches treat the team and watch carefully for how they react.
You might ask other parents what they've seen or heard. Attend games and practices and keep a lookout for signs of yelling, intimidation or physical bullying. Some coaches, for example, will throw balls at kids in an effort to scare them. This shouldn't be tolerated
If you see or hear about a coach who yells at, intimidates or insults kids, you should take action. If you merely sit back and complain, you're part of the problem. Instead, you need to begin by talking to the coach. You can gently suggest that his or her behavior may hurt kids' confidence or self-esteem.
In some cases, you may find that you can't change the coach's behavior. If this happens, you should try talking to a league or school administrator who oversees the coach. If that isn't helpful, consider moving your child to a different coach or team. Staying with the same coach will likely increase your kids' anxiety and hurt their athletic performance and confidence—at a minimum. More: How to Keep a Strong Parent-Coach Relationship
Award-winning parenting writer Lisa Cohn and Youth Sports Psychology expert Dr. Patrick Cohn are co-founders of The Ultimate Sports Parent. Pick up their free e-book, "Ten Tips to Improve Confidence and Success in Young Athletes" by visiting youthsportspsychology.com.
---
Child Abuse Tips for Parents
By Communications Division
SOUTH WILLIAMSPORT, Pa.
April 12, 2012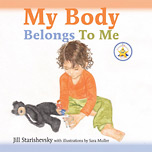 With the safety of the players and all Little League volunteers at the top of our list, Little League International is providing information for parents on keeping children safe from sexual abuse predators.
With many leagues already underway, the story, "Proactive Parenting: Use These tips to Help Prevent Children from ever Being Abused," provides 10 tips to keep your children safe by Jill Starishevsky, a prosecutor of child abuse and sex crimes in New York City.

A link to the story is available, at:

Proactive Parenting: Use These Tips to Help Prevent Children from ever Being Abused
More information is available on the Little League website on reporting sexual abuse, at:
Little League Provides State-Specific Information on Child Abuse
---
What Makes A Nightmare Sports Parent -- And What Makes A Great One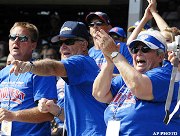 Hundreds of college athletes were asked to think back: "What is your worst memory from playing youth and high school sports?" Their overwhelming response: "The ride home from games with my parents."

With the new baseball and softball season fast approaching, we would like to share with you the following article published on the website " The Post Game." Take a minute and click on the following link: http://www.thepostgame.com//blog/more-family-fun/201202/what-makes-nightmare-sports-parent and see if what type of Little League parent you are?


---
Teaching Life's Lessons
Little League On-Line offers monthly newsletters on safety, coaching, umpiring and general little league issues. From time to time we will share articles that we think would be good for everyone in Distict 33 to read. In the March 2012 newsletter "Fair Ball" is an article written by Bill Carter, Western Region Umpire in Chief, titled "Teaching Lifes Lessons." Please take a moment and click on the following link to read Bill's article: http://www.littleleague.org/Page58860.aspx


---