District 31 - Texas: Welcome
Monday, February 2
Welcome to District 31-Texas
Welcome to another year of Little League!

Thank you for visiting our website and we hope that the information will be helpful to you.

District 31 Administrator is Joe Patterson of Seguin.

EAST ZONE: Luling, Yoakum, Gonzales, Lockhart, Cuero, Hallettsville, Shiner and Moulton.

WEST ZONE: New Braunfels, Canyon Lake, Floresville, LaVernia, Nixon/Smiley, Stockdale, Poth and Seguin.

There are several leagues with their own website. Check out their sites by going to the "LINKS" section and clicking on the desired league name.

Please feel free to contact Mr. Patterson should you have a concern regarding Little League at any time.
Wednesday, July 6
BRACKETS FOR SECTION 4 TOURNAMENT
PLEASE DIRECT ANY/ALL QUESTIONS TO JOE PATTERSON 830-660-7339
Handout:
Sectional Tournaments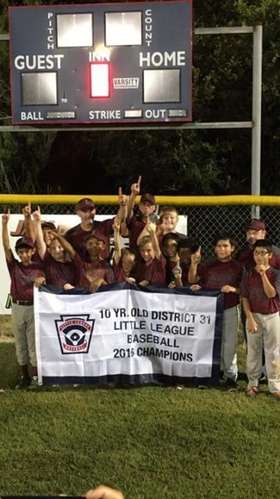 2016 Champions
Saturday, June 18
Lockhart 10 year old All- Star Baseball Champions
A big congratulations to the 10 year old Baseball All Star team.. The bring home the banner as
District 31 Champions. Congratulations to these young men and the coaching staff.
Tuesday, June 7
TOURNAMENT TIME - BRACKETS
It's that time again... TOURNAMENTS
Special tournaments will start June 10 - June 22
International tournaments will start June 22 - July 2, 2016
Brackets can be viewed by clicking on "TOURNAMENT TIME - BRACKETS" You will be directed
to the Lockhart Little League website handout section.
If you have any problems please contact me at srm197860@live.com or call me at 512-749-6967
Thanks!
Sunday, January 24
District Meeting
The first District Meeting was held on January 24, 2016 in Seguin, Texas. There are
four (4) new presidents in the District 31 area - Russell McGehee; Jennifer Young; LJ
Anderson and Chad Walker.
Congratulations to Martin Poore for his new position with Texas East State as Webmaster.
Mark Doege reported the deadlines for ASAP Program filing dates which are March 11 for
District Incentive and April 1, 2016 for Local league incentative.
Larry Friedenberg will be holding 2-Umpire Clinics this spring; Seguin - February 20; and
Luling - March 19.
Mr. Patterson encouraged all leagues to sign up for the Little League University which is a
website that offers free information for leagues, coaches and parents.
Next District Meeting will be held on May 22, 2016 were the brackets for tournaments
will be drawn; then June 5, 2016 when bracket books will be distributed.
Thursday, January 28
Tentative Tournament Sites for 2016
Sites for Special and International this upcoming summer 2016
Handout:
Tentative Tournament Sites for 2016
Saturday, June 11
THINGS TO REMEMBER!!!!!
Just a few things to remember during this tournament season....
1. have umpires check all equipment before each game (catchers gear, bats, etc.)
Remember the "Dangling" throat guard is NEEDED on catcher helmet!!!
2. Helmets - Rule 1.16 - WARNING!! .... Helmets may not be re-painted... unless approved
in writing by the helmet manufacturer or authorized dealer... With this in mind, if you're
hosting a tournament, have extra helmets on hand for teams to use if necessary.
3. Managers/coaches/adults CAN NOT warm up pitchers at any time, before or during game
4. NO on-deck batters at any league except Jr. League - Up... whether on the field or behind
the dug-outs.
5. ZERO TOLERANCE - Make it a nice, friendly environment for all visiting teams, spectators, etc.
6. Safe travels to and from tournament sites to all players and fans.
Good Luck to all
Amber Alert