California District 18: My Site News
Sunday, July 22
SENIOR SOFTBALL WESTERN REGIONAL
Los Angeles Little League captured the Southern California State Title with a 7-6 win over District 51 in dramatic fashion. In the bottom of the seventh, with two outs, no one on base, Los Angeles was down 6-2. In what is arguably the greatest comeback in District 18 history, the team scored 5 runs to win the championship game. Los Angeles Little League now advances to the Western Regional Tournament in Missoula Montana. Please follow the team using the attached link.
Friday, July 20
Los Angeles and Montana ready to rumble
Friday, July 20
Los Angeles, Montana and Hawaii getting ready
Friday, July 20
Opening Ceremonies
Tuesday, April 24
Sudden Passing of Matt Cooper
Temple City National Little League is deeply saddened to announce the sudden passing of Matthew Cooper, a dedicated volunteer, outstanding coach and a valuable asset to our league. Matt has served as both a coach and manager in our league for many years in both the spring and fall seasons. He was committed to helping each player who showed an interest in becoming a better ball player. He has two of his children currently playing in our league in the Coast and Major divisions. His older son continues to follow in his fathers footsteps by coaching his younger brothers team.
In the few days since Matt's passing, several people have expressed the desire to contribute financially to the Cooper family. While there is not one specific expense these funds will be used for, there are many unknowns in the months to come. This GoFundMe is simply an avenue for making some of these donations possible. The Cooper Family is very grateful for your generous donations.

The Memorial Service will be held First Baptist Temple City in the gymnasium at 6019 Baldwin Ave, Temple City on Sunday, May 6th at 2:00pm.
Our condolences go out to his wife, Michelle and the entire family.
Carolyn Scott - Temple City National League President
Wednesday, March 21
Rule Changes and Clarifications
Approved Changes from 2018 Congress
Attached are a list of rule and regulation changes that have been approved by the Little League International Board of Directors during the 27th Little League International Congress in New Orleans on January 19-22, 2018. These changes will be implemented effective immediately.
Please note: These changes are NOT listed in the printed version of the 2018 rulebooks, but have been reflected in the eBook versions.
Wednesday, March 21
Baseball Bat Rule Changes and Clarifications
Little League® International has assembled an online resource page dedicated to baseball bat information, that includes the latest bat information, current Little League Baseball® rules and regulations governing bats, and a series of frequently asked questions.
As of January 1, 2018, the new USA Baseball Bat Standard was implemented. USABat Standard bats must be used in the Little League Major Baseball Division and below. Either USABat Standard bats or BBCOR bats must be used at the Intermediate (50/70) Baseball and Junior League Baseball Divisions. At the Senior League Baseball Division, all bats must be meet the BBCOR standard. Little League-approved baseball bats that were approved for use for the 2017 season will no longer be acceptable for use in any Little League game or activity as of January 1, 2018. For more information on the USABat standard and a complete list of bats approved through the USABat Standard, visit usabat.com.
Important Note: These changes only affect baseball divisions and don't affect any divisions of softball.
Wednesday, March 21
Rules, Regulations, and Policies
It is important for all Little League® volunteers and parents to be familiar with the most up-to-date version of Little League's Official Regulations, Playing Rules, and Operating Policies. These rulebooks, published in the fall for all divisions of Little League Baseball®, Little League Softball®, and the Little League Challenger Division® provide the structure and support for local leagues and Districts to provide a meaningful Little League experience for all children in their community. Below are resources including information about any rule or regulations changes for the current year not included in the print version of the rulebook, significant changes included in the current year's rulebook, and information about how to purchase the most up-to-date versions of the Little League rulebooks in both print and for mobile.
Wednesday, March 21
Determine League Age
The Age Determination Date for a Little League Baseball player is the actual age of a child as of August 31 of the current year. The Age Determination Date for a Little League Softball player is the actual age of a child as of January 1 of the current year. These respective dates identify the "league age" as it relates to a player's eligibility to participate in any of Little League's divisions of play.
Wednesday, March 21
Forms and Publications
Little League® International provides its volunteers with the most up-to-date forms and publications to assist in local league operations. If a form or publication is not available, please email support@littleleague.org for additional information.
Wednesday, March 21
Things to Know
Each month, Little League® International will provide a quick look at important information and events for the month ahead. All of this information will be available here and continue to be updated as new, timely resources become available. We invite you to review and share with your colleagues and friends. Another great resource for keeping up to date on Little League's latest training and educational efforts is Little League University.
Wednesday, March 21
Email Sign Up
Keep up to date on Little League news, important bulletins, deadlines and announcements with messages direct from Little League International Headquarters.
Thursday, October 19
WORLD BASEBALL BATS
Have you ever picked up two different 33-inch, 30-ounce bats that have felt completely different when you swing them? That is because just length and weight alone are not enough to truly determine the proper bat for a player. World Baseball Bats has created a unique system for measuring the weight distribution of a bat. The World Baseball Bats Ratio takes into account several factors, such as the wood density, volume, and center of gravity of each bat model. Discerning players can actually find the bat that feels perfect and know that in their future orders they will receive identical bats. Each swing a player takes must be made with the confidence they can get the barrel through the zone and make good contact with the ball.
Our bats can be customized however you like. Hitters can choose any color for their bat and have their name, school, or team added to the logo. If you don't see a color you like from the options, please email us and we will make your bat look exactly how you want.
Thursday, October 19
NEW USA BASEBALL BAT STANDARD - EFFECTIVE JANUARY 1, 2018
USA BASEBALL BAT STANDARD
Effective January 1, 2018, all Little League Baseball programs will be governed under one umbrella bat standard of USA Baseball (i.e. "USA Bat").
That means if you're 14 and under, are currently swinging a youth bat, and/or have plans to swing a youth bat in the future, this affects you! Here's what you need to know:
CAN I STILL USE MY CURRENT BAT?
All current league-approved bats can be used through 12.31.17. After that, you must use a bat with a USA Bat compliance mark. Bats regulated by the new USA Bat standard will be available to purchase 09.01.17.
WHAT THE NEW STANDARD WILL CHANGE AND WHY
The new USA Bat standard will create wood-like performance in youth baseball bats in order to make the game more uniform at the youth level and ensure the long-term integrity of the game. Similar to the BBCOR standard implemented in 2011, USA Bat regulates how much trampoline effect the barrel of a bat has on a ball. Unlike the -3 length-to-weight ratio restriction for BBCOR bats, USA Bat will not have a drop weight limit. Players within the affected organizations will also now be able to use a 2 1/4" or 2 5/8" barrel bat as long as it carries the USA Bat compliance mark.
WHAT TO EXPECT FROM A NEW BAT
New youth baseball bats under this standard will have less trampoline and consequently less ball exit speed. Balls fisted or in off the hands are much less likely to carry over the infield for hits. It will be more difficult to hit the ball far and with high velocity, but far from impossible.
HOW PLAYERS SHOULD PREPARE
Learn proper hitting mechanics! Be coachable and spend more time in the cage. Also, these bats are designed to perform more like wood, so a good way to prepare is by swinging a wood bat. Wood bats have smaller sweet spots, and to hit them effectively you must be more precise with your swing. They're also heavier, so every time you swing them, you'll get stronger. A more precise swing combined with a stronger swing can help you make up that 10% in batted ball speed you lost under the USA Bat standard, so get cracking!
WHAT ABOUT TEE BALL BATS?
Tee ball bats are not required to undergo lab testing to receive approval under the USA Bat program. However, to be approved for play, tee ball bats must carry the USA Baseball mark accompanied by the following text: "Only For Use With Approved Tee Ball Bats." If you already have a tee ball bat you would like to continue using, all you have to do is purchase a USA Bat sticker directly from the USABB and place it on your bat. Of course, tee ball bats manufactured after the new rule will already include the USA Bat Baseball mark.
Monday, April 3
DISTRICT 18 LIFETIME ACHIEVEMENT AWARD WINNERS
In Grateful Appreciation of your Outstanding Service, Dedication and Continuous Volunteer service to Little League Baseball and Softball spanning more than 25 years. Your spirited volunteer effort towards the development of children participating in Little League Baseball and Softball has given thousands of children the opportunity to learn the value of teamwork, fair play, discipline and enjoy the excitement and fun of summer days on a Little League field. Your commitment and loyalty to family, dedication to Little League Baseball and Softball and your contribution to your community should serve as an inspiration to all of us.
in memory of Al Millham
District 18 Volunteer 1954-2002
2011
Jim Seitz – temple city National - District 18 staff
Ralph Mengel - Sunnyslope - district 18 staff
Joe Morales – South el monte - district 18 staff
Manny Hernandez – el monte national - district 18 staff
2012
Bob and Dawn Duhamel - temple city National
Fernie Ortega - South el monte
Helio Gomez– south pasadena
Howard Brashear – Temple city american
Art Flemming – south pasadena
Diane Bowen - sunnyslope - district 18 staff

2013
Jim Gerstenslager – western regional director
2014
Dave Bonham – western regional director
2015
Jamie Garcia – west-east alhambra - district 18 staff
2016
MIKE GOODRICH - SUNNYSLOPE - DISTRICT 18 STAFF
VICTOR RIVERA - SUNNYSLOPE - EL MONTE AMERICAN
2017
DEBBIE GARCIA - EL MONTE EASTERN
TONY TOLEDO - SAN GABRIEL, TC AMERICAN, TC NATIONAL
Presented By: Milan M. Mrakich District 18 Administrator Little League Baseball and Softball
Wednesday, July 20
TEMPLE CITY NATIONAL 8-10 BASEBALL CHAMPIONS
In June, 562 all-star teams from Southern California started all-star competition in the 8-10 Baseball. On Tuesday night, Temple City National Little League's 8-10 Baseball captured the Section III Championship with a decisive 10-0 win over the all-stars from Upland National Little League. In the competitive Section III Tournament, Temple City National captured three straight wins, outscoring their opponents 39-4.
Monday, January 11
HOW TO OBTAIN WAIVERS
When a league applies for its annual charter with Little League, it pledges to abide by all the rules and regulations of Little League. However, under special circumstances, it may become necessary to apply for a waiver. It is very important to remember that a league must not take any action contrary to Little League rules and regulations until receiving expressed, written permission through the Charter Committee waiver system. Waiver requests may be submitted only through the proper chain of command.
The following are waivers that may be obtained:
School Enrollment Waiver: Players may ask to play in the local league within whose boundaries they attend school. A School Enrollment Form must be submitted certifying the player goes to school within the league boundaries. Players must submit enrollment proof dated prior to October 1, 2015 that they attend the school by official school records, i.e. report card, or certified enrollment record, or they can have the form filled out and signed by a school administrator.
Form IId waiver is used when a player once resided OR WENT TO SCHOOL within the league boundaries and has now moved out of the boundaries. Three proofs of the old address/school documents must accompany the request.
Form IVh is when a dedicated manager, coach or a member of the board (for at least two years) requests their player be allowed to play within the league. The service to the local league must be continuous, subject to agreement from the league within whose boundaries they currently reside.
These waivers are for the player's/sibling's career, however, if the player breaks service and does not play for a season or more they cannot return on the waiver. Approved players under these waivers will be allowed to play on tournament teams.
There is also a Special ConsiderationWaiver Request Form which can be used for any other reasons when a player is requesting to play in a league in which they do not reside. This waiver is considered on a case-by-case basis and if approved, is valid for the duration of thier Little League career, it requires a certification by the league requesting the waiver, the league in which the player resides and a notarized statement by the parents acknowledging that the player is NOT eligible for selection to any tournament team. TOC are considered regular season games and players may participate in TOCs. A statement from the district administrator must accompany the request form.
Note: The parents and league can request that a Special Consideration Waiver be approved for both Regular Season and All-Stars. In order to be approved for All-Stars, the parents/league would need to articulate why it should be approved for both. Requests submitted before February have a better chance of being considered for approval.
FROM THE LL WEBSITE: It is recommended that the league require some proof of residence or school attendance within the league's boundaries at the time the player registers. Players and their parents/guardians are advised that a false statement of residence or school attendance may lead to ineligibility to play Little League Baseball or Softball. Under NO circumstances does ANY person have the authority to grant a waiver that allows a child to play in a local Little League program IN ANY DIVISION, when that child does not qualify under these residency requirements. Any league who accepts any player outside of their boundaries and fails to properly document compliance with the "Residence and/or School Attendance Player Eligibility Requirement" or obtain a waiver through the Charter Committee may result in the disqualification of a player, team or entire league from regular season and/or tournament play.
If the claim for residency or school attendance is challenged, the above materials must be submitted to Little League Baseball, Incorporated, with an affidavit of residency or school attendance from the parent(s) or guardian. Little League Baseball, Incorporated shall have the right to request additional documentation in support of the claim of residency or school attendance. The parent(s) or legal guardian will be required to provide said documentation to obtain eligibility. Little League Baseball, Incorporated shall decide the issue in its sole discretion, and that decision will be final and binding. Residency or school documents must illustrate that the residence or school attendance (as defined above) was inside the league's boundaries throughout the regular season (as of June 15 of the year in question).
A league wishing to apply for a waiver of a rule or regulation must do so via the following method:

Possible first step in waiver process: Parent submits waiver request to the league requesting permission for their child to play at the league where they currently are not eligible to participate in.
Step 1. The local league Board of Directors votes whether or not to request the waiver.

Step 2. If the local league Board of Directors votes to request the waiver, the President writes a letter, detailing the request, and submits the appropriate forms to the District Administrator.
Step 3. In the case of a player waiver, the League President from the league that is requesting a waiver must contact the league where the player currently resides and ask for their opinion of the waiver request. The request for an opinion should be done in writing or by email.
Step 4. The request for waiver and all supporting documentation is then forwarded to the District Administrator.
Step 5. The District Administrator includes his/her written opinion, and forwards all documents to the Regional Director.

Step 6. The Regional Director will present the situation to the Charter Committee for action.

Step 7. The Charter Committee will inform the Regional Director of its decision, and the Regional Director will inform the District Administrator.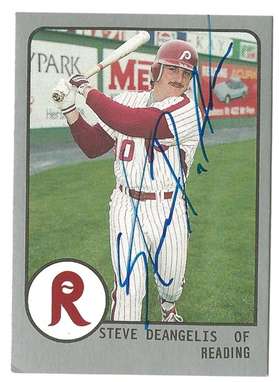 #30 Steve DeAngelis
Thursday, August 13
Former District 18 and Pro Baseball Player Returns to Where He Started
Flash Back - LA Times 1986
A Tall Order : Steve DeAngelis Tries to Prove He's Big Enough for Majors
August 25, 1986MIKE DiGIOVANNA Times Staff Writer
Just when Steve DeAngelis thought he had overcome all the supposed obstacles to making the major leagues, it appears the Philadelphia Phillies will throw another roadblock in his path.
Despite starring at Temple City High School and Saddleback College, many baseball scouts thought DeAngelis, who is 5-foot, 9 1/2-inches, was too small to play pro ball.
They also thought the use of aluminum bats contributed to many of his statistics (nine home runs and 37 RBIs in his senior year of high school, 28 homers and 114 RBIs in two years of community college) and that he wouldn't be able to generate such power in the pros with a wood bat.
DeAngelis showed them.
In less than two professional seasons, the 22-year-old outfielder has risen from a reserve player at the Class-A level to a power hitter at the Triple-A level and now leads the Pacific Coast League's Portland Beavers in doubles (24) and home runs (14).
But when teams are allowed to expand their rosters from 24 to 40 next Monday, DeAngelis probably won't be among the players promoted to the Phillies--even though his performance may warrant a shot at the major leagues, and even though the organization would love to test him against some big-league pitching.
This time, DeAngelis, according to a Phillie executive, may simply fall victim to a prudent business decision.
If the Phillies called DeAngelis up, they would have to protect him over the winter so that no other team could select him in the major league draft. All three-year players--in the big leagues or the minors--who are not protected on the 40-man roster may be drafted by any major league club during the winter meetings for $50,000.
But because DeAngelis is a two-year player, the Phillies would not have to protect him if they kept him in Triple-A. By leaving him at Portland, the team can call up another three-year player to protect and still be assured of keeping DeAngelis, one of their top prospects, in their system.
For the Phillies, it would be a wise move, one that is based on experience. In 1980, the Phillies left George Bell--then a minor league player--unprotected, thinking no other teams would take him.
The Toronto Blue Jays did, and Bell becomes a star outfielder. This season he is among the American League leaders in home runs (27) and RBIs (91). "We learned our lesson a long time ago," said Hugh Alexander, player personnel adviser for the Phillies. "We thought about bringing Steve up on Sept. 1, but we might not for that very reason (the major league draft). If we had room, we'd bring him up to see how he'd do against big-league pitching."
That wasn't much consolation to DeAngelis.
"I think it stinks," he said by telephone from Las Vegas, where the Beavers were playing the Stars. "If a guy's ready to go up and play, they should bring him up."
Once DeAngelis had a moment to consider the factors, though--the team's point of view, the fact that he is just completing his second season in the pros and the month's rest he could use to help two dislocated fingers on his left hand heal--he cooled down considerably.
"I'm not gonna let that bother me," DeAngelis said. "It's only a month, anyway, and I'm in no rush. As long as I go to spring training next year, I'll be happy."
Few thought DeAngelis would even get this far. In his senior year at Temple City, the left-hander won the Rio Hondo League Triple Crown with a .551 average, 9 homers and 37 RBIs, but he didn't leave much of an impression on the scouts.
He wasn't even drafted.
"That was disappointing," DeAngelis said.
In his first year at Saddleback, he hit 11 homers to break current Montreal Expo Tim Wallach's school record. He also set school records for RBIs (50), hits (61) and runs (51), had seven triples and stole 17 bases in 18 attempts.
Again, DeAngelis wasn't drafted.
"That was a shocker," he said.
DeAngelis was finally selected by Toronto in the ninth round of the January, 1984 draft, but he chose to finish his career at Saddleback, where he set single-season records for homers (17), doubles (13) and RBIs (64) in 1984.
That spring, he weighed scholarship offers from about 25 schools against a signing offer from the Phillies, who drafted him in June, and elected to attend Oklahoma State.
He hit third, in front of Pete Incaviglia, for the Cowboys in the fall of 1984 but dropped out of school in March, 1985--before the regular season--to sign with the Phillies.
"I just didn't want to go to school no more," DeAngelis said. "I never liked school. The only reason I went to school was to play baseball."
DeAngelis knew from the moment he stepped onto a Little League field in Temple City that he wanted to play pro ball, and his incentive was boosted even further when he was snubbed by the pros after high school.
DeAngelis embarked on a weight training program at Saddleback that improved his strength and bulked up his arms and chest.
The end result was something of a left-handed Toy Cannon--a compact-model slugger.
See information above about the Steve DeAngelis Hitting Clinics
Tuesday, September 8
LITTLE LEAGUE BASEBALL® AGE DETERMINATION DATE TO MOVE TO AUGUST 31 FOR THE 2018 SEASON
Over the past couple of years, there has been a lot of discussion about the Little League Baseball® Age Determination Date. This is an important topic to everyone involved in Little League, and Little League has sought input from volunteers, parents, and coaches that has helped guide District Administrators and the Little League International Board of Directors to ultimately change the Age Determination Date for all divisions of Little League Baseball and the Little League Challenger Division® to August 31.
Why the change?
In 2011, Little League conducted very detailed participation research. As a result of that research, we learned that parents, players, and volunteers wanted to see Little League become, as a whole, a younger program, and give children an easier way to play Little League with their classmates. Since the research concluded, Little League revamped its Tee Ball program, established a Coach Pitch Program, and changed its residency requirements to allow children to play in the league where their school is located. Adjusting the Age Determination Date will help us achieve the goal of making Little League younger. And, making the date August 31, the same that many schools in many states use for student registration, allows Little Leaguers to play with their classmates.
This change will make the Little League Baseball Division, also known as the Major Division, truly a 12 and under program – ensuring that no child playing in the Little League/Major Division will turn 13 years old at any point during their final season in that division. The same will be true with the upper age limit at all teenage divisions of Little League Baseball.
What's the difference?
In 2014, Little League District Administrators initially voted to move the age determination date from April 30 to December 31, effective with the 2018 season. That was amended by District Administrators and the Little League International Board of Directors in August 2015, moving the date from December 31 to August 31.
For players born on or before August 31, 2005: The new age determination date of August 31 will be effective starting with the 2018 Little League Baseball Season. For the 2016 and 2017 seasons, these players will use the April 30 age determination date.
For players born on or after September 1, 2005: The new age determination date will be effective immediately, starting with the 2016 season. This was the implementation used for the 2015 season, with players turning 4 to 9 years old during the 2015 calendar year to use the December 31 age determination date. That implementation remains in place, except instead of using December 31, you will use August 31.
What's the impact of this new change to my child?
If your child was born between January 1 and April 30, there has been no impact in any of the Age Determination Date changes.
If your child was born between May 1 and August 31, there is no change from the previous age change and implementation.
If your child was born between September 1 and December 31, he or she essentially reverts back to where they were from a League Age standpoint prior to the 2015 season, and, like those born between January 1 and April 30, there is no impact on them.
"After announcing the new age determination date for our baseball divisions in 2014, we have received important feedback from many volunteers and parents," said Stephen D. Keener, Little League President and CEO. "We continue to work with all our volunteers and our International Board of Directors toward the goal of making the Little League Baseball Division truly a 12 and under program, while also mitigating the impact to those currently participating in the Little League program."
Monday, June 30
The Passing of Bobby Castillo
District 18 Little League is saddened to announce the passing of former Dodger Pitcher and longtime friend of District 18, Bobby Castillo, at the age of 59.
Bobby Castillo, a member of the 1981 World Series championship team and the teammate credited with teaching Fernando Valenzuela a screwball, died on Monday after a battle with cancer. He was 59.
"I was very saddened to hear about Bobby's passing this morning," said Valenzuela. "He was a great teammate and friend. I'll always be grateful for his influence on my pitching. My thoughts and prayers go out to his family and friends."
Castillo, a Los Angeles native, pitched parts of nine seasons in the Major Leagues for the Dodgers and Twins. He was 38-40 with a 3.94 ERA, and in 1982 with Minnesota, he went 13-11 with a 3.66 ERA, pitching 218 2/3 innings and recording six complete games, including one shutout.
In recent years, Castillo was part of the Dodgers Alumni League community service team.
Castillo's death comes three weeks after the death of Bob Welch, Castillo's teammate on the 1981 club.
Castillo is survived by his mother, Nellie; his daughters, Mellanie and Sara; Sara's husband, Andrew Sanchez; his son, Robert III; his sister, Lorraine, and her husband, Peter Gonzalez. Castillo had three nieces and nephews, nine grandnieces and grandnephews and two grandchildren, Jackson and Lila.
Thursday, June 26
District 18's Greatest Comeback Ever?
JULY 2011 - In All-Stars Never Give Up!
9 & 10 Baseball Section 3 Championship Game
District 18's Greatest all-star Comeback Ever?
Bottom of the 6th, La Verne 12-Temple City American 2
In what will go down as possibly the greatest game in TCALL history, our 9-10 year old All Stars won the most exciting and improbable little league game I have ever seen. Going into the 6th inning we were down 9-2. We then gave up 3 more runs in the top of the 6th to go down, 12-2 with one at bats remaining. You would think that 9-10 year old boys would hang their heads and say, "we can't come back from this." But what happened from there you had to see to believe. We started with a 2 men getting on and Yuji Sakane coming up with one out. Yuji hit the first pitch he saw for a 3 run home run to right center field. Mario Castro was the next to bat and hit another towering home run to right center. The next 5 batters all reached base safely, to score 2 more runs. Then Moose Scannell came up with the bases loaded and still one out. Moose promptly hit a ground rule double to center field scoring 2 more runs. After a strike out for the second out of the inning, Yuji Sakane returned to the plate down 12-10. Not sure what pitch is was this time but he hit that ball so far and so high it made most of the dads I was with in the outfield have a little tear in their eyes.... TCALL WINS 13-12.... It was the most satisfying feeling I have had in my whole time in little league. The heart the boys showed was unbelievable. I can not thank the parents that came out enough for the energy you brought to our kids. We may have won a coin flip to be the home team, but we all made it a TCALL home game with our cheers. We now have one game remaining in the Section 3 tournament tomorrow at the same time and same place. Please come out and support a group of boys that showed all of us a little bit about not giving up today. Thank you, Tim Wilbur.
Final Score Temple City American 13 - La Verne 12
Update: In the if necessary championship game on Wednesday night Temple City American lost to La Verne 8-7.
Wednesday, April 18
2012 Little League Dodger Day (Click Here to Watch Video)
District 18 Little League Baseball and Softball was first established in the San Gabriel Valley in 1952 and today has over 6000 Little League ballplayers. In 1971 District 18 was the first Little League organization to work with then owner Peter O'Malley in establishing a Little League Day here at Dodger Stadium. Tonight we welcome players representing all of the Little League programs in District 18 on their 41st annual Little League Dodger Day.
Monday, June 18
District 18 Alum Inducted Into Hall of Fame
54th Annual
Athletic Hall of Fame Induction Ceremony
Pomona
College and Pitzer College
Ranee (Morales) Axtell – 1998 Softball
The daughter of Joe and Carmella Morales, Ranee Morales started her athletic career by playing and being coached by her mom for 13 consecutive seasons at South El Monte National Little League. Her father Joe has spent more than 40 years as a volunteer at South El Monte National Little League including 14 years as League President.
A four-letter winner in both volleyball and softball at Nogales High School, Ranee entered Pitzer in the fall of 1994 and proceeded to establish the record book for Pomona –Pitzer women's softball.
A four-year starter, with three seasons at centerfield and one at shortstop, Ranee Morales earned four straight years of All SCIAC honors: two Second Team honors as a freshman and sophomore, two First Team honors as a junior and senior. As a senior, Renee was named First Team All-Region. Renee was Team MVP in 1996 and 1998.
Renee established the following statistical marks: Career school records: Batting Avg. (.414), Runs Scored (115), At Bats (389), Hits (161), Doubles (40), Triples (12), Homeruns (10), Stolen Bases (56), Slugging % (679), On Base % (.517), Fielding % (.929).
A team captain in both her junior and senior years, Renee led the SCIAC in her senior season in Stolen Bases (16) and was second in Doubles (14) and fourth in Batting Average (.455). An avid reader, Renee is married to Jesse Axtell and is the parents of two girls: Caroline (4) and Abigail (22 months). The family lives in Bothell Washington.
Friday, July 1
10 YEAR OLD JAYKOB DUHAMEL THROWS PERFECT GAME
On Thursday night, June 30, District 18 Tournament History was made when 10 year old Jaykob Duhamel from Temple City National pitched a Perfect Game in the 8-10 All-Stars at Granada Park.
In 6 full innings, Jaykob Duhamel faced 18 batters, throwing a total of 72 pitches, striking out 14, while leading his team to a 7-0 victory.
Congratulations Jaykob Duhamel.
Monday, October 23
District 18 Mourns the Passing of Dr. Creighton J. Hale
Little League® International is deeply saddened to announce the passing of Dr. Creighton J. Hale, a titan of the youth sports industry, accomplished safety innovator, and former President and CEO of Little League International. Dr. Hale (1924-2017), served as Little League President from 1973 to 1994, and was appointed Chief Executive Officer in 1983.

Dr. Hale, 93, joined Little League as the Director of Research in 1955. His research efforts led to innovations that changed the way the game of baseball was played, and his vision helped make Little League a fabric of neighborhoods and communities around the world. He was the second full-time President in the history of the organization, succeeding Peter J. McGovern. From 1994 to 2001, Dr. Hale served as special advisor to current Little League President and CEO, Stephen D. Keener. He announced his retirement from the Little League International Board of Directors in 2014, after 60 years with the organization.

"Little League would not be what it is today without the unequaled leadership of Dr. Hale," said Mr. Keener. "Through his 60-year tenure with Little League, his legacy is arguably one of the most important in the history of sports. Personally, I could not have asked for a more dedicated mentor and kind, thoughtful friend, and I will miss him deeply. We are forever grateful for Dr. Hale's lasting impact on our program, and for his leadership and counsel over these many years. During this difficult time, our thoughts and prayers are with his wife, Beverly, as well as his children, family, and many friends."
Prior to joining Little League, Dr. Hale was an Associate Professor of Physiology at Springfield (Mass.) College. He earned degrees from Colgate University, Springfield College, and New York University. Originally from Hardy, Neb., Dr. Hale's research and innovations in the games of baseball and softball led to the development of the double ear-flap batter's helmet, catcher's helmet, chest protector with throat guard, and the non-wood baseball bat. As Little League President and CEO, he oversaw vast expansion of the Little League program domestically and abroad, the inclusion of girls in the Little League program, the creation of Little League Softball® and the Little League Challenger Division®, and provided millions of children the opportunity to play baseball and softball.

"My father and I had the greatest admiration for Dr. Creighton Hale and we both served as Trustees on the Little League Foundation Board," said Peter O'Malley, former longtime Los Angeles Dodgers owner and President. "Dr. Hale was a pioneer and his vision to innovate equipment for safety was internationally recognized. His passion for growing inner-city baseball was instrumental in giving more children an opportunity to enjoy playing our national pastime. Our thoughts are with Mrs. Hale and their family."


I

n addition to his advances in safety equipment for baseball and softball, Dr. Hale served as chairman of the military committee that oversaw the development of the Kevlar helmet, as well as the lightweight bullet-proof vest. Through his accomplishments, Dr. Hale received countless honors both locally in the Williamsport community, and nationally, from USA Baseball, the White House, the American College of Sports Medicine, and more. Under Presidents Dwight D. Eisenhower and Richard Nixon, Dr. Hale served on the President's Council for Youth Fitness.

"Dr. Hale was an inspiration; he was the consummate gentleman and a leader in his field of science, youth sports and Little League in particular," said Davie Jane Gilmour, Ph.D., Little League International Board of Directors Chairman. "My life is more rich for the time we spent together laughing, thinking and looking to the future."

He was a Charter Fellow of the American College of Sports Medicine, and a Presidential Appointee to the White House Conference for a Drug-Free America. Dr. Hale was the published author of nearly 30 research articles.

Dr. Hale is survived by his wife, Beverly and his children, Tad (Jenny) Hale and Kathy Dumanis. Also surviving Dr. Hale are 10 grandchildren and nine great-grandchildren. He is predeceased by his son, Timothy, and parents, Russell and Anita.