Diamond Devils Gold: Welcome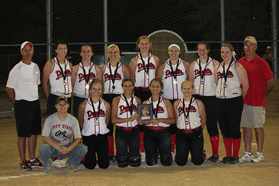 1st Place Finish - Heartland Exposure Tournament
Tuesday, June 11
Thanks for checking out the Diamond Devils!
Front row l to r: Kassey Hughes, Sydney Buster, Savannah Brown, Robin Gassen, Justine Dougan, Jessica Zidek. Back row l to r: Erin McGinley, Savannah Bellem, Rowan Turner, Katie Hamke.
Who We Are:
Welcome to the Diamond Devils Red 18 Gold team site. The Diamond Devils organization has been in existence since the Fall of 2004. The 2012 roster features highly talented unsigned players from the 2013, and 2014 graduating classes. Although winning and competitiveness is important, the main focus of our team is to provide opportunities for players wanting exposure to college coaches. We will provide that exposure by competing in the top regional tournaments. We are proud of the success of our players off the field as well. Our team average gpa is 4.02. And we have many girls that are dual sport athletes, honor roll members, school leaders, and still find time to give of their time through service activities throughout the year.
Mission Statement:

The mission of the Diamond Devils Red 18 Gold Team is to provide a safe, challenging, competitive and enjoyable environment in which young women can develop and enhance their skills as athletes in preparation to compete at the college level.
We focus on the fundamentals of the game.
Our Goals:
Diamond Devil athletes should be allowed and encouraged to develop their self-confidence and to be supportive and respectful of each team member in order to achieve their team and personal objectives.
Contact:
Diamond Devils 18-Gold is coached by Mike McGinley.
Contact the Diamond Devils via Email @ kristymcginley@gmail.com
or Via Phone @ Coach Mike McGinley - Ph.# 913-488-6184
The Diamond Devil Roster section of our site includes player profiles, contact information, and video links.
Team Mentality:
Total dedication and commitment to the game of fastpitch softball and each member of the Diamond Devils Team, be it player, coach or parent.
Emphasis on teaching and reinforcement of the fundamentals of individual and team play; if applied on a regular basis, individual players will find success that will ultimately raise the potential for team success.
Assist in the development of quality individuals; winning is important but not the driving force; being respected and feared as a quality team will lead other quality players to the team which will lead to the teams success.
Motivation, not only yourself but also your teammates, everyone is an important part of the team, whether you are in the field or on the bench, maintaining a positive attitude will have an affect on everyone else.
Follow us on Twitter: @diamonddevils12 https://twitter.com/DiamondDevils12 and on Facebook and DiamondDevils Fastpitch.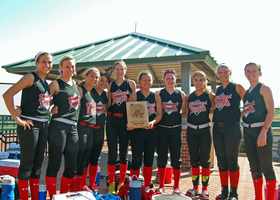 4th Place Finish - Sparkler 2012
Wednesday, October 24
5 Diamond Devils on NFCA Top Academic High School Teams - Link to Article
Not only do the Diamond Devils excel in softball, but they excel in the classroom as well. The average gpa of our team is 4.1. Five of our players are members of a 2012 top 5 NFCA All-Academic high school team. Robin Gassen plays for Olathe North High School which finished #1 in the country in the non-weighted gpa category. Savannah Bellem, Kassey Hughes, Erin McGinley and Rowan Turner are members of Shawnee Mission East High School in Prairie Village, KS. East finished #5 in the weighted gpa category. Click on the link to read more about it. Way to go Devils!