Hosei 2006 National Champs
Derby and Coaches Assist Hosei University to Back to Back National Championships
Hosei Players toss Coach Derby

Coach Derby, Coach Beaver, and staff helped Coach the Players from Hosei University to Back to Back Collegiate National Championships in Japan (2005, 2006). This is Coach Beaver and Coach Derby's 3rd National Championship in 6 years. Coach Derby was very proud of the linemen who gave the Quarterback superb protection all day long and establishing a power running game. Derby has been working with Hosei University since 1997 and has been traveling to Japan to assist Hosei since 2000. "The 2006 group of linemen was suppose to be young, but due to great leadership they played very mature. I am very proud of them. It was an incredible game where Hosei scored early and took a commanding lead before letting Kwansei Gakuin creep back into the game. The offense led by QB Nouchi(Sugawara) controlled the ball through out the game and with some very crucial stops by the defense, Hosei pulled of the victory with a 45-43 score over the KG fighters. I am very proud of every player, coach, manager, booster, alumnae and the entire Hosei family for the support, hard work and tremendous heart. This is Hosei's 4th out right National Championship(1972, 2000, 2005, 2006) in their 71 year history of American Football and our 3rd in 6 years. Congratulations to my HOSEI Family. We are all looking forward to a successful upcoming seasons. Dewa Sangatsu. Yoroshiku Onegaishimasu..Coach Derby.

The Koshien Stadium is the most famous and oldest stadium in Japan. Every December, the stadium hosts a football game called Koshien Bowl. This is the equivalent of Japan's National College Football Championship. The Koshien Bowl is the oldest College Bowl game, which started in 1947. The game draws more than 30,000 fans every year. Traditionally, the divisional champions of the East(Kantoh) and West college leagues(Kansai) compete at the Koshien Bowl. The rivalry between the East and West leagues (Kanto Collegiate Football Association and Kansai Collegiate American Football Association respectively) at the Koshien Bowl is equivalent to the rivalry between the Pac-10 and Big-10 at the Rose Bowl. The champion of the Koshien Bowl plays the champion of the X League at the Rice Bowl in Tokyo. The X League is composed of teams owned or sponsored by companies. This Japan's Professional Football League.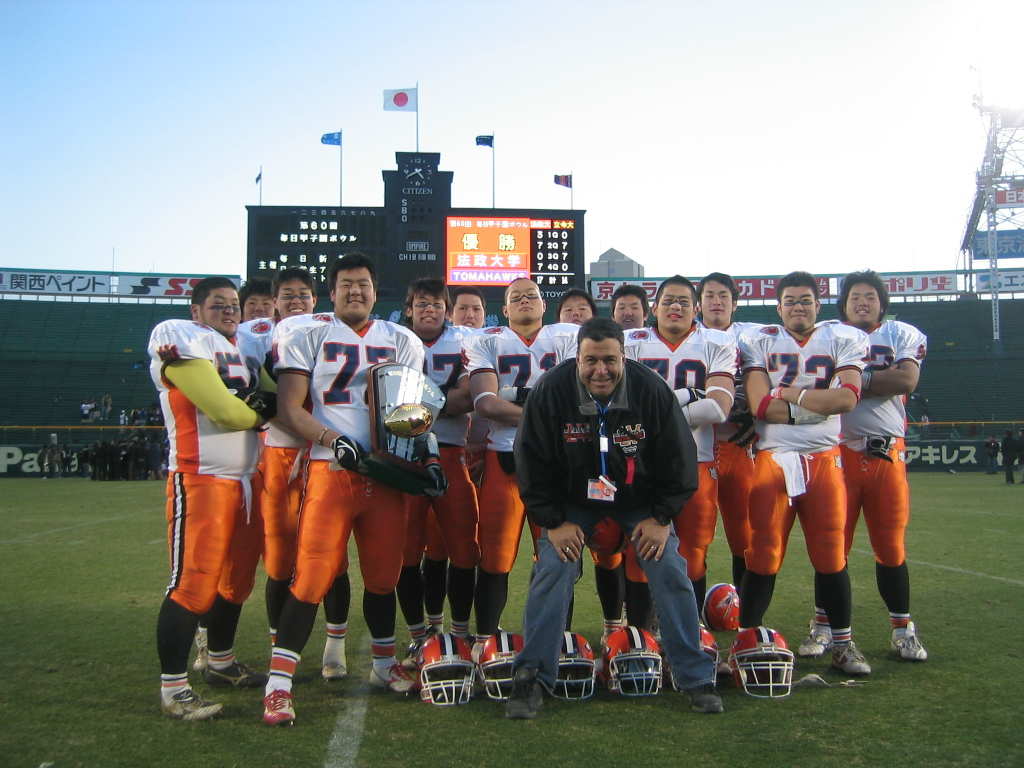 2005 National Champs in Japan
Hawaii Coaches Bring Top Notch Football to Japan
March 23rd, 2005

Hosei University Japan

     The Hawaii Coaching staff led by long time High School and Collegiate Coach Alfred Beaver just returned from the 2005 Hosei University Spring Camp in Japan.   This years camp was very productive and filled with a lot of energy and learning.   Coach Derby reports that Football American Style is sweeping the Island Nation of Japan.   Football in Japan has been around since the 1930's. Brian has been a part of the growth of football in Japan with Hosei University for many years.

    I was given an oppurtunity to work with Hosei University in 1997 by Coach Alfred Beaver who has been with Hosei University since the late 1980's and has been part of the Hosei Tomahawk family ever since. "It is growing like mad over there."  They absolutely love the sport and more and more fans and players are getting into it.   They can really play!   The athletes in Japan play with passion and respect for the game. The young men are very discipline and have great attitude. They are a joy to coach. We have some great athletes this year at Hosei and we will work very hard to be the best that we can be and to get back to the Koshien Bowl(National Championship). Japan obviously has some great athletes.  Players at Hosei as well as all of Japan are constantly getting bigger and faster. The game in Japan is evolving at a rapid pace. Its just a matter of time before a player from Japan makes it in the NFL. This is an awesome thing and we really enjoy our time there coaching in Japan.  The players and people are wonderful.

   Coach Alfred Beaver, Coach Brian Derby, and Coach Mike Beazley from Hawaii have been working with Hosei University in Japan for a number of years and go over twice a year to hold camps and clinics. This year's spring camp also included two other coaches from Hawaii, Coach John Thomas(2nd camp) and Coach Albert Distajo(1st camp).


In July 2005, Brian Derby conducted an exclusive camp for Offensive Linemen in Kawasaki,Japan for the KAWASAKI AFC. The Derby Camp was held July 2nd,3rd, 2005 with both AM/PM sessions. The camp featured Run and Pass fundementals, Pulling tech., and other tecniques, skills and drills to help develop offensive linemen of all ages. There were 100 plus athletes that participated. I had a very pleasant experience as always. There were a lot of skilled and athletic Offensive Linemen in Japan. The players worked very hard in the very humid weather and progressed tremendously. I would like to thank Coach Aoki and Coach Sugahara of Hosei University for putting this camp together as well as Mr. Atsunari Kayama of Senshu University for the use of the facilities. We are looking forward to making this camp an annual event in Japan. Next year will be bigger and better.

 
Over 200 colleges now compete in Football and the Pro(X-League) have grown rapidly as well.  Football fans will want to watch for growth in this sport in Japan for many years to come! Sometime soon JAPAN will produce a NFL player(s).

See More about Football in Japan here: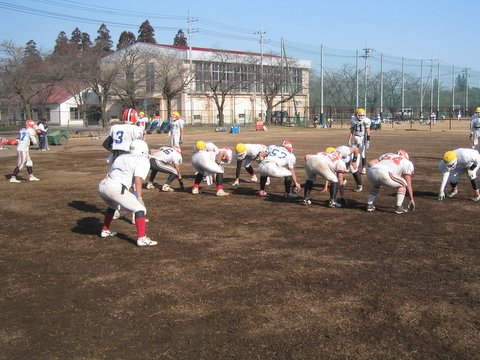 Practice at Hosei University's Spring Camp 2005 in Ishioka, Japan