Delaney Park Little League: Welcome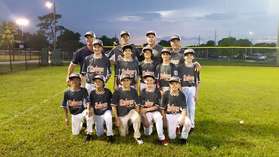 Baseball 10/11 AllStar Team - District 24 Champs!
Delaney Park Little League
ALL STAR TOURNAMENTS- DPLL will be fielding three teams in the District 24 All Star Tournaments: Softball 9/10 Team, Baseball 9/10 Team and Baseball 10/11 Team. The Tournaments started on Monday, June 22 at Azalea for baseball and continues through July 1 (or later if necessary) at Azalea Park. The DPLL Baseball 10/11 Team won both of their District 24 Tournament games and have advanced to Sectionals. The DPLL Baseball 9/10 Team won their first game and has been subject to a number of rainouts of their second game. Best of luck to them! The DPLL Softball 9/10 Team automatically "won" the District (as no other teams were entered in District 24) and goes straight to Sectionals . The Tournament schedule can be found on the Forms, Resources and Schedules page to the left (remember it is always subject to change due to win/loss records, rain outs, etc.). Please come out and cheer on your DPLL teams! Best of luck to all!
TOP 10 TIPS FOR PARENTS TO FOLLOW AT YOUR CHILD'S BALLGAME - Dan Spring was drafted in 2003 by the Detroit Tigers, and has spent the last 10 years providing instruction for over 17,000 youth baseball players. He currently runs the Spring Training Baseball Academy in Palos Verdes, California and runs the Eye Black Academy, a youth baseball instruction site. If you are the parent of a young baseball/softball player, it's easy to let the hectic nature of a season get in the way of the big picture. Below are Dan's top 10 tips for parents to follow for each ballgame:
1) Celebrate your child's effort and sportsmanship, above results such as winning and losing.
2) Do not coach from the stands.
3) Never yell at the ump.
4) Never yell at the other team or their coaches.
5) Stay away from the dugouts during the game.
6) The umpire is human and will make mistakes.
7) Cheer positively.
8) Root for the whole team, not just your son or daughter.
9) HAVE FUN!
10) "Your child's success or lack of success in sports does not indicate what kind of parent you are. But having an athlete that is coachable, respectful, a great teammate, mentally tough, resilient and tries their best IS a direct reflection of your parenting."
SPONSORS - Please remember to visit the DPLL Sponsors and thank them for their Sponsorship! You can check them all out on the Sponsors tab to the left!
URGENT - Concession Co-Coordinator Needed - We are STILL in urgent need for a Concession Co-Coordinator to help manage the concession stand. Each family is required to volunteer at the concession stand during the season and we need someone to help manage the opening/closing of the concession stand, coordinate the volunteers and monitor inventory. Please email Sage Morris-Webster at sage@websterlawgroup.com if you are interested in helping with this.
Volunteers - We are always looking for volunteers to help with various activities throughout the year. Please email delaneyparkll@gmail.com if you are interested in volunteering at Delaney Park Little League.
League Mailing Address: PO Box 560096 Orlando, FL 32856