Davenport Northwest Little League: Welcome
Welcome to the official website of Davenport Northwest Little League and to the 2015 Baseball Season!
Monday 6/29 at 5:30 Field 3 will be the championship game.
Congratulations to our 2015 All Star Teams!!!
11-12 year olds 10-11 year olds 9-10 year olds 8-9 year olds 8-9 year old Coach Pitch
Jay Costello Jack Argo Mitch Erwin Brycen Antle Will Archer Dom DeLaPaz Daleyn Bruce Denison Franklin Zac Bradley Thomas Bedford Derek Erwin Chance Dreyer Nate Hagedorn Colin Kirpatrick Brayden Corcoran Carter Furness Brandon Fox Thomas Johnson Danny McCleary Seamus Devine Timmy Johnson Alex Good Payton Kirpatrick Dalton Miller Drew Franklin Luke Loving Dominic Graham Ryen Larson Hannah Mitchell Dallas Franzen Evan Lystiuk Kyce Jacobs Alex Milton Noah Newberry Ethan Morris Logan O'Brien Carter Mohr Devon Sanders Aaron Peters Marcus Norton Aidan Puckett Joey Tingle Sam Skarich Rylan Phelps Luke Newberry Ramon Saltz Joe Turner Joey Stieger Jaedyn Stuckel Andrew Nykoluk Logan Schmanski Gavin Schnepper Landon Tanamor Michael Uhle Keaton Prins Max Stein Dominque Steverson Wyatt Weipert Grant Weise Louden Reid JJ Stratman Edward Taylor-Collins Landon Wright Leyton Wulf Mgr Todd Morris Harrison Wright Mgr Dan Turner Mgr Chad Weipert Mgr Doug Peters Mgr; Keith Furness
7-8 year olds Coach Pitch
Luke Argo
Colton Bundy
Cayden Coulter
Preston Fox
Jake Hintze
Max Hobart
Will McDermott
Mekhai Richardson
Aiden Serrano
Max Smith
Race Starr
Adam Wiese
Mgr; Shawn McDermott
Board meetings will be at the NW Park shelter on the first Wednesday of every month (time; TBA). If you have questions please contact a board member.
Spirit Wear
Our Little League Spirit Wear site is up and running, check the store link out!! All proceeds help to fund our Little League.
www.nwlittleleague.deco-apparel.com
Congrats to Yoli's for winning the Major's City Tournament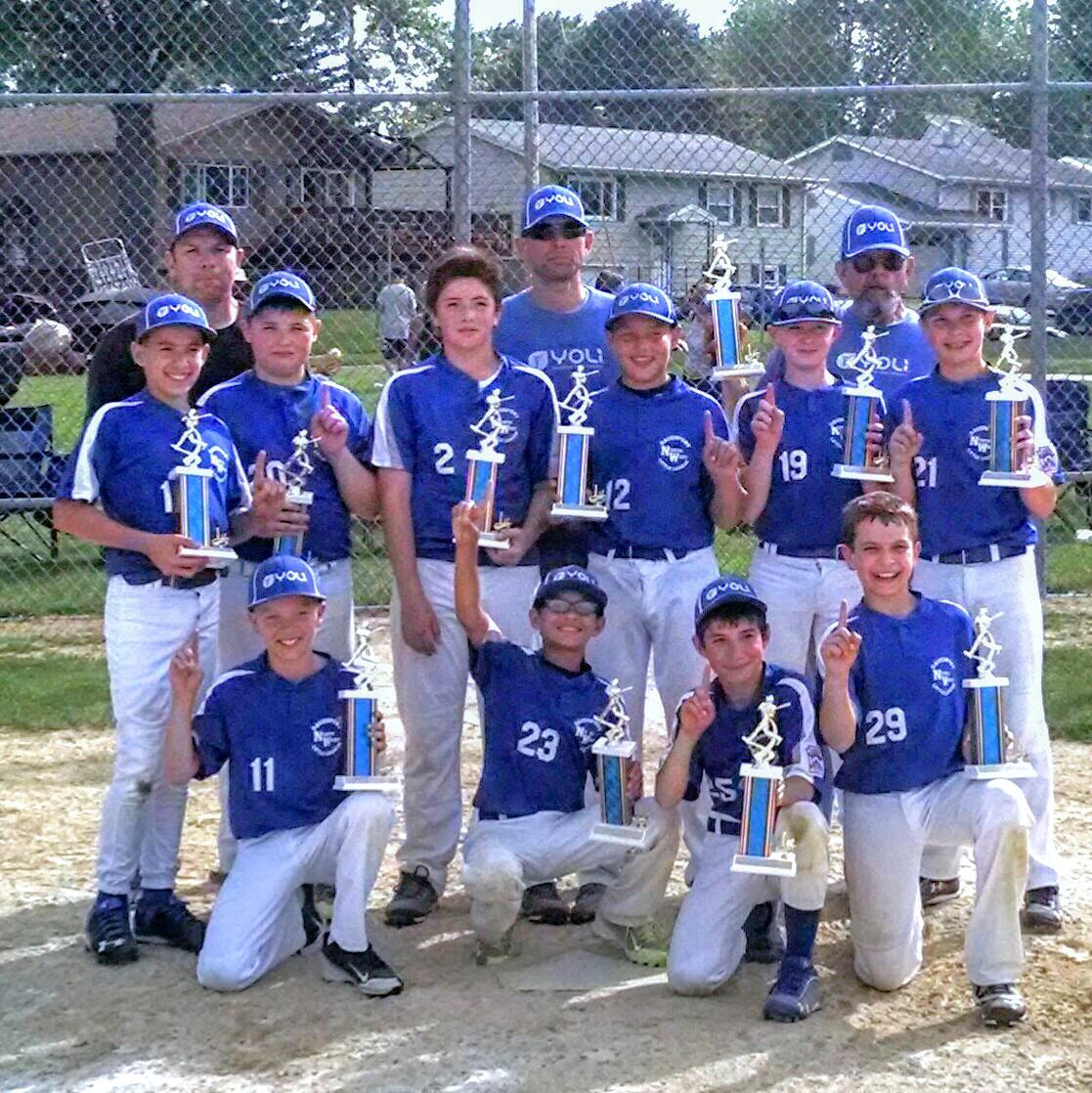 Congratulations to Arnold's for their 2nd place performance in the Minor's Kid Pitch City Tournament
Congrats to Power Grafix for winning the Coach Pitch City Tournament!!