Friday, January 20


Policy for Weather Related Delays/Cancellations







Should weather affect road conditions and it is deemed unsafe by the league and school system for our boys and girls in the DJBL (rec league or travel) to participate in practices or games, the DJBL will post a cancellation notice on this website as well as on our Facebook "Like" page at The DJBL on Facebook.



Monday, August 4


2014 DJBL Girls Travel Tryout Schedule Announced




The Danville Junior Basketball League will be holding its annual girls travel basketball troyouts this month. Any girls in the community wishing to participate in the girls travel league is invited to attend.

The league will select travel teams from grades 3 through 6 to compete in the Indy Girls Hoops League fall and winter sessions, as well as travel teams from grades 7 and 8 to compete in the fall league only. Games are played as double headers every other Sunday, beginning September 12, usually within a 30-45 minute travel time radius. Some games will be at Danville High School. Additional information is available at the DJBL website, www.danvillebasketball.com, and at the Indy Girls Hoops League website.

All tryouts will be held in the gymnasium at Danville Community High School. Parents may register their children online prior to coming to the tryouts or complete the online registration at the high school the day of tryouts. Online registration may be completed on our registration website linked below:

Dates and times for specific grades are below:

Saturday August 23rd:

3:00-4:00- 3rd & 4th Grades

4:15-5:15- 5th & 6th Grades

Sunday August 24th:

3:00-4:00- 3rd and 4th Grades

4:15-5:15- 5th and 6th Grades

5:30-6:30- 7th and 8th Grades

Please plan for your daughter to attend both days of tryouts if at all possible. Your child must participate in at least one day of tryouts to be eligible for selection to the travel team.



Monday, August 4


2014 DJBL Scholarship Winners Announced


The Danville Junior Basketball League recently awarded two $750 scholarships to outgoing Danville Community High School senior basketball players. Eligibility required the applicants to have participated in the Danville Junior Basketball League for at least one season during grades K-6, and to be a member of one of the Danville High School Varsity Basketball teams during their senior year. Applicants were further evaluated based on academic performance in high school and extra curricular activities. The 2014 scholarship winners were D.J. Shipley and Shawn Weir. The Danville Junior Basketball League wishes them, and all of the graduating seniors, good luck in their futures!

Thursday, March 20


Danville 6th Grade Travel Team Wins USSFA State Championship!


On March 16, 2014 the DJBL Class of 2021 Travel team won the 2014 USSFA State Championships. Congratulations!!

Monday, May 16


2013 DJBLScholarship Winner Announced




The Danville Junior Basketball League recently awarded a $750 scholarship to one Danville High School senior basketball player. Eligibility required the applicant to have participated in the Danville Junior Basketball League for at least one season during grades K-6, and to be a member of one of the Danville High School Varsity Basketball teams during their senior year. Applicants were further evaluated based on academic performance in high school and extra curricular activities. The 2013 scholarship winner is Scott Amor. The Danville Junior Basketball League wishes him, and all of the graduating seniors, good luck in the future.



Thursday, March 20


Danville 5th Grade Travel Team Wins USSFA State Championship!


On March 16th, the Danville 5th Grade Travel Team won the USSFA State Chapionship. Congratulations class of 2022!

Wednesday, November 18


DJBL Girls Travel Wins IGHL Crown!




The Danville Junior Basketball League's 4th grade girls travel teamfinished in 1st place in the Indy Girls Hoops fall league tournament,silver division. The team finished with a record of 10-1 in fall leagueplay.

Pictured in the bottom row from left to right: Coach Clint Riggles,Jenna Sullivan, Baylee Muse, Cailin Collier, Hannah Deno, Ali Means,Coach Dave Mood In the top row from left to right: Coach Doug Collier,Tori Leistner, Lexi Riggles, Rilee Mood, Brandi Wasson, Adelynn Collier





Danville Warriors 5B
Friday, November 13


DJBL Boys Score Big in "Hoop It Up" Tournament


Three Danville Junior Basketball League boys travel teams started their seasons strong at the "Hoop It Up" Tournament held last weekend at the Indy Indoor Sports Park. The DJBL 4th grade team won the tournament in the 4B bracket by beating Perry Meridian in their championship game. The 5th grade team won the 5B bracket by defeating New Castle in their championship game. And, the DJBL 6th grade team earned runner up position in the 6A bracket in a very close game against Mooresville.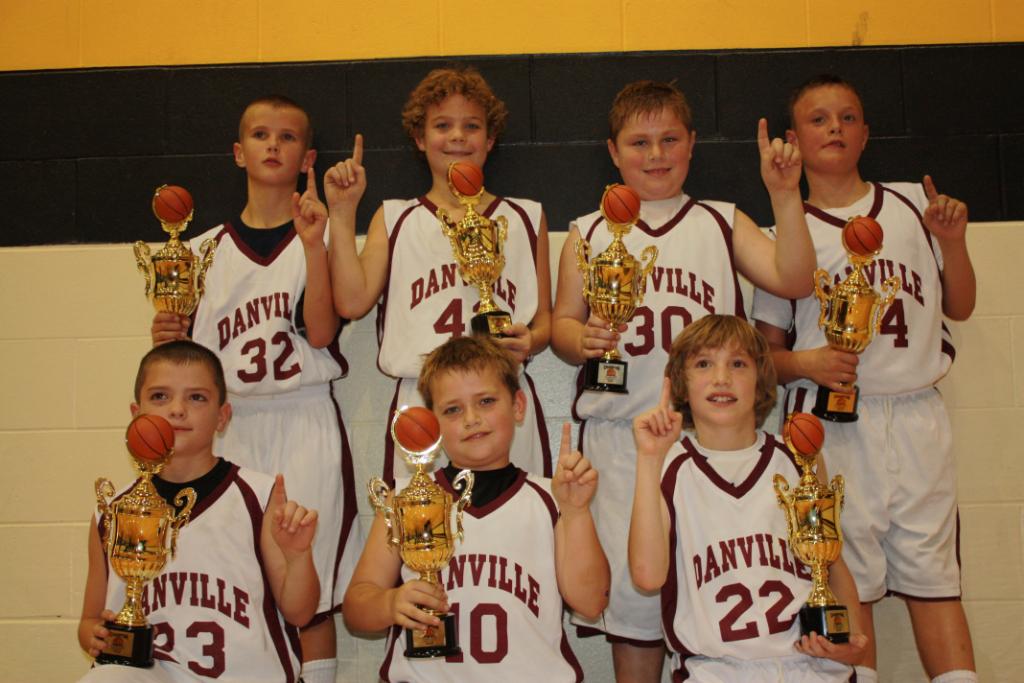 Danville Warriors 4B


Thursday, March 12


Danville Warriors 3rd Grade Travel Finishes Second at USSFA State!




The Danville Warriors 3rd grade travel team took home second place at the USSFA Boys B1 State Championships on March 8th. The boys qualified for the State Championships by defeating the Southside Rebels in the final B1 state qualifier. In the state finals, the Warriors defeated Tri-West to advance to the championship before falling to Decatur Central in the state final game. Way to go Warriors!

Front Row: Justin Siller, Michael Alderson, Treyton Smith, Sam Gray

Back Row: Coach Jeffrey Clark, Coach Dennis Wynn, Jackson Wynn, Alec Burton, Dylan Snider, Craig Smith

Not Pictured: Tarron Lawson, and Coach Brandon Lawson



Tuesday, January 20


Danville 3rd Grade Boys Travel Wins Winter Warrior Classic!




The third grade boys travel team won the Winter Warrior Classic played at Cascade high school over winter break.

Front Row: Sam Gray, Treyton Smith, Michael Alderson

Middle Row: Justin Siller, Alec Burton, Dylan Snider, Tarron Lawson

Back Row: Craig Smith, Brandon Lawson

Not Pictured: Jackson Wynn



Tuesday, July 15


DJBL and DGBL Merge to Offer Both Girls and Boys Rec and Travel Teams!




The Danville Girls Basketball League (DGBL) has agreed to become a part of the Danville Junior Basketball League (DJBL) starting with the 2008-2009 season. The newly formed DJBL Girls Leagues will not only include a regular recreational league for girls (grade K-6), but also provide a new opportunity in a Danville Girls Travel Team Program in grades 3 to 6. More information about the Girls Travel Program will be released shortly on this website.

Parents of any boy or girl interested in participating in the recreational or travel league should download the attached form by clicking the blue link below and filling out the DJBL registration form.



Monday, March 17


Danville 6th Grade Travel Team Wins USSFA State Championship!


On March 16th, the Danville Warriors capped off an amazing youth travel team career finishing thier final season with the USSFA State Championship at Ben Davis High School. The boys finished in the State Final Four each of the past three seasons finishing 4th in 2006, 3rd in 2007, and taking home 1st place this past season! Way to go boys!

Wednesday, February 24


DJBL Girls 6th Grade Travel Win IGHL Tourney!


Danville

Junior Basketball League's

6th

grade girls travel basketball team completed

an undefeated season in

the

Silver Division of the

Indy Girls Hoops Winter league and won the season ending tournament by defeating Southport 37 – 12 in the championship game

on Sunday February 21. T

he team's record is 19 wins and 3 losses

for the combined fall and winter leagues

.

Photo showing the girls receiving their first place trophies

(from left to right) Front row - Tara Johnson, Esabella Truran, Madison Lynch, Maddy Kennedy, Kayleigh Murrain

Second row - Sierra Douglas, Kortney Leeson, Maleha Motter, Hannah Newby, Shelby Suding B

ack row - assistant coach Brian Motter and head coach Chris Truran



Tuesday, March 1


DJBL 4th Grade Warriors Travel Finishes 3rd!




The Danville girls 4th grade travel basketball team just completed their IGHL travel league season Sunday by winning 3rd place in the IGHL league tournament. The team stormed back in the 2nd half to beat Greenwood Gold. Team members include: Maci Hurt, Meghan Sandifer, Alida Jackson, Jenna Cowart, Maggie VanLaere, Mickey Horner, Emily Fry, and Peyton Turner.

The girl's finished their IGHL season with a record of 9-2. Way to go girls! Next up for the girls is the USSFA State Tournament!



Wednesday, November 18


DJBL Girls Travel Wins IGHL With Unblemished Record




The Danville Junior Basketball League's 5th grade girls travel teamfinished in 1st place in the Indy Girls Hoops fall league tournament,silver division. The team went undefeated and finished with a record of11-0.

Pictured in the bottom row from left to right: Baylee Muncy, KendraNewman, Sara Beth Stiers, Sara Miller, Kasey Crane In the top row fromleft to right: Coach Brent Stiers, Emma Dwyer, Kalyn Harmless, KaitlynSkinner, Sydney Baker, Coach Chris Newman Not Pictured: SydneyHenderson, Rebecca Weiss, Claire Van Laere, Ella Davis



Monday, November 30


DJBL Boys 6th Travel wins "A" Division of Indy Hoops Thanksgiving Invite




The Danville Junior Basketball League "6A" boys team won the Indy Hoops Thanksgiving Invitational Tournament this past weekend, defeating Mooresville 36-34.

Pictured front row L to R: Dewey Ashley, Nate Snodgrass, Jake Elliott, Josh BonifieldBack row: Coach Cindy Wills, Reece Crawford, Tanner Hubbard, Ryan Cloncs, Coach Todd CloncsNot pictured: Noah Cowart



Monday, August 2


Girls Travel Team Tryouts




Danville Junior Basketball League will select travel teams from grades 3 through 6 to compete in the Indy Girls Hoops League fall and winter sessions, as well as travel teams from grades 7 and 8 to compete in the fall league only. Games are played as double headers every other Sunday, beginning September 12, usually within a 30-45 minute

travel time radius. Some games will be at Danville High School. Additional information is available at the DJBL website, www.danvillebasketball.com, and at the Indy Girls Hoops League website. Tryouts will be held at the Danville High School gymnasium, Saturday and Sunday, August 21 and 22, according to the following schedule:

3rd grade 3:00 PM both days

4th grade 4:00 PM both days

5th grade 5:00 PM both days

6th grade 6:00 PM both days

7th grade 7:00 PM Saturday, 8/21 only

8th grade 7:00 PM Sunday, 8/22 only

Candidates for the 3rd through 6th grade teams should make every effort to attend both days of tryouts to maximize their chance to be chosen for the teams. Girls must attend at least one of the tryouts to be considered for selection.



Tuesday, August 31


DJBL Boys Travel Basketball Tryouts




The Danville Junior Basketball League will be holding tryouts for 3rd through 6th grade boys travel teams Saturday September 18 and Sunday September 19. The Saturday tryout will be held at the Danville High School gymnasium. Due to a prior scheduling commitment, the Sunday tryout will be held at the Danville North Elementary gymnasium. Currently the plan is to form two teams each in the 5th and 6th grades and one team each in the 3rd and 4th grades. This may change depending on the number and ability of boys who try out. Players who try out and are not selected for the travel team may be invited to practice with the team as alternates. These players will also participate in the DJBL recreational league.

Times for tryout: Grade 3 3-4 PM (Both days)

Grade 4 4-5 PM (Both days)

Grade 5 5-6 PM (Both days)

Grade 6 6-7 PM (Both days)

Please plan for your son to attend both days of tryouts if at all possible. Your child must participate in at least one day of tryouts to be eligible for selection to the travel team.

Travel team games are played on Sunday afternoons in Hendricks County and the south and west side of Indianapolis. The games begin Nov 14 and finish in mid-March. Due to holidays and Super Bowl Sunday, the league does not hold games on: 11/28, 12/19, 12/26, or 2/6. Practices will begin in October and allowances will be made for fall sports such as football and soccer. If you have any questions, please contact Cindy Wills at 745-6853.