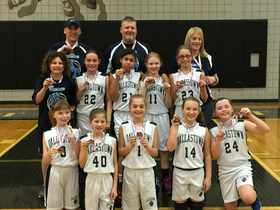 2015-2016 Rink A Girls Champions. Season record: 18-0. Great job ladies!
Welcome to the DYBO Website!!!
2015-2016 Jr. B Girls Champions. Season record: 22-0. Great job ladies!!
REGISTRATION IS CLOSED FOR THE 2015-2016 DYBO SEASON !!!!
***Thank you for registering your children with the DYBO! We look forward to another great season! If you missed registrations, we apologize but registration for this season is now closed. Please visit our website September 2016 for more information for the 2016-2017 DYBO Season.***
_________________________________________________________________________________________
DBL Tournament Results
3rd/4th Boys - Champions were team Bulldogs!
3rd-5th Girls - Champions were team Sky!
5th/6th Boys - Champions were team Sun Devils!
6th-9th Girls - Champions were team Mercury!
7th-9th Boys - Champions were team Thunder!
---
---
The DYBO has grown considerably over the past few years, which is truly a blessing. However it also presents a few challenges as well. We desperately need parent volunteers to devote some of their time and effort so that we can continue to run the program successfully.
If interested, please send an email to wildcats@dallastownybo.com and indicate where you could help out.
DALLASTOWN YOUTH BASKETBALL ORGANIZATION
---
Program Information for 2015-2016 Season
Handout Section - DYBO Flyer 2015-2016
SPIRIT WEAR: Also visit https://wildcatbasketball.elliott-productions.com/ to purchase your basketball spirit wear items. Deadline for all orders is Wednesday, December 23rd, 2015. No orders will be accepted after this date.
---
==============================================================================================
IMPORTANT ANNOUNCEMENT:

There will be NO Gatorade or drinks other than water allowed in the Dallastown gyms this year. Please bring water to practices and games for your players.

Reminder:
If school closes due to weather, all practices for that night are cancelled.
Please signup to get instant text or email alerts for all cancellations or delays. https://www.rainedout.net/team_page.php?a=d87d9f195d2f84291c1b

==============================================================================================