Dakota Cougars Girl's Basketball: Welcome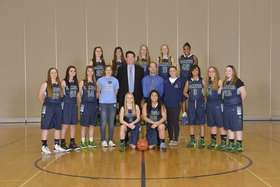 2014-15 Dakota Varsity Girl's Basketball Team
Dakota Girl's Basketball Players - One Team, One Goal!!!
Please contact the Dakota Varsity Girl's Basketball Coach - Phil McCune @ pmccune@cvs.k12.mi.us or by phone at 586-219-7931 with any questions regarding the Dakota Girl's Basketball Program.
Pride developed through hard work and dedication produces success and success is our goal. Do not confuse success with winning. While winning is the essence of competition, success is a higher goal. Success is defined as having done everything within the limits of our ability to become the very best that we are capable of becoming. If we accomplish this, we need never experience shame from defeat. To be defeated by a better team is part of competition. To be defeated because of lack of preparation or lack of desire during the game is unacceptable. Remember, pride is success. Success will produce winning. To develop pride and a winning attitude you must:

In Search of Excellence

1. Act like a Winner. I can't stress enough the importance of handling yourself at all times with class and integrity, especially in the tough times that truly test everyone and usually bring out our worst instincts.

2. Always be positive. Positive people can take on the world.

3. Be committed to hard work. Hard work is not always fun, but it's the price you must pay to be more successful. The harder you work, the tougher it is to surrender.

4. Be nice. Treat others the way you would like to be treated.

5. Avoid having to be right all the time. Your goal is to connect with people, not defeat.

6. Be committed to doing things the right way. Remember that perfect practice makes perfect.

7. Smile! In every culture it is the light in your window that tells people there's a caring, sharing individual inside.

8. Learn to stay relaxed and friendly no matter how much tension you're under.

9. Write down your goals and review them often. When you fail to plan, you are planning to fail by default.

10. Focus all your attention and energy on the achievement of your goals.

11. Don't put things off. Get in the habit every day of doing the more unpleasant things first... If you tell someone you're going to do something, then do it.

12. Eliminate the word quit from your vocabulary. If you want to be successful over the long haul, you must be willing to stay the course... People, who won't quit, don't.

13. Learn from your mistakes. There are four things you should do with a mistake: 1) recognize it, 2) admit it, 3) learn from it, 4) forget it.

14. Be able to admit your weaknesses and establish short-term goals to overcome them.

15. Dress and look your best at all times.

16. Respond with a simple, courteous "thank you" when anyone pays you a compliment for any reason.

17. Sit up front in the most prominent rows when you attend class, meetings, etc.

18. Replace the word "can't" with "can," and "try" with "will" in your vocabulary.


19. Be on time. Always try to be at least ten minutes early.

20. Thrive on pressure. The more you prepare the better able you are to handle pressurized situations. Pressure often brings out extraordinary results.

21. Develop a study routine. Discipline yourself to study 1 to 2 hours a night. Your grades/ performance reflect the amount of time you are willing to invest.

22. Stay humble. Respect and recognition comes from personal sacrifice and hard work.

So, where do you fit into this spectrum of desire? To find out, consider
the following self-assessment scale. Level of Desire Scale
0 percent: I won`t.
10 percent: I can`t.
20 percent: I don`t know how.
30 percent: I wish I could.
40 percent: What is it?
50 percent: I think I might.
60 percent: I might.
70 percent: I think I can.
80 percent: I can.
90 percent: I will.
95 percent: I did it.
100 percent:I did it and I know I can do it again, only this time, even
better!

-My expectations
-Hustle 100% of the time!
-Defense – Defense – and more Defense - Defense Wins Games
-Sportsmanship and team unity
-Everyone is expected to treat one another with respect. Back talk to a coach or another player is completely unacceptable.
-I expect everyone to have FUN!!!

High School Basketball
-Practice is mandatory - no excuses!
-Full participation in all drills.
Wednesday, January 7
Dakota Takes Down L'Anse Creuse, 49-26
The Dakota Varsity Girls Basketball team defeated L'Anse Creuse, 49-26. 9 of our 13 players scored in the game for Dakota. The Lady Cougars are now 2-4 overall.

Dakota was led by Freshman Corbin Hison with 11 points. J'may Simmons (8 rebounds), Paige Nottingham & Carmen Hoskins each had 6 points. Tara Bieniewicz (7 rebounds) & Emily Langolf each scored 5 points. Kelsey Ramus had 4 points, while Bre Konowalski (4 steals) and Lauren Szalai each has 3 points. Congratulations Ladies!
Monday, December 15
Cougars Lose to Detroit Edison in a Track Meet, 63-55
The Dakota Varisty Girls Basketball team lost to a very talented Detroit Edison team, 63-55. The game was up and down for the Cougars, going into half with a 8 point lead. Dakota is now 1-2 on the season.
The Cougars were led by the strong play of Emily Langolf with 26 points, 6 rebounds and 4 assists. Tara Bieniewicz added 16 points & 4 assists. J'may Simmons and Bre Konowalski each scored 6 points. Jamie Monoso added 1 point.
Monday, December 15
Dakota Beats Rival Chippewa Valley, 50-23
The Dakota Varsity Girls Basketball Team defeated the Chippewa Valley Big Reds, 50-23. Dakota record is now 1-1 overall this season.
The Cougars were led by freshman Tara Bieniewicz with 20 points. Emily Langolf had a great floor game with 9 points, 7 rebounds & 4 assists. Kelsey Ramus added 8 points, Jamie Monoso had 5 points, Paige Nottingham scored 4 points, and Bre Konowalski & J'may Simmons (10 rebounds) each added 2 points. Way to Go Cougars!
Friday, December 12
Lady Cougars Lose to the L'Anse Creuse North Crusaders, 51-46
The Dakota Varsity Girls Basketball team lost to L'Anse Creuse North, 51-46 in a hard fought battle.
Dakota was led by Emily Langolf with 12 points & 6 steals. Carmen Hoskins added 11 points and 8 steals. Freshman Tara Bieniewicz scored 8 points in her first high school contest. J'may Simmons added 6 points, 11 rebounds and 6 steals. Lauren Szalai & Kelsey Ramus both scored 4 points and Paige Hamden added 1 point.
Thursday, October 18
Former Dakota Cougar Girl's Basketball Players Playing at the College Level
A few of our most recent former Lady Cougar's are playing at the college level. The links below are to our former player's, feel free to follow them this season:
Shantelle Herring - 2009 Dakota Graduate - Madonna University http://www.madonnacrusaders.com/roster/8/5/487.php
LaQwana Dockery - 2010 Dakota Graduate - Adrian College
http://www.adrianbulldogs.com/sports/w-baskbl/2010-11/bios/dockery_laqwana_pyjh
Heather Kehrer - 2010 Dakota Graduate - Macomb Community College http://www.macomb.edu/Community/Athletics/Bios/10-11/Heather+Kehrer.htm
Ashley Thomas - 2010 Dakota Graduate - U-M Dearborn http://www.gowolves.net/roster/10/2/880.php
Kaitlyn Downey - 2010 Dakota Graduate - Albion College (Softball) http://www.albion.edu/sports/womens-sports/softball
Jessica Mabry - 2012 Dakota Graduate - Spring Arbor College http://www.saucougars.com/roster/12/2/2838.php
Kylie Townsley - 2013 Dakota Graduate - Spring Arbor College http://www.saucougars.com/roster/12/2/2841.php
Miranda Bates - 2013 Dakota Graduate - Albion College http://www.gobrits.com/sports/wbkb/2013-14/bios/bates_miranda_hxe5
Olivia Savage - 2013 Dakota Graduate - Albion College http://www.gobrits.com/sports/wbkb/2013-14/bios/savage_olivia_zjw5
Kylie Churches - 2013 Dakota Graduate - Siena Heights University http://shusaints.com/sports/wbkb/2013-14/bios/churches_kylie_ierf
Rio Dudgeon - 2014 Dakota Graduate - Oakland University http://www.goldengrizzlies.com/sports/w-baskbl/mtt/rio_dudgeon_908327.html
Good luck to all of our former Dakota Cougars that helped bring us many Championships!