Tim Turpin- Founder of Diamond Yards Baseball & Softball Academies
Tuesday, February 4
Now accepting new Students for 2014 Sprng Training Sessions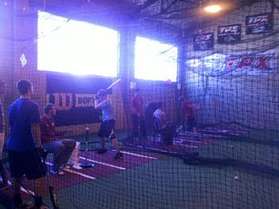 All Batting Sessions are live pitch


Coach Tim is now teaching private Hitting lessons at Mercury Sports Call 812-430-2725 for rates and times.
All Sessions are 30 minutes long (1 on 1) Instruction Cost $30 per Session 6 session special $150 *
* Must be paid up front
* 25 years experience
* Former Coach of the Evansville Outlaws Semi-Pro Team
* National Batting Champion at the 2004 NABF World Series
Wednesday, April 16
2014 Diamond Stars Summer Baseball Camp
This years Diamond Stars Summer Baseball Camp will be held in Evansville, IN at East Youth Baseball Camp at the Corner of Vann Ave and the Lloyd Expressway, June 3rd thru the 5th . Be sure to add $10 to your total if you wish to get a Diamond Stars Camp T-Shirt. Call 812-430-2725 or email timturp15@aol.com for additional information . Click on the 2014 Summer Camps to get your camp flyer.
Instructors
Jeff Schulz - Former Kansas City Royal and Pittsburgh Pirates Major Leaguer
Rob Fournier - Head Coach Wabash Valley JR College
Quentin Merkel - Former Memorial High School Coach and National High School Baseball Hall of Famer
Buddy Swift - MLB Scout for the Atlanta Braves
Warren Skelton - Former Harrison JV Coach and Kansas City Royal Minor Leaguer
Dirk Lindauer - Former North JV Coach and St. Louis Cardinal Minor Leaguer
Handout:
Summer Camps