Dixie Terra Linda Little League: Welcome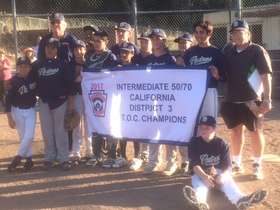 PADRES WIN 50/70 TOC!
Saturday, July 22
We are your local Little League for Terra Linda, Santa Venetia, Marinwood and Lucas Valley
NEWSFLASH!
TIBURON PENINSULA LITTLE LEAGUE11/12s
ALL STARS WIN SECTION 1 - ADVANCE TO NOR-CAL STATE CHAMPIONSHIPS TOURNAMENT!!
CONGRATULATIONS! GAMES WILL BE PLAYED IN ALAMEDA THIS WEEK.
GO DISTRICT 3! GO TPLL!
---
FALL BALL DETAILS WILL BE POSTED IN EARLY AUGUST:
CHECK BACK FOR REGISTRATION AND PROGRAM INFO
---
CONGRATULATIONS TO THE 2017 LEAGUE PLAYOFF WINNERS
JUNIORS A'S
MINORS ORIOLES
MAJORS CARDINALS
---
DISTRICT TOURNAMENT of CHAMPIONS!
INTERMEDIATE PADRES WIN CHAMPIONSHIP!
JUNIORS A'S WIN CHAMPIONSHIP!
---
DISTRICT 3 ALL STARS CHAMPIONS - CONGRATULATIONS!!
Good luck in your next level - Section 1 competition!

9/10s: TIBURON PENINSULA LL
11s: MILL VALLEY LL
11/12s: TIBURON PENINSULA LL
JRs: WEST MARIN LL
NEW DISTRICT 3 WEBSITE FOR ALL THE NEWS
---
The Double Header -BBQ fundraiser was great fun - raised almost $1100! WOW.
Special thanks to all the volunteers and especially those who donated the food to the event:
Jeff Birkenseer Realtor 3 Twins Ice Cream Astro Jump of Marin
---
FIELD STATUS: All fields subject to League permit. Fields are currently closed for summer.
AUTO RESCHEDULE SYSTEM Use this format to find out when your game is automatically rescheduled (Majors, Minors, AAA only)
---
SPONSOR OPPORTUNITIES click here to get the details!
Be a League supporter! Check out the banners at Gallinas and support our sponsors.
---
PROJECT WISH LIST - WE STILL NEED HELP WITH THESE!

REPAIR/REPLACE SIDING AT GALLINAS SNACK BAR - WE HAVE MATERIALS NEED SKILLED LABOR AND HELPERS
REPAIR OR REPLACE RETAINING WALL SECTION NEXT TO GALLINAS SNACK BAR... ABOUT 16 FEET OF A 4 FOOT WALL IS FAILING
REPAIR/REPAINT MARK DAY SCHOOL SNACK BAR - INTERIOR SHEET ROCK AND EXTERIOR SIDING REPAIRS
WEEDING/EDGING AT ALL FIELDS WITH DIRT BASE PATHS INCLUDING REMOVAL OF WEEDS AROUND FENCING AND BLEACHERS
CLEANUP AND ORGANIZATION OF ALL FIELD SHEDS
---
*See details to volunteer/apply below!
*ARE YOU INTERESTED IN JOINING THE DIXIE TERRA LINDA LITTLE LEAGUE BOARD?
We are always looking for new people, especially for parents with kids in the younger divisions who will be involved for future years with Little League. You must have been a League Volunteer in the past to be eligible for Board membership (i.e. Coach, Board Member, Coordinator of one of the many operations, etc.) Current More information about Volunteer Opportunities is found in our Handouts section. Contact: Bizmill@aol.com if you want to help out! (Some areas we need to cover include Yearbook Designer, Sponsorships, Snackbar Director, Umpires, Information Officer/League Scorekeeper (website), and whatever you talents may be!)
---
Please stay away from construction area and plan on parking at Vallecito school until further notice for games and practices at Mark Day School and Vallecito
Mark Day School
has commenced its big construction project of their new Learning Commons, Creativity Lab, and Amphitheater & Quad project.Good luck to them!
---
SPECIAL THANKS TO BEN BLOOMBERG FOR AGAIN HEADING UP THE CHALLENGER TEAM THIS YEAR.
Want to help out next season? have some fun? earn Community Service hours? Click here to see how to be a Challenger Buddy
Field directions are in the handouts section under Tournament Fields.
---
CHECK OUT OUR INTERMEDIATE DIVISION
For players Ages 11-12-13 who may play dually in Majors or Juniors.
---
DTLLL UMPIRES INFORMATION: If you are interested in umpiring please contact Dale Carrigan See handouts below
Local umpire info sheets: Adults Youth Umpires
---
NEW 2018 LEAGUE AGE CHART - CLICK HERE
---
---
Dixie Terra Linda Little League is sad to hear of the untimely death of Alex Meshcheryakov who was a wonderful friend to many, great guy, fine parent and family man, and past coach for several years in DTLLL. We urge the community to support the family in their time of need by a contribution to this fund:
http://www.youcaring.com/family-fundraiser/in-loving-memory-of-alex-meshcheryakov/331757
---
ALL VOLUNTEERS WHO HAVE CHILD CONTACT IN LITTLE LEAGUE BASEBALL ARE REQUIRED TO SUBMIT INFORMATION FOR AN ANNUAL BACKGROUND CHECK. This is a seach of a a national database of sex offender registries. Please submit your LL Volunteer Form that is found in the LINKS tab of this website For more informatioon or questions contact League President.
---
Are you interested in being a Coach?
Click here
.
Want to be a volunteer?
Click here
for info.
Looking for additional division and other general league info? Click here

Check out
D
TLLL News and Info
for other announcements.
---
WE WILL ALWAYS REMEMBER and CHERISH OUR MEMORIES of OUR LITTLE LEAGUE FAMILY and FRIENDS ...
ALEX M, BRIAN, DANTE, EMILY GRACE, VERNA, RYAN, ERIC, JEFF, FRANK, STACEY, TAYLOR LYNN, CASSIDY, ALEX R., TONY & ED
---
Friday, August 5
Specials from our Sponsors - Check the Sponsors tab also for more Sponsors!
Check out these great deals from our sponsors!
---
KANTOR & KANTOR FAMILY DENTISTRY
---
$10 off for any service for new customers, click here for the coupon.
---
Join the Pizza Dough rewards program for added benefits when dining at California Pizza Kitchen. Click here for more info.
---
Tuesday, April 7
Field Availability & Conditions: RAINOUT INFO
Are the fields open today? In preseason the minimum wait after a rainstorm is 24 hours. Some fields drain better than others but basic rule would be on dirtpaths, if you sink in (leave a foot print) its too wet to use.
During game season the hotline (415-721-4784) is updated by 3:30 pm on a day when it has rained to address field conditions. League members are notified directly by email when fields are closed or games cancelled 3:30 pm Weekdays, 8:00 Saturdays or Sundays. If no notification report to your game site ready to play and the 2 Managers will assess the field for fitness (safety) at that time.
Rained out games are subject to the Automatic Reschedule system. Click here for more information.
Everyone needs to help restore fields after practices and games, including filling in the divots and holes in batters box, mound, and base paths. Please drag the field after every use! If mound covers and plate tarps are provided please cover after the raking and anchor, especially if more rain is predicted in next 24 hours.
When you smooth out the fields then water cannot puddle. If puddles occur BAIL OUT the water with a small bucket, butter tub, or similar to remove and throw water off the field. Do not rake muddy areas as they only worsen. Thanks!