Dixie Terra Linda Little League: Welcome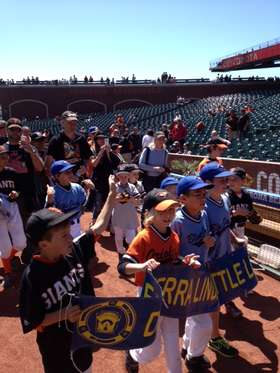 LL Day @ ATT Park May 2014
Wednesday, January 28
Welcome! We are your Little League for residents of Terra Linda, Santa Venetia, Lucas Valley, and Marinwood!
WE STILL NEED MORE COACHES FOR MINORS, AAA, AA, AND JR LEAGUE. SIGN UP AT LINKS TAB!

---
THE MAJORS DRAFT HAS BEEN POSTPONED to JAN 28th. MINORS DRAFT RESCHEDULED TO FEB 2
CHECK EVENTS CALENDAR FOR UPDATED INFORMATION.
SHOPPING FOR A NEW BAT FOR SPRING? Check out our new pages for information on how to to purchase a legal bat. There are two tabs, for LL (Majors) and below, and for Juniors/Intermediate divisions.

---
REGISTRATION PERIOD HAS BEEN EXTENDED FOR TEE-BALL, AA, AND AAA DIVISIONS UNTIL FURTHER NOTICE (WITHOUT LATE FEE) Click on LINKS to sign up!

---
ANNOUNCING NEW PROGRAM CHANGES TO DTLLL FOR 2015 DIVISIONS: Registration is now Open (Check LINKS tab at left to sign up)
To accomodate new age requirements recently passed by Little League Inc. your Board of Directors has adopted the following changes to the DTLLL program:
Tee Ball will be for beginning players with birthdays 1/1/09-12/31/10 Players should be attending school.

AA Ball (coach pitch) for players with at least one year experience and birthdays 1/1/08-12/31/09
AAA Ball (machine pitch/kid pitch) for players with at least 1 yr. of coach pitch ball
& birthdays 5/1/05-12/31//08
NOTE: ALL PLAYERS ARE ASSIGNED TO TEAMS or DRAFTED ACCORDING TO ABILITY AND AGE at LEAGUE DISCRETION. This gives your player the best opportunity to learn and have fun playing!
Minors (kid pitch) for players 9-11 years old with birthdays 5/1/03-12/31/06 (subject to draft. Players not drafted will be assigned to AAA teams.)
Minors is optional for 8 year olds with birthdays 1/1-12/31/07 with at least one year of coach pitch experience, (subject to draft. Players not drafted will be assigned to AAA teams)
Attendance at Evaluations required for 9-11s and for 8s who want to be eligible for Minors draft: Jan 10 & 11
Majors is for players 10-12 years old with birthhdays 5/1/02-12/31/04 (subject to draft; 10 & 11 yr olds not drafted to Majors will be subject to Minors draft) 12 year olds are mandated to Majors draft by LL rule.
Attendance at Evaluations required for 10-12s. Returning Majors must attend evaluations: Jan 10 & 11.
Juniors is for 13-14 yr olds (and 15s if not playing in High School) with birthdays 5/1/99-4/30/02
Attendance at Juniors Evaluations is required for Juniors draft: Date of Evaluations: Feb 1.

Seniors is for 14-16 year olds who have finished playing High School Ball depending on interest of ours and other leagues in fielding this division. Birthdates for Seniors would be 5/1/98 - 5/30/01.
Intermediate Division: for 12 and 13 yr old players who will participate in addition to their regular Majors or Juniors team. A survey is being taken currently to determine how many players have interest in the program. See LINKS tab for more information and Survey if you have an interested player.
---
ALL VOLUNTEERS WHO HAVE CHILD CONTACT IN LITTLE LEAGUE BASEBALL ARE REQUIRED TO SUBMIT INFORMATION FOR A BACKGROUND CHECK ANNUALLY. This is a seach of a a national database of sex offender registries. Please submit your LL Volunteer Form that is found in the LINKS tab of this website For more informatioon or questions contact League President.
---
CONGRATULATIONS TO OUR NEW 2015 BOARD OF DIRECTORS
Check out the Board button!

Volunteers are the heart of making a great program for our kids!

---
Thank you to all who participated in a good Fall Ball season. Special thanks to the Coaches and Parent Volunteers from all the leagues that joined with us this year!
---
OPEN LETTER TO PARENTS: WE NEED MORE ADULT UMPIRES RIGHT AWAY! TRAINING IN JANUARY 2015

Dear DTLLL Parents,
The new season is not that far away and we are experiencing a real shortage in our local League and District, of Adult Umpires (men and women at least 18 yrs old) Please read this full message and contact me by reply email if you can consider volunteering as an Adult Umpire this year. Here is the background and the WHY of this appeal:
There are many of you who obviously have a strong feeling for the playing rules and who understand the importance of good officiating in your player's games so we are literally asking you to Step Up to the Plate, and get involved as a Little League Umpire!!
Those adult umpires that you see on TV during the Little League World Series were, or are, Little League parents just like you are. Many of them started out as volunteer umpires while they were parents of a Little Leaguer in local leagues doing local games, taking more training each year, and getting more experience each season and making a real difference in the quality of the local program. Many of these folks came to love what they were doing and it became an important part of each year being involved in this fun kind of service. They came back again and again and the cream of the crop of those folks you saw on TV was they eventually got the honor of becoming LL WS umpires. That is only a very few but special people but they are at heart, the same as the parent/umpires who serve your local leagues and Districts.
It all starts at the local level and FYI the more of you adults we get to do this, the more is the flexibility that will fit into your schedules -- this means the time commitment for training and doing games improves and becomes very accommodating with work and parenting schedules. Even if you are coaching you can still do a few games each month and get your feet wet. We can make it work to fit into your availability. But we need you to get in, get trained and be here when you can.
Even if your players are young, in Tee Ball or Jr Minors etc you can get started and you will be there when they graduate to Minors, Majors, Juniors, etc.
If you ask any of the local adult umpires about their experiences and the rewards they reap, you will find a response of real excitement and pride in each and every one of them for this role and service to the kids. In addition to being our game umpires, one big goal of having more Adult Umpires is to provide positive reinforcement for our youth umpires as partners and mentors. The youth umpires really do the bulk of the local games and that is quite appropriate. They are GREAT, these kids! But, parents and players and youth umps alike have more confidence in the program when there are adults present. When those umpires are parents of players in the League there is a validation for the right reasons -- to benefit the program for all involved. Those adults should be some of you! Even if you only now have some curiosity about it you should give it a try.
We are trying to identify people who have an interest in trying this role this year and hopefully beyond! Please tell us that YOU ARE INTERESTED! We will want to connect you with good training and get you the tools to do it right.
District umpire training sessions will occur in preseason for Adults (and Youth Umpires) Keep your eye on our Events Calendar for updates.

Finally and ultimately the additional benefit of gaining more District Adult umpires is to help our District during the All Stars season (summer postseason during late June to late July) For the past half dozen years our District All Stars teams have benefited by getting to play in a guaranteed first round tournament consisting of 6 games in a Pool Play format. The old system was a "two-and-out" Double Elimination tournament. The Pool Play format has been very exciting and successful and we hope it can continue.
However, due to the reduced number of Adult Umpires during the past 2014 All Star season – an all time low in our District, there was a huge burden on only about a dozen Adult umpires to cover more than 150 games in the District tournament! We know that this cannot continue with current low number of Adult umpires and it could result in having to return to the Double Elimination format. This would be a real dilution of the All Stars experience for our kids and we do not want to see that happen.
So PLEASE if you can please contact us about signing up to be an Adult Umpire this year. We look so much forward to hearing from you. Thanks in advance!
Nancy Miller DTLLL Pres 2015 bizmill@aol.com
---
Wrap up of 2014 Season!
Final 2014 Playoff Brackets (click on the division): Minors Majors Juniors
Congratulations to the Juniors Giants, Majors Yankees, and Minors Braves, 2014 League Champions!
---
DISTRICT 3 ALL STARS RESULTS FOR 2014:
MILL VALLEY LITTLE LEAGUE 11/12s won District 3 and Section 1 Tournaments. They Advanced to the Division 2 Tournament, but after a strong showing, they were eliminated in the semifinal game. We still want to say CONGRATULATIONS to these kids and tell them we are proud of their accomplishment! THIS IS THE FARTHEST ANY DISTRICT 3 LL DIVISION TEAM HAS GONE SINCE 1964!!
Other District 3 Winning All Stars teams were: SFLL (Juniors) MVLL 10/11s and RVLL 9/10s.
LITTLE LEAGUE WORLD SERIES
Use this link to see articles and recaps!
---
2014 DTLLL ALL STARS TEAMS:
Click Here for
ROSTERS
---
Are you interested in being a Coach?
Click here
.
Want to be a volunteer?
Click here
for info.
Looking for additional division and other general league info? Click here

Check out
D
TLLL News and Info
for other announcements.
---
WE WILL ALWAYS REMEMBER and CHERISH OUR MEMORIES of
OUR LITTLE LEAGUE FAMILY and FRIENDS ...
DANTE, EMILY GRACE, VERNA, RYAN, ERIC, JEFF, FRANK, STACEY, TAYLOR LYNN, CASSIDY & TONY
---
Saturday, December 20
Minors / Majors Tryout Info
Tryout Dates and Times:Please sign up for a 20 minute appointment slot See the LINKS page to access
(Also found on your Player Dashboard after registering.)
Tryouts will be held in specific age groups this year.
| | | | | |
| --- | --- | --- | --- | --- |
| Age | Date | Time | Location | Additional Info: |
| 10 to 12 YRS | Saturday, Jan 10th | 10:00am to 12:00 pm | Mary E. Silveira | 375 Blackstone Drive Marinwood |
| 8 to 9 YRS | Saturday Jan 10 th | 12:00am to 2:00pm | Mary E. Silveira | |
| 10 -to 12 YRS | Sunday Jan 11th | 10:00am to 12:00pm | Mary E. Silveira | |
| 8 to 9YRS | Sunday, Jan 11th | 12:00am to 2:00pm | Mary E. Silveira | |
| | | | | |
Important Information:
All Majors Teams will be redrafted this year.
All returning Majors players MUST attend the evaluation session.
If all tryout dates are rained out for your age group please check back to this website or our hotline (415-721-4784) or

www.eteamz.com/DTLLL

for reschedule info.
General Information:
All Players whose League Age is 9-12 according to the new age criteria must attend the Evaluation session. This is a skills assessment for proper placement & is required for eligibility for draft to Minors (8-11 yrs) or Majors (10-12 yrs).
8 YEAR-OLDS are only required to attend Evaluations if they want to be considered for placement on a Minors Team. Any 8 Year Old who does not attend will be assigned to play in AAA (Machine/Coach Pitch Level).
EQUIPMENT NEEDED: Hat, Glove, multi-sports shoes or cleats, sweats or baseball pants (no Jeans) Dress for the weather and active movement. All children will be fielding, catching, throwing, batting and running. Bats, Balls, and Helmets will be provided or you may use your own equipment if compliant with Little League rules.
PLease allow time
( at least 15 MINUTES) to check in and warm up before Evaluations. The Session will be more representative of the child's skills if he/she is warmed up.
There are no additional make-up dates for Evaluations.
Please schedule any personal activities – ski trips, parties, etc. accordingly.
Wednesday, January 28
Sports Authority DTLLL League Appreciation Weekends 1/31-2/1 and 2/7 COUPON!
Take advantage of this special deal!