Dixie Terra Linda Little League: Welcome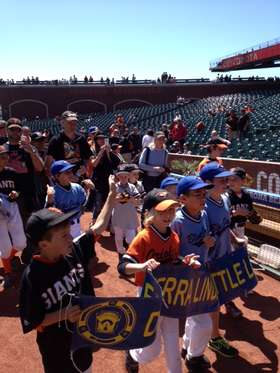 LL Day @ ATT Park May 2014
Tuesday, February 24
Welcome! We are your Little League for residents of Terra Linda, Santa Venetia, Lucas Valley, and Marinwood!
TEAM PARENT MEETING PACKETS
If your Team did not attend the Team Parent meeting your Team Packet is available for pickup in front of 416 Nova Albion Way in Terra Linda.
Please sign out for the packet so you may be added to our Team Parent list.
WE STILL NEED MORE COACHES FOR MINORS, Tee Ball, AAA, and AA levels.
SIGN UP AT LINKS TAB!
LET YOUR MANAGER KNOW IF YOU CAN HELP!

---
CHECK EVENTS CALENDAR FOR UPDATED INFORMATION.
---
SHOPPING FOR A NEW BAT FOR SPRING? Check out our new pages for information on how to to purchase a legal bat. There are two tabs, for LL (Majors) and below, and for Juniors/Intermediate divisions.

---
REGISTRATION is STILL OPEN FOR A FEW AA, & AAA PLAYERS. All other Divisions are on a WAIT-LIST basis.
Preference given to players who have parents who will help with Coaching a Team.
Click on LINKS tab to sign up!

---
ANNOUNCING NEW PROGRAM CHANGES TO DTLLL FOR 2015 DIVISIONS:
To accomodate new age requirements recently passed by Little League Inc. your Board of Directors has adopted the following changes to the DTLLL program:
Tee Ball will be for beginning players with birthdays 1/1/09-12/31/10 Players should be attending school.

AA Ball (coach pitch) for players with at least one year experience and birthdays 1/1/08-12/31/09
AAA Ball (machine pitch/kid pitch) for players with at least 1 yr. of coach pitch ball
& birthdays 5/1/05-12/31//08
NOTE: ALL PLAYERS ARE ASSIGNED TO TEAMS or DRAFTED ACCORDING TO ABILITY AND AGE at LEAGUE DISCRETION. This gives your player the best opportunity to learn and have fun playing!
Minors (kid pitch) for players 9-11 years old with birthdays 5/1/03-12/31/06 (subject to draft. Players not drafted will be assigned to AAA teams.)
Minors is optional for 8 year olds with birthdays 1/1-12/31/07 with at least one year of coach pitch experience, (subject to draft. Players not drafted will be assigned to AAA teams)
Attendance at Evaluations required for 9-11s and for 8s who want to be eligible for Minors draft: Jan 10 & 11
Majors is for players 10-12 years old with birthhdays 5/1/02-12/31/04 (subject to draft; 10 & 11 yr olds not drafted to Majors will be subject to Minors draft) 12 year olds are mandated to Majors draft by LL rule.
Attendance at Evaluations required for 10-12s. Returning Majors must attend evaluations: Jan 10 & 11.
Juniors is for 13-14 yr olds (and 15s if not playing in High School) with birthdays 5/1/99-4/30/02
Attendance at Juniors Evaluations is required for Juniors draft: Date of Evaluations: Feb 1.

Seniors is for 14-16 year olds who have finished playing High School Ball depending on interest of ours and other leagues in fielding this division. Birthdates for Seniors would be 5/1/98 - 5/30/01.
Intermediate Division: for 12 and 13 yr old players who will participate in addition to their regular Majors or Juniors team. A survey is being taken currently to determine how many players have interest in the program. See LINKS tab for more information and Survey if you have an interested player.
---
ALL VOLUNTEERS WHO HAVE CHILD CONTACT IN LITTLE LEAGUE BASEBALL ARE REQUIRED TO SUBMIT INFORMATION FOR A BACKGROUND CHECK ANNUALLY. This is a seach of a a national database of sex offender registries. Please submit your LL Volunteer Form that is found in the LINKS tab of this website For more informatioon or questions contact League President.
---
District 3 Umpire Training Clinics this week and next!
For Youth and Adult Umpires! We need many more umpires in DTLLL & for District Tournaments Please volunteer!
This year District 3 will be holding all of the Rules Clinics and most of the Field Mechanic Clinics indoors at Line Drive Baseball and Softball in San Rafael. 3160 Kerner Blvd.
Clinics are limited to 40 students per class.
You must register online to attend the Clinics.
You only need to attend one Rules Clinic and one Field Mechanics Clinic.
Due to limited class size, all local League Umpire in Chiefs should attend so they can learn the correct rules interpretations and field mechanics and then conduct their own additional / make-up training sessions for their own League.
To sign up please first go to www.linedrivebaseballandsoftball.com and do the following:
• Click on the register button in the top right hand corner and create an account
• Once your account is set up log into the system (on our web site click on "schedule online") and on the home page hit the "Sign up for camp/class" button or hit the drop down "Scheduling ---> Camps/Classes"
• From this screen choose "District 3 Umpire Clinics" and sign up for the Rules and Field Mechanics session you would like.
Here are the dates of the Clinics: 2/17 Rules 7pm-9pm (40 max attendees)
2/18 Rules 7pm-9pm (40 max attendees)
2/19 Rules 7pm-9pm (40 max attendees)
2/24 Rules 7pm-9pm (40 max attendees)
2/25 Rules 7pm-9pm (40 max attendees)
2/26 Rules 7pm-9mp (40 max attendees)
2/28 Field Mechanics 8am-10am (40 max attendees)
3/1 Field Mechanics 8am-10am (40 max attendees)
3/7 Field Mechanics 8am-10am (40 max attendees) – this Clinic will NOT be at LineDrive - Location TBA
3/8 Field Mechanics 8am-10am (40 max attendees)
---
Wrap up of 2014 Season!
Final 2014 Playoff Brackets (click on the division): Minors Majors Juniors
Congratulations to the Juniors Giants, Majors Yankees, and Minors Braves, 2014 League Champions!
---
DISTRICT 3 ALL STARS RESULTS FOR 2014:
MILL VALLEY LITTLE LEAGUE 11/12s won District 3 and Section 1 Tournaments. They Advanced to the Division 2 Tournament, but after a strong showing, they were eliminated in the semifinal game. We still want to say CONGRATULATIONS to these kids and tell them we are proud of their accomplishment! THIS IS THE FARTHEST ANY DISTRICT 3 LL DIVISION TEAM HAS GONE SINCE 1964!!
Other District 3 Winning All Stars teams were: SFLL (Juniors) MVLL 10/11s and RVLL 9/10s.
---
2014 DTLLL ALL STARS TEAMS:
Click Here for
ROSTERS
---
Are you interested in being a Coach?
Click here
.
Want to be a volunteer?
Click here
for info.
Looking for additional division and other general league info? Click here

Check out
D
TLLL News and Info
for other announcements.
---
WE WILL ALWAYS REMEMBER and CHERISH OUR MEMORIES of OUR LITTLE LEAGUE FAMILY and FRIENDS ...
DANTE, EMILY GRACE, VERNA, RYAN, ERIC, JEFF, FRANK, STACEY, TAYLOR LYNN, CASSIDY & TONY
---
Tuesday, February 24
T and B Spring Coupon Savings
Check out these great deals from our sponsors!
$10 off for any service for new customers, click here for the coupon.
$10 off $50 purchase, click here for coupon
$20 off $100 purchase, click here for coupon
Join the Pizza Dough rewards program for added benefits when dining at California Pizza Kitchen. Click here for more info.
Check out these great offers from T&B Sports!
Coupon for $10 off your purchase of $50 or more; $20 off your purchase of $100 or more.
Tuesday, February 24
Field Availability & Conditions: RAINOUT INFO
Are the fields open today? In preseason the minimum wait after a rainstorm is 24 hours. Some fields drain better than others but basic rule would be on dirtpaths, if you sink in (leave a foot print) its too wet to use.
During game season the hotline (415-721-4784) is updated by 3:30 pm on a day when it has rained to address field conditions. League members are notified directly by email when fields are closed or games cancelled 3:30 pm Weekdays, 8:00 Saturdays or Sundays. If no notification report to your game site ready to play and the 2 Managers will assess the field for fitness (safety) at that time.
Rained out games are subject to the Automatic Reschedule system. Click here for more information.
Everyone needs to help restore fields after practices and games, including filling in the divots and holes in batters box, mound, and base paths. Please drag the field after every use! If mound covers and plate tarps are provided please cover after the raking and anchor, especially if more rain is predicted in next 24 hours.
When you smooth out the fields then water cannot puddle. If puddles occur BAIL OUT the water with a small bucket, butter tub, or similar to remove and throw water off the field. Do not rake muddy areas as they only worsen. Thanks!