Dixie Terra Linda Little League: Welcome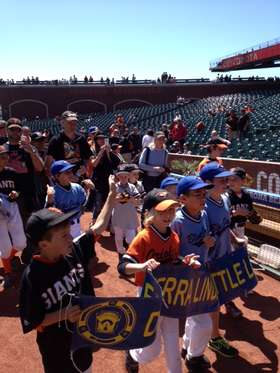 LL Day @ ATT Park May 2014
Friday, November 21
Welcome! We are your Little League for residents of Terra Linda, Santa Venetia, Lucas Valley, and Marinwood!
DID YOU KNOW THAT IN 2018 the current "LITTLE LEAGUE AGE" SYSTEM WILL BE CHANGING?
[In that year all childrens' League Ages will be their age as of 12/31 of the Current Season instead of the current League Age system with a 4/30 cutoff date]

Your Board of Directors is currently hard at work getting ready to create some
NEW and EXCITING PROGRAM CHANGES for the upcoming 2015, 2016, and 2017 seasons to ensure that all our players will enjoy a fully transitional program for readiness for the 2018 change.
KEEP YOUR EYE ON THIS WEBSITE FOR NEWS OF THESE CHANGES!

---
CONGRATULATIONS TO OUR NEW 2015 BOARD OF DIRECTORS
Check out the Board button!

Volunteers are the heart of making a great program for our kids!

---
Thank you to all who participated in a good Fall Ball season. Special thanks to the Coaches and Parent Volunteers from all the leagues that joined with us this year!
---
OPEN LETTER TO PARENTS: WE NEED MORE ADULT UMPIRES RIGHT AWAY!

Dear DTLLL Parents,
The new season is not that far away and we are experiencing a real shortage in our local League and District, of Adult Umpires (men and women at least 18 yrs old) Please read this full message and contact me by reply email if you can consider volunteering as an Adult Umpire this year. Here is the background and the WHY of this appeal:
There are many of you who obviously have a strong feeling for the playing rules and who understand the importance of good officiating in your player's games so we are literally asking you to Step Up to the Plate, and get involved as a Little League Umpire!!
Those adult umpires that you see on TV during the Little League World Series were, or are, Little League parents just like you are. Many of them started out as volunteer umpires while they were parents of a Little Leaguer in local leagues doing local games, taking more training each year, and getting more experience each season and making a real difference in the quality of the local program. Many of these folks came to love what they were doing and it became an important part of each year being involved in this fun kind of service. They came back again and again and the cream of the crop of those folks you saw on TV was they eventually got the honor of becoming LL WS umpires. That is only a very few but special people but they are at heart, the same as the parent/umpires who serve your local leagues and Districts.
It all starts at the local level and FYI the more of you adults we get to do this, the more is the flexibility that will fit into your schedules -- this means the time commitment for training and doing games improves and becomes very accommodating with work and parenting schedules. Even if you are coaching you can still do a few games each month and get your feet wet. We can make it work to fit into your availability. But we need you to get in, get trained and be here when you can.
Even if your players are young, in Tee Ball or Jr Minors etc you can get started and you will be there when they graduate to Minors, Majors, Juniors, etc.
If you ask any of the local adult umpires about their experiences and the rewards they reap, you will find a response of real excitement and pride in each and every one of them for this role and service to the kids. In addition to being our game umpires, one big goal of having more Adult Umpires is to provide positive reinforcement for our youth umpires as partners and mentors. The youth umpires really do the bulk of the local games and that is quite appropriate. They are GREAT, these kids! But, parents and players and youth umps alike have more confidence in the program when there are adults present. When those umpires are parents of players in the League there is a validation for the right reasons -- to benefit the program for all involved. Those adults should be some of you! Even if you only now have some curiosity about it you should give it a try.
We are trying to identify people who have an interest in trying this role this year and hopefully beyond! Please tell us that YOU ARE INTERESTED! We will want to connect you with good training and get you the tools to do it right.
District umpire training sessions will occur in January and February for Adults (and Youth Umpires) Check back for specific dates to be posted soon.

Finally and ultimately the additional benefit of gaining more District Adult umpires is to help our District during the All Stars season (summer postseason during late June to late July) For the past half dozen years our District All Stars teams have benefited by getting to play in a guaranteed first round tournament consisting of 6 games in a Pool Play format. The old system was a "two-and-out" Double Elimination tournament. The Pool Play format has been very exciting and successful and we hope it can continue.
However, due to the reduced number of Adult Umpires during the past 2014 All Star season – an all time low in our District, there was a huge burden on only about a dozen Adult umpires to cover more than 150 games in the District tournament! We know that this cannot continue with current low number of Adult umpires and it could result in having to return to the Double Elimination format. This would be a real dilution of the All Stars experience for our kids and we do not want to see that happen.
So PLEASE if you can please contact us about signing up to be an Adult Umpire this year. We look so much forward to hearing from you. Thanks in advance!
Nancy Miller DTLLL Pres 2015 bizmill@aol.com
---
Final 2014 Playoff Brackets (click on the division): Minors Majors Juniors
Congratulations to the Juniors Giants, Majors Yankees, and Minors Braves, 2014 League Champions!
---
DISTRICT 3 ALL STARS RESULTS FOR 2014:
MILL VALLEY LITTLE LEAGUE 11/12s won District 3 and Section 1 Tournaments. They Advanced to the Division 2 Tournament, but after a strong showing, they were eliminated in the semifinal game. We still want to say CONGRATULATIONS to these kids and tell them we are proud of their accomplishment! THIS IS THE FARTHEST ANY DISTRICT 3 LL DIVISION TEAM HAS GONE SINCE 1964!!
Other District 3 Winning All Stars teams were: SFLL (Juniors) MVLL 10/11s and RVLL 9/10s.
LITTLE LEAGUE WORLD SERIES
Use this link to see articles and recaps!
---
DTLLL ALL STARS TEAMS:
Click Here for
ROSTERS
---
UMPIRES:
If you are interested in becoming an umpire next season please email UIC Dale Carrigan at
DCarr5424@aol.com
We NEED more Adult Umpires as well.
Each League will be responsible in 2015 to provide at LEAST 2 more adult umpires who will also be privileged to serve as District Umpires in the Tournament of Champions and the All Stars tournament. Consider extended service to the program now and contact us as soon as possible. TRAINING WILL BE PROVIDED to make you an excellent umpire!
---
Are you interested in being a Coach? Click here.
Want to be a volunteer?
Click here
for info.
Looking for additional division and other general league info? Click here

---
Fall Ball (Instructional program for Training and Development) will be offered from mid-September through October. Registration for players and coaches starts 8/15/14. For players iu levels from Entering Minors through Junior League.


WE WILL ALWAYS REMEMBER and CHERISH OUR MEMORIES of

OUR LITTLE LEAGUE FAMILY and FRIENDS ...

DANTE, EMILY GRACE, VERNA, RYAN, ERIC, JEFF, FRANK, STACEY, TAYLOR LYNN, CASSIDY & TONY
---
Wednesday, March 26
Are the fields open today? The field hotline (721-4784) is updated by 3:30 pm on a day when it has rained to address field conditions. League members are notified directly by email when fields are closed or games cancelled 3:30 pm Weekdays, 8:00 Saturdays or Sundays. If no notification report to your game site ready to play and the 2 Managers will assess the field for fitness (safety) at that time.
Rained out games are subject to the Automatic Reschedule system. Click here for more information.
Everyone needs to help restore fields after practices and games, including filling in the divots and holes in batters box, mound, and base paths. Please drag the field after every use! If mound covers and plate tarps are provided please cover after the raking and anchor, especially if more rain is predicted in next 24 hours.
When you smooth out the fields then water cannot puddle. If puddles occur BAIL OUT the water with a small bucket, butter tub, or similar to remove and throw water off the field. Do not rake muddy areas as they only worsen. Thanks!