Dudley Little League: Welcome
To receive important notices, updates, and reminders please be sure to sign up your email address in our Google Group at the bottom of this page.
.

Tuesday, December 10
BASEBALL/SOFTBALL REGISTRATION 2014 season
Welcome to the 2014 SEASON
Registration is now open and is available for boys and girls ages 4 and older as of April 30, 2014. We will be holding the following live registration events:
• Saturday, December 14th at Dudley Elementary School 10:00 a.m. to 2:00 p.m.
• Saturday, January 11th at Dudley Elementary School 10:00 a.m. to 2:00 p.m.
• Wednesday, January 15th at Dudley Municipal Center 6:30 p.m. to 8:00 p.m.
Returning players can register on line and you can pay with your credit card. Any payments with credit cards, please use form below. Please visit our website to register online: www.eteamz.com/dll. New players to the league or any first time players are required to register in person. Original birth certificate must be presented to register your child.
Registration fees*:
$40 4-Year Old Teeball
$55 Teeball, Coach Pitch, AAA
$70 Minor Baseball, Minor Softball, Major Baseball, Major Softball, Junior & Senior Softball
$85 Intermediate 50/70, Junior & Senior Baseball
Family Maximum: $155. When registering online, if you exceed the family maximum you will need to pay the full registration amount and Dudley LL will send you a check for the difference (the system will not make the adjustment).
*2014 Try-outs are January 25th (Baseball) and 26th (Softball). DLL team selections will be completed by February 28th to maximize indoor practice opportunities in March, so please register before February 28th to avoid a $10 late registration fee.
Dudley Little League has a mandatory raffle ticket sale requirement. If registering online, tickets will need to be picked up at one of our live registrations or another publicized Dudley Little League event. Parents can pay an additional $60 per player if they elect not to sell raffle tickets.
Intermediate 50/70 division. This division allows players to expand their baseball skills with a 50' Pitcher's Mound, 70' Bases, Runners can lead-off base AND MORE! This division will be offered to 11 to 13 year olds. Games will mostly be played on Sundays.
Friday, July 26
All-Star Tourney Champs!
10 Year Old Girls Softball

Congratulations on winning the Hopedale Tournament!!!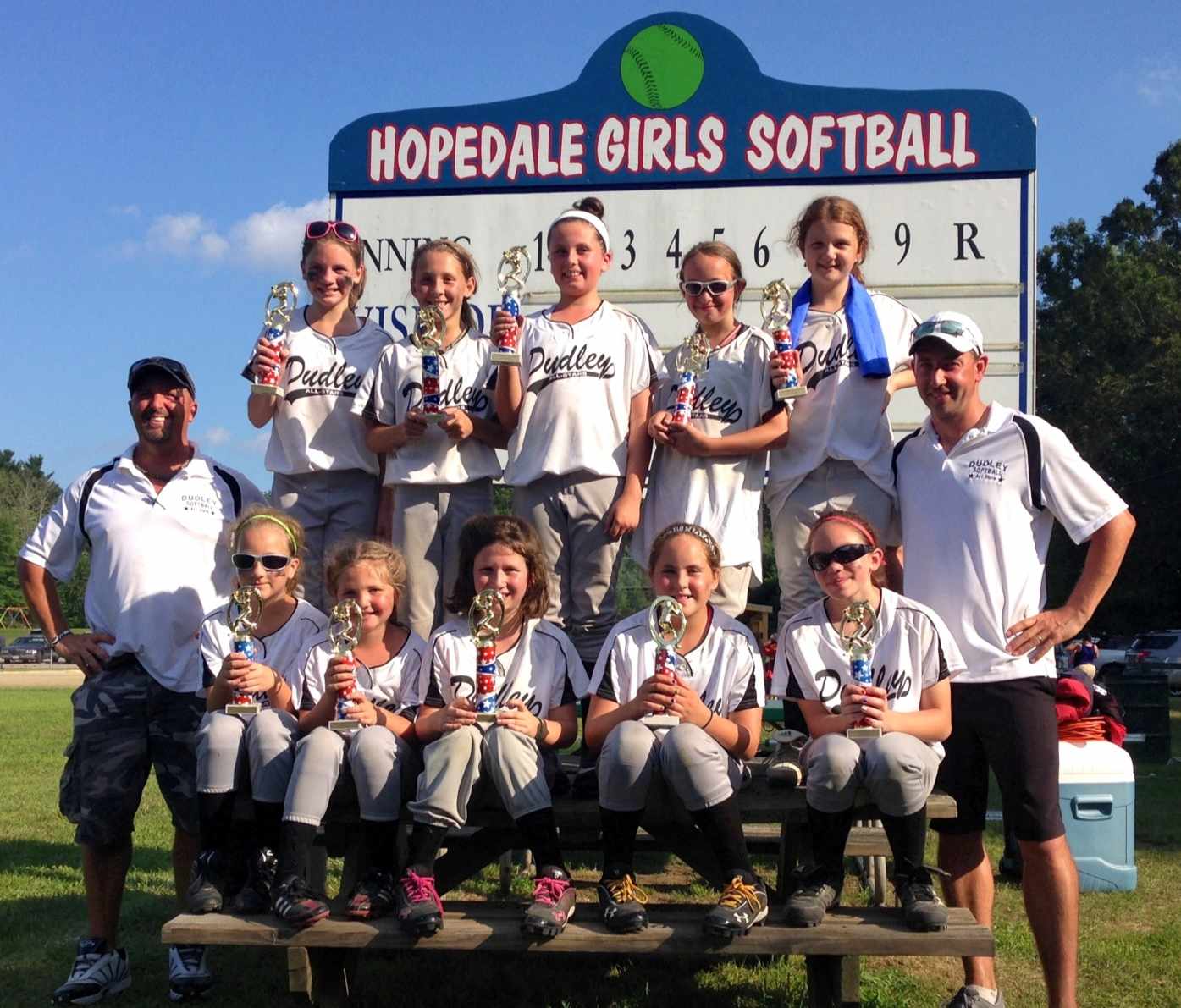 Feedback Form
Click Logo to go to our Facebook Page!
Crawford Field is at 10 School Street in Dudley. Click on "Locations" on left tab for more field info/directions
Got extra sports tickets? We are looking to obtain sports tickets (i.e. Red Sox) to use for raffle prizes at our upcoming events and throughout the year. Please contact dudleyll@yahoo.com if you are interested in making a donation. Thank you!
Click the Dick's Logo below for special Dudley Little League coupons you can use all year!