Crude Dudes: Welcome
black and yeLL
Monday, September 29
CRUDE DUDES HOME OPENER
The home opener introduced some new talent for the 2014-2015 season.New into the line-up was Wade, Rob, Logan and Jesse and Curtis all making their regular season debut. Great turnout with 14 players showing up for the Sunday nightBarn-Burner in Blackfalds!

Prior to the game starting, it was a difficult warm-up. Bobby was testing out an 87 flex Bauer and let a wild wrist shot go and hit the goalie Jesse hard in the helmet. Jesse got shook up a bit and said he had a ringing sensation in his ear well into the first period. The first period proved to be a tough one, and the boys went into the half down 6-1

In the dressing room there was a lot of motivational talk going around. Jer reminded us that we are a last period team. George explained that we had them right where we wanted them. Using our "Rope & Dope" technique to tire them out.

The Crude Dudes came out flying in the second period getting two goals in the first couple shifts. They continued their relentless effort to get back into the game and with about ten minutes left in the game tied it up at 10 goals each. The Crude Dudes kept up the hard working effort and took the lead and kept it. Winning a huge comeback victory over Setter & Sons 12-11

Goals scored by:

Jason Holman - 3
Jason Waterhouse -2
Rob Bisio - 2
Dubes -1
Jer. N- 1
Donny ( "The Gazel") - 1
Cory - 1
George -1

Next game is Wednesday at the Centrium vs the Rusty Rebels. Be a ure everyone brings out their Friends, Girlfriends, Wives, and Children out to the Crude Dudes next home game which is a rematch against Setter & Sons as it should be another great exciting game! October 5, Blackfalds Arena 9:30 pm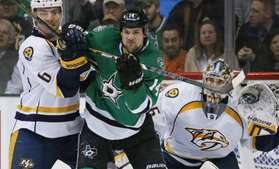 Dallas or Nashville
Friday, September 26
Season is just Starting but,where will it end??
The Season is just about to start, but where should it end? We have 2 options this year, both around April 10-15 2015. Dallas, Texas home to the Stars and the 50th Anniversay of the Acadamy of Country Music Awards which we could attend. Or the Home of Country Music Stars Nashville,Tennessee. Home to the Predators and the Country Music Hall of Fame. Both are amazing places to attend and prices are roughly the same at $1000/player and $800/guest. these prices include airfare,hockey tournament, hotels, breakfast every day and a team party. Not included would be NHL tickets Events or concerts. Nashville has lower bowel tickets for $139 that includes all you can eat and drink for example.
Friday, September 26
CHARITY TOURNEY HUGE SUCCESS
Blackfalds- The Crude Dudes 6th Annual Charity went off with a great success with approximatly $6700 raised for STARS Air Ambulance and an additional $1500. to the Blackfalds Food Bank. $8200 total destroyed last years previous mark of $4680. We would like to thank our sponsors and players for making this our best tournament ever! Special Thanks to all the volunteer ladies that helped run the bar and get this tournament organized. (Amber,Kat,Keltie,Amy C and Amy S)
The tournament was won by a first year entry team The Fighting Cocks with Bigfoots from Calgary placing a very close second. Red Deer Viking picked up 3rd place and PowerHawks from Edmonton squeaked into 4th due to a record Flip Cup Time.
Next Years Tourney will be Sept 11-13
Saturday, August 16
Crude Dudes Partnered Up With OINKERS
Blackfalds- The Crude Dudes are proud to announce they have teamed up with Oinker's BBQ & Catering for their Charity event Sept 12-14. The food cart will offer Hot Dogs,Hamburgers,Taco in a Bag,Fries and Poutine and of course their Pulled Pork Sandwiches. The Cart will be located at the arena Friday and Saturday Night as well as Sunday, and will be at the Ball diamonds Saturday morning serving Breakfast Sandwiches to all the teams camping and playing those early triple header games. The best news....Oinkers will donate 20% of proceeds Directly to our Fundraiser, so eat up boys, lets make them run out of food!!
ALSO: Looks like the upstairs Arena and 3 of 4 Diamonds have been claimed for sponsorship which is amazing!
Tuesday, August 12
CRUDE DUDE CHARITY TOURNEY READY
Blackfalds- This year due to popular demand we added 4 teams to make this a 16 team double sport tournament, the biggest double sport tournament in Western Canada. The Dudes partnered up with STARS Air Ambulance for this years Charity. We look forward to 9 new teams entered this year and can only say sorry to the many teams I had to turn down from this event (8 as we speak).
All teams this year will play Hockey first on Friday night however due to the size of the tournament 3 games will be played Friday night in neighboring Lacombe,AB