Crookston Blue line hockey: Welcome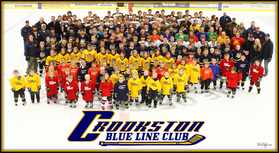 2012-2013 CROOKSTON HOCKEY
Welcome to the Crookston Blue Line website
Welcome to all players, parents and fans of Crookston youth hockey.
Tuesday, March 26
SPRING-SUMMER ICE ACTIVITIES
Reminder: if you are planning ...

Tuesday, June 28

THANKS TO CVB
Tournament advertising sponsored by CROOKSTON VISITORS BUREAU.
Thank you for your support.
************************************
Wednesday, January 19
SPORTS-O-ZONE
SPORTS-O-ZONE




Crookston Blue Line Club




Tuesday, November 13
FACEBOOK

Like us on ...

Thursday, March 24
OUTSIDE FOOD AND BEVERAGE

NO OUTSIDE FOOD OR BEVERAGE IS PERMITTED IN THE CROOKSTON ...

Tuesday, September 13
USA HOCKEY REGISTRATION

In order to play hockey for the 2012-2013 season all players must ...

Thursday, April 28
CROOKSTON BLUE LINE CLUB OFFICE

The Crookston Blue Line Club has ...


THANK YOU SPONSORS
WE WOULD LIKE TO SAY THANK YOU TO ALL OF OUR SPONSORS. WITHOUT THEIR CONTINUED SUPPORT WE WOULD NOT BE ABLE TO MAINTAIN OUR CURRENT LEVEL OF YOUTH HOCKEY. WE ENCOURAGE YOU TO CHECK THE SPONSORS LINK AND BROWSE THROUGH ALL THE BUSINESSES THAT SUPPORT OUR YOUTH HOCKEY PROGRAM HERE IN CROOKSTON. WE ALSO ENCOURAGE YOU TO PARTRONIZE THEIR PLACE OF BUSINESS AND LET THEM KNOW YOU APPRECIATE THEIR CONTINUED SUPPORT OF OUR YOUTH HOCKEY PROGRAM.
*******************************************************************************************